Episode 261: Laura Himes, Michelle Zackin, and Janis McIntosh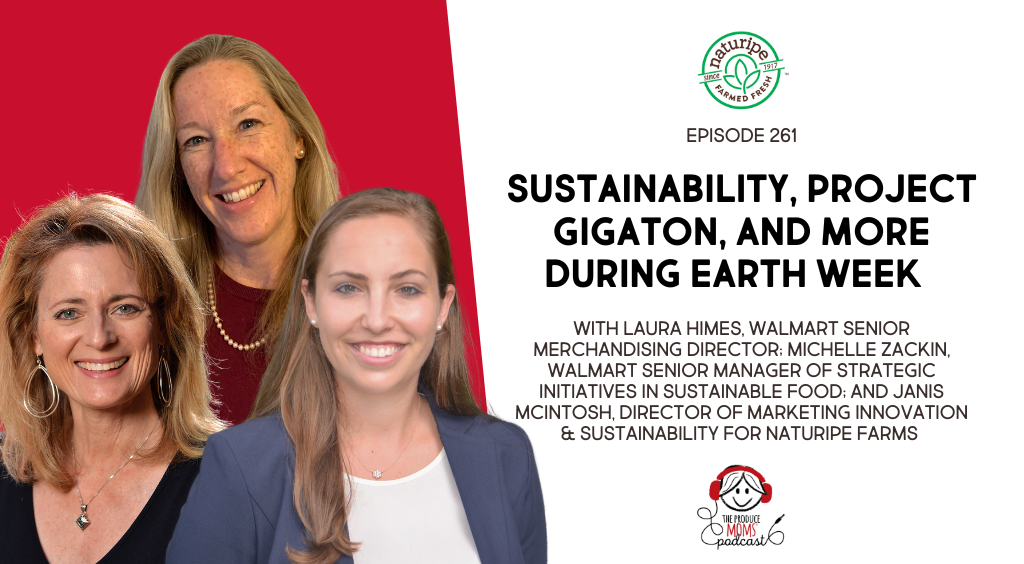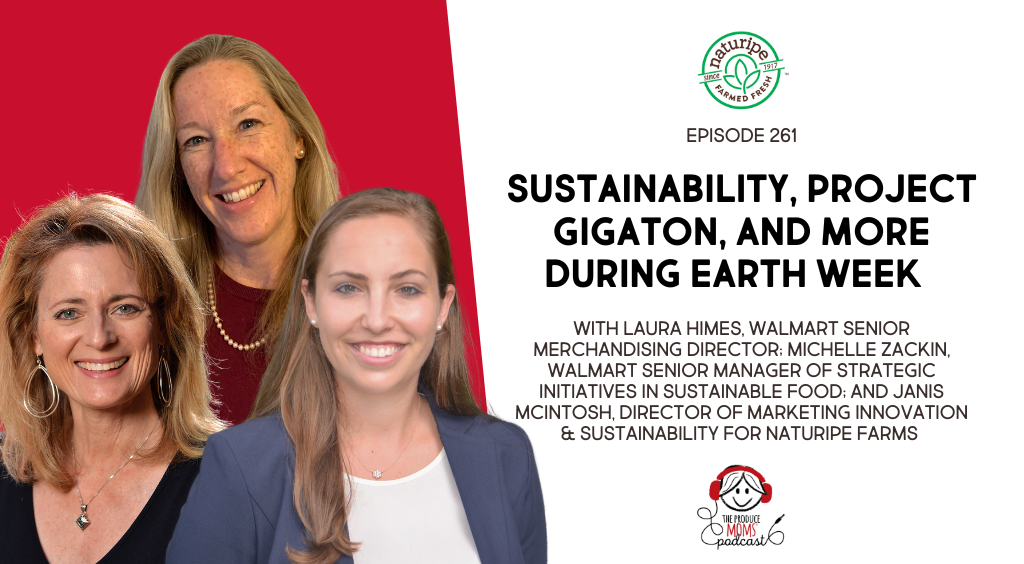 To continue our celebration of sustainability throughout the month of April, this week The Produce Moms Podcast welcomes three incredible female leaders who are bringing sustainability and regeneration to life in the fresh produce and grocery industry space: Laura Himes, Senior Merchandising Director for Walmart, Michelle Zackin, Senior Manager of Strategic Initiatives in Sustainable Food for Walmart, and Janis McIntosh, Director of Marketing Innovation and Sustainability for Naturipe Farms.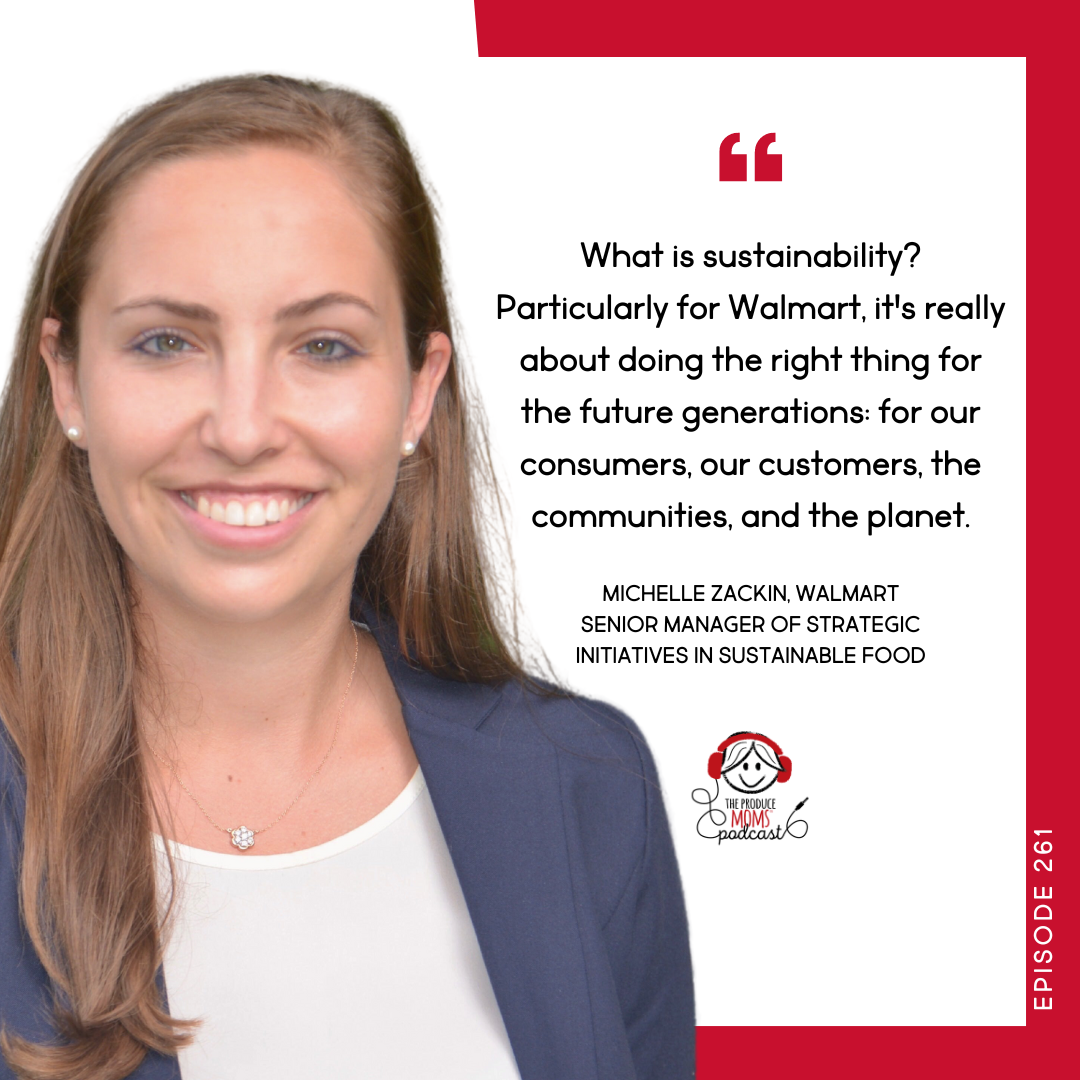 Every decision made at Walmart revolves around the customer and providing the best product possible to them. This involves factors like price, freshness, and food safety, as well as less obvious factors like sustainability, responsibility, and transparency.
For over 17 years, Walmart has made sustainability a priority, acting as an industry leader to influence suppliers for their engagement and collaboration – because sustainability is not something that can be achieved alone. It requires rethinking the way business is done throughout the entire supply chain to integrate environmental and social sustainability from every angle.
To really move the needle towards a more sustainable and equitable future, Walmart has elevated its aspirations beyond sustainability, or simply maintaining or conserving, setting its sights instead on regeneration.
"Regeneration means restoring, renewing and replenishing. Regeneration is additive: it's about putting back in more than you take out." Michelle Zackin (4:28-4:35)
Dedicated to placing nature and humanity at the center of its business practices, Walmart has set ambitious sustainability and regeneration goals across four key pillars: climate, nature, waste, and people in supply chains.
Climate
Walmart has set science-based targets for emissions reduction, including targeting zero emissions across its global operations by 2040, and powering facilities with 100% renewable energy. It is also working with over 5,000 suppliers to reduce a billion metric tons, or one gigaton, of greenhouse gas emissions in its global value chain by 2030 via a program called Project Gigaton.
One of those suppliers is Naturipe Farms, a "Giga Guru" which has diverted about 67,000 metric tons over the past several years. To become a Giga-Guru, a supplier sets goals within three pillars, agrees to share them publicly and reports reducing or avoiding emissions in three pillars during the most recent reporting year. The beauty of that, Janis shared, is she found many of Naturipe's growers were already committed to sustainable practices like renewable energy and composting. It wasn't necessary to ask something new of them – sustainability is in a smart grower's DNA. The
largest private sector collective action on reducing emissions in supply chains, Project Gigaton has already avoided over 750 million metric tons of emissions since 2017!
Nature
Walmart, along with the Walmart Foundation, is committed to helping protect and manage 50 million acres of land and 1 million square miles of ocean by 2030 by using sourcing and production models that help restore and rebuild the natural resources that communities depend on, and that produce the goods that Walmart sells.
It's estimated that about 75% of the world's food crops depend on pollination, so protecting pollinators, from bees to bats, is a key priority. Walmart asks suppliers to protect at least 3% of their land and manage their pollinator habitat, working with them to meet these goals. By 2025, the company will be sourcing 100% of its fresh produce and floral from suppliers that adopt integrated pest management practices, a key solution to protecting pollinator species through minimizing the amount of pesticides used.
Waste
Walmart is working towards zero waste in its operations in key markets by 2025; in 2021, the company was able to divert 78% of its global operational waste from landfills and incineration. A number of different pilots are underway to innovate packaging so that it is recyclable, reusable, or industrially compostable. Single-use shopping bags have been eliminated in Canada and Mexico markets, as well as in several states in the U.S. (with more states to come).
To reduce food waste, Walmart is working to move perishables faster through the supply chain so that shoppers have more time to eat it before it spoils and exploring different technologies and packaging options to extend shelf life. Unsold food is donated in support of community food recoveries and hunger relief programs. Since 2006, Walmart and Sam's Club have donated 7 billion pounds of food from its network of stores, clubs and distribution centers to Feeding America food banks; last year alone they donated almost 700 million pounds of food in the U.S. In addition, the Walmart Foundation provides funds to help increase these facilities' capacity to store and distribute fresh food.
People in supply chains
Walmart aims to create economic prosperity for people around the world through its outsourcing practices and is committed to promoting human dignity by tackling systemic risks to human rights and making responsible recruitment standard business practice. To that end, the company has been working with NGOs, buyers, and suppliers to develop the Ethical Charter on Responsible Labor Practices: a framework for responsibility for practices throughout the supply chain, with large focus on the farm level. Walmart and Sam's Club have committed to sourcing 100% of their fresh produce and floral products from suppliers who have endorsed their local charter, ensuring that those working in the fields are well cared for and looked after.
To help customers identify products that are better for them and better for the planet, Walmart launched the Built for Better program in 2021. Products that bear the Built for Better icon include foods with nutritional benefits, products that are third party certified as sustainable as sustainable, and household and beauty items made without undesirable materials or ingredients. Naturipe is exploring new varieties of berries that are sweeter and more sustainable – lasting longer and grown using less water. You can stay updated on their ongoing sustainability efforts at NaturipeFarms.com. For strategies on reducing food waste and improving sustainability in your own kitchen, check out Waste-Free Kitchen Handbook: A Guide to Eating Well and Saving Money By Wasting Less Food by Dana Gunders.
"This is stuff that will, in a positive way, affect everyone all around the world. Regardless of whether or not they shop at Walmart, they're benefiting from this." Lori Taylor (6:52-7:03)
How to get involved
Join The Produce Moms Group on

Facebook

and continue the discussion every week!

Reach out to us – we'd love to hear more about where you are in life and business! Find out more

here

.
Previous episodes you may enjoy
Subscribe and leave a quick review on iTunes. It would mean the world to hear your feedback and we'd love for you to help us spread the word!