Episode 260: Suzy Monford
An executive in the grocery retail industry and a global international advisor for all things grocery retail, e-commerce, and more, Suzy Monford understands that innovation in grocery retail is rooted in sustainability.
After 10 years in the restaurant business, Suzy made the transition into grocery with H-E-B Central Market. Soon, she was running all of foodservice – prepared foods, deli and bakery – meeting the challenge of producing tasty, healthy, culinary food, from scratch, in a grocery environment every day. After H-E-B, Suzy held leadership roles for a number of companies: Head of Innovation at Coles and at Woolworths Supermarkets in Australia; CEO of Andronico's Community Markets, in the heart of Berkeley (later purchased by Albertson's Safeway); President of QFC Grocery and Group Vice President of eCommerce and Fresh for Kroger; and CEO of PCC Markets, the largest food co-op in the United States. As CEO of her international consultancy, Food Sport, she continues to innovate and lead strategic change through her work with leading retailers and technology providers.
"It's one thing to have the idea, and to have the passion, but then you've really got to engineer the outcome that you want." Suzy Monford (7:41-7:48)
Sustainability is near and dear to Suzy's heart. She was the very first Kroger president, and in fact the first Washington State grocer, to eliminate single use plastic bags from its stores. Moving that initiative from idea into action – even in Seattle, a place known for its sustainability – was a big deal at the time, especially given that paper bags are more expensive than plastic. Suzy's team worked to teach, train, educate, and motivate their customers into accepting and buying into the change, proving that it was possible even for a big chain.
Suzy has been named a Top Disrupter and Top Woman in grocery due to her adoption and evangelization of technology that unlocks sustainability. For example: the SES-imagotag VUSION electronic shelf label, which can be put on a produce bin for dynamic pricing and promotion. The addition of AI computer vision cameras (which run on solar power) allows you to see in real time what's working, what needs to be replenished, and what needs to be culled.
The data gathered from this technology supports improved supply chain distribution, just in time ordering, and better sales and production forecasting, eliminating waste up and down the supply chain and shrinking stores' carbon footprints as fewer trucks travel empty. Another sustainable initiative with Suzy's fingerprints on it is Kroger's partnership with Infarm, who she describes as the "first and best in class of indoor agriculture." Kroger now has a network of indoor farmers across the country operating in urban spaces, growing nutritionally dense produce hydroponically that requires 90% less water and is only touched by human hands at the point of harvest and packaging.
These farms are highly electric-efficient, capable of producing food around the clock, and are less vulnerable to pests and weather conditions. Because the amount and type of light is tightly controlled, the resulting product can be optimized for taste, texture, and nutrients. This kind of forward-thinking is key, as it has been projected that by 2050 the population will have outgrown the amount of arable land necessary to feed it.
"We want to put the customer at the center of everything we do and make decisions that can surprise and delight them." Suzy Monford (16:23-16:28)
Suzy sees the future of grocery shopping as a beautiful brick and mortar store experience in the front, with "dark store picking" in back. This entails building enough backroom space to hold inventory for curbside pickup and e-commerce fulfillment, using digitization and AI computer vision for better supply chain and order management. As more data becomes available for decision making, the system will grow increasingly efficient – reducing risk for farmers, waste, and costs, which translates into lower prices and higher paying, more purposeful work.
"If you're going to win in our business, you better win in produce. Produce is the most important department in fresh, and fresh is the most important element of your store. Period." Suzy Monford (35:40-35:49)
To get updates on advancements in modern grocery retail, you can follow Suzy Monford or her international consultancy, Food Sport International, on LinkedIn.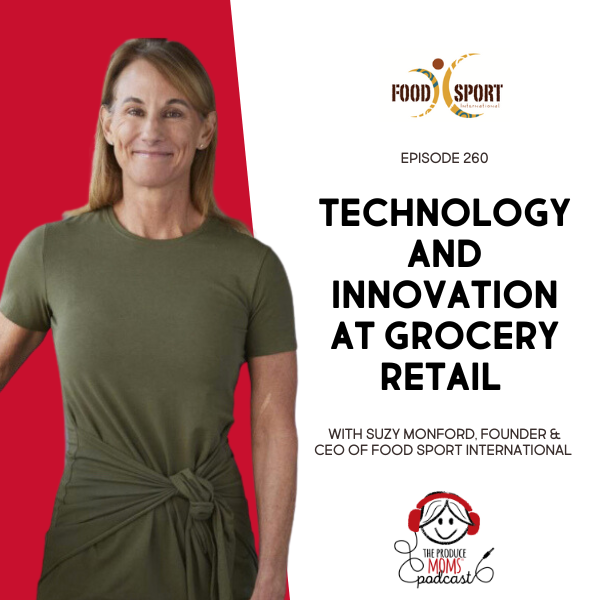 How to get involved
Join The Produce Moms Group on

Facebook

and continue the discussion every week!

Reach out to us – we'd love to hear more about where you are in life and business! Find out more

here

.
Previous episodes you may enjoy
Subscribe and leave a quick review on iTunes. It would mean the world to hear your feedback and we'd love for you to help us spread the word!