Episode 257: Molly Ball, MacKenna Clifton and Gracie Murphy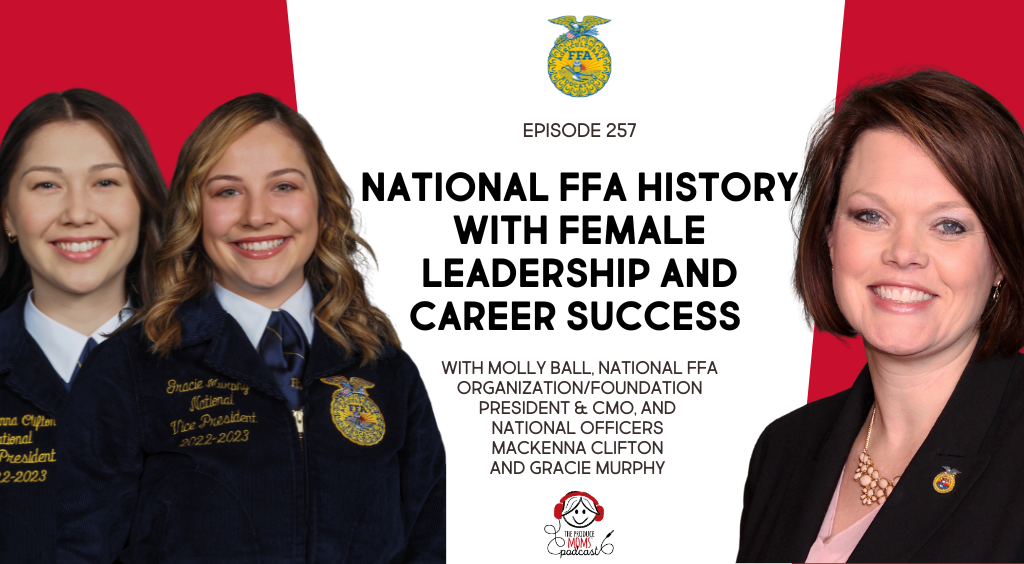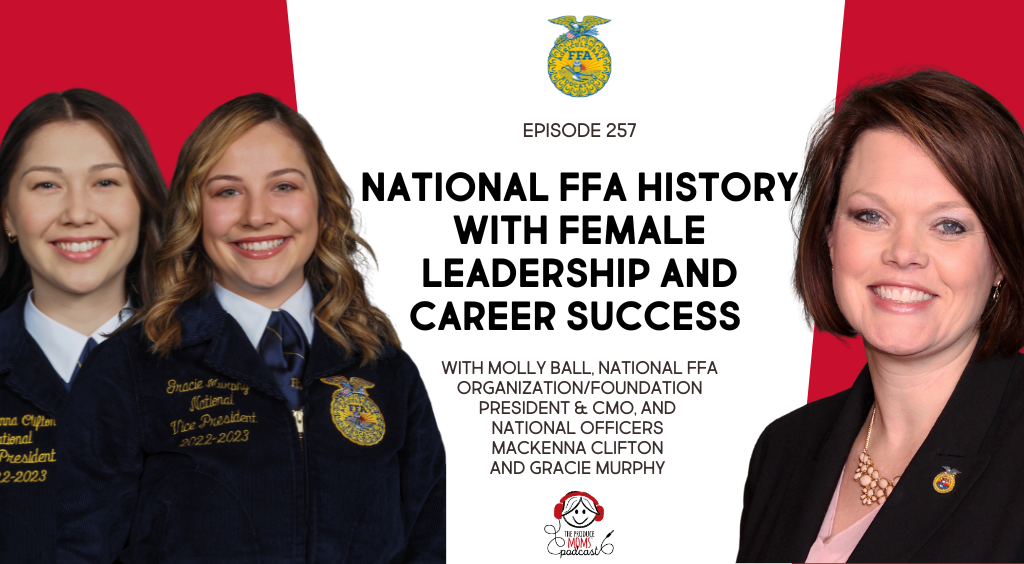 In 1928, 33 "farm boys" from 18 states decided that vocational education – specifically, learning the skills necessary to work a farm – is essential, not just for rural communities, but to feed and clothe a growing population. The FFA Organization (originally named the Future Farmers of America) was formed, creating opportunities for leadership, personal growth and career success through agricultural education.
Today, the National FFA Organization stands as the largest student-led organization in the nation, with over 850,000 members and more than 13,000 educators spanning all 50 states and its territories. It continues to support its Future Farmers, but supports its Future Biologists, Future Chemists, Future Veterinarians, Future Engineers and Future Entrepreneurs of America as well.
As national officers, MacKenna Clifton and Gracie Murphy have taken a gap year from their college studies to represent the organization on a local, regional, national and international level. They will be traveling thousands of miles meeting students, holding workshops, and taking business industry tours, serving to educate, motivate and inspire FFA members, advisors, state staff, teachers and more.
MacKenna represents North Carolina as the first female national officer from that state! Other significant firsts of FFA history:
1969: FFA opens membership to women
1976: Julie Smiley from Washington is elected national FFA vice president and is the first female to hold a national FFA office
1982 (just over 40 years ago!): Jan Eberly from California becomes the first female national FFA president
2013: Sherene Donaldson is named first female national FFA executive secretary.
2017: Breanna Holbert from California is the first African American female to be elected national FFA president; the "So God Made a Farmer" commercial, made through a Dodge Ram partnership with the FFA, airs during the Superbowl and results in a $1 million donation to FFA.
2022: Cheryl Zimmerman serves as the first female national advisor in an interim role; it is the first-time opening ceremonies for the National FFA Convention & Expo are given by a female.
FFA is a place where all students belong, regardless of their background and where they live, and their iconic blue jackets are like a superhero's cape. Molly Ball, President and Chief Marketing Officer of the National FFA Organization/Foundation, hopes that when each member slips theirs on, they feel like they can do anything and achieve whatever they want in life.
Unexpectedly, the FFA is about one third urban, one third suburban, and one third rural, Molly says – and growing in urban areas. While all its members learn more about the technology, science, and business skills required as the sector evolves, urban students seek more hands-on experiences.
"The people in this building at 6060 FFA Drive in Indianapolis could not do what they do if not for thousands of FFA members. So we don't take that lightly. We don't take it lightly what we do every day, we don't take it lightly who supports us. And I just appreciate all of them." Molly Ball (50:00-50:19)
In the 50s Harvey Firestone, founder of Firestone tires, undertook a letter writing campaign asking his influential friends to support local FFA chapters. That campaign raised $100,000. Today the National FFA Foundation, the fundraising arm of the FFA, raises around $20 million a year to support programs and students across the country, from grants to student leadership programs to the National Convention to making sure each one of its members sports the signature blue jacket.
For some FFA members, attending the National Convention is the first time they have left their city or town; for others, it might also offer their first opportunity to stay in a hotel or even ride in an elevator. The National FFA Foundation helps to provide that opportunity for its members who would not otherwise be able to make the journey.
"This concept of women supporting women, it can transform a landscape, a community, an individual." Lori Taylor (30:29-30:38)
Thirty-six percent of farms in the United States are led by women.

Women lead only 26% of state departments of agriculture in the United States.

Women in agribusiness hold only 23% of management positions.

Women hold only 10% of leadership roles in agriculture colleges at land-grant universities.
Research shows that more women are pursuing careers in agriculture and natural resources, but there is still a significant disparity when it comes to women in leadership roles. Impact FFA: Women Growing Women is dedicated to supporting the next generation of female teachers and leaders, analyzing the factors preventing girls from entering or persisting in the industry, evolving their programs and improving access so that those girls can better prepare to reach the highest levels of achievement beyond the classroom.
"I think our motto does a great job of illustrating exactly how we are the future of agriculture. It says we're learning to do, doing to learn, learning to live, living to serve." MacKenna Clifton (39:44-39:54)
Learn more about the National FFA Organization, its rich history, the Women Growing Women initiative, and opportunities for involvement at FFA.org.