Episode 254: Ashley Finster, Jeff Tripician, and Matt Byrne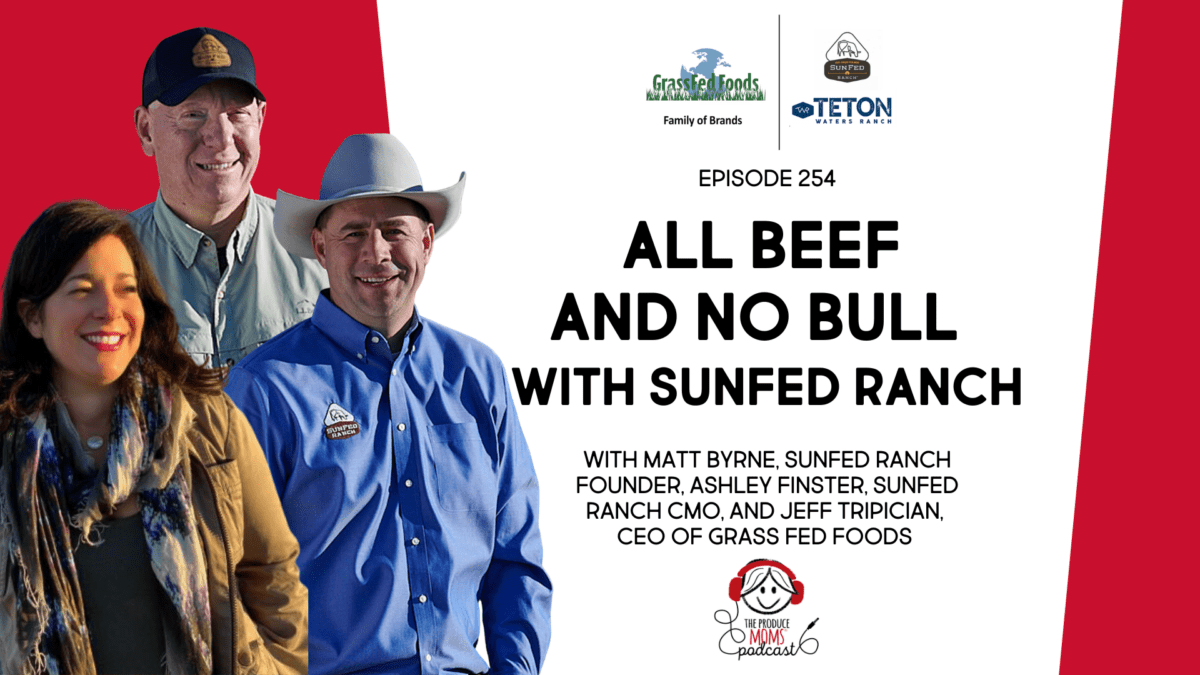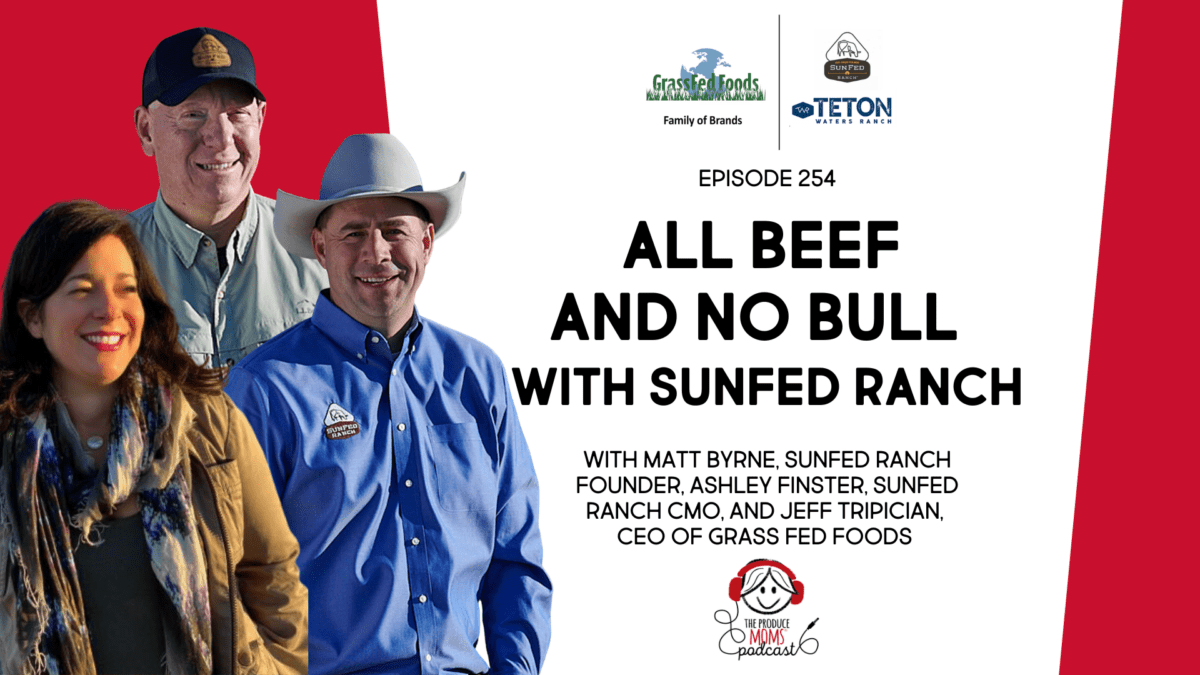 Today's consumers, especially parents, care about the food they purchase, eat and serve – and the values of the companies that provide that food. The labels and claims on food packaging, though, can be confusing at best and misleading at worst. Matt Byrne, Founder of SunFed Ranch, Ashley Finster, CMO of SunFed Ranch, and Jeff Tripician, CEO of Grass Fed Foods, joined The Produce Moms Podcast to demystify some terms you might see in the meat aisle, so you can buy beef you can feel good about.
In many ways, the demand for transparency from shoppers mirrors a desire to move away from industrial models and return to the way things "used to be," or in some cases, the way it's always been done. As Matt Byrne, a sixth-generation cattle rancher and the founder of SunFed Ranch, pointed out: "You would never hear my dad sit at the coffee shop with his buddies and say, 'Hey Bob, what regenerative activity did you do today?' "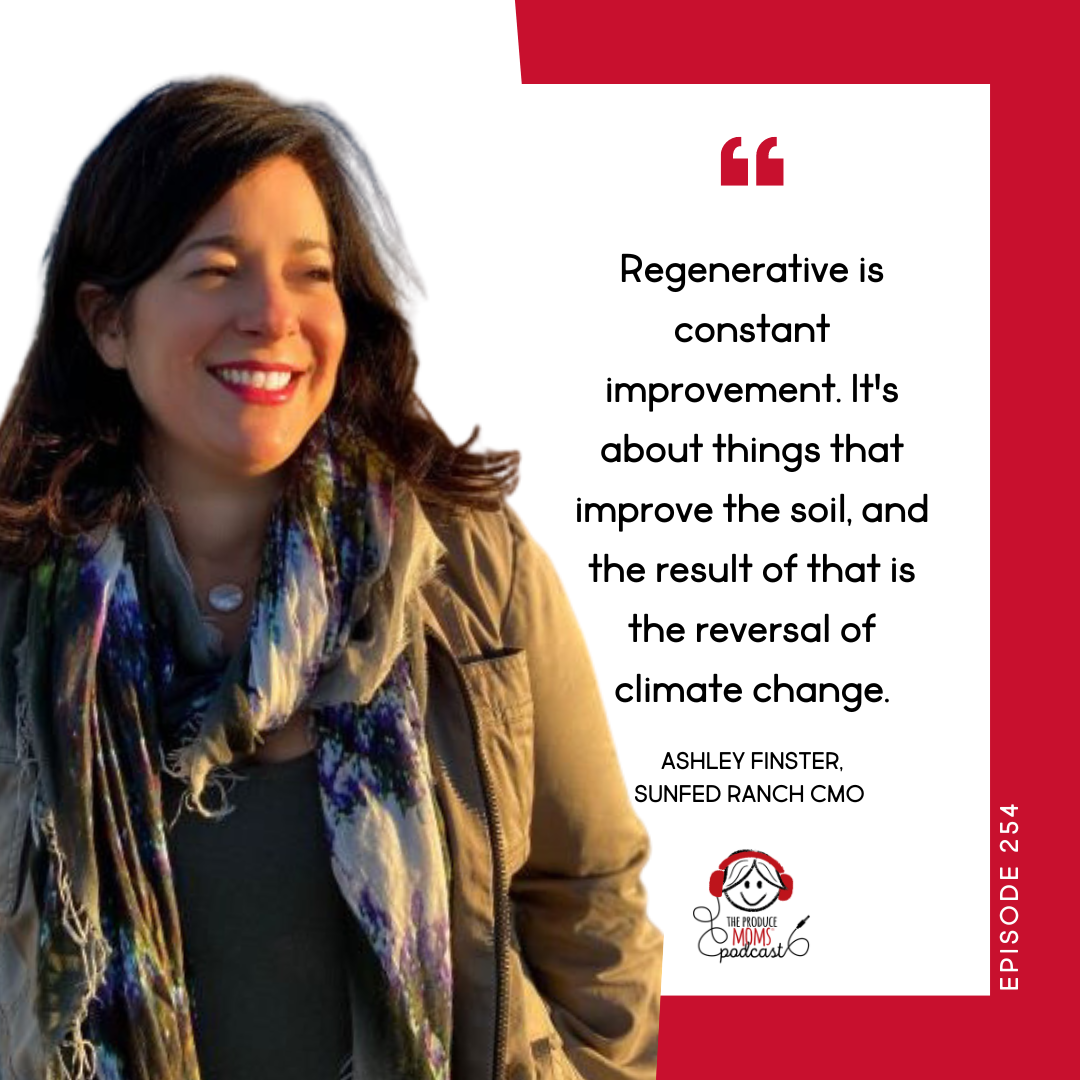 Regenerative Agriculture
Regenerative agriculture refers to engaging in activities, like rotational grazing and foregoing chemical fertilizers, that improve the soil and sequester carbon, reducing greenhouse gasses. These practices also maintain clean waterways and help farms to become more drought resistant. Unlike organic certification, which has a specific endpoint, regenerative is an ongoing journey. Cattle ranches are ultimately grass farms over hundreds of thousands of acres. Livestock consumes these grasses rotationally to encourage deep roots that more effectively capture carbon, and nutrients are returned to the soil in an even distribution that doesn't require the use of fossil fuels, all while turning a product that is inedible for humans (grass) into a healthy source of calories (lean protein). It's a net-positive return for the planet.
"You're either adding to your land in a successive and progressive way, or you're mining the nutrients out of the land in such a way that you have to replenish them with what would be a less natural means." Matt Byrne (14:57-15:11)
When Matt's mother came up with the name SunFed Ranch, she was speaking to the fact that the business is driven by millions of "tiny solar panels," – deep-rooted blades of grass that capture the sun's energy, convert that energy with nutrients put into the ground, and turn that over time into something that people can feel good about feeding their families.
100% American
100% of SunFed beef is raised and processed in the USA, which is important to them because it benefits the people closest to home. When you buy local beef, you reduce the food miles from farm to table, and your dollars make an impact at home. Most grass-fed is not domestic, Ashley explained, but may make an American claim if processed here. To support local ranchers, look for a strong call out to American-raised on the packaging!
Grass Fed and Grass Finished
You are what you eat, and the same goes for cattle. Grass finished beef was raised on nothing but grass for their entire lives. Grass fed, on the other hand, started out on grass – not necessarily from grazing – but received supplemental grain or was switched to a diet largely derived from corn. In the same way that changing to a junk diet would change your body composition, as a cow's diet changes, the health benefits found in their meat is eroded.
"They've been eating salad their whole life, and they've been eating vegetables their whole life, versus eating corn chips." Ashley Finster (23:42-23:49)
SunFed Farms beef is 100% grass fed, 100% grass finished, 100% grazing. It contains more beta-carotene and vitamins A, E and B12 than conventional, and tests show its omega-3 profile to be as good as salmon. Grass fed represents about 1% of all beef, so when you purchase grass fed, you're really supporting those ranchers who are dedicated to providing a healthier product.
100% Humanely and Pasture Raised
SunFed prioritizes the health of their cattle, with no antibiotics, no added hormones, no grain or corn feed, and no confinement. They are allowed to graze freely, with plenty of room to roam: up to 15 football fields of space for each animal.
But how does it taste?
Because SunFed's cattle is allowed to roam freely and isn't given a corn or grain-based diet, it doesn't have the same significant marbling of conventional beef. That doesn't mean that you have to choose between humanely raised and good to eat; you can have both! The amazing flavor in grass-fed beef comes from careful selection of forage for the animals to graze, and it's come a long way in recent years. If it's been a while since you tasted grass-fed, you may want to give it another try!
Grass Fed Foods
One out of five children in the United States is clinically obese, and out of that one in five, 80% will develop type 2 diabetes. According to an NIH study, in 20 years, one out of two will have to deal with type 2 diabetes in their lifetime.
"One in two of them is devastating to the nation, but more so it's devastating to the one in two children. That is unacceptable for a nation of our caliber." Jeff Tripician (43:20-43:32)
Grass Fed Foods is an exciting business umbrella, representing two of the most progressive brands in meat: Teton Waters Ranch and Sun Fed Ranch. Its CEO Jeff Tripician, or Trip, is passionate about changing the micronutrient content that at-risk groups face today– bringing families, and in particular children, healthier meals.
Teton Waters makes hot dogs, hamburgers and sausages, which may not jump to mind when you think of healthy foods for kids. But the hot dogs, hamburgers, meatballs and mini corndogs Grass Fed Foods is launching in March are sugar free with vegetables blended into the grass-fed beef, lowering the sodium by 50% and the saturated fat by 38%.
Grass Fed Foods is working with school districts across the country, underwriting the cost to help them be able to serve products like this to children in grades K through 12. As Trip explained: "For some kids, especially in certain areas, that's the best meal they're having. And we need to work hard as a nation to make sure that if that's their meal, then it's the best one we can provide."
Visit SunFedRanch.com for recipes, beef hacks, and retail locations.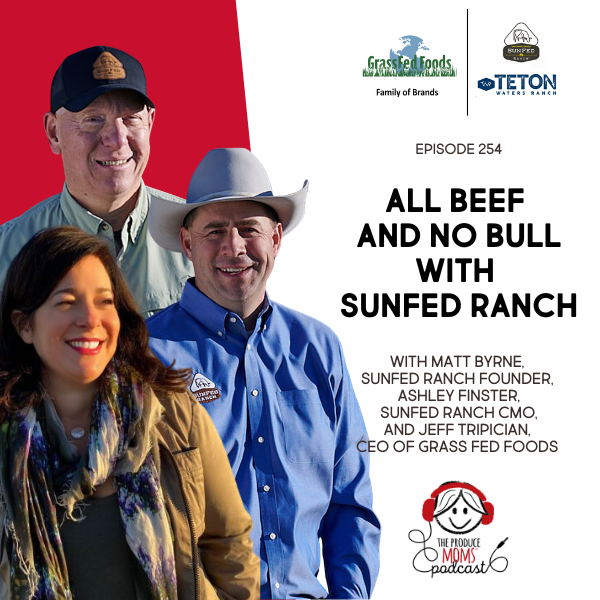 How to get involved
Join The Produce Moms Group on

Facebook

and continue the discussion every week!

Reach out to us – we'd love to hear more about where you are in life and business! Find out more

here

.
Previous episodes you may enjoy
Subscribe and leave a quick review on iTunes. It would mean the world to hear your feedback and we'd love for you to help us spread the word!