Episode 13: Organics: The Fastest Growing Category in the Produce Department with Tonya Antle, Co-founder and EVP of the Organic Produce Network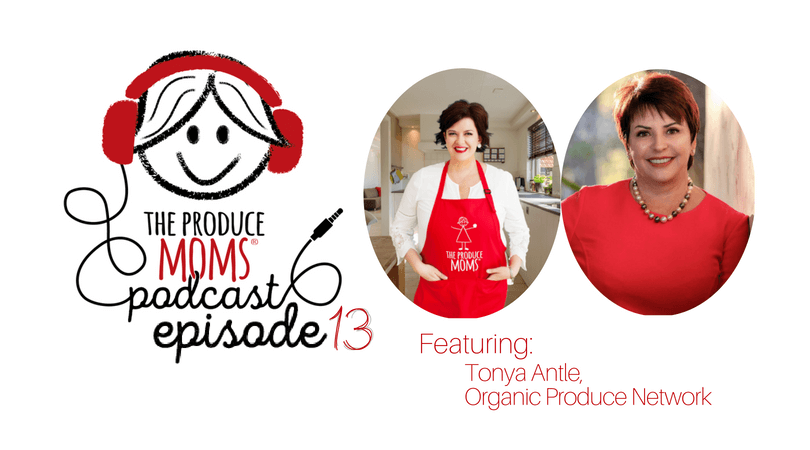 The Produce Moms Podcast Episode 13
Organics: The Fastest Growing Category in the Produce Department with Tonya Antle, Co-founder and EVP of the Organic Produce Network
"We sell Health. We sell lifestyle. We're selling fresh fruits and vegetables and getting consumers into the produce department."
Tonya Antle, Co-founder and EVP of the Organic Produce Network (OPN), has been a driving force in the farming and produce industry for the past thirty plus years.  She grew up on her own family's table grape and citrus farm in Delano, California. She is recognized as a top spokesperson and a true trailblazer for the organic produce segment, helping to propel organic produce from the fringe to mainstream mass-market retailing.
"When you go into the produce department, there are farmers, marketers, sellers, packers, and many more behind those products that are stocked on shelves every day"
She previously held the position of vice president of organic sales for over 13 years at Earthbound Farm, the country's leading brand of organic vegetables and salads, and was an instrumental leader in helping to build the brand to its half billion dollar sales level. Tonya has also consulted for leading U.S. venture capital firms about investments in the organic category.
"Organic is now in every format across the country"
Tonya is the 2016 co-recipient, along with her husband, Rick, of the United Fresh Lifetime Achievement Award, and the 2003 recipient of the Women in Produce achievement award. In 2010, she joined the Ag Business Department at Cal Poly, San Luis Obispo, as an adjunct professor in Fresh Fruit and Vegetable Marketing. She also enjoys guest lecturing at Hartnell Junior College's Ag Business Department and, most recently, at California State University Monterey Bay's (CSUMB) School of Business. She currently leads the Women's Fund Leadership Council which is a field of interest fund at the Community Foundation for Monterey County, where she recently completed a $1.5 million endowment campaign for this fund.  Tonya also serves on the CSUMB Foundation.
Some Topics we talk about in this episode:
Introduction // Tonya Antle – 1:14

How Tonya Got Started in The Organic Produce Industry – 4:12

About the Organic Produce Industry – 9:50

Defining Organic Food – 11:08

Tonya's Introduction to Organic Produce – 17:10

The Organic Produce Network – 19:35

How Consumers Buy Today – 22:40

Tonya's TED Talk "Why Stop Here?" – 26:42

You Don't Get What You Don't Ask For – 30:12

Wrap-up and Takeaways – 31:58
Check out Tonya's TED Talk that we mentioned in the episode – https://www.youtube.com/watch?v=HkZxI7OyZrM
How to get involved
The Produce Moms Podcast is live on iTunes, Google Play, Stitcher, and coming soon to Spotify.  If you like what you are hearing on the podcast, reviews, subscriptions & ratings will help us keep this going!  It would mean the world to hear your feedback, and we'd love for you to help us spread the word!
[bctt tweet="Check out #TheProduceMoms #Podcast, Episode 13 featuring Tonya Antle of @OPNow!" username="TheProduceMom"]

Other Episode You May Like
Episode 12: Organic Fruit Orchards, Washington Tree Fruit and Stone Fruit
Episode 11: Adding Color, Taste, and Nutrition into your Diet
Episode 10: How Fresh Produce is Healing Families
Episode 9: How Your Food is Farmed with Plant Breeding and Research