Episode 110: Chad Ogden
Aug 05, 2020, Updated Jun 11, 2021
Without advancements and logistics, we wouldn't have accessibility to produce 365 days a year, or the array of seasonal produce in virtually any climate.
The Produce Moms Podcast welcomed today it's very first logistics company guest, Chad Ogden, Director of Transportation for Sunrise Logistics. Sunrise Logistics is part of the Four Seasons Produce Companies and is a third party provider in Ephrata, Pennsylvania. They focus on transport and logistics for produce, but also perishable items like health drinks, kombucha, packaged meats and cheeses.
One of the best features of Sunrise is that they are still a first generation, family owned company.
"Logistics are the heart and soul of our industry." – Lori Taylor (2:14-2:17)
It's through that focus that Sunrise has been able to sustain business for themselves and the produce customers they provide for. Ever since the COVID-19 pandemic hit, where some logistics and supply chain companies failed, Sunrise thrived. They've remained consistent in communication, stable, and transparent about what they're doing so customers know their product is safe in their warehouse.
What really makes Sunrise Logistics shine is the dynamic partnership they offer with their customers. Unlike many logistics companies, Sunrise can assist in transporting produce no matter what part of the world the supply is coming from, whether it be exports from Peru or shipping containers out of the Northeast. They also have their own private fleet and a brokerage ability to help cover all parts of the produce supply chain process.
Sunrise Logistics has a dynamic, streamlined process for growers in and out of the U.S. Not only do they facilitate the logistics of bringing supply to warehouses and retailers, they also offer services like bagging, ripening of avocados, and brokerage between customers and carriers.
Why is that important? For one, instead of having to purchase an entire truckload of space to transport product, customers can purchase just a palette of space on one of their trailers. All of their specialized equipment can tailor the logistics process to meet customers needs in an affordable and advanced fashion. They can help eliminate the middleman in certain production operations and are focused on providing the dynamic service most produce providers need.
COVID-19 was surely a time when people truly realized how important the supply chain is in produce. Where other wholesalers failed and couldn't keep up, Sunrise was able to quickly pivot, remain stable and offer clear communication to customers. It's a testament to the great leadership they have in their company and their commitment to the produce supply chain.
The next big step for Sunrise is investing in other big areas around the nation. But before doing so, they're focused on ensuring each leg of their company (such as sister company Sunrise Transport or others under the leg of Four Seasons Produce). They're constantly improving their technology and helping keep their customer's businesses open.
One thing's for sure – out of all the other supply chains around us, produce shined during this pandemic thanks to logistics companies like Sunrise. When going to the store looking for items like napkins and cleaning wipes, most of us were met with empty shelves. Fortunately enough, produce aisles (for most of us) were always stocked.
The team at Sunrise is looking forward to growing and expanding their ability to help their customers worldwide deliver healthy, delicious, high quality produce from shipping containers all the way to your dinner table.
How to get involved
Join The Produce Moms Group on Facebook and continue the discussion every week!
Reach out to us – we'd love to hear more about where you are in life and business! Find out more here.
If you liked this episode, be sure to subscribe and leave a quick review on iTunes. It would mean the world to hear your feedback and we'd love for you to help us spread the word!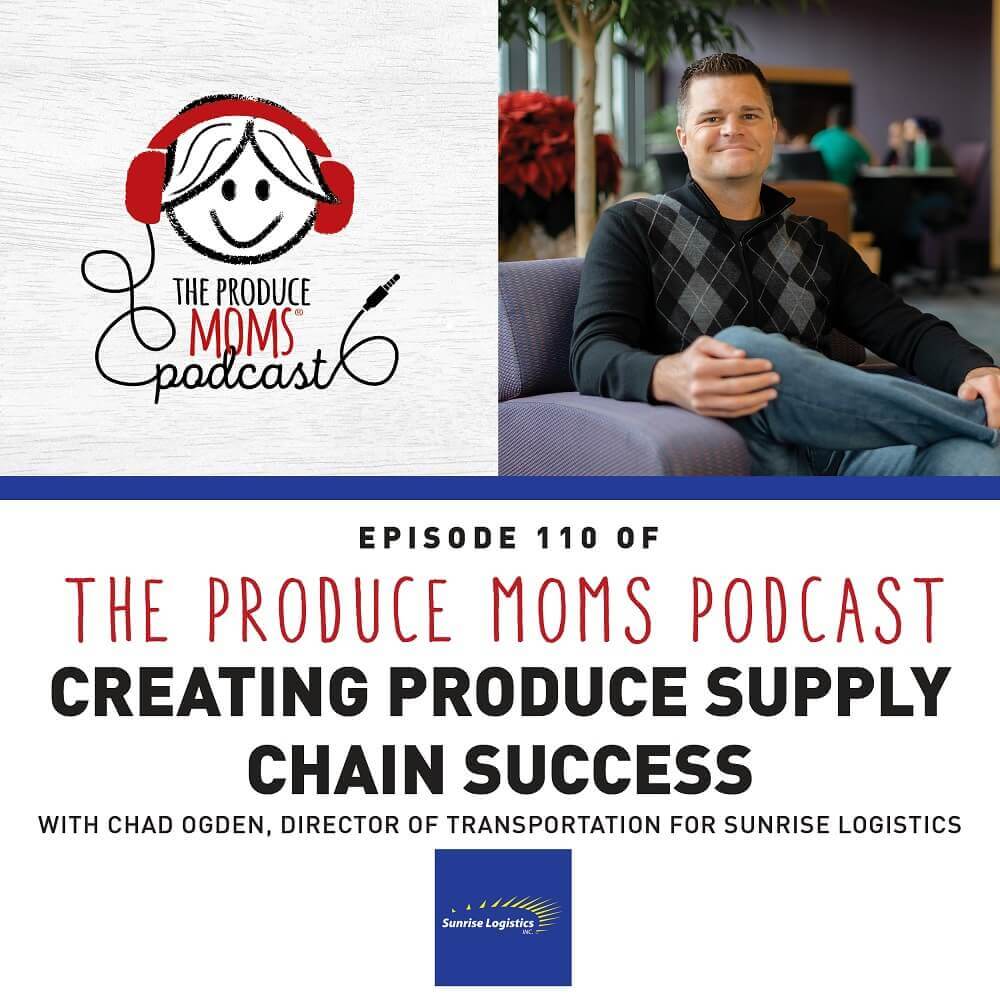 Previous episodes you may enjoy