Easy to Eat Smart® with Chopped & Crumbled™ Salad Kits
Salad Smarter with Eat Smart® Chopped & Crumbled Salad™ Kits!
Topping lovers, rejoice! Eat Smart® Chopped & Crumbled™ Salad Kits have 25% more toppings than other top-selling salad kit brands*. Each kit includes bite-sized ingredients that have been chopped, crumbled, or crisped. Flavor and texture are abundant in each bite!
Eat Smart® Chopped & Crumbled™ Salad Kits are the cure for salad burnout! With so many combinations of flavors and toppings, you won't ever get bored. Try the Apple Gouda kit and experience diced gouda, sunflower seeds, apple crisps, and sliced almonds on a bed of chopped cabbage, kale, and broccoli stalk. Top it off with a creamy apple vinaigrette, included with the kit. Maybe you're in the mood for a Mediterranean adventure? The Mediterranean Crunch kit includes flatbread strips, feta cheese crumbles, chopped sundried tomatoes, sliced almonds, and red wine vinaigrette.
Make it a meal by serving Chopped & Crumbled™ Salad Kits with your choice of protein. Grilled chicken thighs with lemon and parsley pair wonderfully with Apple Gouda and Bistro Bacon kits. Try pork chops alongside the Sesame Almond Crunch kit. Seafood lovers will delight in the addition of grilled prawns to the Mediterranean Crunch kit.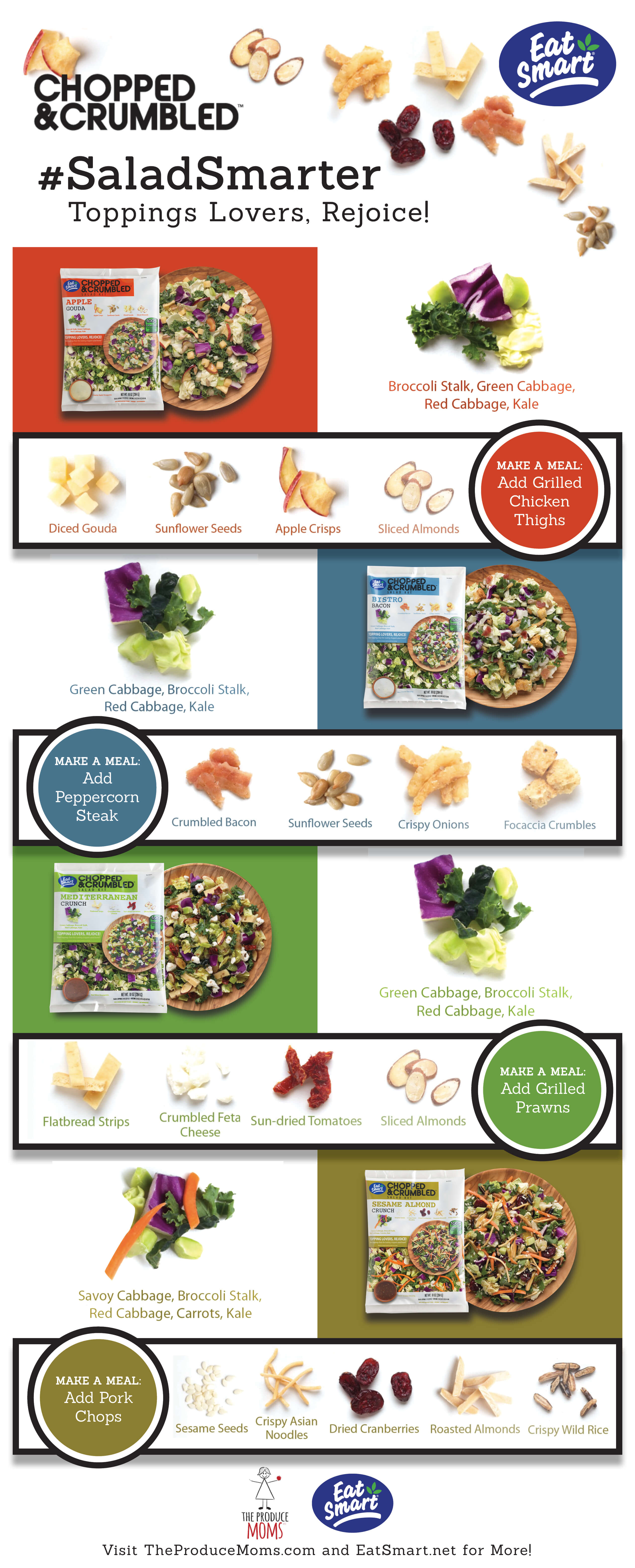 All Eat Smart® products use clean label ingredients. That means you won't find any artificial dyes, flavors, preservatives, sweeteners, or high fructose corn syrup in any of their products! Eat Smart® believes in nutrition that is healthy, delicious, and sustainable. Learn more about their sustainable business practices here.
May is #NationalSaladMonth. What better time to try out Eat Smart® Chopped & Crumbled™ Salad Kits! Find them in the produce department of your grocery store. Try them all and see which is your favorite. Tag us on Instagram at @theproducemoms and @EatsmartVeggies and use the hashtag #SaladSmarter to let us know which flavor combination you prefer best and show us what you served with it. And remember…It's easy to Eat Smart® with  Chopped & Crumbled™ Salad Kits. 
*Calculated based on average topping weight of the leading chopped salad brand varieties.