Eat Like a Zebra: Striped Smoothie Popsicles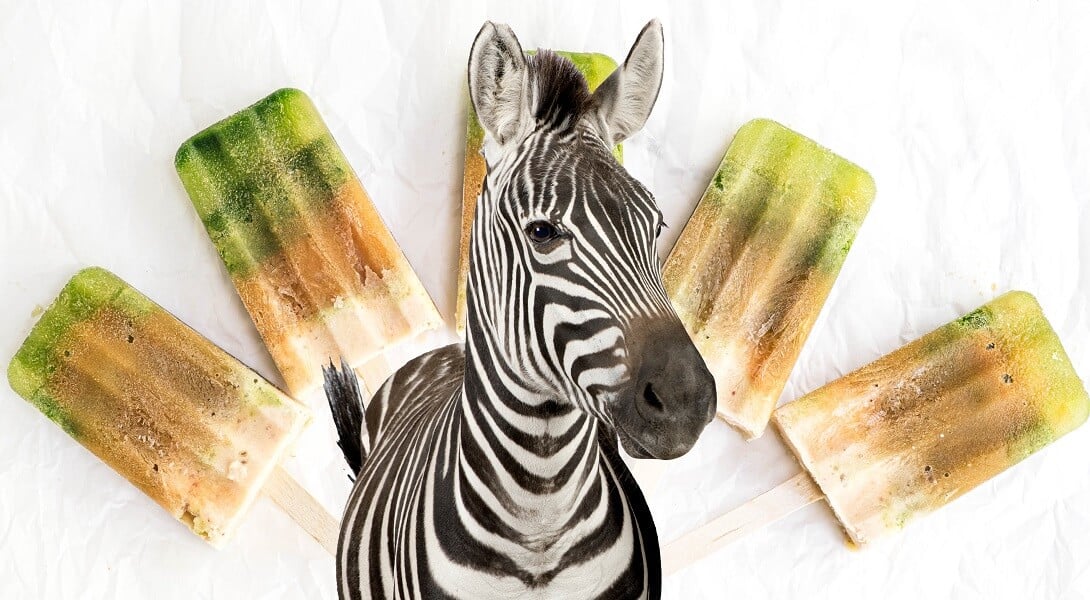 School is out and summer is in, which means it's time to pack your bags! Join us on our second journey around the world as we learn how to eat like an animal. We'll trek to natural places both exotic and familiar and meet animal friends of all shapes, sizes, and diets. And for our first stop of the summer, we'll visit a stand-out creature you've probably heard of: the zebra! We'll learn about the lifestyle and favorite foods of this black-and-white savannah dweller, then make a delightful popsicle that people of all stripes will love. Let's eat like a zebra!
One Iconic Equine
A zebra stands out in a crowd – even in a crowd of other zebras! Most zebras live in groups or small herds called dazzles, which are usually centered around families. But in these dazzles full of striking stripes, zebras (and scientists) don't have trouble telling each other apart. Each zebra's pattern of stripes is unique, just like your fingerprint!
So is a zebra black with white stripes or white with black stripes? If you shaved a zebra (please don't), you would see that it has dark-colored skin. Special cells in the zebra's skin determine what color hair will grow, creating those iconic stripes. Baby zebras or foals are born with brown and white coats, which become black and white as they grow up.
Zebras are equines, like horses and donkeys. There are three species of zebra: the plains zebra, the mountain zebra, and the recognizable Grevy's zebra. But why haven't zebras been tamed like horses and donkeys? They don't have the temperament! Zebras love to roam and be free. They can also be territorial and aggressive around people, which means they're not ideal for riding.
Zebras have been bred with other equines, though. A cross between a zebra and a horse is called a zorse, while a zebra-donkey hybrid is called a zonkey!
Zebras are a favorite target for disease-carrying, biting horseflies. But when researchers put zebras and horses in a pen together, they found that horseflies landed on and bit zebras less than horses – most likely because the bold, bi-color stripes confused them. Some scientists think the stripes confuse other predators on the hunt, too. Those stripes aren't just a fashion statement: they help keep zebras healthy and safe!
Eat Like a Zebra
Want to eat like a zebra? Zebras are lovers of delicious grasses, and they eat a lot of it! As grazers, they need to consume lots of grass every day to get the nutrients they need. The vegetation in their savannah homeland changes with the seasons, so zebras hit the road to follow their favorite grasses.
Their migration routes follow long grasses that grow after heavy rains, but they sometimes alter these routes to find new resources. These routes can extend up to 3,800 square miles. That's a long way to walk for some grass! But access to water plays a role, too. Zebras can live for up to five days without water, but when they do find some, they can drink up to a gallon at a time.
Some zebras, especially males, establish territories depending on the season and their needs. Some males will defend territories that are between one and eight square miles, keeping them clear of other males and predators like lions and hyenas. Migrating zebras sometimes form herds with wildebeests and giraffes and help protect these friendly fellow grazers.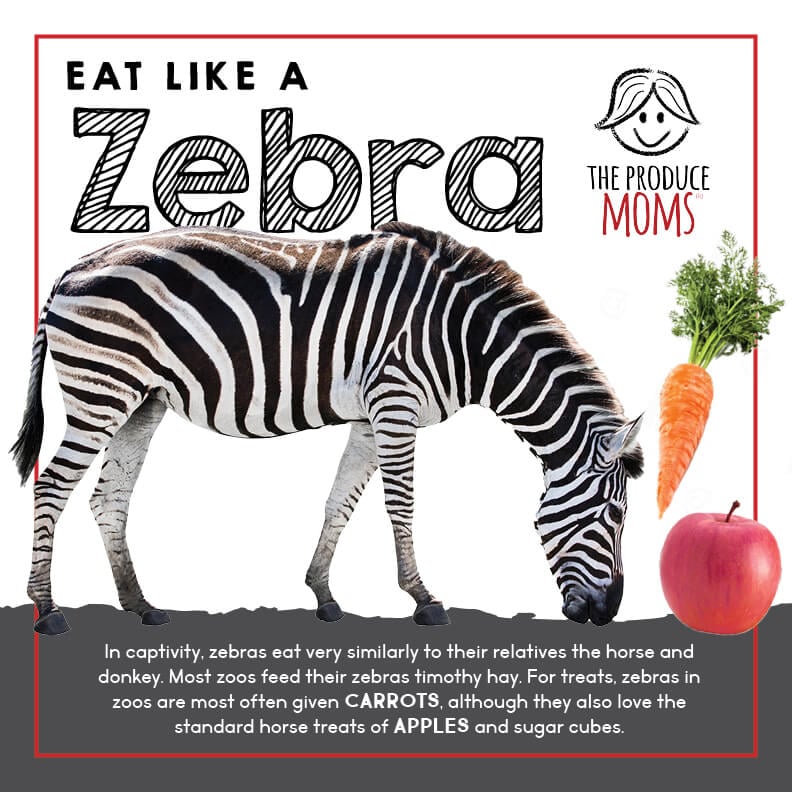 The three zebra species are all threatened by hunting, climate change, and human development in their natural habitat. In fact, the Grevy's zebra is considered endangered by the International Union for Conservation of Nature. But zoos around the world are working hard to save this iconic species!
Zebras are a common sight in zoos. Head to your nearest zoo and you'll probably find zebras feasting on timothy hay. Because this hay is rich in nutrients, zebras only need to eat it once a day. They get other dietary essentials from vitamins and salt licks. Every loves a treat, including zebras; their favorites are carrots, apples, and sugar cubes!
How to Make Striped Smoothie Popsicles
We can't exactly eat like a zebra, because we can't digest the grasses they love. Instead, we've created a snack we think they'd love: Striped Smoothie Popsicles! We think the green, brown, and white colors look like the African savannah, the land the zebra calls home. It's a cool, refreshing, and tasty way to eat like a zebra!
We took a cue from the zebra's veggie-filled diet for this recipe. Each stripe is made of a different delicious combo: spinach and pineapple for green, orange and carrot for orange, and honey greek yogurt and apple for the white. To get the proper consistency, you'll need to blend both the green and the white mixture.
Making these Striped Smoothie Popsicles takes some time. You'll need to pour each smoothie stripe into your popsicle mold separately and wait for it to freeze, which can take around 30 to 45 minutes. Once one freezes, you're ready to pour the next. We made our popsicles with one layer of each flavor. If you have the time and patience, you can make more by pouring thinner layers.
When you pour the second layer, add a popsicle stick to each mold. To keep it centered in the popsicle, cover the mold in aluminum foil. Cut a small slit in the foil in the center of each mold. Push the stick through it and into the popsicle. As you pour new layers, replace the foil each time.
Striped Smoothie Popsicles
We can't exactly eat like a zebra, because we can't digest the grasses they love. Instead, we've created a snack we think they'd love: Striped Smoothie Popsicles! We think the green, brown, and white colors look like the African savannah, the land the zebra calls home.
Print
Pin
Rate
Ingredients
Green
1

cup

spinach

1

cup

pineapple juice
Orange
1

cup

orange juice

½

cup

carrot juice
White
1

cup

red apple

chopped

¼

cup

honey Greek yogurt

approx.
Instructions
In separate containers, blend spinach and pineapple juice, mix orange and carrot juice, and blend chopped apple and honey greek yogurt. Add yogurt until white blend reaches a smoothie consistency.

Ensure each mixture is cold. Using a small glass measuring cup with a spout, pour one layer into each popsicle mold. Freeze until firm, or approximately 30-45 minutes.

Pour second layer over firm first layer. Cover mold with foil and insert popsicle sticks.

Continue until mold is filled. When completely frozen, remove popsicles from mold by immersing the mold in hot water up to (but not over) the top lip for approximately 15 seconds. The popsicles should slide out easily. If they don't, immerse in hot water for a few more seconds.

Store in plastic bags in the freezer.
Nutrition
Calories:
64
kcal
|
Carbohydrates:
15
g
|
Protein:
2
g
|
Fat:
0.2
g
|
Saturated Fat:
0.04
g
|
Polyunsaturated Fat:
0.1
g
|
Monounsaturated Fat:
0.03
g
|
Cholesterol:
0.4
mg
|
Sodium:
21
mg
|
Potassium:
253
mg
|
Fiber:
1
g
|
Sugar:
11
g
|
Vitamin A:
4326
IU
|
Vitamin C:
29
mg
|
Calcium:
30
mg
|
Iron:
0.5
mg
If you like these Striped Smoothie Popsicles, try these refreshing Berry Parfait Popsicles!
What did you think about this taste of a zebra's daily diet? Will you eat like a zebra again? Tell us about it in the comments or tag us in your popsicle pics on Instagram @theproducemoms!