Eat Like a Cape Porcupine: Fruit and Roasted Veggie Skewers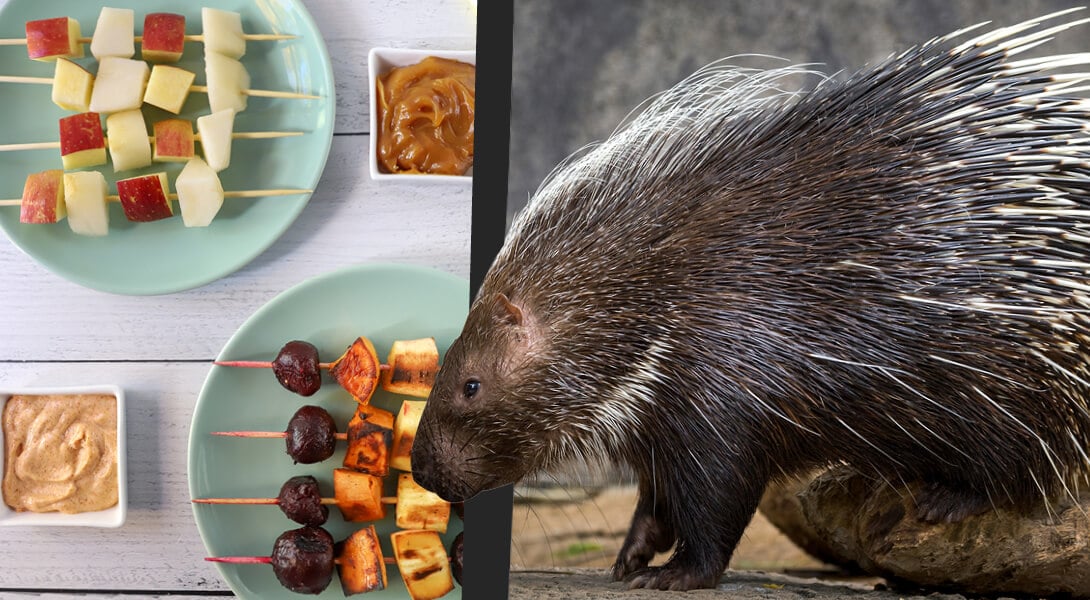 On our trek around the world, we've learned how to eat like so many different animals! Our new friends come in all shapes and sizes and love all kinds of food. We've chowed down with the brown bear, the red panda, the reticulated giraffe, the orangutan, the ring-tailed lemur, the Asian elephant, the three-toed sloth, the giant panda, and the llama. The meals we've shared have been just as diverse, too! Our globe-spanning adventure has us headed back to Africa today to make one more animal acquaintance. It's time to learn how to eat like a cape porcupine!
Prickly, But Not Picky
Cape porcupines are native to southern Africa. They're the largest of all porcupine species and among the largest rodents in the world. Slow and stocky, a porcupine would make an easy meal for predators… if it weren't for their intimidating quills, that is! A cape porcupine's back is covered in spines that can be up to 20 inches long. It also boasts shorter, thicker quills that are even sharper and more dangerous than it's spines.
The cape porcupine's tail is covered in hollow quills that make a rattling sound. When a would-be attacker approaches, the cape porcupine wags its tail. But this is no golden retriever! Most predators know to run when they hear the rattle of a porcupine tail. But if the tail rattle fails to frighten, the porcupine will either flee to its burrow or charge backwards or sideways at the enemy, quill-side first!
These waddling pincushions may seem standoffish, but they know the value of a good relationship. Cape porcupines mate for life. A pair of porcupines will share territory that can include up to six burrows and will raise several babies together throughout their lives. Baby cape porcupines are born with soft quills, but they don't stay soft for long – the little porcupines will be full-sized after just one year.
To eat like a cape porcupine, you'll have to eat in the dark! Cape porcupines are nocturnal, meaning they're more active at night. Their dark fur makes them harder to spot, which means they can forage for food with fewer interruptions. In the wild, they aren't picky eaters: they love all kinds of fruits, roots, and tubers and will even eat the bark off of trees.
Eat Like a Cape Porcupine
A cape porcupine in the zoo isn't picky, either! They love fruits and vegetables like apples, carrots, lettuce, kale, green beans, cucumbers, beets, yams, and even corn on the cob. Sounds like a diet full of tasty treats!
To eat like a cape porcupine, let's make some colorful, mouth-watering kabobs. We first thought to use porcupine quills in this recipe, but when it bared its bristling back at us, we thought better of it! If you can't get your hands on porcupine quills (or don't want them going into your hands), kabob skewers will suffice. Get the whole family involved by letting them help skewer various fruits and veggies.
How To Make Roasted Veggie Skewers and Apple and Pear Skewers
We'll reflect the diversity in a cape porcupine's diet with two recipes: Roasted Veggie Skewers and Apple and Pear Skewers! Enjoy the veggies with the main coarse and save the sweet fruit and caramel for dessert. They also make a fun after school snack!
Ingredients
Roasted Veggie Skewers
beets

parsnips

sweet potatoes

olive oil

salt and pepper

aioli sauce
Instructions
Roasted Veggie Skewers
Chop vegetables into bite-sized pieces. Place on a baking sheet and toss with olive oil and season with salt and pepper.

Roast vegetables in the oven at 450 degrees for 15-20 minutes.

Place roasted vegetables on skewers. Serve with aioli sauce.
Apple and Pear Skewers
Chop pears and apples into bite-sized pieces. Place on skewers and serve with caramel sauce.
Let us know what your kids thought about eating like a cape porcupine. Take a picture of your kids as they eat like an animal and tag us on Instagram @theproducemoms!