Eat Like a Manatee: Grilled Caesar Salad with Shrimp and Balsamic Glaze
Aug 17, 2021, Updated Aug 26, 2021
This summer, we're exploring the world's wild places in search of wild eaters. From jungle rivers to wide-open savannahs, we've met some fascinating friends who have taught us how to eat like an animal! In our last adventure we met the mighty hippo, a river-dwelling melon-lover. Before that, we joined the zebra as it grazed the African grasslands. Now let's dive into the watery home of our next culinary companion: the manatee! Let's share a meal with this graceful, curious creature and eat like a manatee!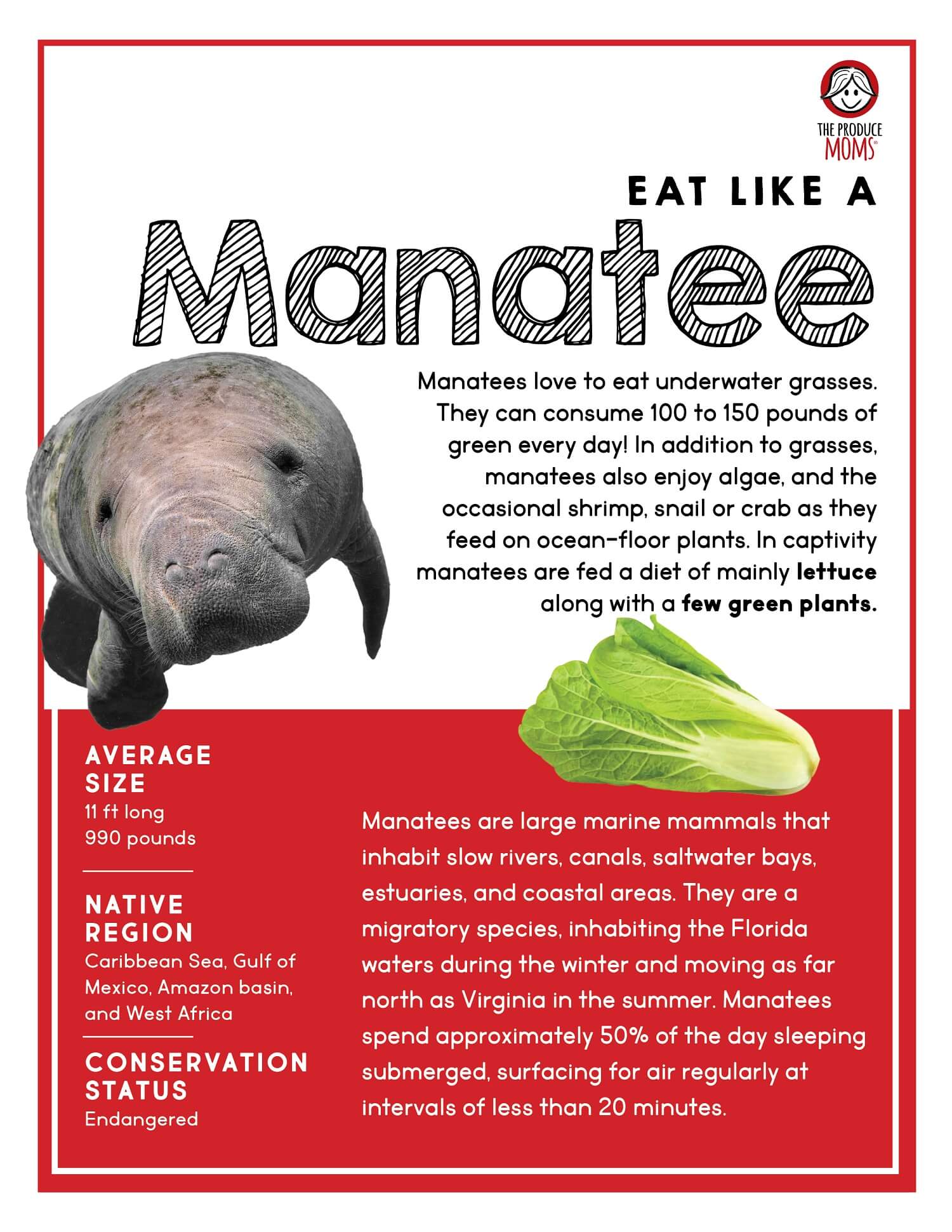 Relaxing in the Sea
Want to relax like the manatee? Head to your local pool! If you can float in the water, you'll experience a bit of what the manatee does all day! Manatees are round and buoyant, meaning it's easy for them to float along, despite the fact that they can weigh around 990 pounds.
The average manatee is about 11 feet long, but they can grow to lengths of 13 feet from the tip of their snout to the end of their powerful, flipper-like tail. While manatees normally cruise at the carefree speed of 3 to 5 miles per hour, this large tail can propel them up to 20 miles per hour in short bursts.
There are three species of manatees alive today: the Amazonian manatee from South America, the West African manatee, and the West Indian manatee of the southern United States and the Caribbean. Manatees are also closely related to the dugong of eastern Asia and Australia, as well as land-lubbers like the elephant and the hydrax. A trait they share with elephants and other mammals like dolphins is their intelligence: manatees have good long-term memory and can learn how to accomplish tasks.
Around 60 million years ago, the manatee's ancestors jumped into the water – and haven't climbed back out since! Manatees are aquatic and never go on land, instead inhabiting slow-moving rivers, saltwater bays, coastal areas, and other peaceful, grassy places like canals.
They may spend all of their time in the water, but manatees are still mammals, meaning they need to breathe air. Manatees surface every 20 minutes for a breath of air, even while sleeping – an activity that takes up about half of their entire day!
Eat Like a Manatee
Want to eat like a manatee? Then get ready to eat some greens! Manatees love underwater grasses, consuming up to one tenth of their body weight in sea grass per day. While they are herbivores, or plant-eaters, manatees occasionally snatch up crabs and shrimp that live in the grasses they eat. Manatees make such good aquatic grazers that they were introduced to the Panama Canal in the 1960s to help control weeds.
To get at the best grasses, manatees use their flippers to "walk" along the seabed and drag vegetation toward their mouths. Their large lips help them gather as much greenery as possible. While they don't have front teeth, bony plates on the roof of their mouths and large molars, or back teeth, help them grind up plant matter to eat.
Manatees are friendly with each other and are great communicators. While small on the outside, they have large ears on the inside of their heads that give them excellent hearing. Manatees communicate with each other through a wide range of sounds, but may also use taste, smell, sight, and touch to get the message across.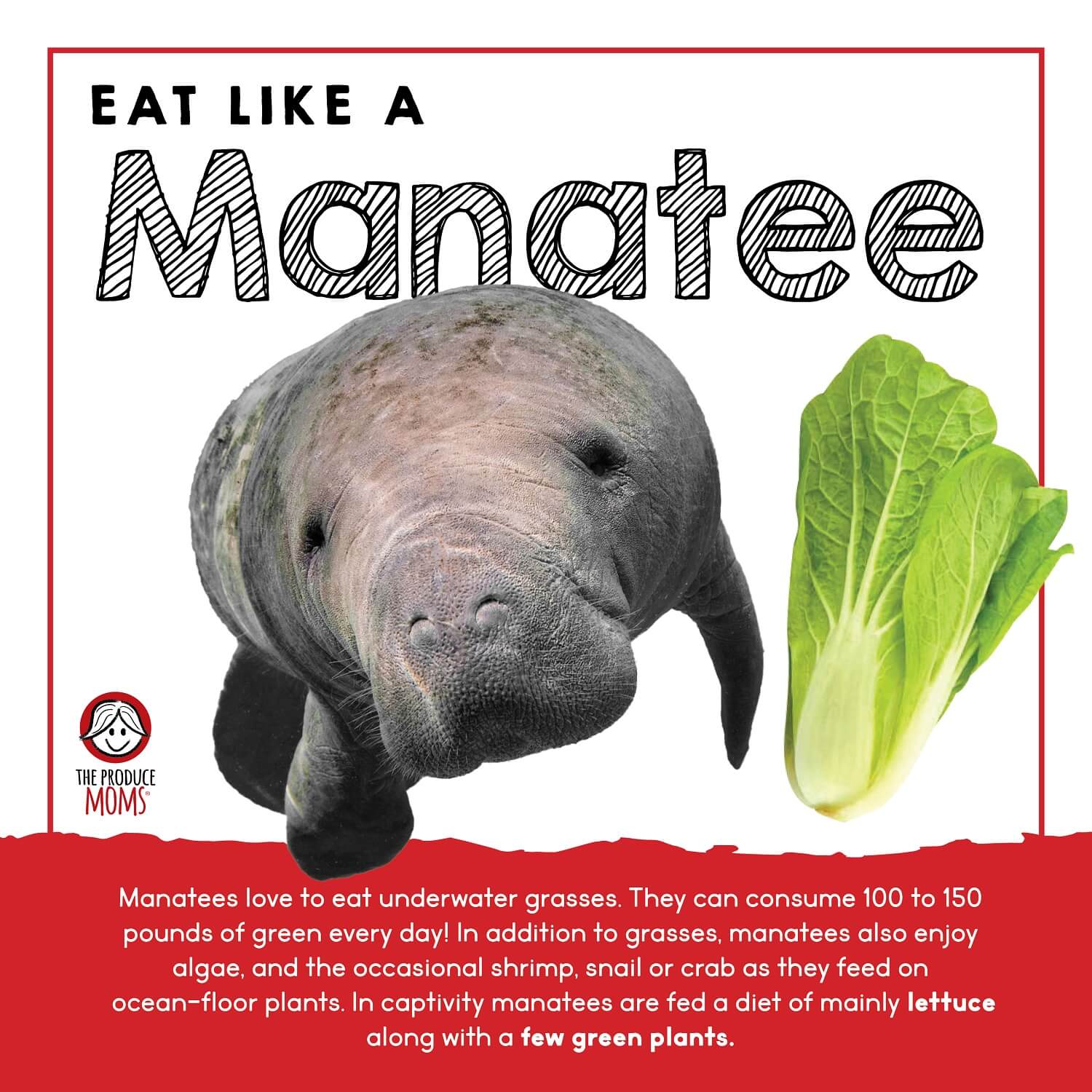 Manatees are friendly with each other, but they prefer to relax and eat in solitude – with the exception of mothers and their young, of course! A baby manatee is called a calf and lives in the safety of its mother's company until it grows up. Manatees almost always have only one calf at a time, though they can raise a few during their 60-year lifespan.
The manatee's slow-moving, curious nature puts it at risk in the wild. Boats, pollution, and habitat destruction have all put the manatee on the endangered species list. Head to the Save the Manatee Club to learn more about these gentle giants and how you can help them!
How To Make a Grilled Caesar Salad with Shrimp and Balsamic Glaze
In the wild, manatees love nothing more than some tasty sea grass. But in captivity, their favorite food to chow down on is a leafy green you might be more familiar with: romaine lettuce! This salad favorite makes up most of their diet, though they are also fed other green plants and elephant vitamins.
To help you eat like a manatee, here's a delicious Grilled Caesar Salad featuring romaine, shrimp, and balsamic glaze! We call leaves of romaine lettuce "Nature's Tacos" because of their convenient boat-like shape. They're perfect for filling with tasty salad ingredients, just like we did in this Grilled Caesar Salad.
Goat cheese, basil leaves, and fresh lemon give this salad a zesty flair. Grilling the shrimp and the romaine hearts provides a delectable smokiness. To grill the romaine lettuce, be gentle! Start by brushing it with avocado oil, then grill it for just a couple of minutes to give it a little bit of crispiness without burning it.
Grilled Caesar Salad with Shrimp + Balsamic Glaze
This Grilled Caesar Salad is filled with shrimp and drizzled with a delicious balsamic glaze that's ready in just minutes.
Ingredients
2

romaine hearts

as whole as possible

Avocado oil

for brushing

1

lb

medium shrimp

shelled

1

lemon

wedged

½

cup

crumbled goat cheese

Basil leaves

for garnish

Balsamic glaze

Salt + pepper to taste
Instructions
For shrimp
Preheat grill pan over medium-high heat.

Butterfly shrimp by slicing almost through lengthwise, but leave shell on shrimp, this will keep the shrimp tender while grilling over such high heat.

Brush shrimps with avocado oil, season with salt and pepper and grill 2 minutes on each side, until shells are hot pink and shrimp is opaque.

Squeeze grilled lemon wedges over shrimp.
For the grilled romaine
Preheat a grill or grill pan to medium heat.

Lightly brush the cut sides of the romaine with the avocado oil. Place the romaine on the grill cut-side down and cook until grill marks form and the leaves are slightly charred, 1 to 3 minutes. Arrange on a platter cut-side up.

Top the romaine with the grilled shrimp. Sprinkle with the goat cheese crumbles and torn basil.
Nutrition
Calories:
377
kcal
|
Carbohydrates:
9
g
|
Protein:
58
g
|
Fat:
14
g
|
Saturated Fat:
9
g
|
Polyunsaturated Fat:
1
g
|
Monounsaturated Fat:
3
g
|
Trans Fat:
1
g
|
Cholesterol:
391
mg
|
Sodium:
489
mg
|
Potassium:
967
mg
|
Fiber:
4
g
|
Sugar:
3
g
|
Vitamin A:
10440
IU
|
Vitamin C:
33
mg
|
Calcium:
276
mg
|
Iron:
4
mg
Nutrition information is automatically calculated, so should only be used as an approximation.
Like this? Leave a comment below!
How did you like this foray into the manatee's favorite foods? Will you eat like a manatee again? Tell us about it in the comments or tag us in a photo with your grilled salad on Instagram @theproducemoms!