Eat Like a Hippo: Melon Sorbet Float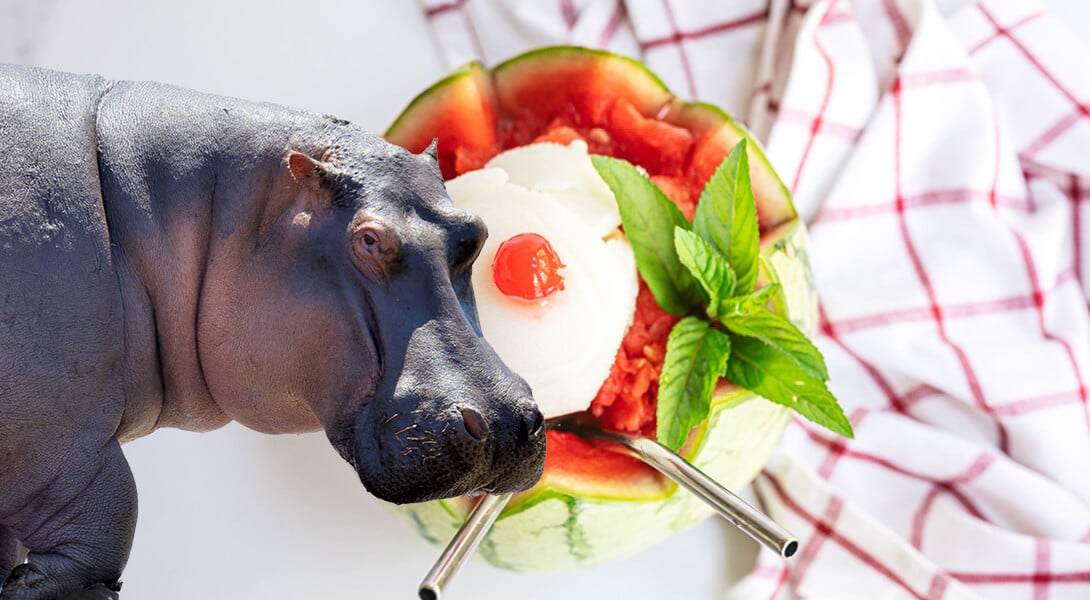 This summer, we're scouring the globe for wild gourmands. We've packed our pots and pans and our spoons and spatulas to learn how to eat like an animal! In our last adventure we met the zebra, an elegant equine who loves to eat the fresh veggies growing in the African savannah. Our journey this time won't take us too far away from them: we'll sail the waters of the Nile River to meet the hippopotamus! We'll learn what's on the menu for this magnificent river-dweller, then make some delightful melon floats to share. Let's eat like a hippo!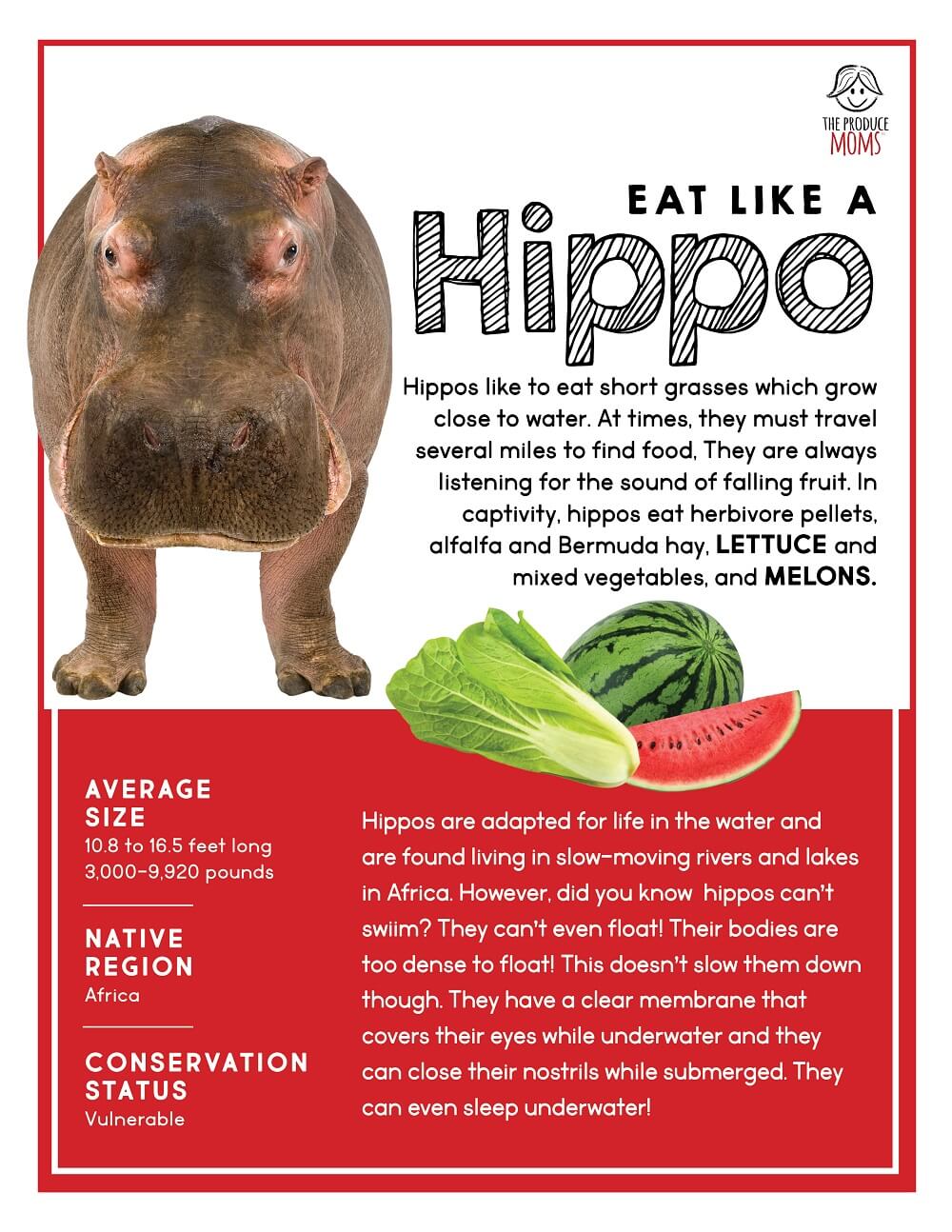 Horsin' Around in the River
Humans have been living alongside hippos for thousands of years. Archeologists have uncovered carvings and figurines of the mighty hippopotamus created by the ancient Egyptians, who lived on the banks of their home in the Nile River. And the ancient Greeks gave them the name we still use today: híppos potamós, meaning "horse of the river".
They may not look much like horses, but the name still fits! Hippos are semiaquatic, spending most of their time in the water. You'll find groups of hippos (called bloats or herds) in many rivers and lakes in Africa.
The cool water and mud they live in helps them beat the intense heat of their homeland. Thick skin that secretes a natural sunscreen-like substance protects them from sunburn while they lounge. Hippos spend so much time in the water that they can even sleep in the water. They bob up to the surface, take a breath, and sink back down – all without waking up!
Out of the water, a hippo really doesn't bear much resemblance to a horse. With a boxy head, barrel-shaped body, and stumpy legs, a hippo might look a bit silly… that is, if it wasn't one of the largest land mammals in the world! On average adult hippos weigh around 3,000 pounds, but males can reach lengths of 16.5 feet and a weight of more than 6,000 pounds over their 50-year lifespan! Females tend to be slightly smaller than those massive males.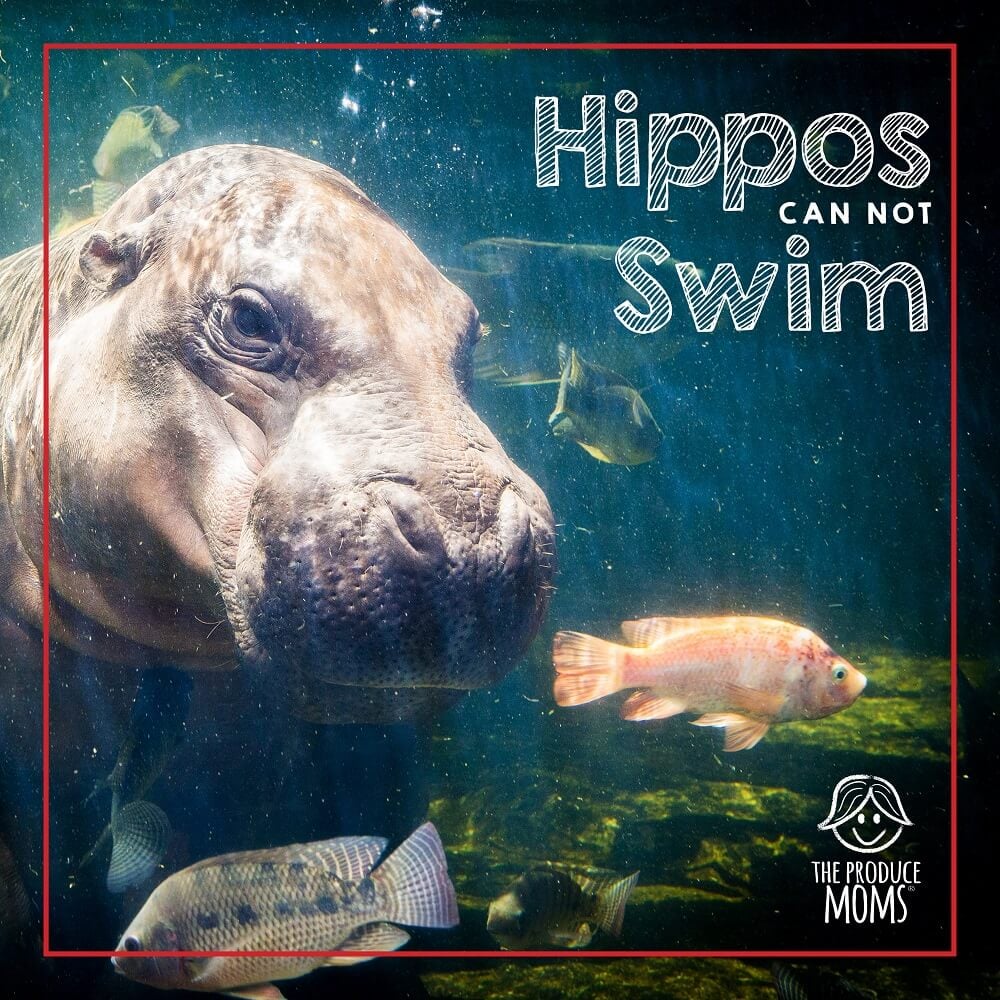 There are only two species of hippos living today: the common or river hippo and its smaller cousin, the pygmy hippo. The closest living relatives of the hippo are another group of water-loving mammals: the cetaceans! This group includes whales, dolphins, and porpoises, who share an ancestor with modern hippos.
Eat Like a Hippo
Hippos love the water – but they can't actually swim! Their bodies are too dense to float. Instead, they push off from the bottom or walk along the riverbed in a lazy gallop, like a horse in slow motion. Webbed feet help them push through the water and keep them from sinking into the mud.
During the day, hippos hang out in the water to keep cool and conserve energy. Hippos are herbivores, or plant-eaters, meaning they need to forage for veggies to eat. At dusk, when the temperature begins to drop, they lumber up the bank and out of the water to graze on grasses. They feed on patches of short grass called hippo lawns.
Grass isn't necessarily a hippo's favorite food. Because its eyes and ears are positioned near the top of its head, a hippo can keep most of its body underwater while keeping watch above, like a periscope on a submarine. This helps them detect hippo treats: big, juicy fruits that have fallen into the water!
Hippos may love some of the same treats as we do, but we don't recommend sharing with them. Despite its lovable appearance, the hippo is one of the world's most dangerous animals! Aggressive and unpredictable behavior help it survive in a home it shares with lions, hyenas, and crocodiles. With huge jaws and teeth and a top speed of 19 miles per hour, the hippo ensures these predators give it some space!
Zoos around the world are home to hippos, but few are more renowned than the Cincinnati Zoo and Botanical Garden's famous Fiona! Born prematurely in 2017, Fiona has grown into a healthy young (but still very large) calf.
If you want to eat like a hippo, you better love salad! Hippos like Fiona feast on alfalfa, Bermuda hay, lettuce, and mixed vegetables. Melons are a treat for special occasions.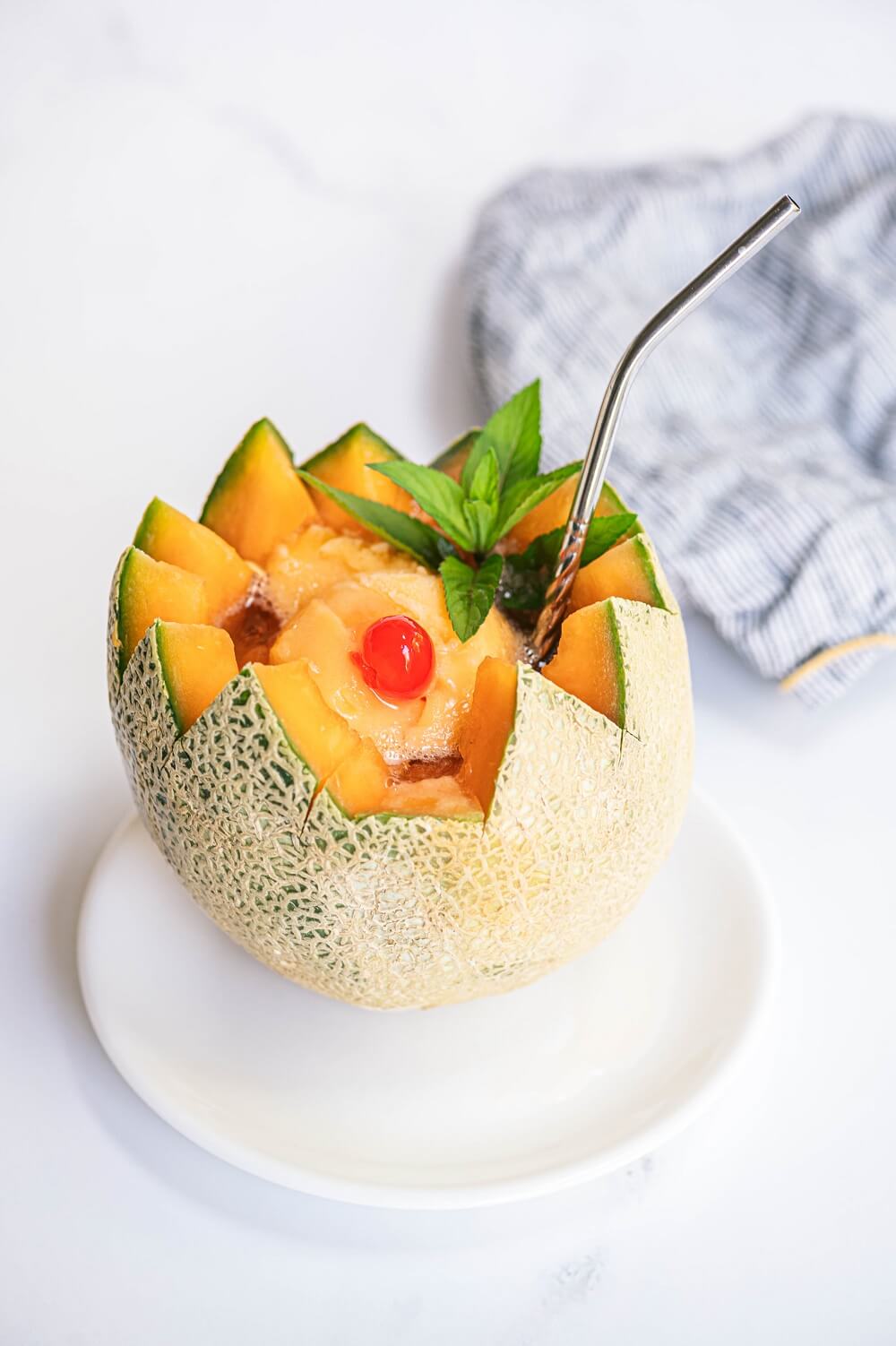 How to Make a Melon Sorbet Float
A big, juicy melon floating along the river is the type of snack hippos daydream about. They love to grab a huge watermelon in their massive jaws and crush it into a sweet fruity treat! These bulky and hydrating fruits keep them refreshed in the African heat, and they can do the same for you.
This Melon Sorbet Float is an eye-catching drink that you'll love to sip by the pool… or in the pool to eat like a hippo. Be careful not to spill it! We made ours with watermelon and cantaloupe, but try experimenting with other melons to find one you love. Small watermelons make personal-sized sorbets, while larger ones are perfect for punch bowl-style servings for pool parties.
Start by cutting the melon in a zig-zag pattern, making it look as though a hippo has taken a big, yummy bite out of it. Then remove the seeds and the flesh. The rind that's left makes the bowl: freeze it to let it harden and keep the rest of your drink cool. The melon flesh and juice, along with sorbet and ginger ale, make a sweet, creamy, and fizzy drink that will keep you cool on even the most blistering summer day!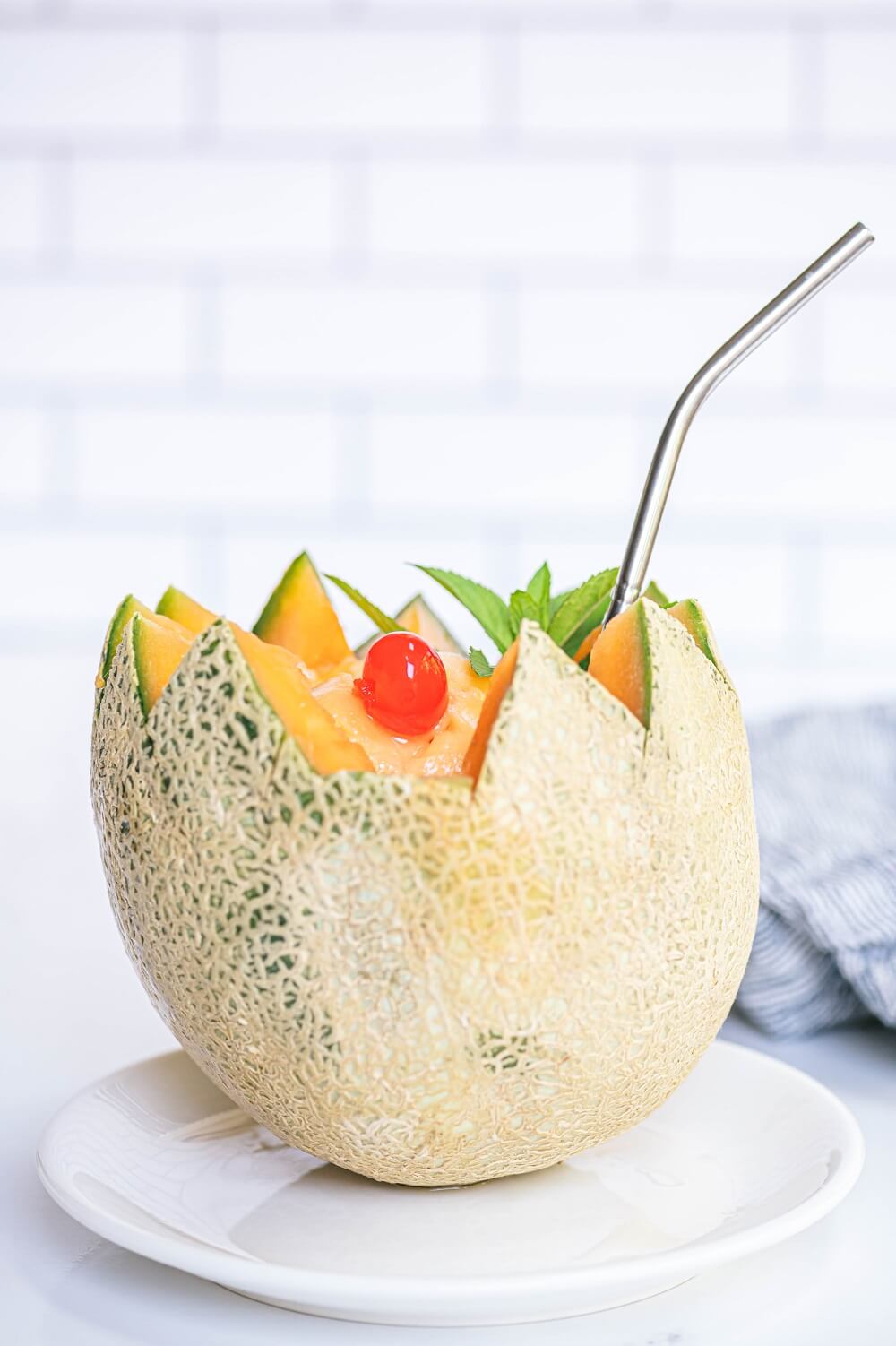 Melon Sorbet Float
This Melon Sorbet Float is an eye-catching drink that you'll love to sip by the pool. Be careful not to spill it! We made ours with watermelon and cantaloupe, but try experimenting with other melons to find one you love. 
Ingredients
1

mini seedless watermelon

whole

1

cantaloupe or honeydew melon

whole

Sorbet

1-2 scoops per melon

Ginger ale
Instructions
Cut melon in half in a zigzag motion.

Take out the seeds but leave the natural juices inside.

Scoop on the flesh and chill in refrigerator. Freeze the melon bowl in the freezer. Reserve the melon juice for later.

Once the melon bowl is frozen, take it out. Scrape the insides with a spoon until like sherbet.

Add in the melon flesh, melon juice and soda.

Add a scoop of sorbet and garnish with a maraschino cherry.
Nutrition
Calories:
1538
kcal
|
Carbohydrates:
385
g
|
Protein:
32
g
|
Fat:
8
g
|
Saturated Fat:
1
g
|
Polyunsaturated Fat:
3
g
|
Monounsaturated Fat:
2
g
|
Sodium:
211
mg
|
Potassium:
5907
mg
|
Fiber:
22
g
|
Sugar:
323
g
|
Vitamin A:
44274
IU
|
Vitamin C:
425
mg
|
Calcium:
365
mg
|
Iron:
13
mg
Nutrition information is automatically calculated, so should only be used as an approximation.
Like this? Leave a comment below!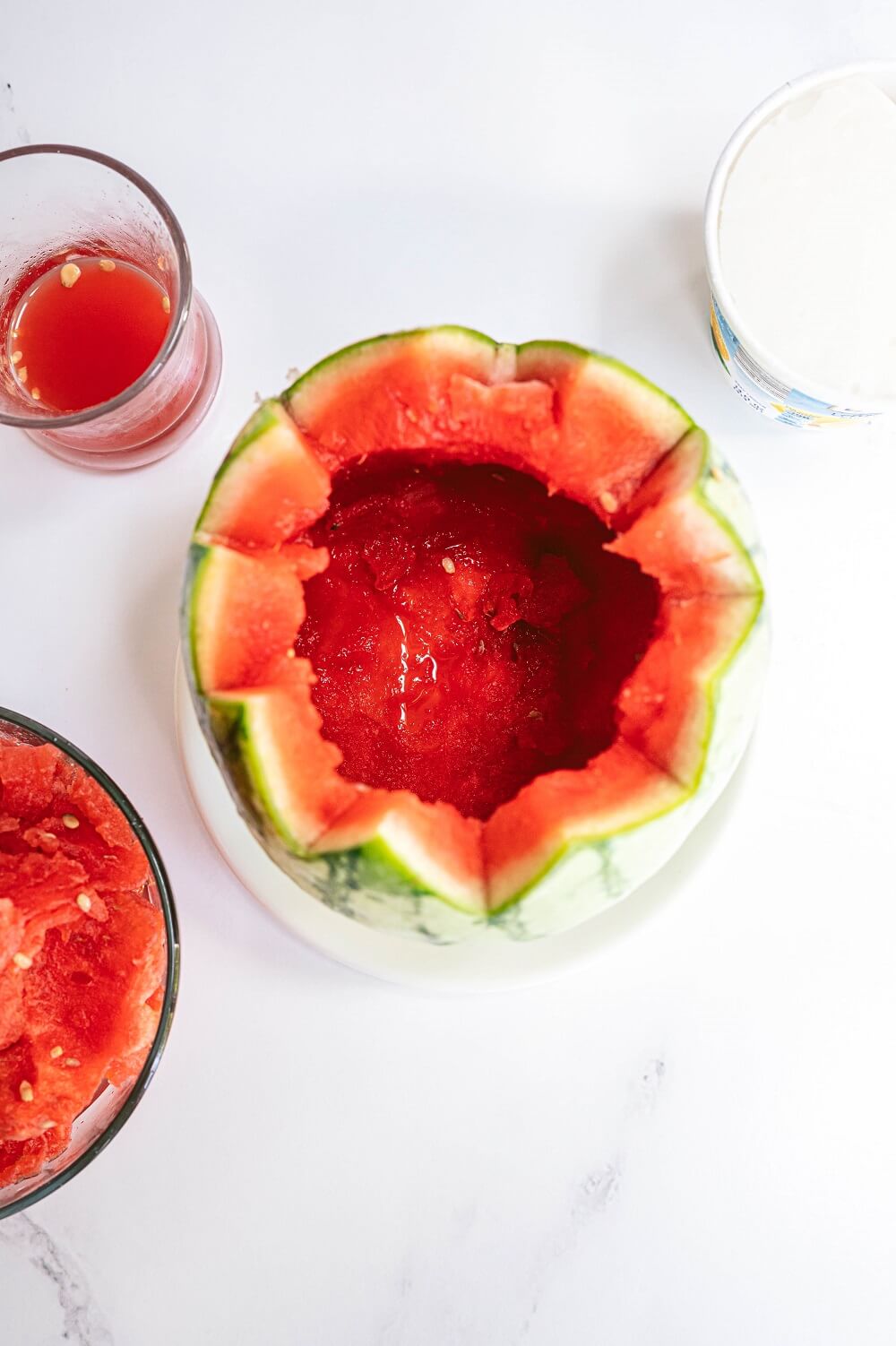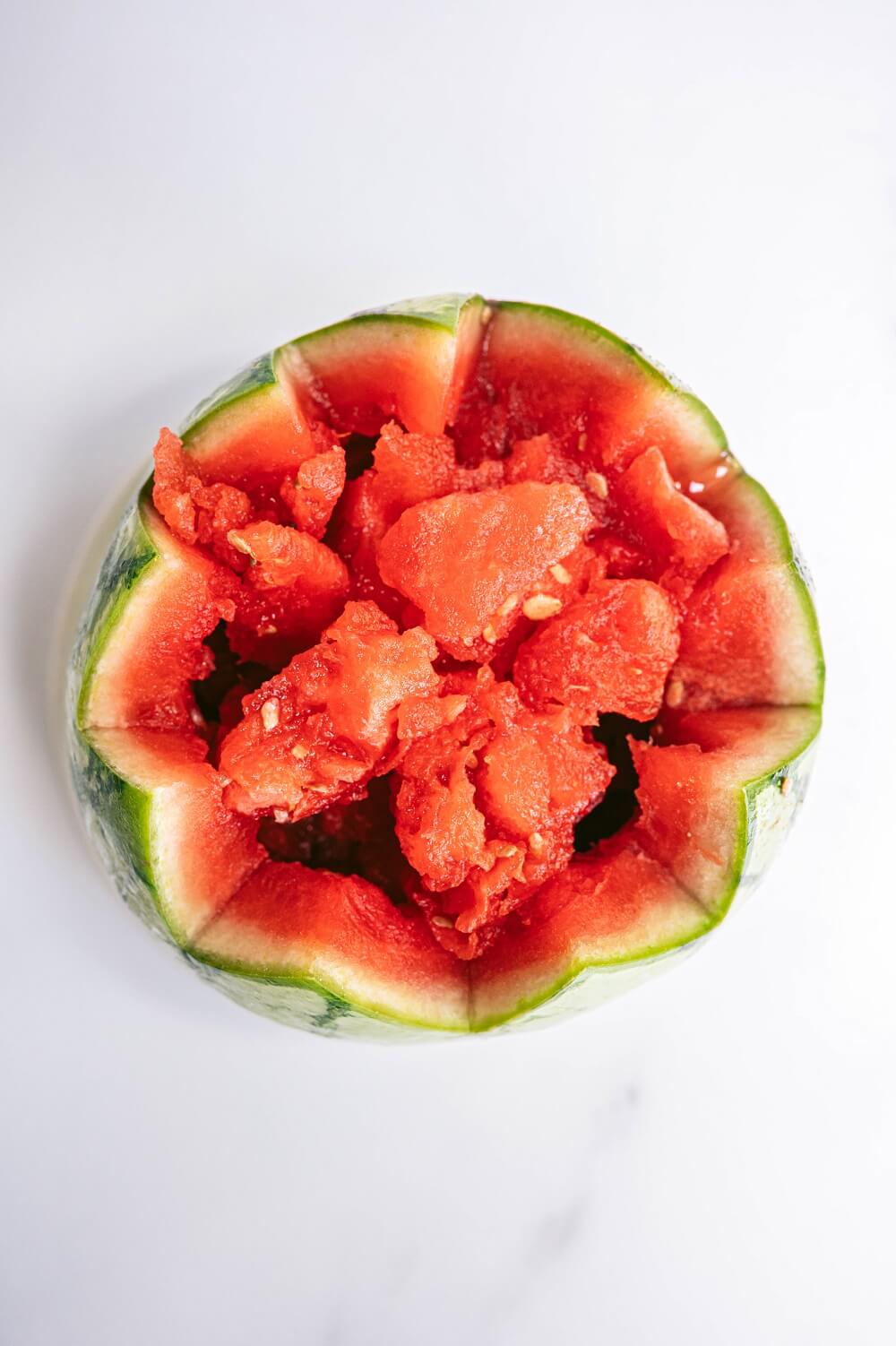 If you loved this Melon Sorbet Float, try our Sandía Loca, or Mexican-Style "Crazy" Watermelon!
How did you like this taste of a hippo's favorite snack? Will you eat like a hippo again? Tell us about it in the comments or float us your sorbet pics on Instagram @theproducemoms!