Eat Like a Llama: Mixed Bean Chopped Salad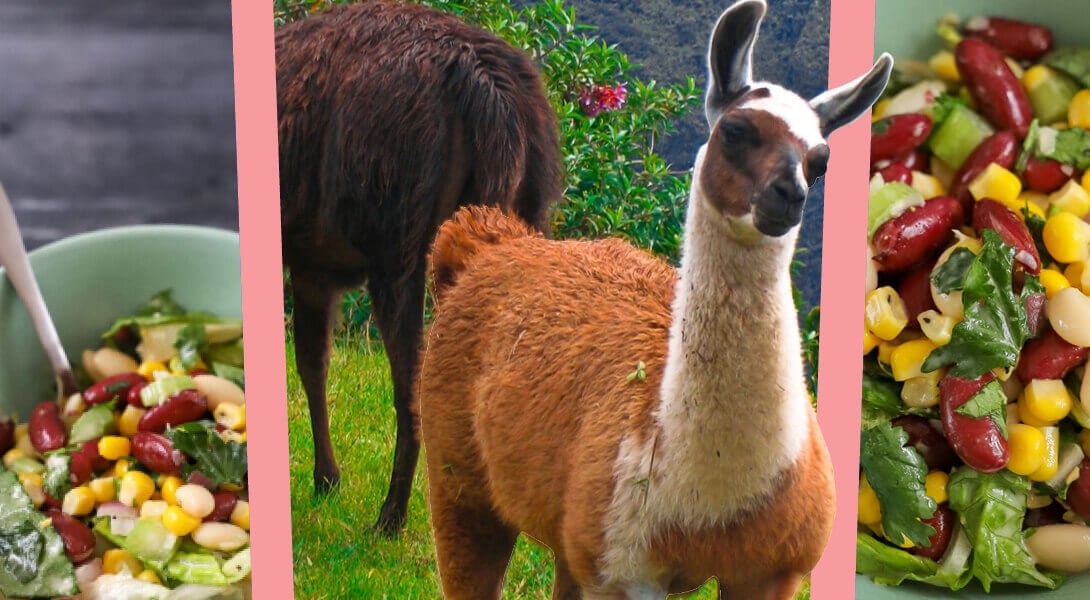 It's a great day to eat like an animal! Can you name all of the creatures who have shared a meal with us? So far, we've met the brown bear, the red panda, the reticulated giraffe, the orangutan, the ring-tailed lemur, the Asian elephant, the three-toed sloth, and the giant panda. That's a wild list of friends, but there's always room for more. So pack your bags, because we're heading to South America! Make sure you bring some good hiking boots, too; we'll have to climb rugged mountains to meet our next animal pal. Let's learn how to eat like a llama!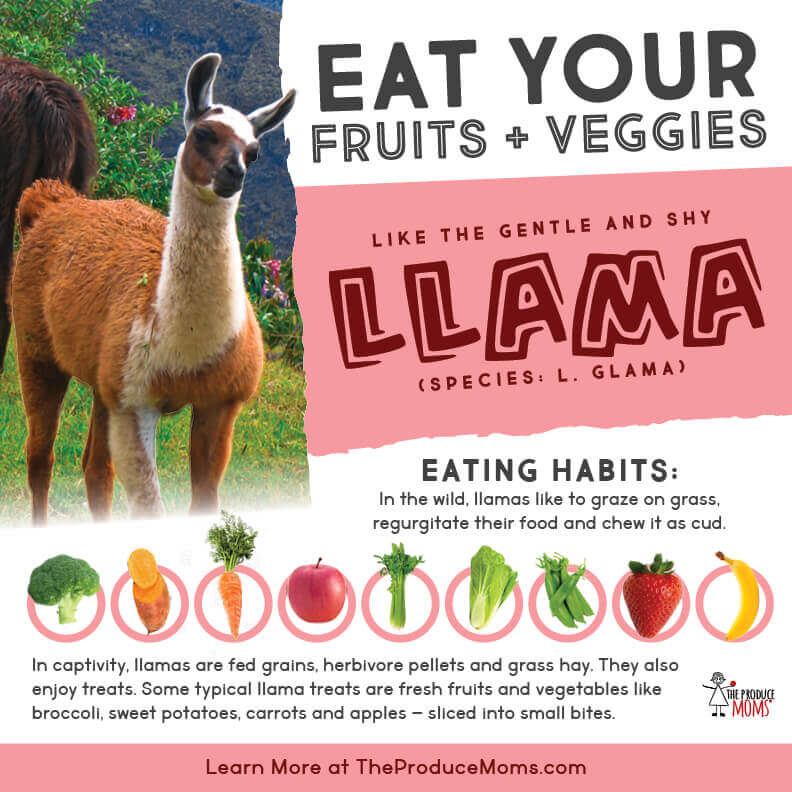 Feisty and Friendly
The llama is a South American relative of the camel. It has a  slender body covered in wool with a tall neck and long legs – almost like a furry giraffe! The llama is a domesticated herd animal that has lived and worked alongside humans for thousands of years. It's usefulness as a pack animal and its warm, soft wool helped make the Inca Empire successful for centuries. The Inca people revered the llama, carving it into artwork and architecture that survives to this day.
It's rude to spit… unless you're a llama! It may sound unpleasant, but to a llama, spitting is a part of life. While they will sometimes spit if threatened or annoyed, llamas generally spit at each other to establish dominance or control other members of their herd.
Properly raised llamas don't usually spit at humans. However, if a baby llama (called a cria) is raised in close contact with humans, it will begin to think of those humans as its herd. Sounds sweet, right? Think again! While llamas love their herds, fighting and spitting are both things that happen regularly between members of the herd. If humans are considered part of the herd, they can expect to be kicked and spat at too! Talk about drama llamas!
Eat Like a Llama
A pasture of grazing llamas is a common sight in South American countries like Peru. to be happy, a llama needs to be part of a herd – but that herd doesn't necessarily need to be made up of other llamas! Naturally social and protective, they are sometimes used to guard sheep or other livestock. If a predator spots a llama grazing alongside weaker animals, it's likely to think twice about attacking!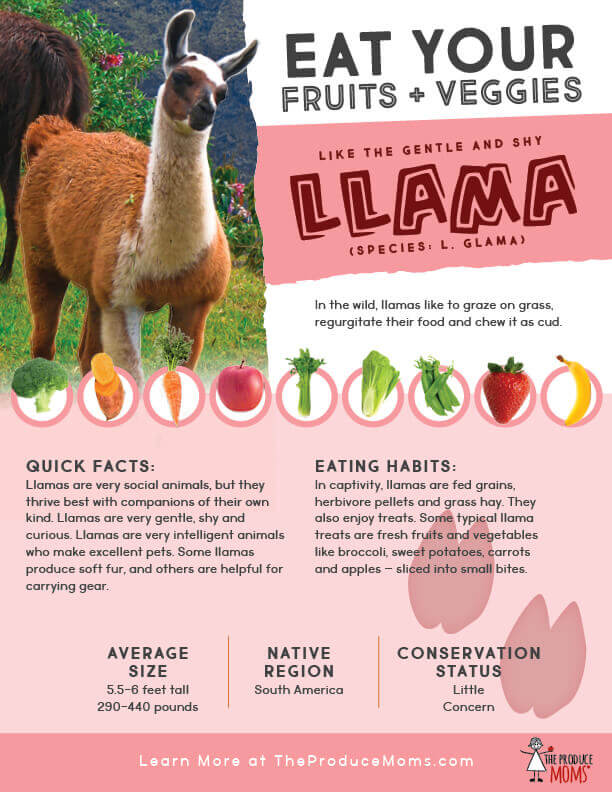 Llamas also fit right in with other herd animals at mealtime. They love to graze on grass or eat grains, herbivore pellets, and grass hay, food that animals like goats and sheep also enjoy. A high-fiber diet makes for a happy llama!
Of course, llamas love tasty treats! These include broccoli, sweet potatoes, carrots, and apples. However, llamas need to be fed carefully. Their teeth are designed for grinding vegetation rather than biting into larger fruits and vegetables. They can even choke on fruits like apples if left whole! To safely feed a llama, these fruits should be chopped up into smaller pieces.
Mixed Bean Chopped Salad
Here's a fiber-filled dish that would make a llama smile – and definitely not spit! To eat like a llama, we'll make a chopped salad using kidney and great northern beans. The base of our salad is romaine lettuce with crunchy, graze-able leaves.
Ingredients
1

can

kidney beans

drained and rinsed

1

can

great northern beans

drained and rinsed

1

can

corn

drained

2

cups

romaine lettuce

chopped

1/2

red onion

diced

2

ribs

celery

diced

1/4

cup

cilantro

chopped

4

tbsp

vinaigrette
Instructions
In a large bowl, toss all ingredients together until evenly coated with the vinaigrette.
Onions and vinaigrette give this salad a savory, filling flavor. The sweetness of juicy corn and crunchiness of celery make this a dish that's well-rounded in taste and texture!
This salad is easy to throw together, perfect for a last-minute side or meal. It also travels well: no matter if your kids go to school on a bus, in a car, on a llama's back, or at home, pack this salad in their lunch for a nutritious energy boost.
Treat your family to a llama-rama of a dinner with this delicious mixed bean chopped salad! Take a picture of your kids as they eat like a llama and tag us on Instagram @theproducemoms!