Episode 15: Delivering Farm to Doorstep Fruits and Veggies with Stacy Carroll of Hungry Harvest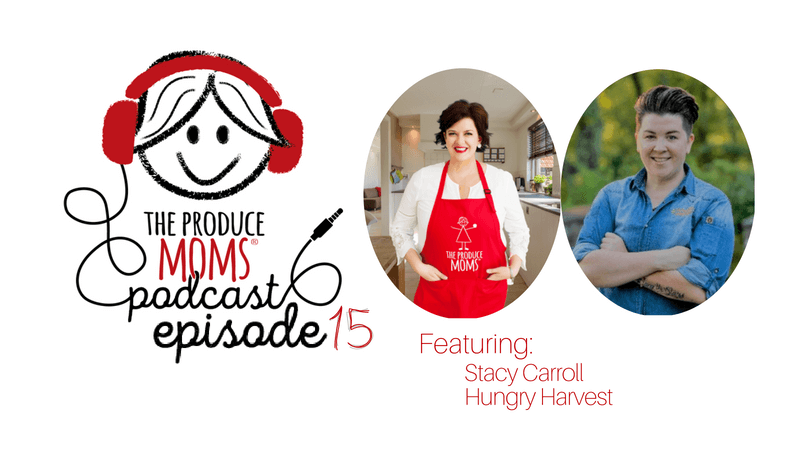 The Produce Moms Podcast Episode 15
Delivering Farm to Doorstep Fruits and Veggies with Stacy Carroll of Hungry Harvest
"Our concept of fresh produce got exploited in the marketing of food. Color television, magazines, food network… changed the consumer mindset about produce. They took seeking out 'fresh' to seeking out 'perfect.' We're seeing food that has been waxed or dyed, or sorted out because it doesn't stack in those beautiful pyramids you see at grocery retailers…"
Stacy Carroll, Director of Partnerships for Hungry Harvest is passionate about eliminating waste and eliminating hunger in our nation. From dorm room, to Shark Tank, to a booming food delivery business, Hungry Harvest has experienced incredible growth. Hungry Harvest markets the produce that was deemed "off-spec," and would have been thrown out, instead of placed in grocery stores for purchase. They believe that fruits and vegetables are a right, not a privilege, and every fruit and vegetable deserves to be eaten.
"Our huge impact came from small steps… your contribution matters. It's so important to get started. Not knowing what you're doing can be one of your greatest assets. You won't overthink it. Just putting one foot in front of the other can lead to great impact."
Hungry Harvest has a multifaceted approach to solving the problem of food waste. Their aim is to create new customers that wouldn't be able to afford or potentially wouldn't have access to fresh fruits and vegetables. Their approach creates a win for all individuals involved. Additional business is provided to farmers, consumers have convenient and affordable access to fresh produce, and with each purchase, a donation is made to local partnerships who feed individuals in need.
"Every year, 40% of food in the US is going to waste. 20 billion pounds of that waste is produce that is lost before it even leaves the farm. Food that farmers have grown the water and love has gone into it and they can't harvest because they can't connect it to a buyer. So, they can't afford to pull it off the plant."
Hungry Harvest is here to collaborate and replicate these concepts. They desire to work towards the bigger mission of fighting hunger nationwide.
You can find them at Hungryharvest.net.  Input your zip code to see if they deliver to your area.   If they don't deliver to your area (yet), give them your email to stay connected, and help bring Hungry Harvest boxes to your area!
Get $5 off your first delivery with PROMO CODE- MOMS.
Some Topics we talk about in this episode:
Introduction // Stacy Carroll – 1:15

What is Hungry Harvest? – 2:56

What Does Hungry Harvest Do? – 7:34

The Story of Hungry Harvest- 11:42

Why is Food Waste Such a Critical Issue? – 16:20

What Makes Hungry Harvest Unique? – 20:52

The Concept of Food Justice – 25:39

Wrap-up – 30:05
How to get involved
The Produce Moms Podcast is live on iTunes, Google Play, Stitcher, and coming soon to Spotify.  If you like what you are hearing on the podcast, reviews, subscriptions & ratings will help us keep this going!  It would mean the world to hear your feedback, and we'd love for you to help us spread the word!
[bctt tweet="Check out #TheProduceMoms #Podcast, Episode 15 featuring Stacy Carroll of @HungryHarvest" username="theproducemom"]

Other Episode You May Like
Episode 14: Advocating for Fresh Produce
Episode 13: Organics: The Fastest Growing Category in the Produce Department
Episode 12: Organic Fruit Orchards, Washington Tree Fruit and Stone Fruit
Episode 11: Adding Color, Taste, and Nutrition into your Diet