December 2020: The Produce Moms Podcast Month in Review
Jan 05, 2021, Updated May 19, 2021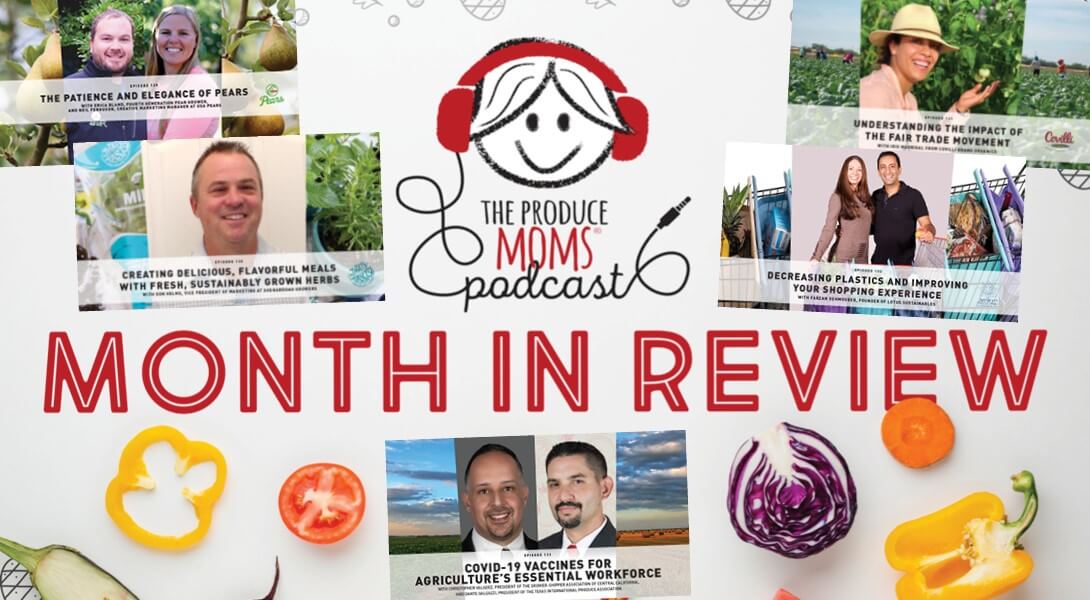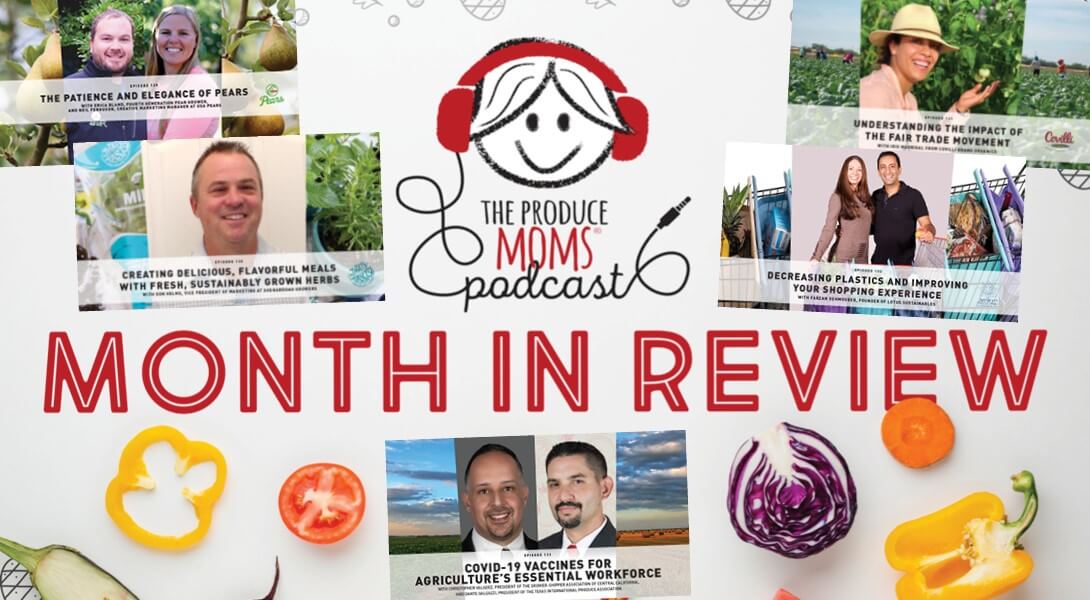 December 2020: The Produce Moms Podcast Month in Review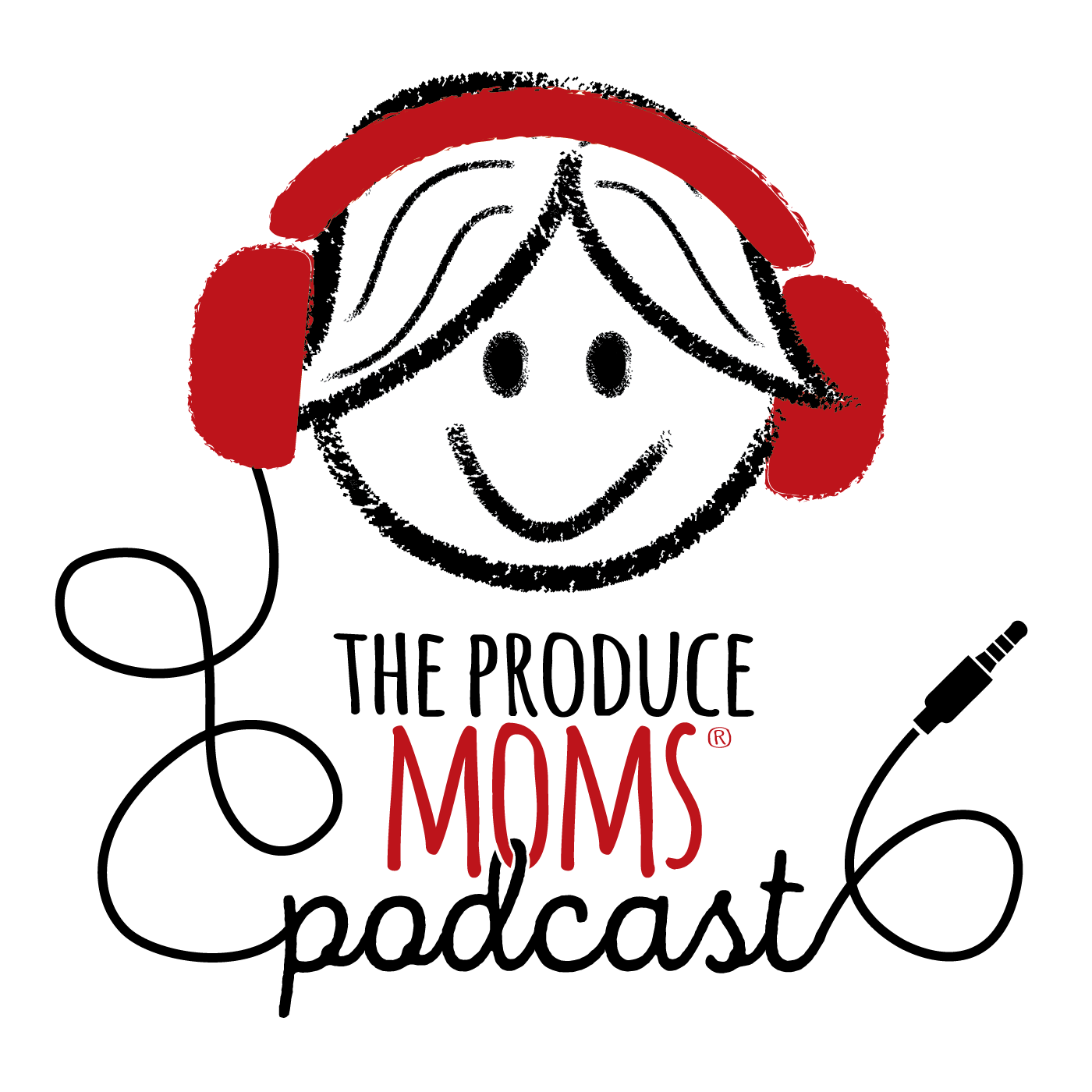 Love the Podcast? Please rate and review!
Let's take a look back at our December 2020 Podcast Episodes.
What better way to say farewell to this interesting year than with the powerful produce leaders we had on the Produce Moms podcast in December!? We wrapped up the last month of 2020 with some more incredible guests.  The mont was filled with some new guests and return favorites. They hit our holiday homes with their inspiration, love and contribution to your family's dinner table. 
Erica Bland and Neil Ferguson of USA Pears joined us at the beginning of the month. December is National Pear month, and they had so much to share about one of our personal produce favorites! Pears are such delicious, nutritious and beautiful fruits. Learning about how delicate the process of growing, picking and getting pears to your home wasn't a surprise. Erica is a fourth-generation pear grower on her family's farm in Washington. Her family farm is located in the perfect area for growing pears in the Pacific Northwest. Neil Ferguson, the Creative Marketing Manager of USA Pears, joined Erica and shared some surprising and tasty ways to enjoy pears!
It wouldn't have been a true holiday without speaking to Don Helms, Vice President of Marketing at Shenandoah Growers. They are the growers behind That's Tasty herbs! Could you imagine your holiday table without fresh rosemary, parsley or thyme? Not only that, That's Tasty has delicious, efficient, organic, stir-in purées. They take the prep work out of chopping herbs. They also let you experiment with different flavors. Don shares the secrets behind That's Tasty herbs' long shelf life. And he explains how they use the Earth's natural processes to deliver some of the best herbs available.
Fair Trade is something that has been on all of our minds for years. But what Fair Trade actually is still seems elusive. Iris Madrigal from Covilli Brand Organics gave us the lowdown. She dives into  how purchasing Fair Trade products impacts the sustainability and development of our world. Iris went into details about the phenomenal resources her company is able to provide their workers as a Certified Fair Trade business. And she gives insight on the exact impact your dollar makes when buying something that's Certified Fair Trade.
Speaking of fair, it definitely isn't fair when you've bagged up 10-15 bags of groceries and a few of them break while you're carrying them into the house! Plus, all that extra plastic is horrible for the environment. It usually ends up cluttered in a cabinet or closet. That's why Farzan Dehmoubed and his wife created Lotus Sustainables. They sell their highly recognizable Lotus Trolley bags and Lotus Produce bags. They are both reusable bags unlike others on the market for all of your grocery shopping needs. Not just bags, Lotus Sustainables has created a real system to transform your shopping experience. And further more,  they will make an even  bigger impact on the world.
We've certainly had an interesting year with a worldwide pandemic no one could have seen coming. The produce industry in particular has done a phenomenal job of taking care of the farmers, agricultural workers, growers and shippers. They industry succeed to ensure they stay safe, healthy and have an easily accessible quarantine option if they were hit with Covid. It's important that these workers get access to the vaccine as soon as possible. After our healthcare workers, frontline workers and elderly or high-risk citizens, of course.  Christopher Valadez and Dante Galeazzi shared with us what could happen if the produce industry was heavily impacted by COIVD. Plus you can learn what they think is the best way to start administering the vaccine to these workers.
Find out more about December's incredible guests. Plus, learn how you can ring in the new year with better produce and healthy, efficient shopping experiences! 
December 2020 Podcast Episode 129: The Patience and Elegance of Pears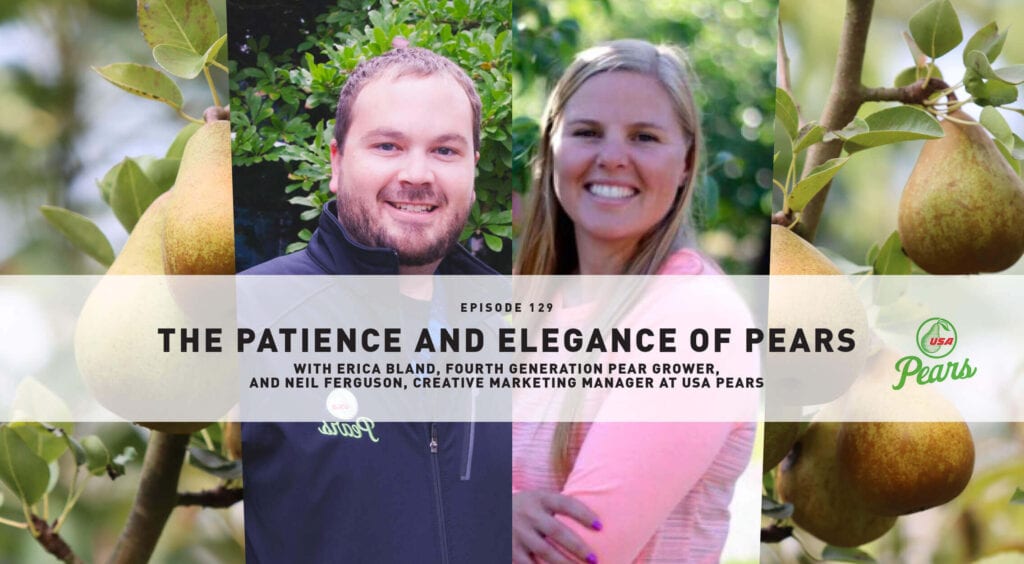 Sharing the delicate, graceful and intricate process of growing pears
Did you know pears grown in the states of Oregon and Washington make up around 87 percent of the US fresh pear supply? Not only that, the process of picking, handling and packing these precious fruits is just as delicate as pears themselves. Erica Bland is a fourth generation grower of pears on her family's farm right in the middle of Washington and Oregon state where the soil is rich and volcanic.

The thing we most love about pears is the thing Erica works for day in and day out, year round: that delicious first bite filled with crunch and juice pouring on your face! Moments with pears are unforgettable, but each season is different. You never know when harvest is going to start (although it always goes through August and September).

Erica's farm grows three types of pears: Bartlett, d'Anjou and Golden Russet Bosc, although there are ten varieties of pears available in the US. Both Neil and Erica shared some of their favorite recipes for pears and the diverse ways you can enjoy the fruit! Erica's favorite recipe is her family's pear pie and Neil loves enjoying pears on pizza! 
December 2020 Podcast Episode 130: Creating Delicious, Flavorful Meals with Fresh, Sustainably Grown Herbs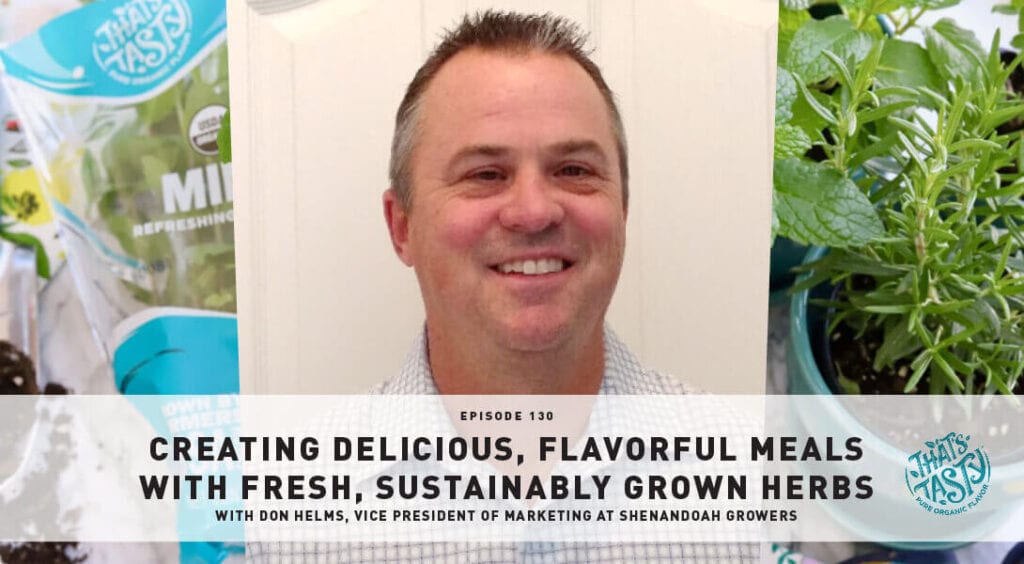 The key ingredients that make your meals come to life
No matter how well you cook or prepare your dishes for the holidays, without fresh herbs the flavor will fall flat. Shenandoah Growers is the consumer grower for the That's Tasty brand that brings you some of the freshest, most flavorful herbs available in America. Whether you want to add some zest, a kick of spice or a mouth-watering, experimental flavor to your family's meals, That's Tasty offers fresh herbs and organic, stir-in purées that let you play, experiment and enjoy flavors from around the world.
The amazing thing about Shenandoah Growers is how they grow That's Tasty's herbs. Shenandoah Growers has optimized their growing process for plants to be grown as they would out in nature. Their plants are all grown in soil even though they're grown indoors and the soil is optimized to produce the strongest, healthiest plants. The water Shenandoah uses has all organic nutrients in it and is fed to plants at the bottom of their pots, forcing them to use their strength, push their roots down and grow healthy tissue.
Furthermore, this lets Shenandoah optimize issues in real time rather than waiting for the next grow cycle. That's Tasty is well known for their brining recipe for holiday turkeys and sells a special poultry blend of herbs available in a fresh cut or living herb option. They're supporting unforgettable holiday birds nationwide!
December 2020 Podcast Episode 131: Understanding the Impact of The Fair Trade Movement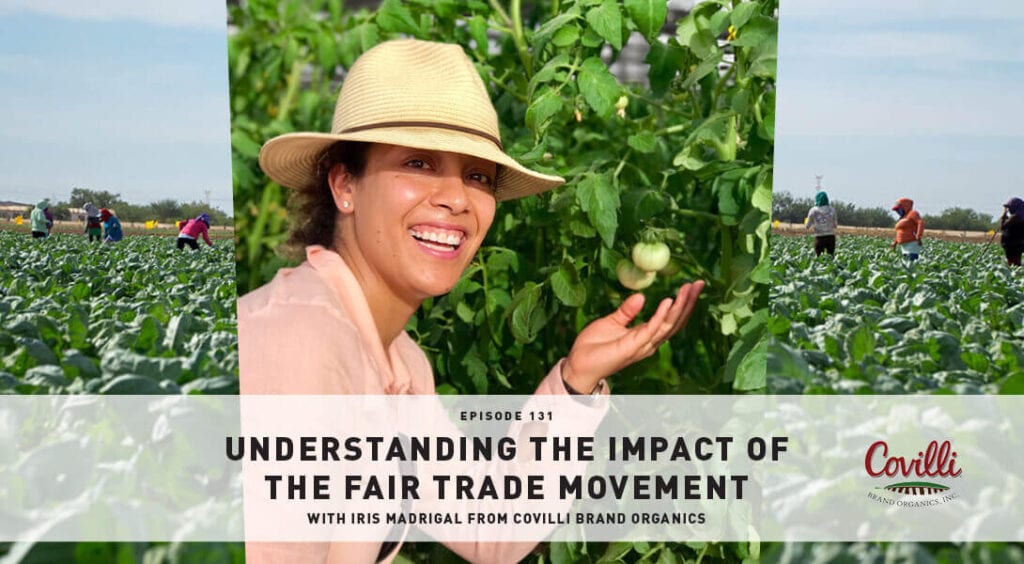 The details behind the Fair Trade Movement
Iris Madrigal and her husband Alex, the second-generation grower of Covilli Brand Organics, have owned and managed Covilli for 30 years. Covilli is a farm that grows a wide variety of produce in the Sonoran desert in Mexico. Having been a Certified Fair Trade company from Fair Trade USA, a nonprofit, for five years, the company has made great strides in providing workers and the local community with resources and opportunities non-Fair Trade companies don't necessarily guarantee.
To become Fair Trade Certified, Fair Trade USA brought 3rd party service providers to review Covilli Brand Organics to make sure their fair employment processes are in place. The standards for quality, sustainability, development and fair practices are very high. Covilli's working environment, wages, safety measures, and overall employee well-being is looked into to ensure the company is doing their very best for their workers.
So how does buying a Fair Trade product help provide sustainable solutions and improve worker well-being? When you choose a Fair Trade product, there is a small premium (a few pennies at most) that is added on to each individual product. That premium goes directly to a premium fund which is owned by a company's workers where they're able to allot funds to different things such as on location health care, transportation services, housing, and education. You can even see how you're helping the Fair Trade movement directly on Covilli Brand Organics' website!
December 2020 Podcast Episode 132: Decreasing Plastics and Improving Your Shopping Experience
An entirely new and sustainable shopping system
Isn't it annoying when you go to the grocery store and leave with 15-20 plastic bags that typically end up breaking? And when you're done with them, where do they go? Typically a closet, a cabinet, or crumpled up in the garbage. 
Did you know that less than 3% of plastics being made are recycled and reused? Lotus Trolley bags were created to shift how we shop as consumers and eliminate the need for single use bags, or how easily forgettable reusable bags are. These bags come in a pack of four that can spread out across your shopping cart. They open and close like an accordion, are extremely sturdy, have bars that sit atop the grocery cart which stabilizes them and keeps them open and upright. 
Keep your groceries organized and use their specific bag just for fragile items, like eggs and wine, so they won't break. Each bag is insulated and having a wonderful system in your cart sure helps to not buy products you aren't going to use! It might seem strange to have such an organized shopping experience in your cart, but this system doesn't just help you, it's helping our environment. Coming soon, Lotus will have a system just for those Costco or Sam's Club sized carts too! 
December 2020 Podcast Episode 133: COVID-19 Vaccines for Agriculture's Essential Workforce
Getting the COIVD-19 vaccine to our agricultural workers
Christopher Valadez, President of the Grower-Shipper Association Board of Directors, and Dante Galeazzi, President of the Texas International Produce Association, sat down with the Produce Moms to discuss the future of our agricultural workers and their access to the Covid-19 vaccine. One thing that our produce industry has done a phenomenal job at this year is maintaining most of American's access to healthy, fresh produce during the pandemic. This is all thanks to the fast movement of companies that you love who cared about putting measures in place to take care of their workers.
Now, it's important these workers get access to the Covid-19 vaccine as fast as possible. Of course our front line workers, healthcare workers and those that are at high risk or elderly come first. But afterwards, bringing the vaccine to our farmers, growers and shippers is essential to maintain access to produce and make sure prices of food don't go up… something none of us need right now. 
It's also important these workers get access to the vaccine through those they already trust. If the vaccine is only administered through government offices, where these types of workers might allow politics to come before their health, they might choose against getting the vaccine when they need it the most. Chris and Dante share some wonderful tips and initiatives to make sure this doesn't happen as well as the incredible work the produce industry has done against the virus this past year. 
To see a list of all our past episodes, visit www.theproducemoms.com/podcast/
[bctt tweet="What better way to say farewell to this interesting year than with the powerful produce leaders we had on the Produce Moms podcast in December!? Listen now ????" username="theproducemom"]

Related:
November 2020: The Produce Moms Podcast Month in Review
October 2020: The Produce Moms Podcast Month in Review
September 2020: The Produce Moms Podcast Month in Review
August 2020: The Produce Moms Podcast Month in Review