Carrot Dog Treats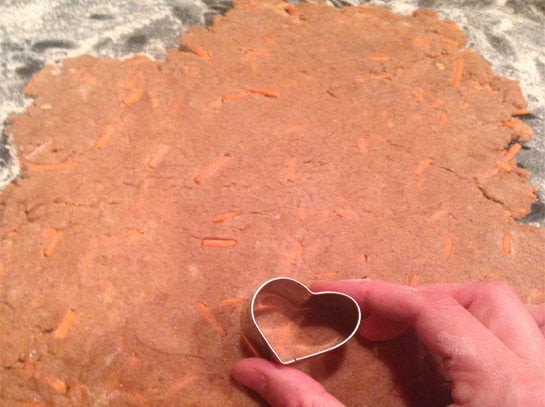 My dog Haley went to heaven on Monday after 12 glorious years of being the best dog ever.  She was my 20th birthday present from Chip & she loyally stood by our side for countless transitions in life.  She loved our kids & she was never mad at us, even when we weren't able to give her the attention she deserved.  She was loved and even though her sudden death, she was serving us.  Haley's death has taught our young children about the circle of life, the beauty of heaven, the reason we have faith.  She has reminded us to never take our pets for granted & new found appreciation for Molly, Haley's younger sister, has arose in our household.
Haley was a silent warrior for me during The Produce Mom stage of my life.  I will never forget the 2 months prior to the Find Your Favorite launch.  It was common for me to stay up until 1am or later working in my living room after the rest of the family went to bed.  Then I would wake up at 5am to resume my work before the rest of the family woke up…. but I was never alone.  My sweet chocolate labrador was right by my side, awake with me, and I cannot really put into words how much we bonded over the last year of her life, also known as "The Year of The Produce Mom" in the Taylor home.
This is a recipe for homemade dog treats… Haley loved them!  It's easy to make homemade treats for your dogs & of course I wish I would have made them more often now.  Molly will undoubtedly get to enjoy them regularly.
Ingredients
2

cups

flour

whole wheat

1

cup

carrot

shredded

1

cup

almond butter

(be sure to use "natural" almond butter)

1

tbsp

baking powder
Instructions
Mix all ingredients together in a large bowl.

On a floured surface, roll out dough into 1/4″ thickness. Use your favorite cookie cutters to create shapes for your treats.

Bake at 375 F for 9-13 minutes, until golden brown. Allow to cool before serving to your canine buddies.
Thank you all so much for your support during this stage of my life.  It's been hard, but you & the opportunity for this tribute made it easier.
Dogs Rule,
xoxo Lori