Brightening Futures with Brighter Bites
This post is sponsored by Brighter Bites. 
The Produce Moms was founded on the belief that increasing the amount of fresh produce we feed our families will have a positive impact on their lives. And in Brighter Bites, we've found a like-minded cause! One mom's efforts to help her kids learn the importance and the joy of fresh fruits and vegetables blossomed into a nationwide movement. We're excited to share the Brighter Bites story as it works to bring fresh produce and nutritional resources into schools and homes across the country.
What is Brighter Bites?
Brighter Bites was founded on the idea that access to fresh fruits and veggies can transform lives, and it all started with a family trip to a fruit and vegetable co-op. Lisa Helfman and her family took part in the co-op each week. With easy access to delicious produce, she watched her children's eating habits change dramatically. Her son even turned down a slice of cake in favor of blueberries at a birthday party!
This experience made Lisa wonder what could happen if all families had that kind of access to produce – especially if it was free. She knew that not all children lived in areas that had accessible produce co-ops and many of them lacked meaningful nutritional education. So she partnered with Dr. Shreela Sharma, an expert in nutrition and a professor of epidemiology at UTHealth School of Public Health, to find a solution.
In 2012, their collaboration became Brighter Bites, a nonprofit organization focused on bringing access to fresh produce, education, and nutritional resources to under-resourced communities through produce co-ops. BB holds these co-ops at schools located in food deserts where grocery stores stocked with fresh fruits and vegetables are limited or difficult to access.
One Bright Idea
Today, Brighter Bites is pursuing a mission of creating communities of health through fresh food. It does this with a tested three-part formula: produce distribution, nutrition education, and a fun food experience. Everyone deserves the opportunity to eat nutritious food and to be able to learn how to get and prepare it. And it should be fun to eat, too!
Partnering with elementary schools has proven to be an effective way to put this formula to work. Brighter Bites provides students and their families with about 20 to 25 pounds of fresh produce weekly as well as recipes and other resources to help them prepare it. With the help of their partner schools, BB tracks the positive behavior change in students who are eating more nutritious meals.
Since 2012, Brighter Bites has been hard at work distributing produce. In fact, they've delivered over 40 million pounds of it! They've also supported over 130,000 nutrition education lessons in classrooms around the country and provided education materials to over 475,000 individuals, including teachers.
And it's proven successful: In a two-year study published in the journal Preventive Medicine, UTHealth School of Public Health researchers evaluated the impact of BB programs on nine schools in Houston. They assessed 760 students and their families during the 2013-2014 and 2014-2015 school years and found a significant increase in the amount of produce they ate. The researchers also saw a huge decrease in the added sugars children consumed as they ate more home-cooked meals with their families and developed healthier snacking habits.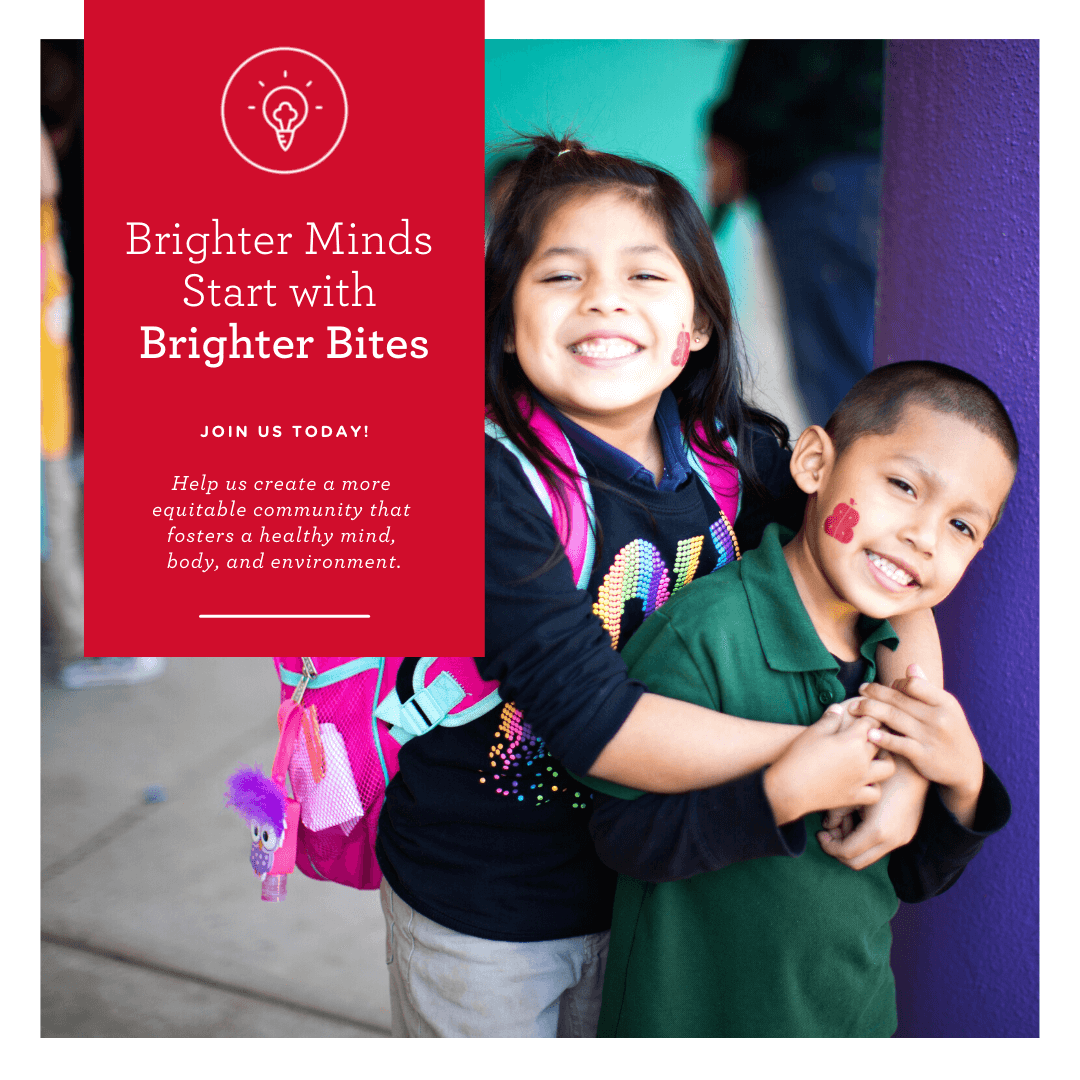 The Brighter Bites Process
So how does it all work? Brighter Bites has created a process that works:
Engage communities
Brighter Bites starts by reaching out to schools, communities, and partners and getting them on board with their formula.
Select the week's variety
Produce suppliers donate fresh fruits and veggies to food banks partnered with Brighter Bites. From these selections, BB staff picks eight to 12 different produce items to include in that week's co-op.
Load up
Pallets of produce are loaded onto a box truck. The food in each of these trucks can feed up to 400 families!
Bag the produce
When it arrives at the co-op site, the produce is sorted into bags that are ready to give out. Each teacher and family receives two bags.
Teach Brighter choices
Each bag of produce also receives educational materials that help families make healthier eating choices. These bilingual resources include kitchen safety tips, smarter snacking ideas, and more.
Sample and share
With recipes created by nutritionists, the BB team assembles fun and tasty bites for students and families to sample. This gives them a taste of the possibilities included in each bag!
Take home the fun
Students and their families and teachers get to take home their bags of produce. Each bag contains about 50 servings of fruits and veggies, adding up to two extra servings of fresh produce a day for a family of four.
Replicate
This doesn't happen just once! Brighter Bites repeats its co-op in schools for 16 weeks during the school year and eight weeks in the summer.
Brighter Bites Has Big Plans!
Brighter Bites has already given thousands of families access to produce and nutritional resources, but it's just getting started! The scalability of the Brighter Bites program means it can bring fresh produce to families anywhere in the country – and bite by bite, it intends to do just that.
With plans to expand in California and beyond, Brighter Bites expects to operate in 138 schools and impact over 33,000 families this year. They'll distribute nearly 11 million pounds of fresh produce, 38,640 lessons, and 77,280 activities. Want to get involved? See if there's an opportunity in your area! 
Whether Brighter Bites is in your community or it hasn't reached you yet, you can still be a part of its nutrition community. Consider donating to their Back to School campaign now through October 31 and help them keep making futures brighter and more nutritious for families across the country.
You can also check out the Brighter Bites app, available from Apple, Google, and Amazon, to find hundreds of nutritious recipes and tips. Keep up with Brighter Bites news and happenings on their Instagram @brighterbites.
Have you been lucky enough to experience a Brighter Bites co-op in your community? Tell us about it in the comments!