Blueberry and Pomegranate Tart | Easy Easter Dessert
This post is sponsored by North Bay Produce
An easy Easter dessert recipe that's almost too pretty to eat!
Our favorite kind of recipes are ones that taste delicious and look impressive but are surprisingly easy to make. This Easter tart checks all those boxes. It's yummy,  festive, and can be whipped up in just 30 minutes!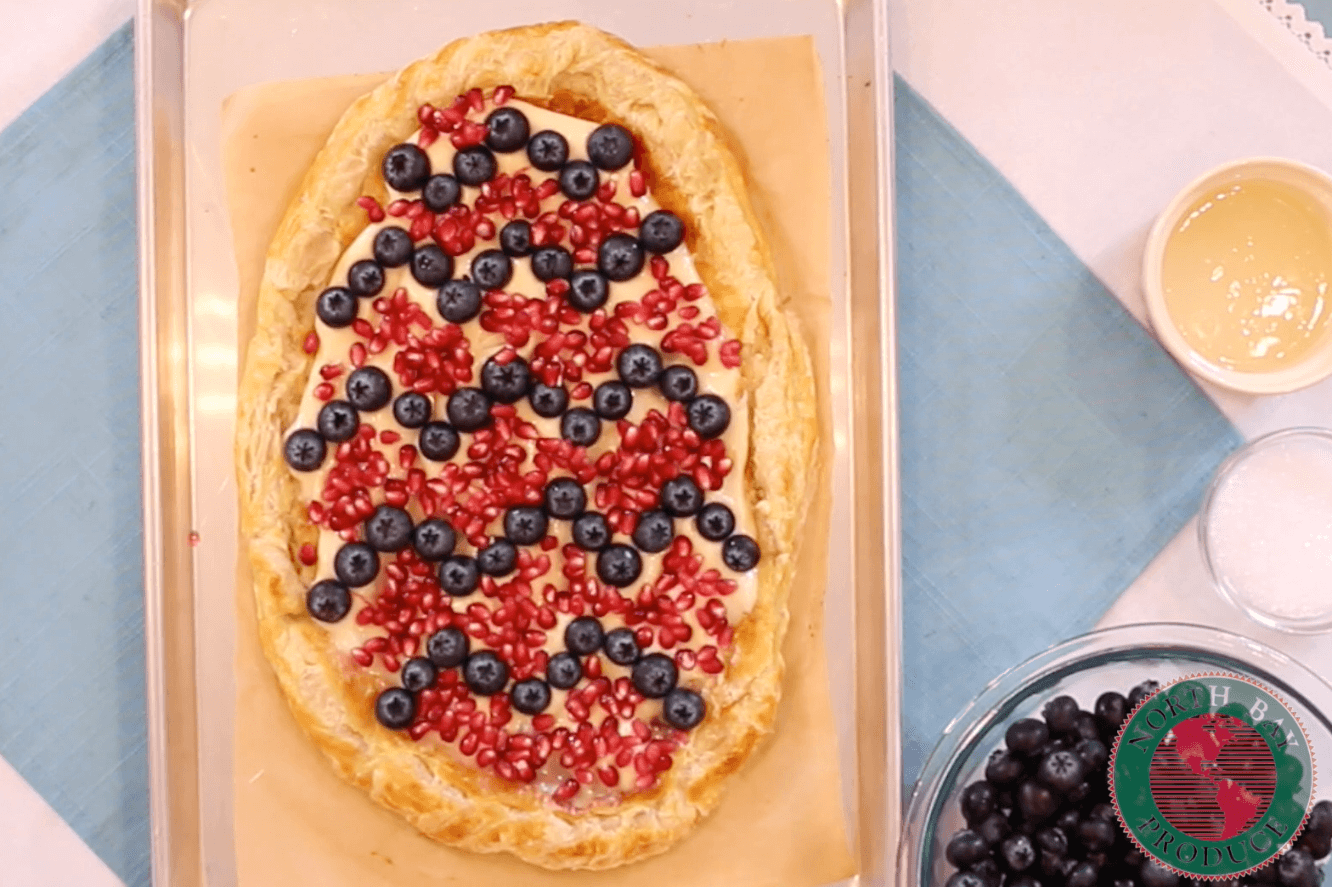 Begin by laying out two store-bought puff pastry sheets on wax or parchment paper (to prevent it from sticking to your surface), overlapping about 1/4 of the pastry sheets. Use a rolling pin to join the two sheets while also widening and lengthening the sheets a bit. Use a pizza cutter to cut the pastry into the shape of an egg. Using your fingers, roll the edges of the pastry once or twice all the way around. Coat the entire pastry in an egg wash and poke a few holes with a fork. Bake the puff pastry for 8-10 minutes at 425 degrees.
While your puff pastry is in the oven, combine the cream cheese, lemon curd, sugar, cream, and vanilla to create your filling. Once the puff pastry is out of the oven and cooled, spread the filling evenly over the pastry stopping at the rolled edge.
To decorate your tart to look like an Easter egg, place the blueberries and pomegranate arils in an alternating zig-zag pattern. It's easiest if you begin with the blueberries and then fill in between the blueberry zig-zags with the pomegranate arils. If you're making this at a different time of year, skip the zig-zags and simply sprinkle the tart with pomegranate and blueberries. It'll still look beautiful and it won't look like an Easter egg.
Learn how to open a pomegranate like a pro.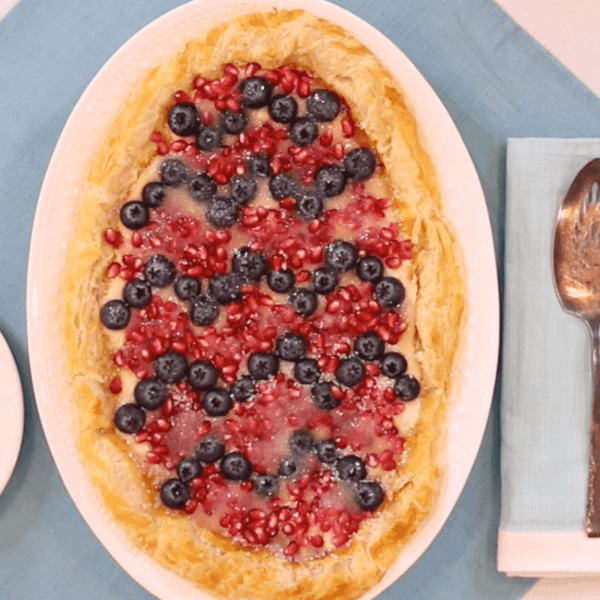 Ingredients
2

puff pastry sheets

egg wash

1

Tbsp

sugar

1/3

cup

sugar

1/3

cup

lemon curd

1

tsp

vanilla

2

Tbsp

heavy cream

4

oz

cream cheese

softened

1

container

blueberries

2-3

pomegranates

pastry glaze

decorative sugar
Instructions
Use 2 puff pastry sheets to make tart in the shape of an egg (watch video for visual instructions on how to best do this).

Edge pastry dough and egg wash the surface. Sprinkle with sugar.

Poke holes in dough with a fork and bake at 425 degrees for 8-10 minutes, or until brown and crispy. Let cool.

For the filling, combine 1/3 cup sugar, lemon curd, vanilla, heavy cream, and cream cheese. Mix well.

Spread lemon mixture on cooled puff pastry, add blueberries and pomegrante seeds in a zig-zag pattern.

Drizzle store-bought pastry glaze (optional). Sprinkle tart with decorative sugar. Enjoy!
Can you believe such a beautiful Easter dessert is so simple to make and takes just 30 minutes from start to finish? Thanks to our brand partner North Bay Produce for inspiring this recipe. Look for North Bay blueberries and pomegranates in your local grocery store. North Bay Produce is always in season! 
What food will you be serving on Easter Sunday? Will this Blueberry and Pomegranate Tart make the menu? If you make it, let us know what you think. Leave us a comment below.