Baked Apples With a Walnut Filling Ready in Seven Minutes — Thanks, Instant Pot!
Feb 21, 2023, Updated Jun 21, 2023
Do you enjoy warm apple pie? Dare we say… Instant Pot Baked Apples are even better. Cooked on the pressure cooker setting with warm, aromatic cinnamon and nutmeg and overflowing with a sweet, caramel-like filling of walnuts and golden raisins, this is guaranteed to be a crowd-pleaser for all ages.
We all get cravings for something sweet every once in a while. Maybe it's more like a daily craving. That's ok, it's normal.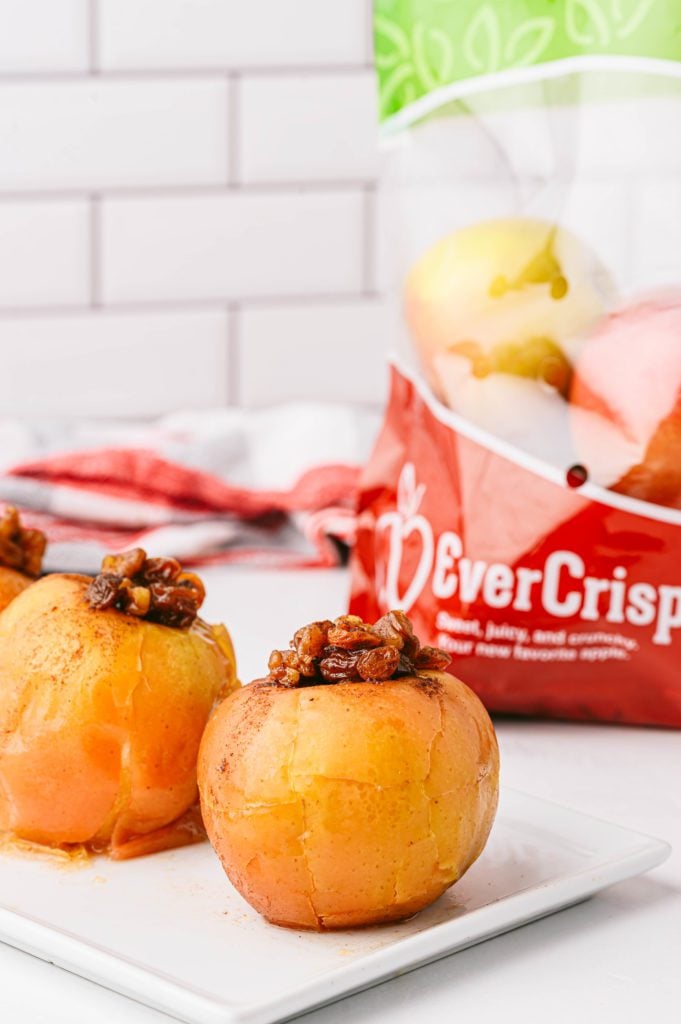 If you're trying to cut back on carbs or simply trying to add more fruits and veggies to your diet, you're in the right place.
You only need a handful of ingredients to make Instant Pot Baked Apples, it cooks in seven minutes, and everyone loves it — even our kids.
Let's settle that sugar craving right now!
What Are Instant Pot Baked Apples?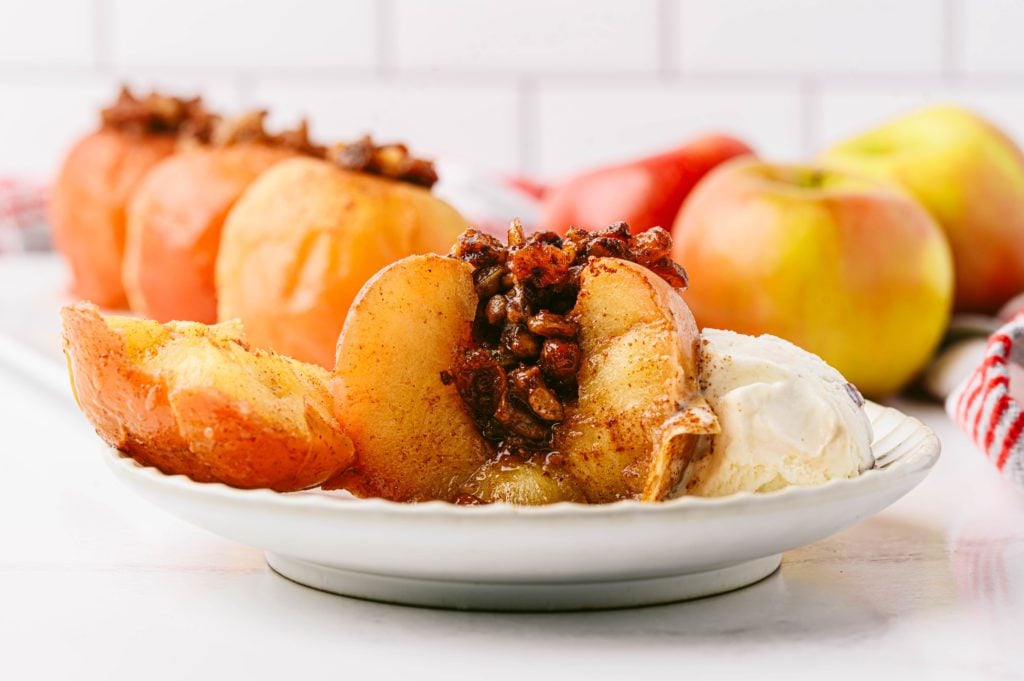 Yummy, gooey, apple goodness. This baked apple recipe replaces the core of the apples with a buttery, sweet, and nutty filling that overflows as you cut into it. Add a scoop of ice cream, and you've got an out-of-this-world apple treat.
You'll love this recipe because it:
Is a quick cure for a sweet tooth.

Made with

whole ingredients.

Has

fewer carbs

than a pie.

Takes only seven minutes to cook.

Is a

guilt-free dessert.
Quick. Delicious. And guilt-free? Sounds like reason enough to give this baked apples recipe a try?
Here's what you need.
Ingredients
Most of these items you can get at your local grocery store. In fact, you may already have these ingredients sitting in your pantry, waiting to be used!
4 Apples

1 1/2 cups water

1/2 cup unsalted butter, softened

1 teaspoon vanilla

1/2 teaspoon nutmeg

1 tablespoon cinnamon

4 tablespoons brown sugar

1/2 cup walnuts chopped

1/2 cup golden raisins
Use the pressure cooker setting on your Instant Pot instead of the slow cooker option. If you cook the apples for a long time, you're likely to end up with a twist on applesauce or apple butter, which is tasty too but not what we're going for.
There are a few ingredients that really make your baked apples stand out.
Apples
This is the product of a Honeycrisp and a Fuji Apple. These apples are our #1 choice for baked apples in the Instant Pot. They fall on the sweeter side to satisfy your sugar cravings and they hold up well to the pressure cooker. No mushy desserts here! 
Walnuts
With a rich, toasty flavor, walnuts pair well with the natural sweetness of apples and add a nostalgic comfort food feel as you bite into these baked apples. Walnuts offer extra nutrients like good-for-you fats, plant-based Omega-3, and melatonin1. A satisfied belly with some extra melatonin? Sounds like a great start to a bedtime routine (or a snack for the kiddos before naptime). 
Golden Raisins
These golden beauties are believed to lower the risk of heart disease and are filled with more antioxidants than other dried fruits. Raisins even have antibacterial properties that may limit plaque buildup and cavities in our mouths2. We like using golden raisins because of their beautiful color and their extra plumpness compared to regular raisins.
You should be able to find them at your local grocery store by the dried fruit and nuts.
How to Make Instant Pot Baked Apples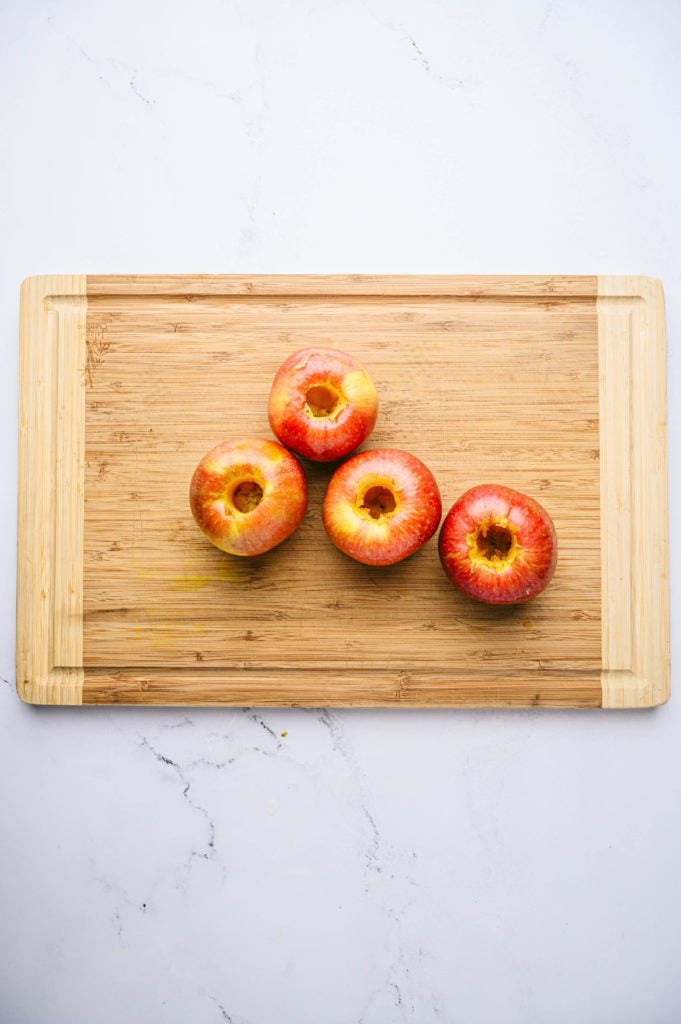 Step 1
Add 1 1/2 cups of water to your Instant Pot and add the trivet. Then core your whole apples to create a well in the middle.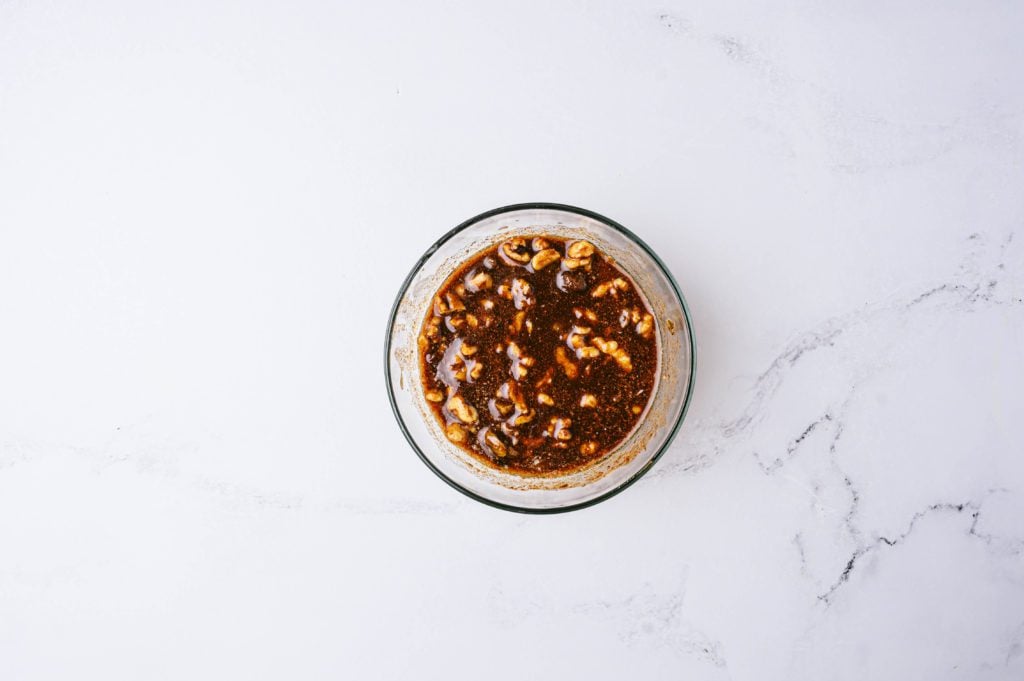 Step 2
Mix melted butter, vanilla, cinnamon, nutmeg, brown sugar, walnuts, and golden raisins in a small bowl. This makes your apple filling.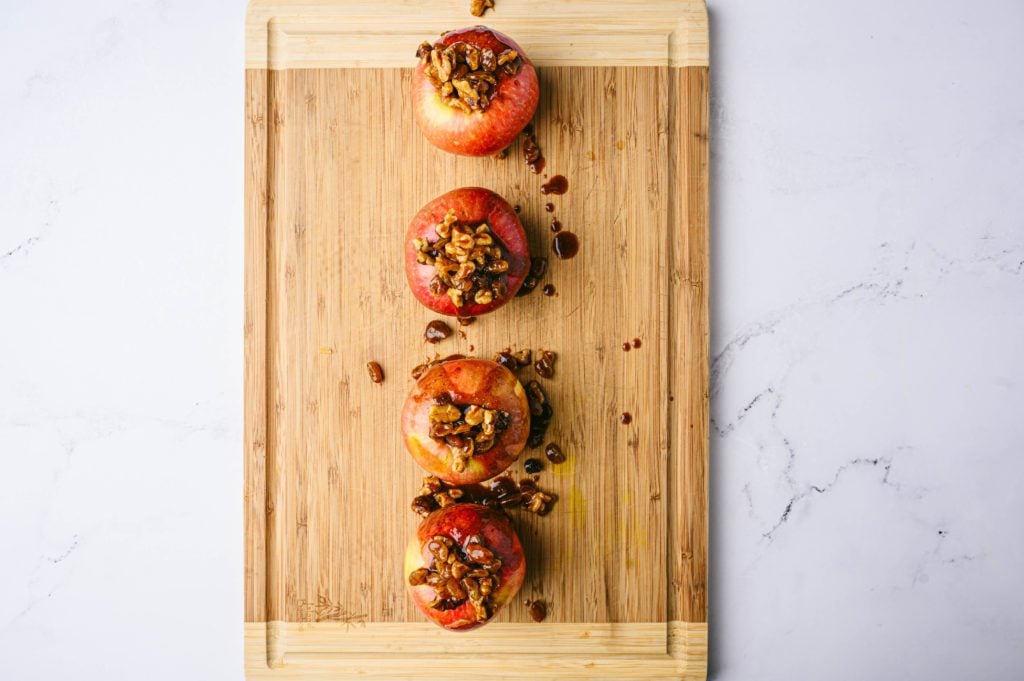 Step 3
Fill the middle of the apples with the filling mixture.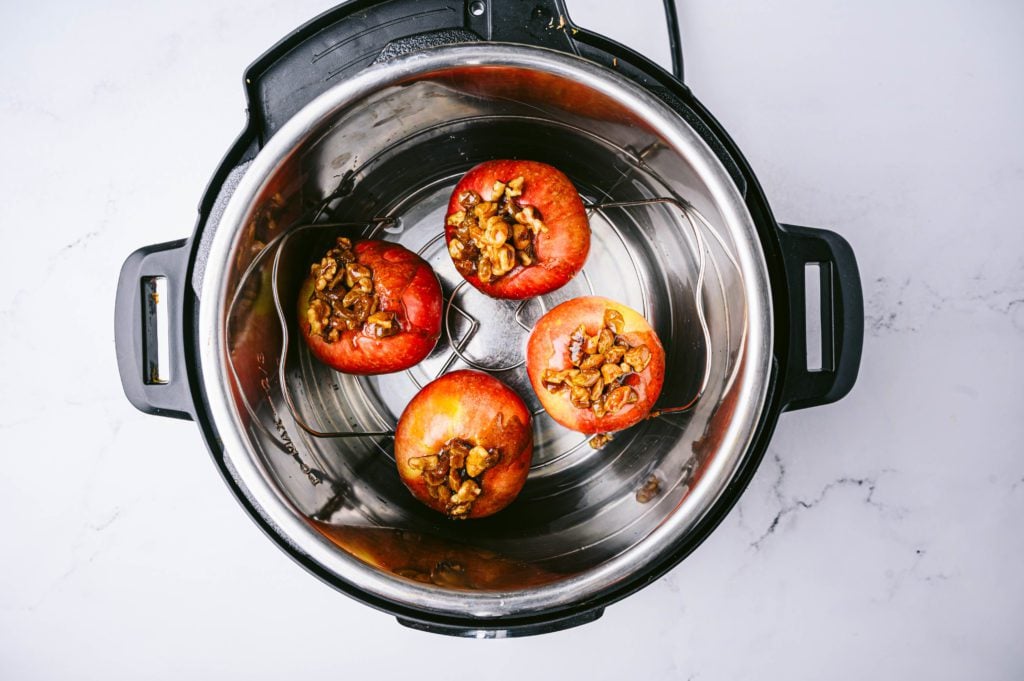 Step 4
Gently add your walnut-filled apples to the Instant Pot. Cook on the pressure cooker setting for seven minutes. Use the natural release for five minutes, then manual release for the remaining pressure. This should take a few minutes.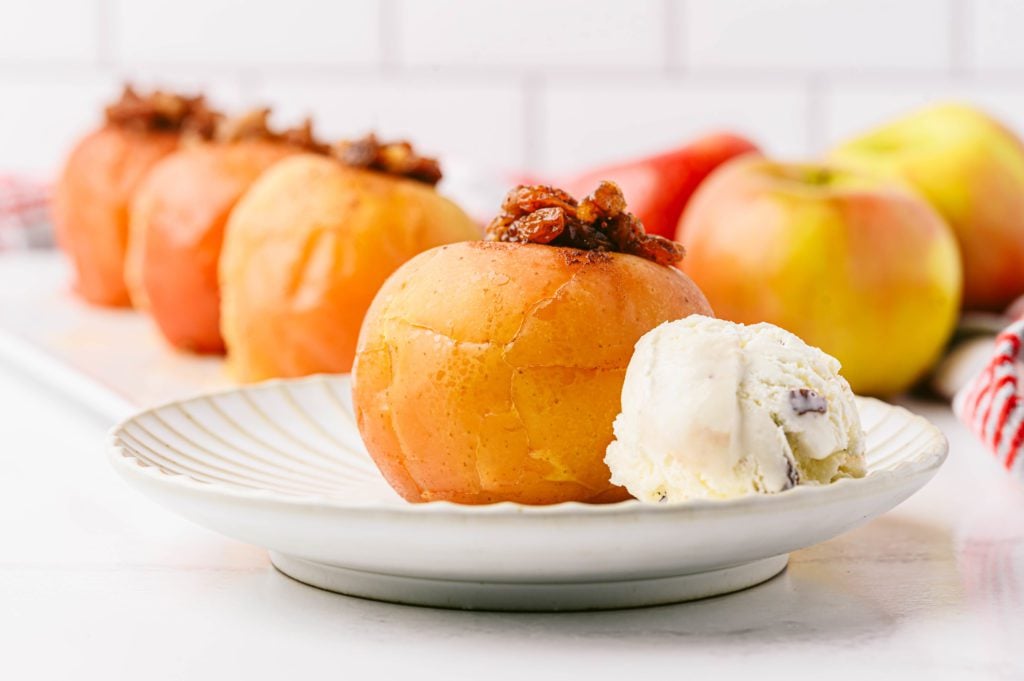 Step 5
Serve with a scoop of vanilla ice cream and enjoy!
Questions? We've Got Answers!
How long do you cook apples in the instant pot?
The entire process, including prep, should take you 20 minutes in total. Cook your baked apples on the pressure cooker setting for seven minutes. When the apples are done cooking, start with the natural release for five minutes and then switch to the manual release. And then you've got a scrumptious dessert that will knock your socks off.
What's the difference between a natural and a manual release on the Instant Pot?
Great question. A natural release means you don't need to do anything except let the pressure inside of your Instant Pot release from the pot on its own. Then after five minutes, you'll do a manual release. A manual release means that you switch the valve on top of the lid so that the steam releases quickly. Essentially, move the lever to the release position that's marked on the lid.
Easy Substitutions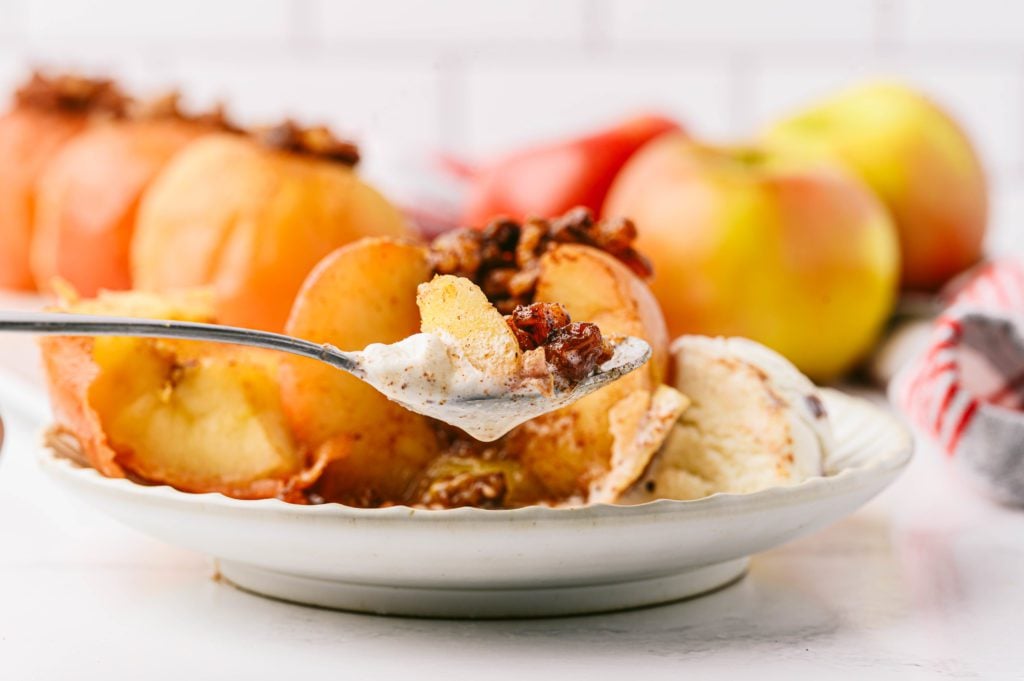 One of the best things about recipes is that you can almost always swap an ingredient for another one.
Here are a few suggestions.
Use pumpkin seeds for a nut-free dessert.

Cut the sugar in half for a more tart treat.

Make it paleo with coconut sugar.

Try dairy-free ice cream or whipped cream instead of ice cream.

Use cranberries if you don't like raisins.
In the end, use whatever toppings and fillings you and your family love. Top it with something extra like yogurt for an easy snack filled with protein, whipped cream for a simple dessert, or oats for a delicious breakfast. 
Craving More Instant Pot Recipes?
Instant Pot Apples
Settle your sweet tooth with Instant Pot Baked Apples. Stuffed with walnuts and golden raisins in a buttery sauce of cinnamon, vanilla, and brown sugar. Ready from start to finish in 20 minutes.
Ingredients
4

Apples

1 1/2

cups

water

1/2

cup

unsalted butter

softened

1

teaspoon

vanilla

1/2

teaspoon

nutmeg

1

tablespoon

cinnamon

4

tablespoons

brown sugar

1/2

cup

walnuts

chopped

1/2

cup

golden raisins
Instructions
Let's get the Instant Pot ready. Place the inner pot inside your Instant Pot and pour 1 1/2 cups water into the pot. Then hold the trivet (the stainless steel rack) by the handles to put it inside the pot.

Use a produce brush to clean your apples under running water. Create a well in the middle of your apple by pushing an apple corer almost to the bottom of the apple. But remember not to push the corer all the way through the apple, so your filling doesn't fall out later. Use a melon baller to scoop out the flesh of the apple, so you have more room for the filling. And place them on a cutting board for later.

In a small bowl, use a spoon to mix together the butter, vanilla, cinnamon, nutmeg, brown sugar, walnuts, and golden raisins. Use the spoon to evenly fill each apple with the filling mixture.

Gently put the apples on the trivet inside the Instant Pot.

Put the lid on and lock it in place with the steam release lever in the sealed position.

Press the Pressure button and set the timer for seven minutes. When the pressure cooker is done, do a natural pressure release for five minutes and then release the remaining pressure manually. If the apples are still firm, pressure cook the apples for two more minutes.

Open the lid and use a pair of tongs to transfer the apples to serving plates. Be careful, they will be very hot.

Serve warm and top with a scoop of vanilla ice cream.
Notes
If you don't have an apple corer, try using a pairing knife to cut out the apple core to create the well. Then scoop out the flesh with a melon baller. 
If you don't have a melon baller, use a tablespoon to scoop out the flesh.
Nutrition
Calories:
503
kcal
|
Carbohydrates:
55
g
|
Protein:
4
g
|
Fat:
33
g
|
Saturated Fat:
16
g
|
Polyunsaturated Fat:
8
g
|
Monounsaturated Fat:
7
g
|
Trans Fat:
1
g
|
Cholesterol:
61
mg
|
Sodium:
16
mg
|
Potassium:
428
mg
|
Fiber:
7
g
|
Sugar:
42
g
|
Vitamin A:
816
IU
|
Vitamin C:
9
mg
|
Calcium:
75
mg
|
Iron:
1
mg
Nutrition information is automatically calculated, so should only be used as an approximation.
Like this? Leave a comment below!