Add Apple and Pear Slices to Classic Sandwiches
This post is sponsored by Sage Fruit. 
The sandwich is a hardworking, versatile, and delicious meal. It's been a lunchtime staple for generations and has become a breakfast and even a dinner favorite, too. There are more kinds of sandwiches than we could possibly name here, but chances are you've eaten at least one this week!
With the help of our partners at Sage Fruit, we're here to help you put a spin on your classic sandwiches with new additions: apples and pears. Slice up these tasty fruits to add some crunchy, juicy flavor to your next sammy. But which fruit should you add to your favorite sandwich? We came up with an easy-to-use flavor guide:
Put a New Twist on Classic Sandwiches with These Apples and Pears:
Chicken Salad Sandwich
Green D'Anjou pears, more commonly just called Anjou, are a popular piece of produce. This pear becomes delightfully juicy when ripe. It has dense flesh that's well suited for all kinds of recipes, including baking, roasting, grilling… or adding to a chicken salad sandwich!
Cut your Anjou pear into small slices to place in this sandwich. It's subtle sweetness will add to the flavor of the chicken salad while a hint of lemon or lime will provide a tasty contrast. This crunchy pear will also give your sandwich a bit of texture and support so it's not too soft.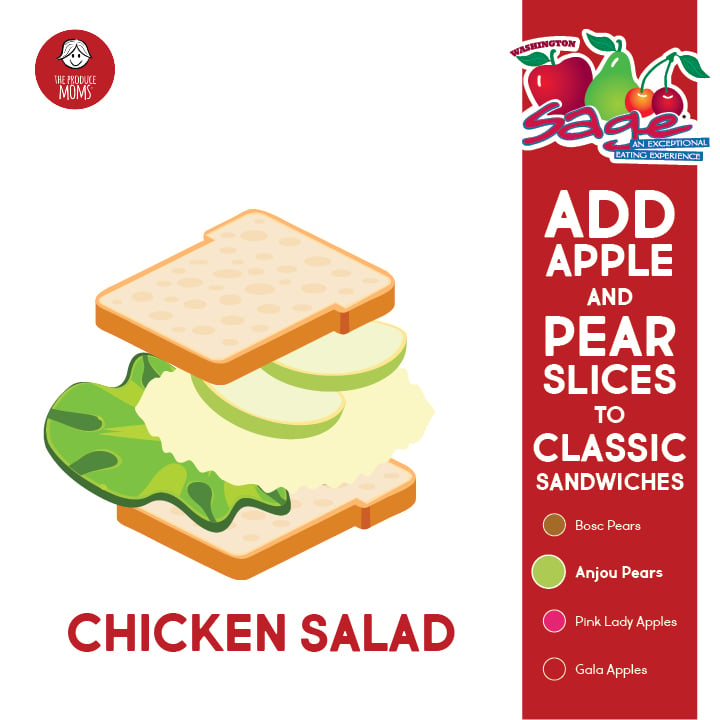 BLT
The BLT is one of the simplest classic sandwiches, but its savory combination of crispy bacon and juicy tomato is irresistible. We think it deserves a complex and delicious apple to add to its flavor. The Pink Lady apple from Sage Fruit gives it just that!
What makes the Pink Lady perfect for your BLT? Slice one into a ring and find out! It's firm and crisp flesh adds even more crunchy texture to this sandwich. With flavor that's tangy, tart, and sweet all at once, this apple adds a new dimension to the BLT.
Turkey Club
A turkey club is a deliciously filling sandwich any day. Featuring bacon, swiss cheese, tomato, lettuce, and of course savory turkey, this sandwich is elevated by the addition of some fruity flavor. A Gala apple is the perfect fit!
Gala apples are ideal for snacking out of hand, but that makes them great sandwich components, too! Slice a Gala apple ring and add it to your turkey club for some juicy sweetness. The crispy texture goes nicely with bacon and tomato, while the classic apple flavor adds layers to the flavor of this sandwich.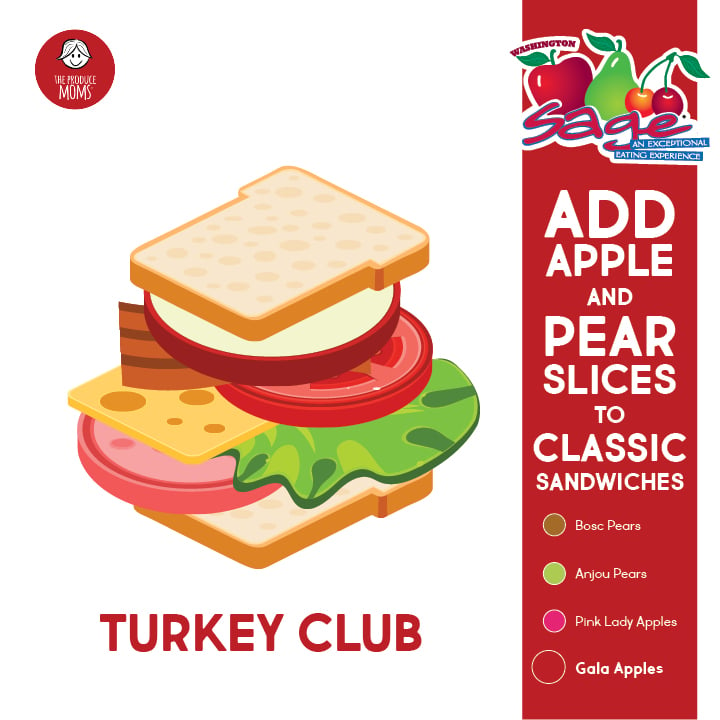 Grilled Cheese
If you liked Gala apples on your turkey club, you'll love them on a grilled cheese! No matter what kind of cheese you grill (or what kinds of bonus toppings you add), the Gala apple's versatile flavor will pair perfectly. Slice a Gala apple ring and try it with cheddar, swiss, havarti, or pepper jack!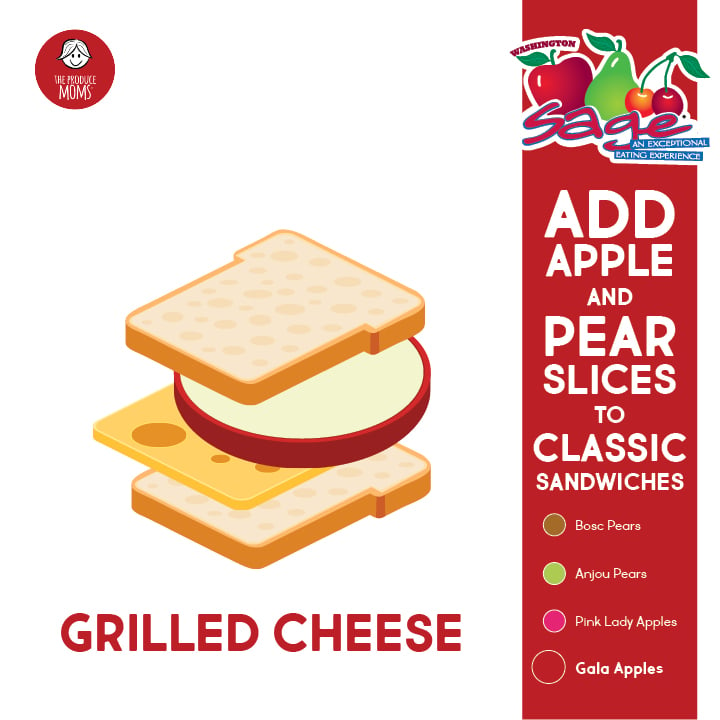 PB&J
The peanut butter and jelly sandwich is one of those classic sandwiches we all loved growing up, but never grew out of! Take yours to the next level by adding slices of the firm Bosc pear. This pear has a strong, sweet flavor that won't be overwhelmed by peanut butter or jelly. We recommend using grape jelly along with this pear, but other flavors are tasty too!
Tuna
No matter what kind of day you're having, a tuna sandwich is an energizing choice for lunch. Whether it helps you get through your work day, your household chores, or your errands, this sandwich can give you the boost you need. An Anjou pear gives this classic sandwich a boost, too!
Anjou pears have a flavor that complements strong flavors like tuna and red onions. It also has a dense flesh, which adds some texture and support to your sandwich. Just like the chicken salad sandwich, a tuna sandwich reaches perfection with the subtle lemon-lime flavor of an Anjou pear.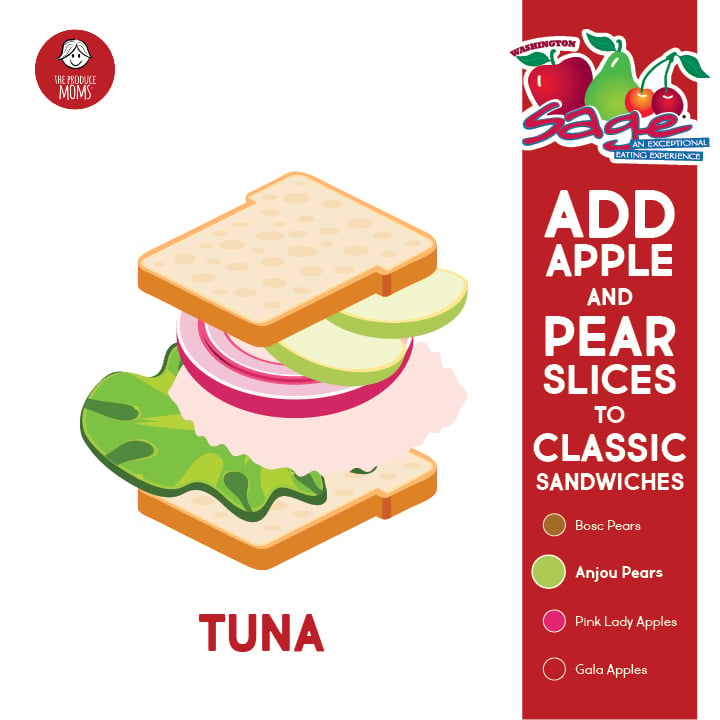 What will you put on your classic sandwiches?
Apples and pears make excellent toppings for all kinds of sandwiches! They add flavor and crunch that complements all kinds of meats, cheeses, condiments, and other sandwich toppings. Do you have a favorite sandwich that we didn't list here? What kind of apple or pear makes a great addition to it? Tell us in the comments!