Thanksgiving Sweet Potatoes & Must-Have Side Dishes {Indy Style}
Thanksgiving sweet potatoes 3 ways + crave-worthy side dishes
Thanksgiving is just two weeks away! Time to start planning your menu. Today on Indy Style, The Produce Moms founder Lori Taylor shared three great ways to serve sweet potatoes and two must-have side dishes.
Smashed Sweet Potatoes
Smashed Sweet Potatoes are crispy on the outer edges and creamy on the inside. It's a side dish no one will expect at Thanksgiving but will have everyone asking for again next year!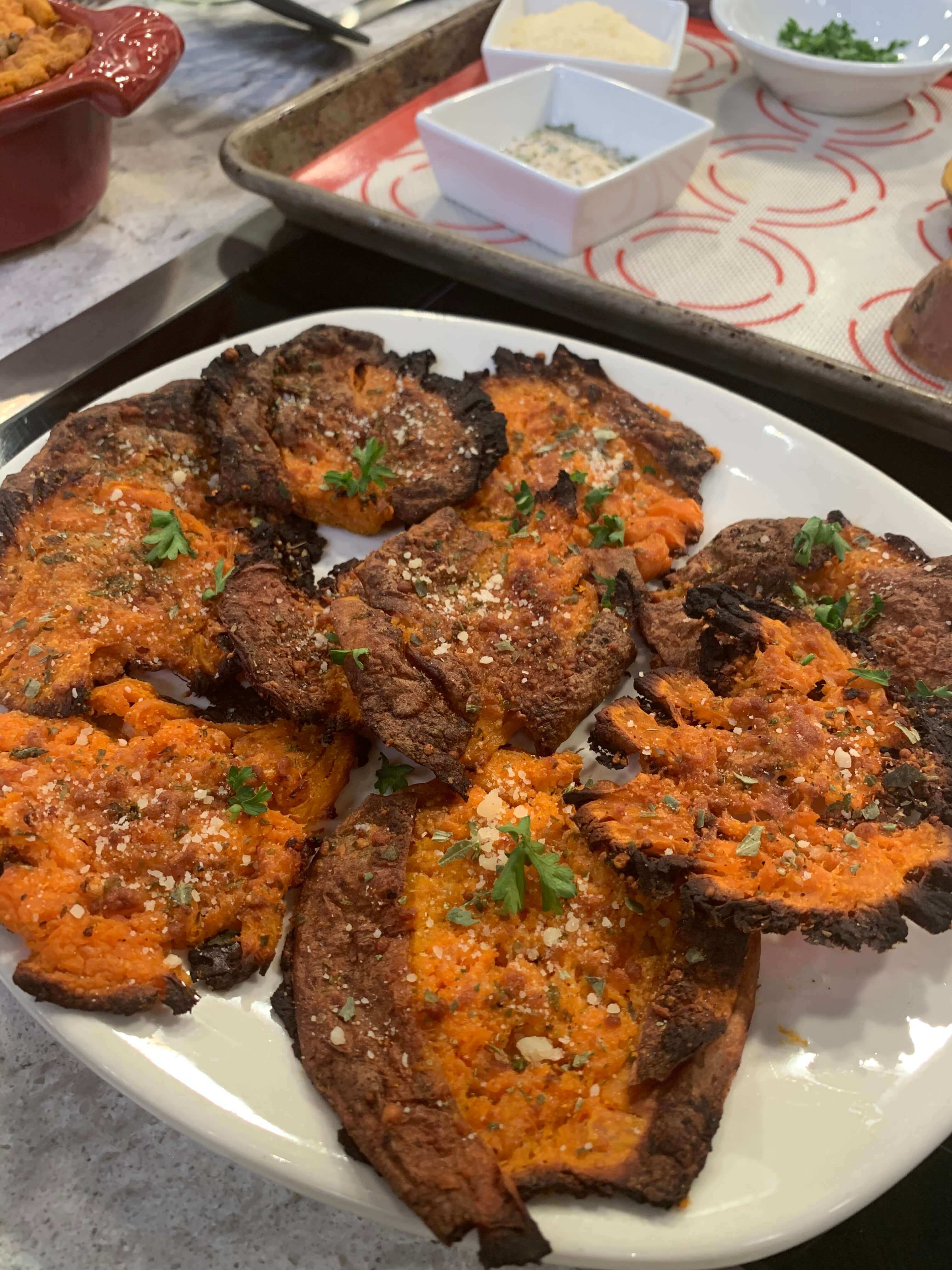 Ingredients 
3 medium sweet potatoes (about 2 pounds total), sliced crosswise into 1 1/2-inch-thick slices

1 tablespoon plus 3/4 teaspoon kosher salt, divided

3 tablespoons olive oil, divided

1 teaspoon dried Italian seasoning

3/4 teaspoon garlic powder

Freshly ground black pepper

2 ounces Parmesan cheese, finely grated (about 1 cup)
Directions
Arrange oven racks in upper and lower thirds and heat oven to 475°F. Meanwhile, bring 3 quarts of water to a boil in a large pot over high heat. Add the sweet potatoes and 1 tablespoon of the salt and boil until the potatoes are tender and easily pierced with the tip of a sharp knife, 15 to 22 minutes, depending on the size of your slices (this includes the time it takes for the water to return to a boil after you add the sweet potatoes). Carefully drain and set aside.

Drizzle 2 tablespoons of the oil onto a rimmed baking sheet. Add the potatoes and carefully toss to coat. Spread into an even layer. Using the bottom of a lightly greased drinking glass or measuring cup, press down on each slice until it splits open and is flattened to 3/4-inch thick. Drizzle with the remaining 1 tablespoon oil. Sprinkle with the Italian seasoning, garlic powder, remaining 3/4 teaspoon salt, and several grinds black pepper. Sprinkle the Parmesan evenly over the potatoes.

Roast on the lower oven rack until the bottoms are golden-brown, about 10 minutes. Transfer to the upper rack and roast until the tops are brown and the cheese is golden and crispy, 10 to 15 minutes more. Serve warm.
Lighter Sweet Potato Soufflé
This sweet potato soufflé is lighter than most and a great alternative to sweet potato casserole. As an added bonus, it'll make your house smell wonderful!
Ingredients 
1/2 cup butter at room temperature + more to grease the pan
5 medium sweet potatoes
2 large eggs
1 cup granulated sugar
1 1/2 tsp vanilla extract
1/2 cup milk
pinch of salt
1 cup finely chopped pecans
1 cup brown sugar, packed,
1/2 cup all-purpose flour
1/4 cup butter, softened
Directions 
For the souffle: Preheat the oven to 350 degrees F. Grease a 2 1/2-quart baking dish with butter.

Poke the sweet potatoes with a fork and bake on a foil-covered baking sheet until they are soft, 1 hour. When cool enough to handle, peel the potatoes, place the flesh in a large mixing bowl and mash until very smooth. Add the eggs, sugar, butter, vanilla, milk and salt. Combine well with an electric mixer or hand mixer. Turn the mixture into the baking dish.

For the topping: In a medium bowl, stir together the pecans, brown sugar, flour and butter until thoroughly combined. Spoon the mixture over the sweet potatoes, making an even layer. Bake the casserole until slightly browned, 40 minutes. Let the casserole sit for 5 minutes before serving.
Sweet Potato Pie
We're big fans of pumpkin pie but Sweet Potato Pie is a southern classic for a reason. The taste is similar to pumpkin pie, but the texture is lighter and more airy. If you haven't tried this pie before, give it a shot this holiday season!
Ingredients 
1 1/2 pounds sweet potatoes cooked and mashed, approximately 2 cups 

1/4 cup butter melted

2/3 cups sugar

1/3 cup evaporated milk

2 eggs

1 teaspoon

pumpkin pie spice

1/2 teaspoon vanilla

pinch of salt

9 inch pie shell
Directions
Preheat oven to 350˚F

In a large bowl combine prepared sweet potatoes, melted butter, sugar, evaporated milk, eggs, pumpkin pie spice, vanilla and salt. 

Whisk until smooth (or use an electric mixer if preferred). 

Pour into uncooked 9″ pie crust and bake for 55-60 minutes or until set.

Cool to room temperature before serving. Top with whipped cream.
*Recipe from Spend With Pennies
Eat Smart Chopped & Crumbled Apple Gouda Salad
Eat Smart® Chopped & Crumbled Apple Gouda Salad is an elegant yet easy side dish for your Thanksgiving table. Sliced almonds and sunflower seeds marry with sweet apple chips and gouda cheese, all tossed in a creamy apple vinaigrette for our bright and refreshing new Apple Gouda salad kit.
Simply open the bag and toss the ingredients together and within minutes you have a beautiful salad for your table.
Eat Smart Fresh Green Bean Casserole
If you aren't a fan of green bean casserole, we bet it's because you haven't had FRESH green bean casserole. Not a single can of anything is used in this recipe and the result is the most delicious green bean casserole you'll ever try!
Time is precious on Thanksgiving day. The trick to speeding this dish up is to use Eat Smart® Green Beans. They come washed and trimmed. Steam them in the microwave and within minutes, you have freshly cooked green beans.
Ingredients 
2 bag of Eat Smart fresh 

green

 

beans

, ends cut off
4 slices bacon, cut into 1/4-inch pieces
3 cloves garlic, minced
8 oz. sliced white mushrooms
1/2 whole large onion, chopped
4 tablespoons (1/2 stick) butter
4 tablespoons all-purpose flour
2 1/2 cups whole milk, plus extra for thinning if needed
1/2 cup half-and-half
1/8 teaspoon cayenne pepper
1 tsp of Cardamom
1 cup grated sharp Cheddar
1 cup panko breadcrumbs
Salt and pepper to taste
Directions
Preheat the oven to 350 degrees F
Steam in bag for a short amount of time.  Cut the 

green

 

beans

in half if you like the pieces to be a little smaller.  Set to the side.
Add the bacon pieces to a skillet over medium heat. Cook the bacon for 2 minutes, and then add the sliced white mushrooms, garlic and onions, and continue cooking until the bacon is done (but not crisp) and the onions are golden brown, 3 to 5 minutes. Remove from the heat and set aside.
In a separate saucepan, melt the butter over medium heat. Sprinkle the flour into the pan and whisk immediately to evenly mix it into the butter. Cook for a minute or 2, and then pour in the milk and half-and-half. Continue cooking, whisking constantly, while the sauce thickens, about 2 minutes. Add salt, black pepper, cayenne, cardamom and and then add the grated cheese. Stir while the cheese melts. Turn off the heat.
Add the bacon/onion mixture and stir to combine.  Add in the 

green

 

beans

 and stir gently to combine.  Pour into a baking dish and top with panko. Bake until the sauce is bubbly and the panko is golden – approximately 30 minutes.
Thanks for watching! Be sure to pick up a few pounds of Wada Farms sweet potatoes, Eat Smart® Green Beans, and an Eat Smart® salad kit to complete your Thanksgiving meal.
What are your favorite Thanksgiving side dishes? Share in the comments below.