Texas Steak and Salad on a Stick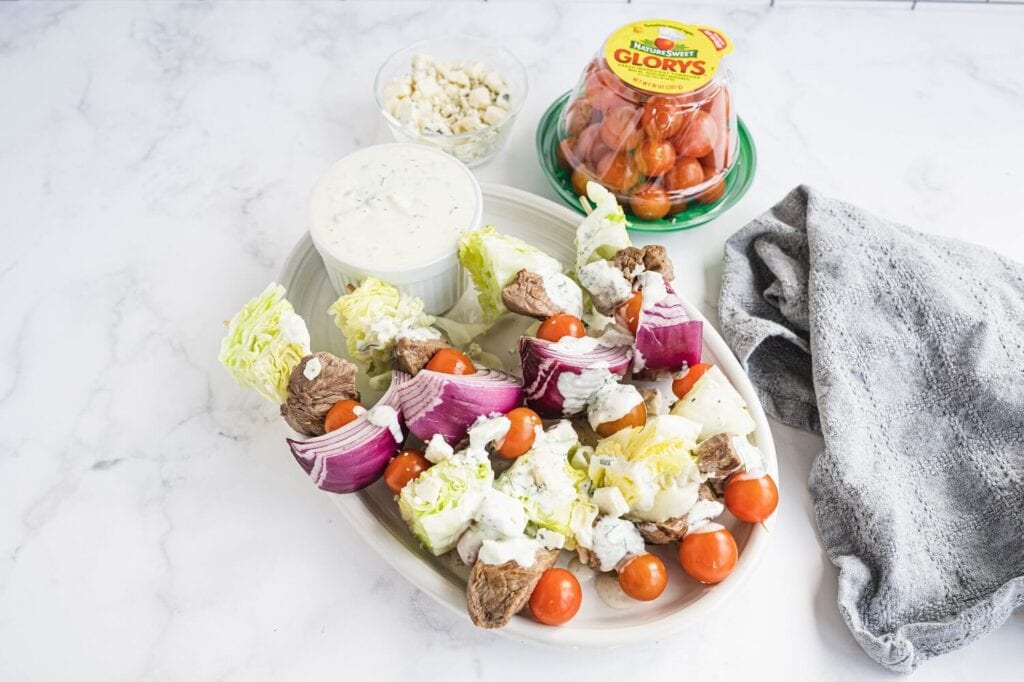 This recipe is sponsored by NatureSweet®.
Having a hard time convincing your family to eat salads? Here's how you can convince even the most stalwart, red-meat Texan to munch on some greenery: add some savory steak and turn it into a kabob!
This Texas Steak and Salad on a Stick is an easy-to-cook meal that skewers all the courses. Smother it in our homemade Avocado Ranch Dressing for a hearty handheld meal with classic flavor.
How To Make Texas Steak and Salad on a Stick
One of the easiest ways to make a meal more exciting is by turning it into a kabob. This classic Texan dish is perfect for skewering. Avocado Ranch turns this steak and salad combo into a sensory experience. You won't even have to ring the dinner bell — when your cowpokes smell this meal, they'll come galloping to the table!
NatureSweet Glorys® add sweet, tangy flavor to these kabobs. We're fans of the juicy addition of these bite-size tomatoes, but we also love how easy they are to prepare. NatureSweet Glorys are packaged in a unique carton that doubles as a colander. To wash them, just remove the sticker and rinse them in the carton in your sink. Then use the carton in one of these fun projects!
We also skewered chunks of iceberg lettuce, chopped red onion, and of course, cubes of grilled steak onto each of our kabobs. The order doesn't matter too much; just make sure every kabob gets a helping of each delicious ingredient. No one wants to miss out!
Making the dressing is simple, too. Just add all of the ingredients to a mason jar and whisk them together. Drizzle a bit of the dressing over the kabobs, then leave the rest out as a dip.
Ingredients
Steak Salad
iceberg lettuce

1-1.5" cubes

NatureSweet Glorys®

steak

cooked and cut into 1" cubes

red onion

cut into wedges

blue cheese crumbles
Avocado Ranch Dressing
1/2

cup

low-fat buttermilk

4

tbsp

sour cream

3

tbsp

mayonnaise

1

avocado

1

tbsp

cilantro

2

tsp

fresh chives

or 1 tsp dried

2

tsp

fresh dill

or 1 tsp dried

1

lime

juice only

3-5

dashes

hot sauce

to taste

2

cloves

garlic

minced or pressed

3/4

tsp

kosher salt

to taste

1/4

tsp

black pepper
Instructions
On the kabob, skewer in a pattern:

Chunks of Iceberg

Glorys® Tomato

Steak

Glorys® Tomato

Red Onion

Iceberg

Glorys® Tomato

Steak

Glorys® Tomato

Whisk ingredients for Avocado Ranch Dressing in a Mason Jar. Drizzle on kabobs. Sprinkle with blue cheese.
Everything's Bigger with NatureSweet Glorys
This stop in NatureSweet's Recipe Roadtrip is all about using Glorys® in a larger-than-life meal – something anyone from the Lone Star State would approve of. Texas is famous for hearty flavors, from spicy Tex Mex to ranching staples like this steak and salad kabob. And we think Texan ranchers would love the flavorful ranch dressing we've whipped up!
NatureSweet Glorys® may be small, but they have Texas-sized flavor. They're perfect for steak and salad meals and just right for these kabobs. But they have many other uses as well. Snack on them straight out of their convenient cartons or use them to elevate other recipes, like this Quick Bread and Chia Jam.
These tomatoes taste just right – and they're grown right, too. Behind each and every juicy little fruit is the set of principles that NatureSweet® is founded on: innovation, sustainability, and caring about the people who work in every stage of its supply chain. But don't just take our word for it: NatureSweet® is a Fair Trade Certified grower! Learn more about NatureSweet's partnership with Fair Trade USA in Episode 144 of The Produce Moms Podcast.
Eat like a true Texan with this Steak and Salad on a Stick, then check out more of the stops on NatureSweet's culinary road trip.
Want to share your kabob experience with us? Tag us on Instagram @theproducemoms and @nstomatoes!