National Strawberry Month and Mother's Day {Indy Style}
May 10, 2018, Updated May 30, 2021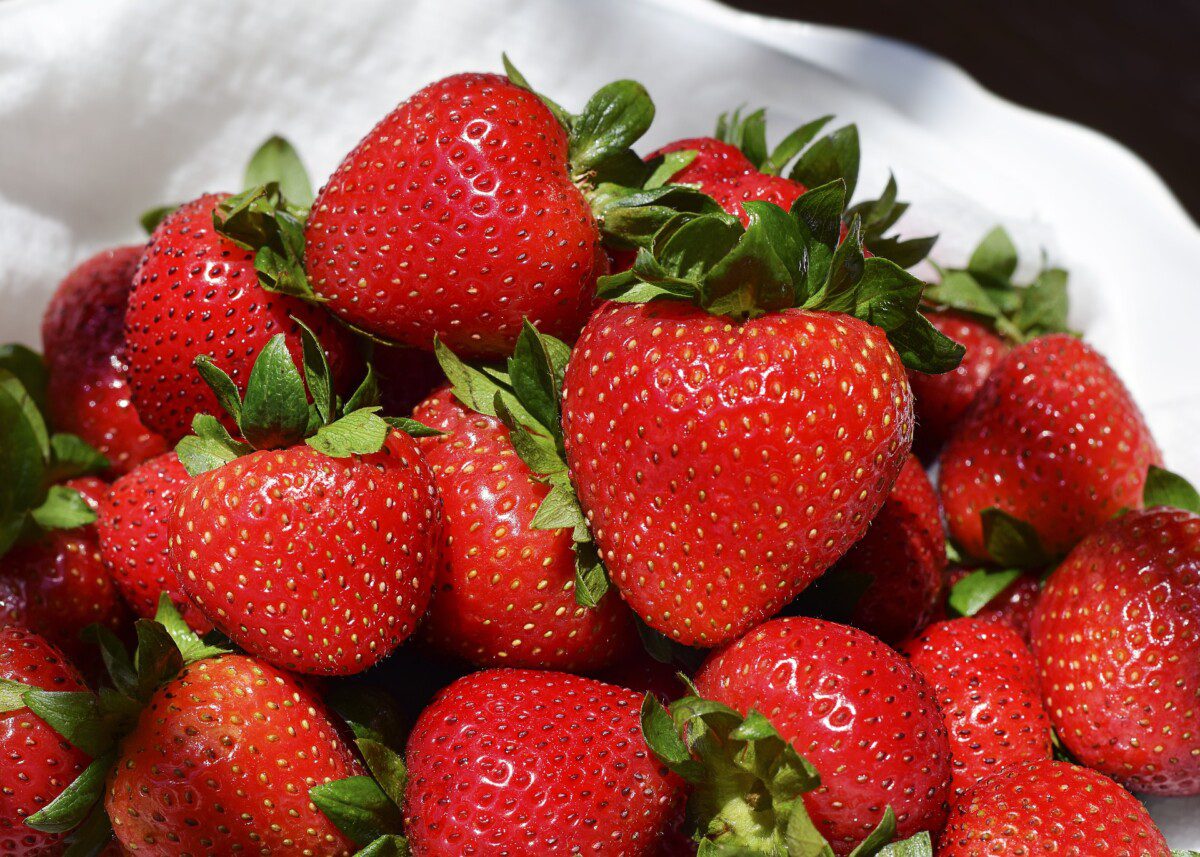 The Month of May is one of our favorites…Mother's Day, National Strawberry Month, National Salad Month, Cinco de Mayo, May 25th is National Eat More Fruits and Vegetables Day AND National Wine Day, the Indy 500 (remember, the TPM HQ is in Indianapolis) and the list goes on and on!  Today on Indy Style, we celebrated two of these things: National Strawberry Month and Mother's Day.
Right now we are in peak strawberry season, and we couldn't be more excited!  The colors are vibrant and the berries are huge and full of that flavor we love!  It is perfect timing with Mother's Day just around the corner.  Earlier on Indy Style, Lori prepared a perfect breakfast for mom (and the whole family) along with some other great strawberry recipes for now and the rest of summer!  Here's a recap of the appearance and each of the recipes Lori shared:
Breakfast for Mom with Strawberries and Pink Lady™
Pink Moscato Lemonade
Many moms love drinking Moscato (once the kids are in bed, of course!), so we thought we would add a "berry" twist that would be perfect for your Mother's Day brunch.  And if you aren't a Moscato drinker, you can substitute any other sweet wine that you choose.
Ingredients:
Directions:
Put lemonade in the bottom of the glass.  Add a shot of Strawberry Vodka and fil the rest of the glass with Pink Moscato.
Cut Strawberries and garnish drink as you would like.
Four-Flavor Sheet "Pan"cake
The best thing about this easy-to-make breakfast is that it is 100% customizable.   Today we did our "pan"cake pan into four quadrants: strawberries, banana & chocolate chips, blueberries and Pink Lady™ apples with walnuts.  Everyone in the family can have a portion of the sheet pan to add their favorite toppings!  Endless possibilities.  And moms and children alike will love making this together (and eating it too)!
Ingredients:
Directions:
Preheat over to 500 degrees F.
Whisk buttermilk, eggs, salt, vanilla and 1/2 cup granulated sugar in large bowl until combined.
In a separate bowl, whisk flour, baking soda and baking powder until combined.
Fold the buttermilk mixture into the flour mixture
Put 2 Tbsp of butter on a sheet pan and pour in the batter, using a spatula to smooth it out.  Pro tip: tap the tray on the counter to even out the batter.
Section 1: Add drops of the warmed strawberry jam and swirl in batter with a toothpick.  Top with sliced strawberries.
Section 2: Add blueberries.
Section3: Sprinkle chocolate chips and add banana slices.
Section 4: Add sliced Pink Lady™ apples.
Put the sheet pan in the oven and immediately reduce the temperature to 400 degrees F.  Cook for 20-23 minutes (rotate at 10 minutes).  Bake until golden brown and center of the pancake comes out clean.  Brush the pancake with the remaining 2 tablespoons of butter.
Get creative and come up with some other fun pancake toppings!
* Recipe Adapted from Food Network
More Strawberry Fun
Fresh Strawberry Salad
Another great way to incorporate strawberries this season is by using them as a topping for your favorite salad.  On today's Indy Style, Lori recreated the very first salad she made during her cooking debut 6 years ago at the Indianapolis Public Library.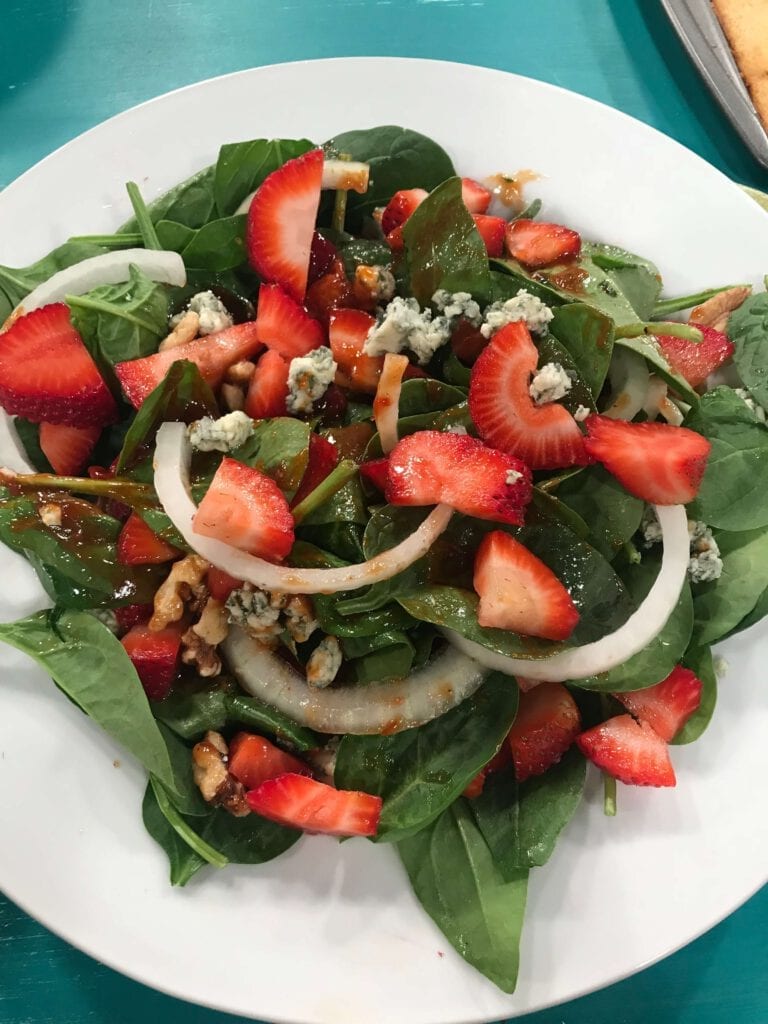 Salad Ingredients:
Salad Directions:
Add Spinach to bowl or platter.
Add salad dressing.
Add strawberries, walnuts and Vidalia® Onion slices and mix.
Top with Blue Cheese.
Strawberry BBQ Dressing Ingredients:
Strawberry BBQ Dressing Directions:
Mix all ingredients together and whisk.

 
Strawberry Salsa
Often times when we hear the word "salsa" we immediately think of tomatoes.  NOT TODAY!   We love to mix things up, and with strawberries being in peak season, we found an easy-to-make strawberry salsa that the whole family will love.  And remember, you can use the salsa with pita chips or as a topping for grilled fish, tacos or salads.  Be creative!
Ingredients:
Directions:
In a medium-sized bowl, combine all ingredients together.
Add Juice of a lime and mix together.
*Recipe adapted from Gimme Some Oven
Strawberry Tips and Tricks
Since we are in the height of strawberry season,  Lori took time to show some of her favorite strawberry tips and tricks on today's Indy Style.  One of her favorite strawberry "hacks" is to take the "core" out of the strawberry by using a straw.  Yes, it is that simple!  Lori also demonstrated several different ways to cut a strawberry.
As she mentioned on the show today, we recently visited the Naturipe® strawberry fields, and we want to share our experience with you!
Thanks for watching! Be sure to tune in again next month.
What's your favorite Strawberry recipe?  Share in the comments below.