StickyLickits Poolside Snack Tray
This post is sponsored by our brand partner, StickyLickits. 
Make a splash at your next pool party with StickyLickits, the stickers you can eat! Your kids will love to hydrate and cool off from the heat with refreshing fruits and vegetables… especially after they've decorated them with these safe and edible stickers. So load up a fruit and veggie tray and bring your kids' favorite stickers for some StickyLickits poolside fun!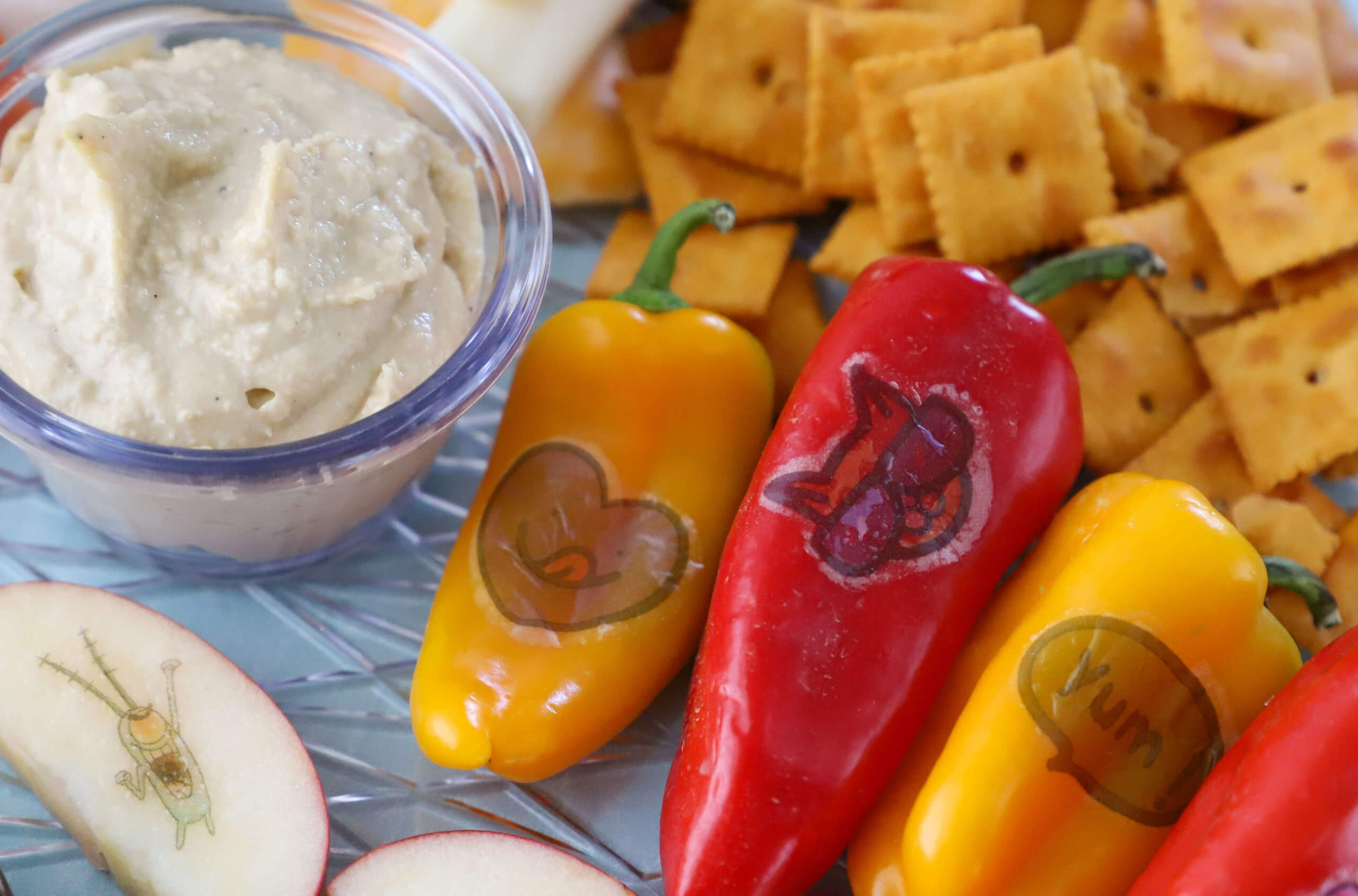 Summer is the perfect time to start planning healthy activities with your kids. You could go hiking, take a family bike ride, or shoot some hoops, but our favorite way to get an outdoor workout is at the pool! Swimming is great exercise for kids, and it doesn't even feel like exercise — it's just fun! Add to the health benefits with some fresh produce snacks. 
Remember to stay hydrated and keep your energy up while you're out in the sun! Juices and sodas are often full of sugars and artificial sweeteners that don't give kids the nutrition they need to play all day. Instead, give them water and their choice of delicious fruits and veggies to help them have lots of energy and fun as they splash and swim. Even the pickiest kids will love decorating their fruits and vegetables with shapes, faces, and their favorite characters from StickyLickits.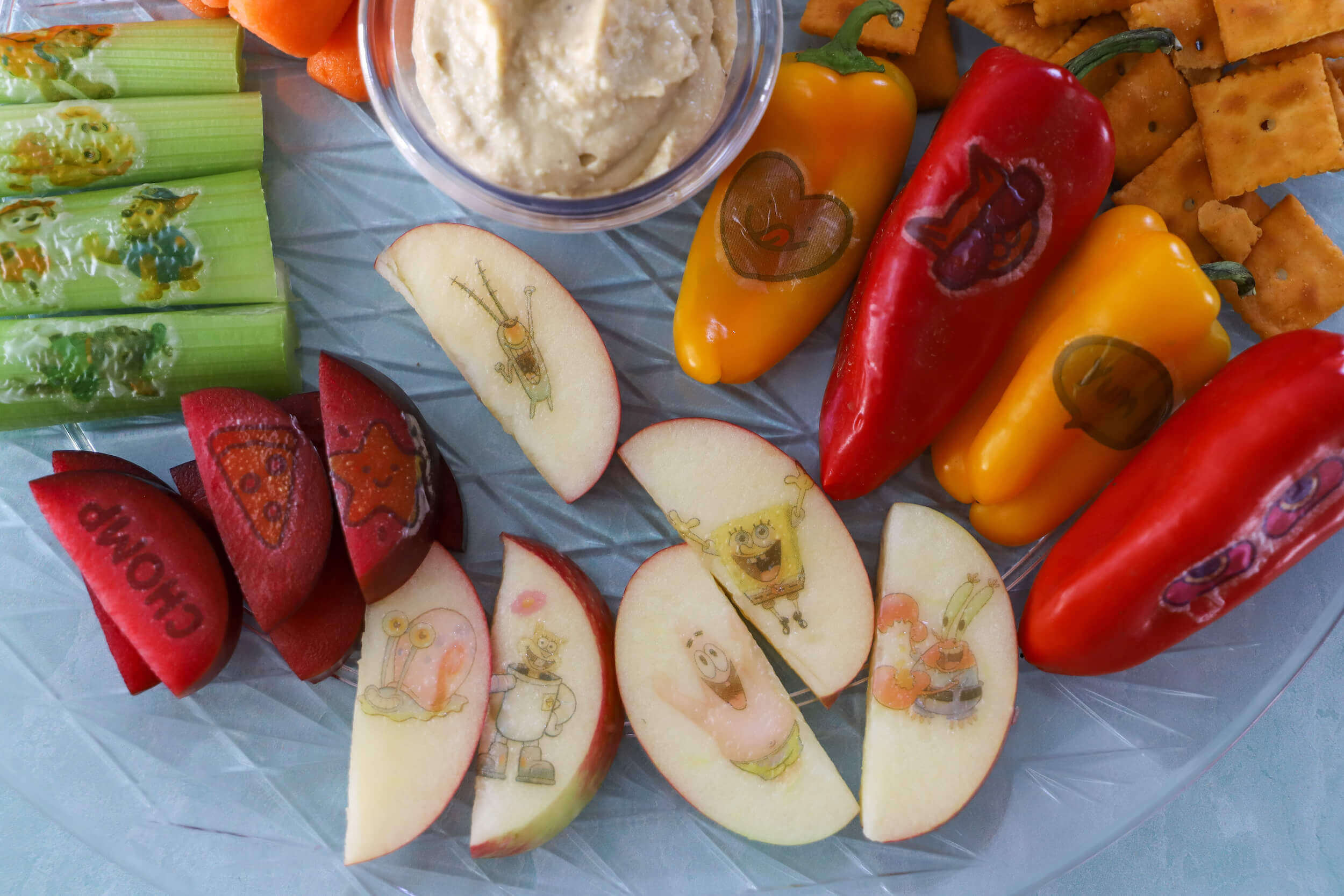 We dressed up some of our favorite produce for our poolside snack tray. Mini peppers, celery, apple slices, plums, and carrots provide variety and flavor. We finished it off with baked cheddar crackers and cheese and hummus for dipping. You could also add broccoli, cherry tomatoes, pretzels, or strawberries to your tray. 
And if it wasn't colorful enough already, StickyLickits really made our tray shine. Want plums with cute faces? Unicorns on your peppers? Mr. Krabs on a carrot? StickyLickits has you, or rather your veggies, covered. With characters from SpongeBob Squarepants and Paw Patrol, your kids will be ready to have StickyLickits poolside fun! 
To get your kids even more excited for this fruit and veggie tray, let them help you put it together. Use StickyLickits to make scenes with your favorite characters or stick fun faces on your fruit to give them their own personalities.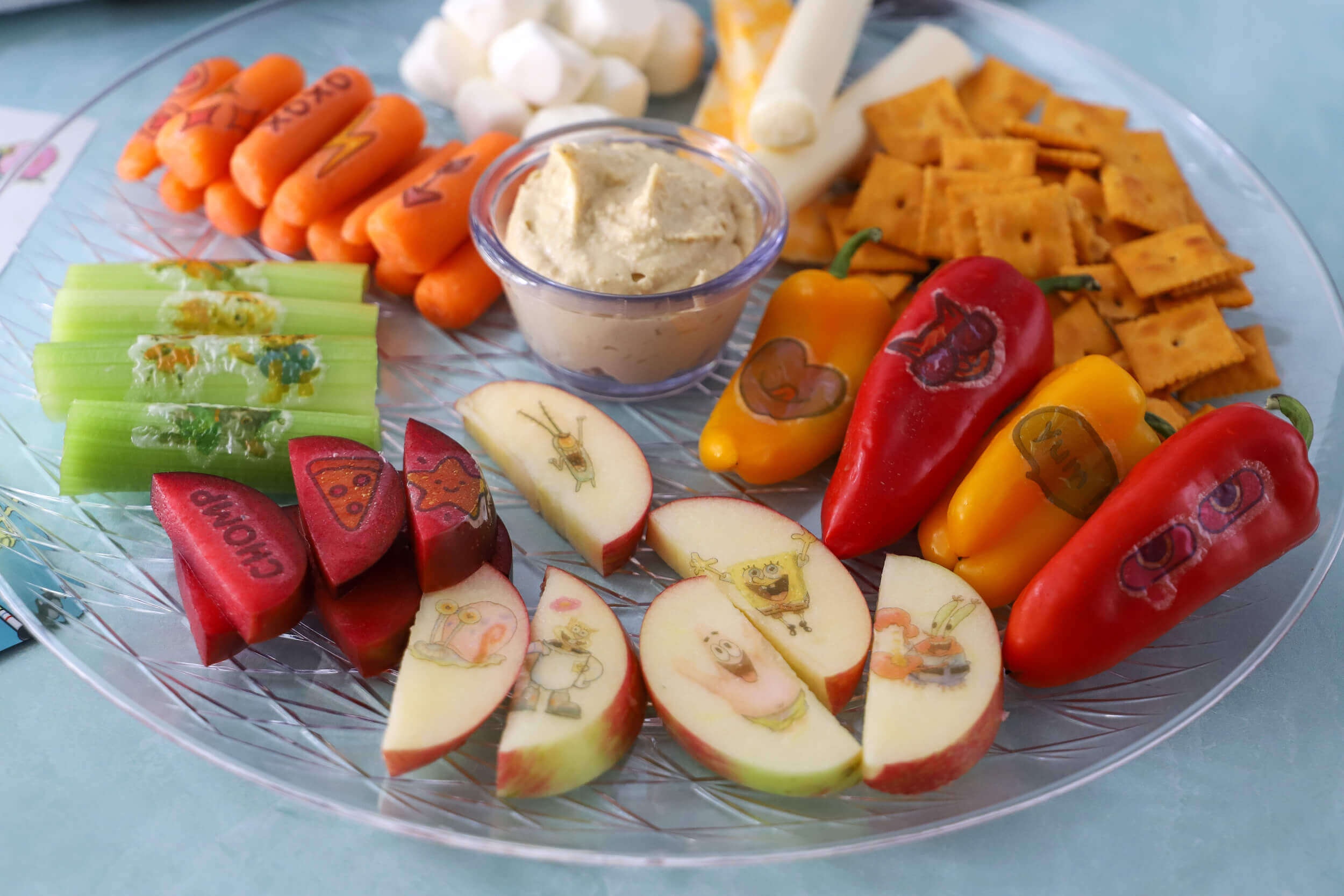 RELATED PODCAST: How StickyLickits is Helping Children Eat More Veggies with Linda York
Whichever fruits and veggies you choose to fill your snack tray, you'll end up with a nutritious, hydrating, and inexpensive snack time experience that's as fun as pool time! 
Fill your summer with great memories, tasty produce, and StickyLickits poolside fun! StickyLickits are available for purchase on their website here.
What fruits and veggies will you choose for your poolside snack tray? Share in the comments below or join our Facebook community and share a photo!