September 2021 Indy Style: Delicious Made-Ahead After School Snacks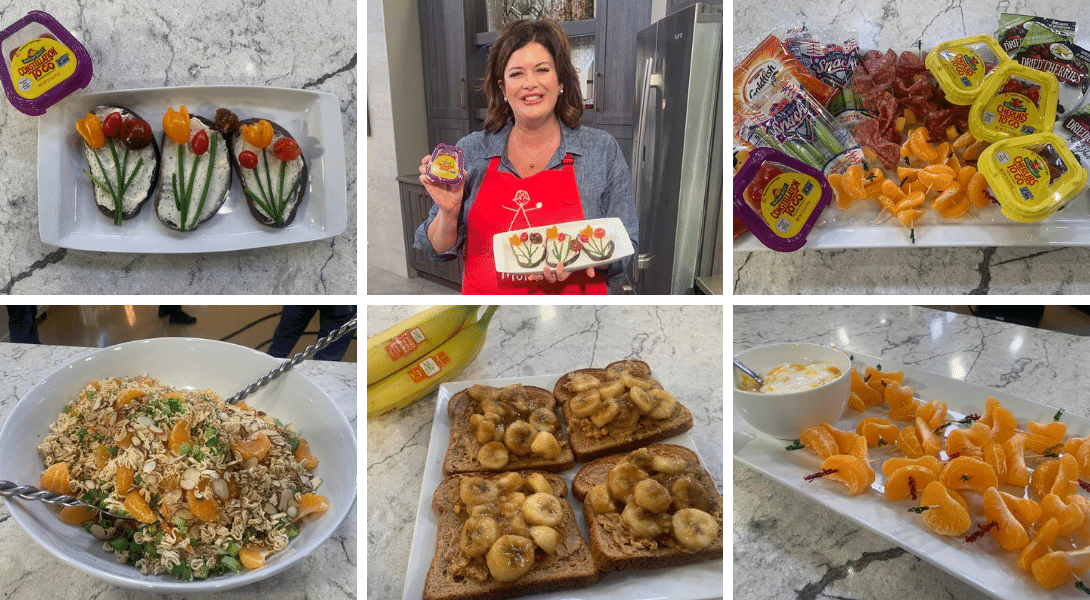 We're all getting back into the swing of the school year. If you're changing gears in your kitchen from summer favorites to fall necessities, then we have some tasty ways to make it easier for you! Check out our fruit-filled recipes and made-ahead after school snacks in our September 2021 Indy Style appearance.
Nutrient-filled mandarin oranges make great snacks and ingredients in your meals and can help you and your family stay healthy this season. And made-ahead after school snacks will help brighten your kids' days, no matter their age! We shared all this and more in the Indy Style kitchen.

Enjoying the Flavors of Mandarin Oranges
Today we're talking citrus – specifically, Mandarin oranges! The term "mandarin" covers many different varieties of oranges, including clementines, Murcotts, and the Halos and Cuties you might be familiar with from your produce department. Today we're cooking with fresh mandarins from our partners at Pro Citrus Network.
In days past, we would normally see mandarin oranges later in the year during import season. However, thanks to modern day logistics and farming techniques, we can enjoy mandarin oranges during more of the year. Pro Citrus Network is starting to see favorites like Murcotts shipped now!
No matter the variety, mandarin oranges can be sweet snacks or an excellent addition to your meals. And they're filled with Vitamin C, which can help boost your immunity – something we're probably all looking for as our kids go back to school!
Mandarin Orange Ramen Noodle Salad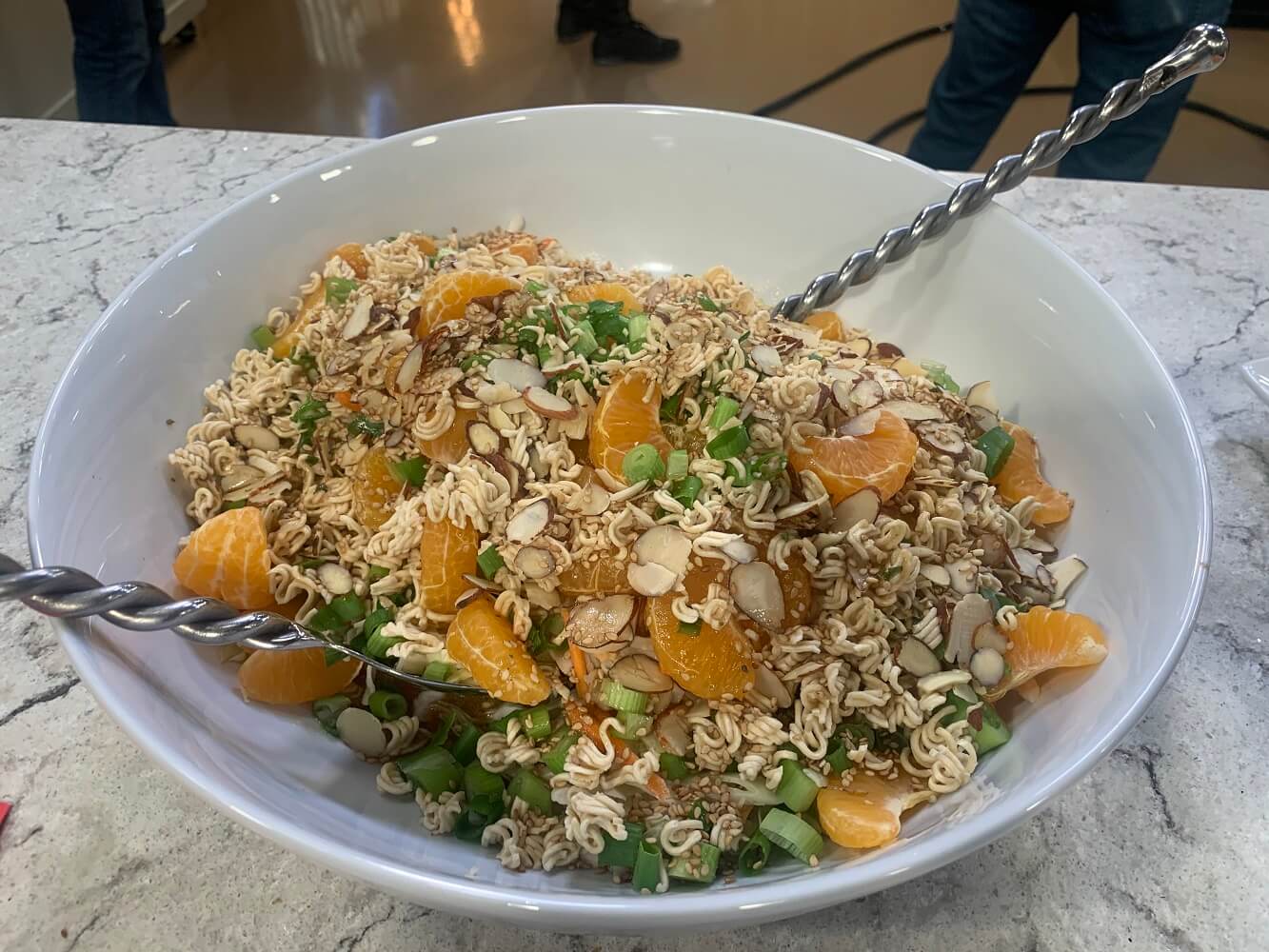 Ramen has become the hot new thing for kids. It's easy to make and eat, and it's tasty, too! We've put a fresh spin on the microwave classic by incorporating it into a mandarin-filled salad. This is a flavorful dish that's perfect for kids who might not normally like to eat salads.
Sliced almonds, toasted sesame seeds and oil, and green onions give this salad a little extra flavor and crunch. You'll use both the ramen noodles and the powder packet included in the package. Crunch the noodles up and add them to the salad, then use the powder as you make the dressing. Some people claim you need to use white vinegar to make this dressing, but we disagree: we prefer apple cider vinegar!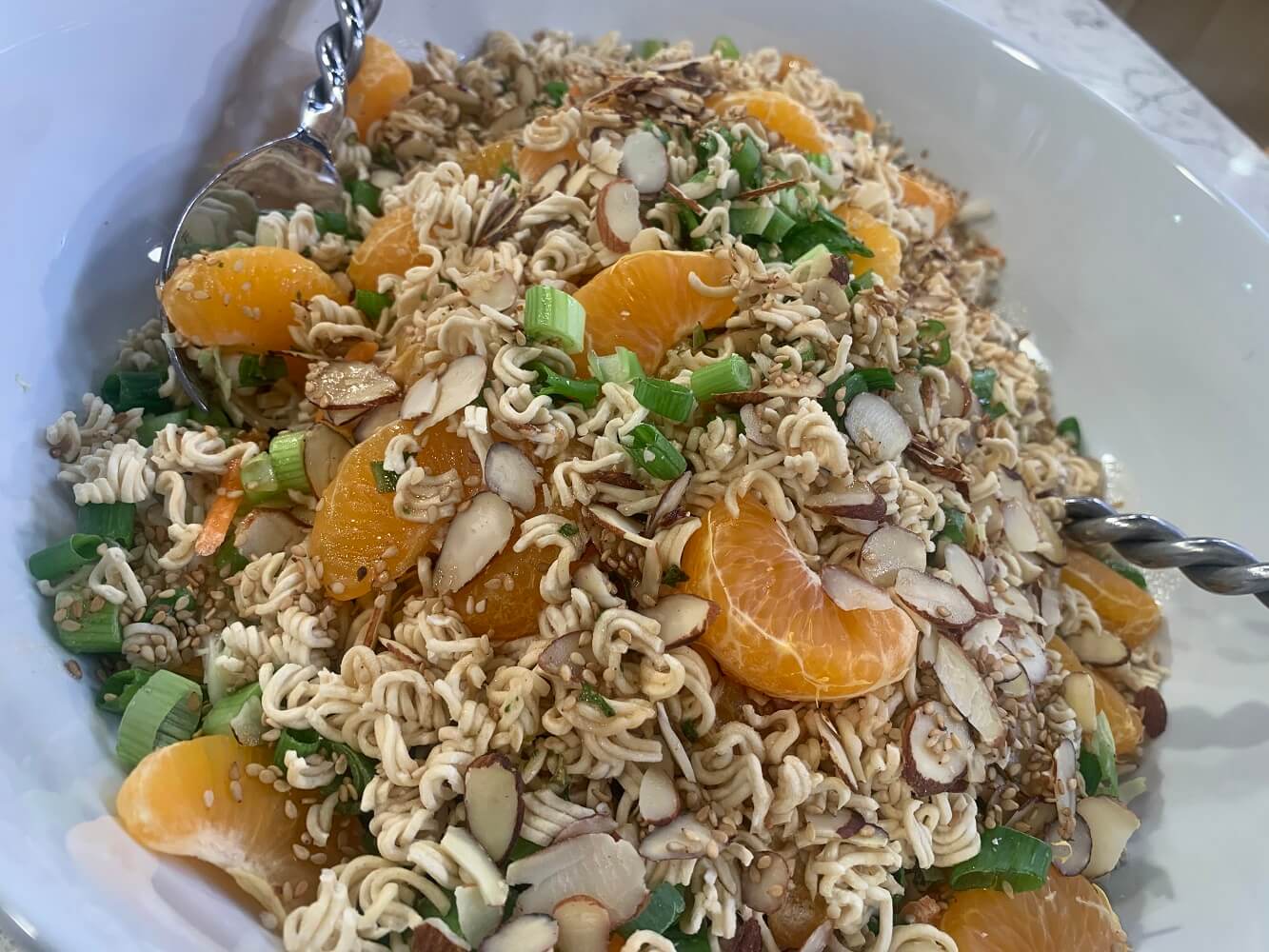 You'll need to refrigerate this salad for a little while after you toss it so the noodles can hydrate and absorb the dressing.
Mandarin Orange Ramen Noodle Salad
Ingredients
4 Mandarin Oranges
1 package (14 oz) shredded coleslaw mixture with carrots (about 6 cups)
1 package (3 oz) "Oriental" flavor instant ramen noodles, seasoning packet reserved
2 green onions, thinly sliced
1/2 cup sliced almonds, toasted
2 tablespoons sesame seeds, toasted
1/4 cup white wine vinegar
1 tablespoon sesame oil
3 tablespoons canola oil
1/4 cup sugar
1/2 teaspoon salt
Directions
Peel and segment the mandarin oranges and place in a large bowl with the slaw mix.
Remove the dry ramen noodles from the package and set the seasoning packet aside.
Break up the noodles and add to the slaw, along with the green onions, almonds and sesame seeds.
In a small bowl, whisk together the reserved seasoning packet, vinegar, oils, sugar, salt and spice until sugar is dissolved.
Pour dressing over the slaw mixture and toss together. Refrigerate for at least 1 hour to hydrate noodles.
Mandarin Kabobs with Yogurt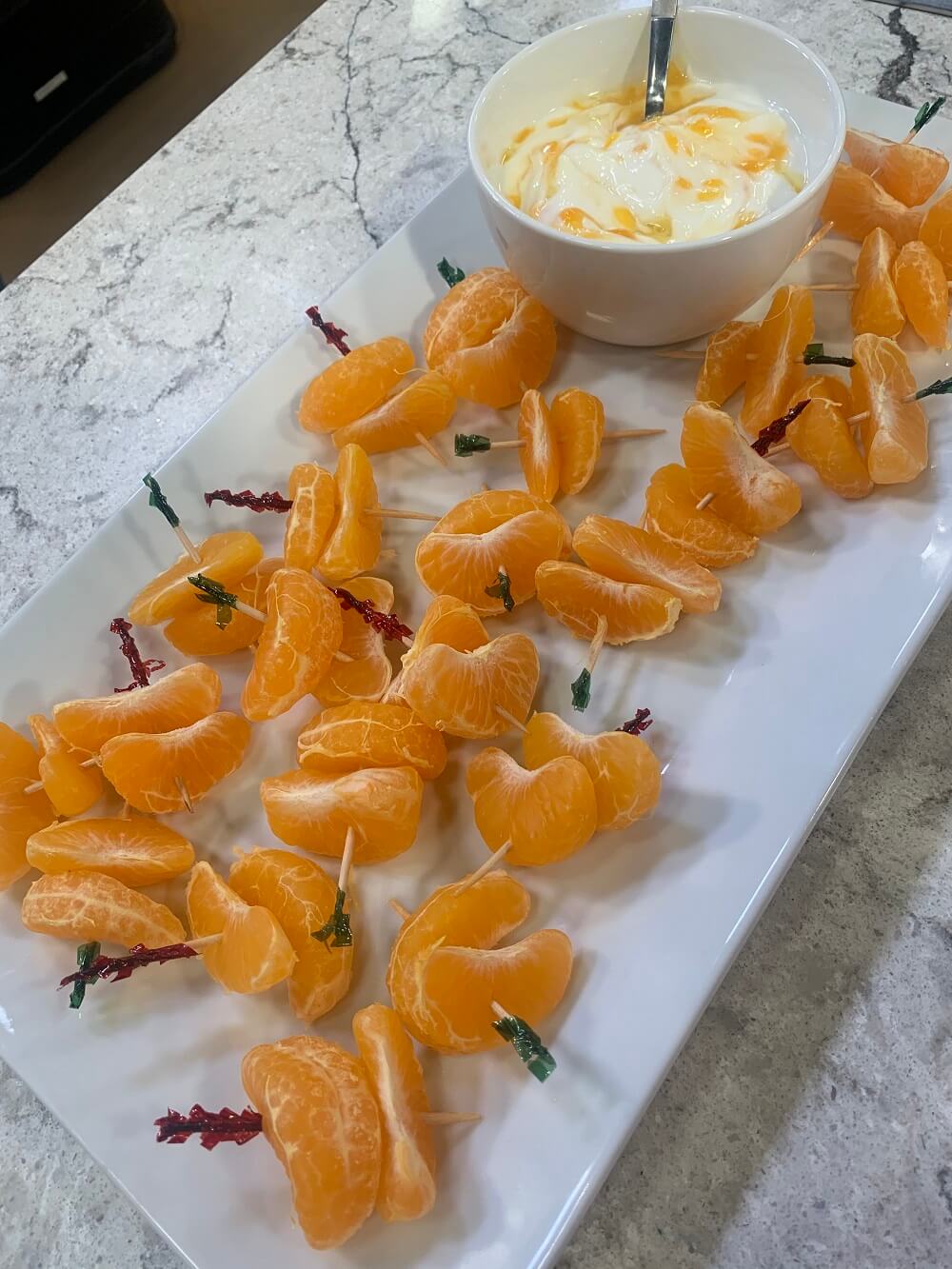 Putting a bowl of clementines on your counter can help encourage nutritious snacking and help your kids get an energy boost after they get home from school. But while putting them within reach is great, making them inviting and easy to eat is even better!
These Mandarin Kabobs are pre-peeled and skewered, making them easy to dip into the accompanying yogurt dip and pop in your mouth. They look delectable all spread out on a dish and are an excellent made-ahead after school snack.
Mandarin Kabobs with Yogurt
Ingredients
1/4 cup vanilla Greek yogurt
1 tablespoon 100% fruit spread
1 Chilean Mandarin orange
Directions
Place 1/4 cup vanilla Greek yogurt in a small dish. Add 1 tablespoon 100% fruit spread and swirl lightly.
Thread peeled Chilean Mandarin orange sections onto small bamboo skewers.
Serve with yogurt for dipping.
Instant Pot Mandarin Jam
For our instant pot fans out there, we have a quick and delicious recipe for you: mandarin jam! This recipe requires just a few minutes in the instant pot and creates a sweet and delicious jam that's perfect for toast, bagels, muffins, and other snacks.
Instant Pot Mandarin Jam
Ingredients
2 pounds fresh fresh mandarin segments
1 cup granulated sugar
2 Tablespoons lemon juice
3 Tablespoons cornstarch
3 Tablespoons water
Directions
Add mandarins, sugar, and lemon juice to the instant pot.  Let sit for 10 minutes.  (The sugar will help draw juice from the mandarins)
Close the lid and secure the pressure release valve.  Cook on high pressure for 1 minute. Allow to natural release for 15 minutes. Do a controlled quick release when releasing the remaining pressure to make sure only steam comes from the vent.
Combine the cornstarch and water until smooth. (If it's too thick you can add a tiny bit more water until its liquid and cornstarch is completely smooth.)
Remove the IP lid (it will look like SOUP inside, but don't be alarmed!) Stir in cornstarch slurry.
Select "saute" and bring the mixture to a full boil.  Boil for a few minutes, stirring frequently until mixture has thickened. Turn off Instant pot.
Pour jam into a container.  Details about storing and preserving this jam recipe are above in the post.
Delicious Made-Ahead After School Snacks
After a long day at school, your kids will appreciate some made-ahead after school snacks. With the right ingredients, you can give them the energy boost they need to finish their homework, succeed in their after school activities, and enjoy the rest of the day. But what should you plan to make? We have a few ideas for made-ahead after school snacks:
Caramelized Bananas
Before we get to the making of these tasty treats, let's talk about peeling bananas. Most of us probably peel them from the top, where the stem is, then pick off the strings inside. But if you peel the banana from the bottom, you won't get any strings. It's even easier to eat this way!
Today we're caramelizing bananas from our partners at Organics Unlimited. These growers are committed to more than just quality, great-tasting organic bananas. They're on a mission to break the cycle of poverty and create fair, sustainable, and fulfilling communities in the regions where their bananas are grown.
Caramelization adds new dimensions to the flavor and richness of bananas. Plain banana slices make a great topping or addition to cereal, oatmeal, crepes, and all kinds of other dishes. But caramelized bananas take those dishes to the next level! Here's an easy way to caramelize bananas to use in breakfasts, desserts, and snacks.
After School Snack Board
What's easier than a snack board? When it comes to made-ahead after school snacks, not much! You can add just about any fruits, veggies, or other snacks to your after school snack board, we have some suggestions to help make your board delicious and nutritious.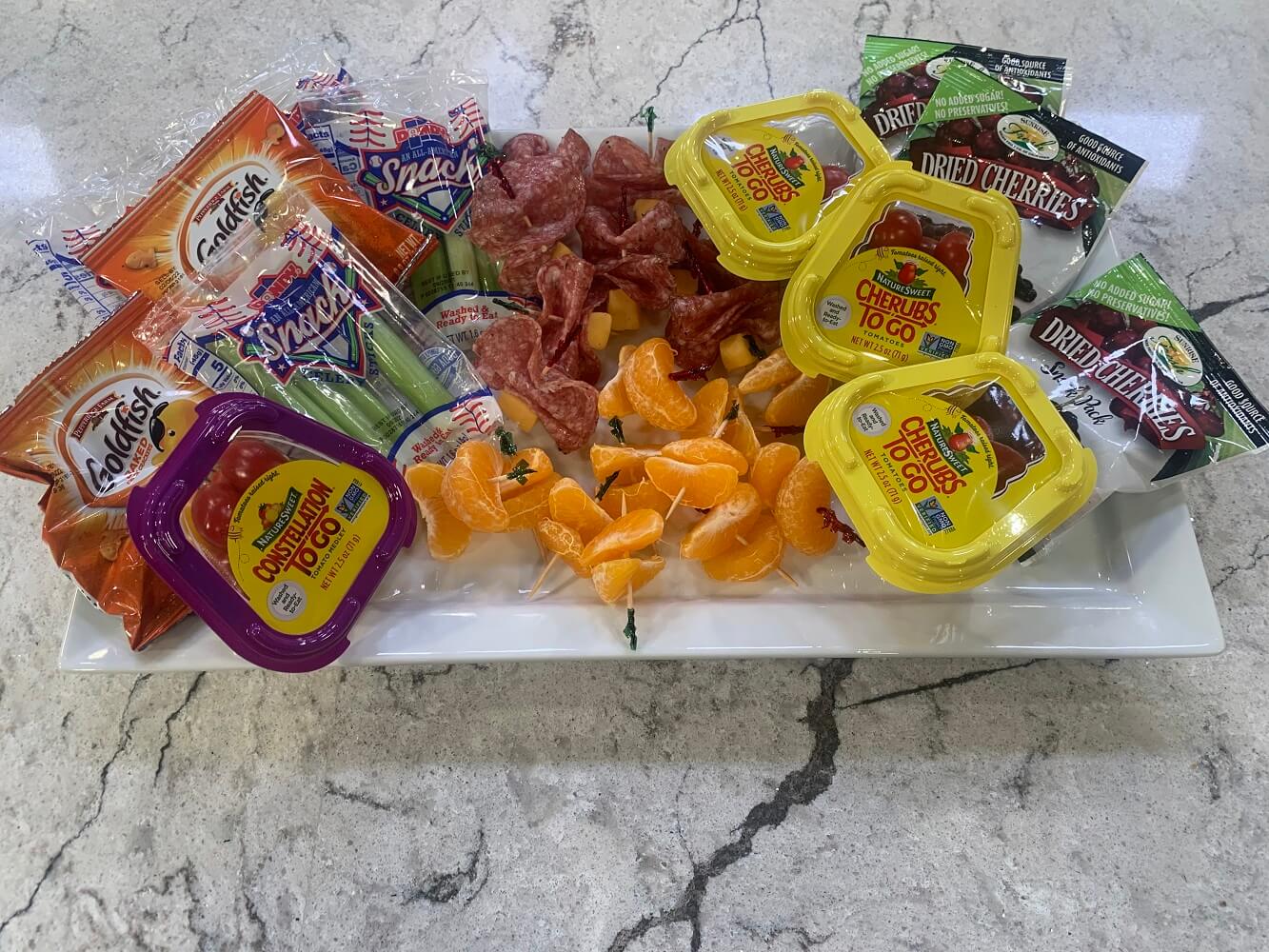 Fresh from our partners at NatureSweet, check out the Cherubs® and Constellation® To Go packs! These travel-ready tomato packs are great for snacking after the school day is over. Add a few to your made-ahead after school snack board so your kids can enjoy them or take them to their next activity.
The key to making a good snack board is to include inviting, easy-to-eat ingredients. Our board also includes kid favorites like cubed cheese, pepperoni, and cheesy crackers like Goldfish or Cheese-Its. With finger foods like these, kids can grab what they like from the board and graze as much as they want after school.
Tulip Toast
This fun toast recipe comes from the minds at NatureSweet! We recreated it in the Indy Style kitchen to show you another great made-ahead after school snack that your kids will love. We just want to dive right into these beautiful treats!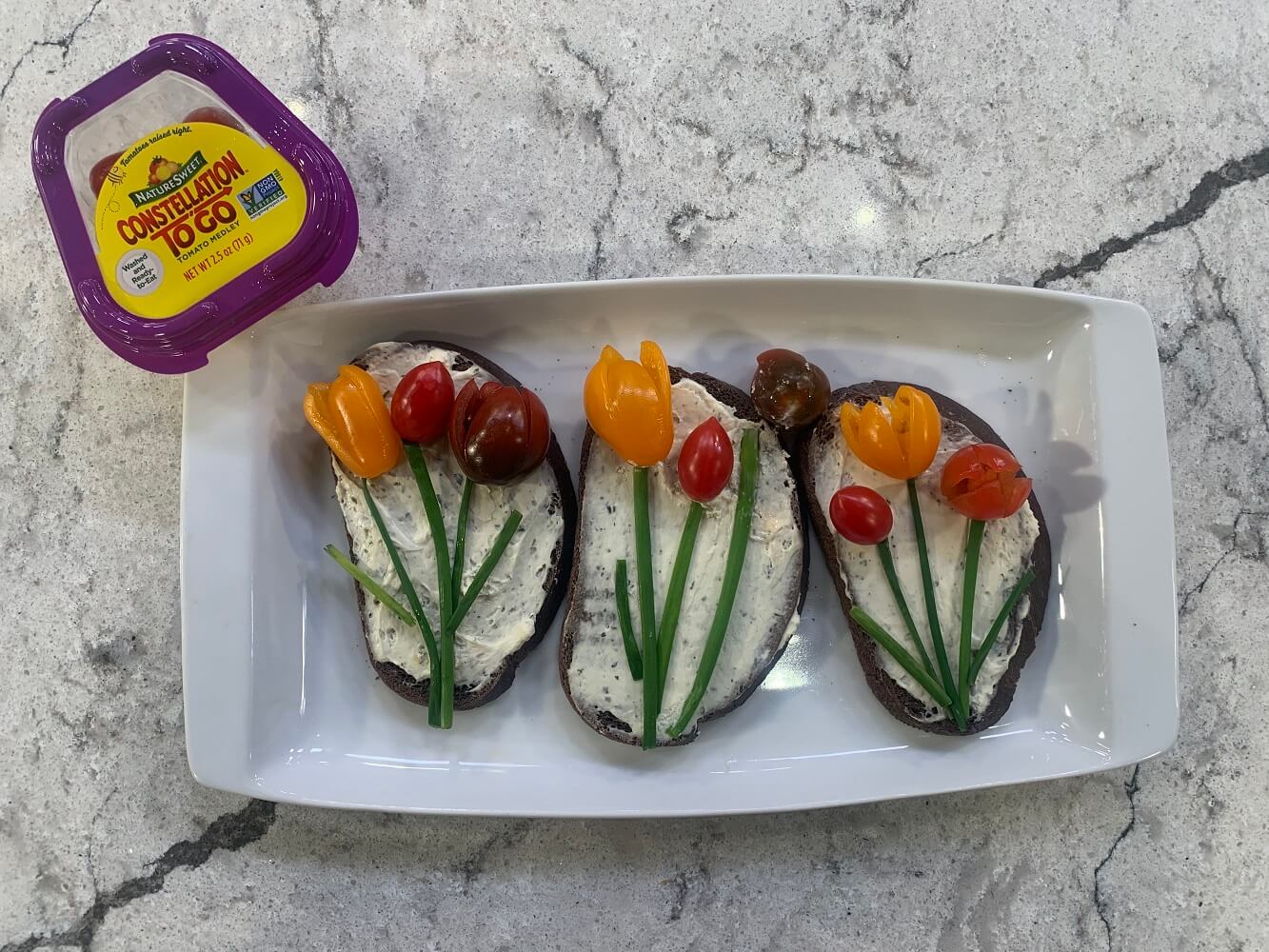 The "tulips" on this toast are NatureSweet tomatoes sliced crosswise about ¾ of the way through. Watch your fingers! When you've sliced the tomatoes, use a small utensil like a toothpick to scrape out the seeds inside.
Next, prep the toast. When you've spread cream cheese over each slice of pumpernickel toast, gently press chives into it to make the stems. Then add the tomatoes to the tip of the chives to make the flowers. With a range of sweet and savory flavors, these Tulip Toast slices will be an irresistible treat you and your kids will love!
Tulip Toast
Ingredients
16 oz. cream cheese, softened
4-5 fresh basil leaves
.25 ounces fresh thyme, stemmed
½ teaspoon dried parsley
Salt and pepper
8-10 various sized slices of pumpernickel bread, lightly toasted
NatureSweet® On the Go Snacking Pack
15-20 stalks of chives, depending on the length of stalks
2-3 fresh oregano stems
Directions
In a food processor, combine the softened cream cheese, basil leaves, stemmed thyme, and dried parsley and pulse until herbs are incorporated, and the texture is creamy. Season with salt and pepper to taste.
Spread an even layer of the herbed cream cheese on each slice of toast and top with tomato tulips, adding extra chive stems and oregano leaves for a floral effect.
To Create the Tomato Tulips:
Cut a cross in the top and about 3/4 down the tomato. Using a small spoon (a grapefruit spoon works well) to gently scrape out the tomato seeds.
Use a grilling skewer or toothpick to create a hole where the stem of the tomato would be. Twist the skewer in a circle a few times to make room for the chive to fit.
Insert a chive into the hole at the bottom of each tomato. You can use the skewer to help guide the chive through the hole.
Is there anything special you're whipping up in your kitchen for your kids to enjoy when they get home from school? What were your favorite made-ahead after school snacks when you were a kid? Tell us about them in the comments!