Season 2 Podcast Recap
Season 2 of The Produce Moms Podcast was an exciting one.  We reached many milestones with the number of listeners, dowloads and subscribers.  THANK YOU!  We have had so many great guests on the podcast, and we have many more in the pipeline that we can't wait to share with all of you.  Someone recently asked us which podcast is our favorite so far, and we just simply can't answer that – we love them all!
In Season 2 of The Produce Moms Podcast, we have covered:
Organics: The Fastest Growing Category in the Produce Department
Fresh Produce Advocacy
Fresh Produce Delivery
Fast Food Nutrition with Taco Bell (YUM!)
National Watermelon Board
Fruit and Veggie Pulp Turned Healthy Snack Food
The Importance of Produce in Food Banks
Fuel Up to Play 60
Produce Innovation and the Future
Revolution of School Food
Hint Water
The Role of the Produce Marketing Association
Veggie Noodles
Duke Athletics and Nutrition
FFA Convention and the Future of Farming
Advancement of Technology in Agriculture
Hydrating Produce in the Grocery Store
Below we have compiled all of our episodes from season 2, along with a quick synopsis, so you can listen to them all!  Thanks for being on this journey with us.  We are excited for the continuing growth of The Produce Moms Podcast.  Have an idea for the Podcast?  Share it in the comments below!
"Organic is now in every format across the country."
Tonya Antle, Co-founder and EVP of the Organic Produce Network (OPN), has been a driving force in the farming and produce industry for the past thirty plus years.  She grew up on her own family's table grape and citrus farm in Delano, California. She is recognized as a top spokesperson and a true trailblazer for the organic produce segment, helping to propel organic produce from the fringe to mainstream mass-market retailing.
"Over 90% of the produce items USDA is purchasing for schools are dried, canned, or frozen… The opportunities created by the Farm Bill could be the only time that a child has access to fresh fruit and vegetables."
Mollie Van Lieu, Senior Director of the Nutrition Policy for United Fresh Produce, spends her days on The Hill, advocating and promoting change in our government regarding nutrition. Her mission is to increase the availability and consumption of fresh produce in our homes and schools. Before joining forces with United Fresh Produce, Mollie was the Senior Associate for Government Relations at The Pew Charitable Trusts. She was also the Senior Policy Strategist for the National PTA.
"Every year, 40% of food in the US is going to waste. 20 billion pounds of that waste is produce that is lost before it even leaves the farm. Food that farmers have grown the water and love has gone into it and they can't harvest because they can't connect it to a buyer. So, they can't afford to pull it off the plant."
Stacy Carroll, Director of Partnerships for Hungry Harvest is passionate about eliminating waste and eliminating hunger in our nation. From dorm room, to Shark Tank, to a booming food delivery business, Hungry Harvest has experienced incredible growth. Hungry Harvest markets the produce that was deemed "off-spec," and would have been thrown out, instead of placed in grocery stores for purchase. They believe that fruits and vegetables are a right, not a privilege, and every fruit and vegetable deserves to be eaten.
"We as consumers have to re-educate ourselves. It's my hope that The Produce Moms can be a vehicle to educate us to shift our mindset."
In this episode of The Produce Moms, Lori takes some time to recap all of the incredible episodes that have been released so far on the podcast. Lori's passion is to help moms everywhere become more educated on produce and the issues that affect sustainability, availability and price of produce. She gives a brief history of the mission behind Produce Moms before recapping some of the more notable podcasts from this season.
"We have to think beyond what's on the menu because people are starting to care more about, not just how things taste, but they want to know that the food is good for them, and it's also good for the world"
In episode 17, Lori had the honor of chatting with Missy Schaaphok, RD. Missy is the Manager of Global Nutrition and Sustainability for Taco Bell. Her mission is to continue finding new ways to integrate healthy food into the fast food market. Over the past several years, her team has been responsible for many of the monumental steps towards greater nutrition offered on the Taco Bell Menu. From removal of artificial ingredients to the addition of cage-free eggs, Missy's team has been working to provide fresh and healthy options for Taco Bell customers. Some have claimed that Taco Bell is the healthiest fast food restaurant!
"The Watermelon Board represents 1500 shippers and growers in the United States"
In this episode of The Produce Moms Podcast, Lori sits down to discuss one of America's favorite fruits with Jesse Wiggins. Jesse is a fifth generation farmer and the President of the Watermelon Promotion Board. At 25 years of age, he is the youngest individual to ever hold this position and brings a fresh perspective to the market. Jesse and Lori discuss the importance of the Watermelon Promotion Board, and why it holds significance for growers, shippers, and also consumers.
"We see ourselves as a sustainable food company that is on a mission to make fruits and vegetables as ubiquitous as grains and sugar."
In this Episode of The Produce Moms Podcast, Lori had the privilege of speaking with Ashley Miyasaki. Ashley is the Co-Founder of Pulp Pantry, a company on a mission to eliminate the waste created from juicing, while providing the world with delicious, healthy snacks! For every pound of juice, approximately four pounds of pulp is created. Pulp Pantry was created when the founders realized that most people just discard the pulp. The pulp contains vital nutrients that were simply adding to the waste piled in landfills across Los Angeles, and the country.
"We are the end of the supply chain for all of the fresh-grown produce. That way it doesn't go into the landfill. We find places for it."
In episode 20 of The Produce Moms Podcast, Lori spends time talking to the CEO of the Yuma Community Food Bank. This community food bank is the largest food effort in all of Yuma and La Paz County, Arizona. To give perspective, Yuma itself has 205,000 inhabitants, and there are 200,000 individuals that benefit from the food bank! It truly is a vital part of the community.
"We've seen the environment change. 14 million students eating healthier and 18 million students more physically active through this program."
Episode 21 of The Produce Moms, Lori spends time chatting with Marc Blake, Vice President of Business for the National Dairy Council and Mac Riggen, Director of Marketing for Chelan Fresh. Chelan Fresh is a Washington-based produce provider of pears, apples and cherries. Chelan Fresh has been collaborating with the Dairy Council, the USDA, and the NFL for the past 7 years in a program called Fuel Up to Play 60. Fuel Up to Play 60 is a nutrition and physical activity program implemented in schools to help encourage healthier lifestyles in our youth.
"Not only is Mann's dedicated to innovation… but they're also really good stewards of sustainability!"
In Episode 22 The Produce Mom's Podcast, we have the honor of chatting with Jacob Shafer, the Senior Communication Specialist for Mann's Fresh Vegetables. Mann's operated as a family-owned company from 1939 until earlier this year, when it was acquired by Del Monte Fresh.  Of course, Mann's is a personal favorite at The Produce Moms, and we were so ecstatic to spend time discussing Mann's innovative food strategies, including their highly acclaimed Nourish Bowls. If you haven't tried the Nourish Bowls yet, let me personally recommend the Cauli Curry Rice! Their Nourish Bowls are full of nutrients and many are high in plant-based protein.
"We've always been focused on communities and schools that have less access… we've made sure that our meals are healthy, fresh, nutritious, and delivered every day, but also that they are fully reimbursable through the federal meal reimbursement program"
On episode 23 of The Produce Moms Podcast, Kirsten Saenz Tobey, Co-founder and Chief Impact Officer of Revolution Foods shares about the incredible impact being made in schools around the nation. Revolution Foods provides 3 million meals a week to over 3000 school sites in 16 States. Their mission is to provide fresh, healthy meals that are fully reimbursable through the federal meal reimbursement program. Through Revolution Foods, children who may not have access to healthy meal options are given the opportunity to receive the nutrition they need to help set them up for academic success.
"Hint is more than just a water, it's a lifestyle."
On Episode 24 of The Produce Moms Podcast we hear from the Founder and CEO of Hint Water, Kara Goldin. Kara shares the story of Hint, birthed from her own journey to find health and wellness. She truly is a voice and public figure in the produce community, and an example of someone with grit and ability to create true change! Hint is one of the only products out there that is created with only real fruit and is free from additives and sweeteners. Hint has still water, sparkling water, caffeinated water, and even a line of sunscreens!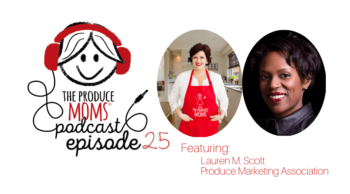 "Our vision is to bring together the global produce and floral industry to grow a healthier world. Not only in consumers and what they eat, but also our members and our members' prosperity."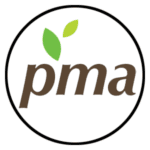 In epsiode 25 of the Produce Moms Podcast, Lori spoke with Lauren M. Scott, CMO of the Produce Marketing Association. The Produce Marketing Association is a global, member-led association that reaches to 46 countries and has 2900 member companies. The vision of the Produce Marketing Association is to bring together the global produce and floral industry to grow a healthier world. They are on a mission to empower the industry and the members that make up the industry.
"One of our top priorities is how we can shift components of our plate to make them more nutrient dense and to bring in more of these under consumed vegetables into our daily diets. This product is a turn-key solution."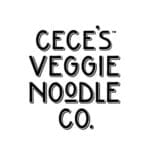 Epiosde 26 of The Produce Mom's Podcast, we sit down with self-proclaimed "Veggie Nerd," and Founder of Cece's Veggie Co., Mason Arnold. Mason is also on the board with The United Fresh Produce Association. It is amazing how many guests on The Produce Moms have inspired change out of the necessity for innovation in their own lives. Cece's is named after Mason's daughter and was created in 2015 as a way to provide a healthy and gluten-free alternative to pasta.
"Proper nutrition program is vital for athletes of all ages and all levels, whether you are training to get a PR at your next road race, if you're in high school looking to go on and play college sports or even if you are just simply a frequent user of your local gym."

Epiosde 27 of The Produce Moms Podcast, Lori and Beth Miller, Director of Sports Nutrition for Duke Athletics, discuss the importance of fueling our body, and the role produce plays in the nutrition of Duke's top athletes. Beth is a Registered Dietitian, and has been the Director of Sports Nutrition at Duke since 2017. Beth shares that nutrition is about finding the balance of foods to fuel your life. This is important for every individual, from the elite athlete to the soccer mom. Fresh produce plays a vital role in that balance!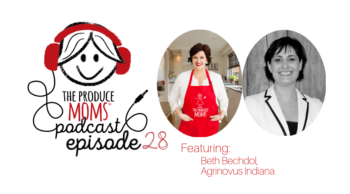 "Agriculture is here to feed the world, to protect the planet, to make people's lives better."
Episode 28 of The Produce Moms Podcast, Lori takes us on location to FFA Convention, inside The Blue Room, presented by Agrinovus and powered by Microsoft. Lori talks about the evolution of the FFA organization with Beth Bechdol, President and CEO of Agrinovus Indiana, and the visionary behind this room full of cutting-edge technological and agricultural display. Beth is a sixth generation farmer, passionate about the future of our AG industry. The Blue Room was birthed from a desire to put Indiana on the map as a leader in Bioscience and talent innovation.
"Artificial intelligence helps us figure out answers using data that we wouldn't have been able to know before, maybe even sometimes to predict famine or food insecurity in different parts of the world."
What do drones and artificial intelligence have to do with farming? This week on The Produce Moms, we continue our adventure inside the Blue Room at FFA Convention. Lori and Mary Snapp, Corporate Vice President and Lead of Microsoft Philanthropies discuss how the advancement of technology is benefiting agriculture in a phenomenal way. Microsoft Philanthropies is focused on advancing a future for everyone, making our farms more sustainable, productive and regenerative.

"Misting actually helps to retain vitamin and nutrient content within the produce… And really also the color and the integrity of the produce as well. Also, once produce is harvested, it immediately begins to lose water… once it gets to the store, the produce misting is really there to hydrate and revive it and make it happy."
In this episode, we'll learn more about the science behind misting and what exactly is being misted onto our vegetables. Corrigan Mist believes that proper care of the vegetables from start to finish will lead to less food waste. Emily also gives some useful tips to help your vegetables last longer at home! Don't miss this episode of The Produce Moms Podcast!
How to get involved
The Produce Moms Podcast is live on iTunes, Google Play, Stitcher, and coming soon to Spotify.  If you like what you are hearing on the podcast, reviews, subscriptions & ratings will help us keep this going!  It would mean the world to hear your feedback, and we'd love for you to help us spread the word!