Pummelo (Pomelo), Jicama, and Radish Salad with Pummelo Dressing
Dec 21, 2018, Updated Aug 31, 2022
This Pummelo Salad is chock-full of flavors!
What Is A Pummelo?
Have you ever tried a Pummelo? They are also known as "Chinese Grapefruit" or sometimes spelled p-o-m-e-l-o. However you call or spell them one thing is for certain, they are yummy! Pummelos are similar in flavor to grapefruit but are considerably sweeter. They are tart but without any bitterness. If you love citrus but grapefruit is too sour or bitter for you, pummelo is the answer!
Pummelos are hard to miss in the produce department. They are the largest citrus fruit in the world! They can easily be the size of cantaloupes, and sometimes even bigger. Their skins range in color from green to yellowish-pink. The fruit inside also ranges in color from white to pink to red.
Pummelos don't need any fancy preparation to be delicious. Serve fresh pummelo segments on a fruit tray, in a fruit salad, or out of hand. One our of favorite ways to serve them is added to salads, like this one.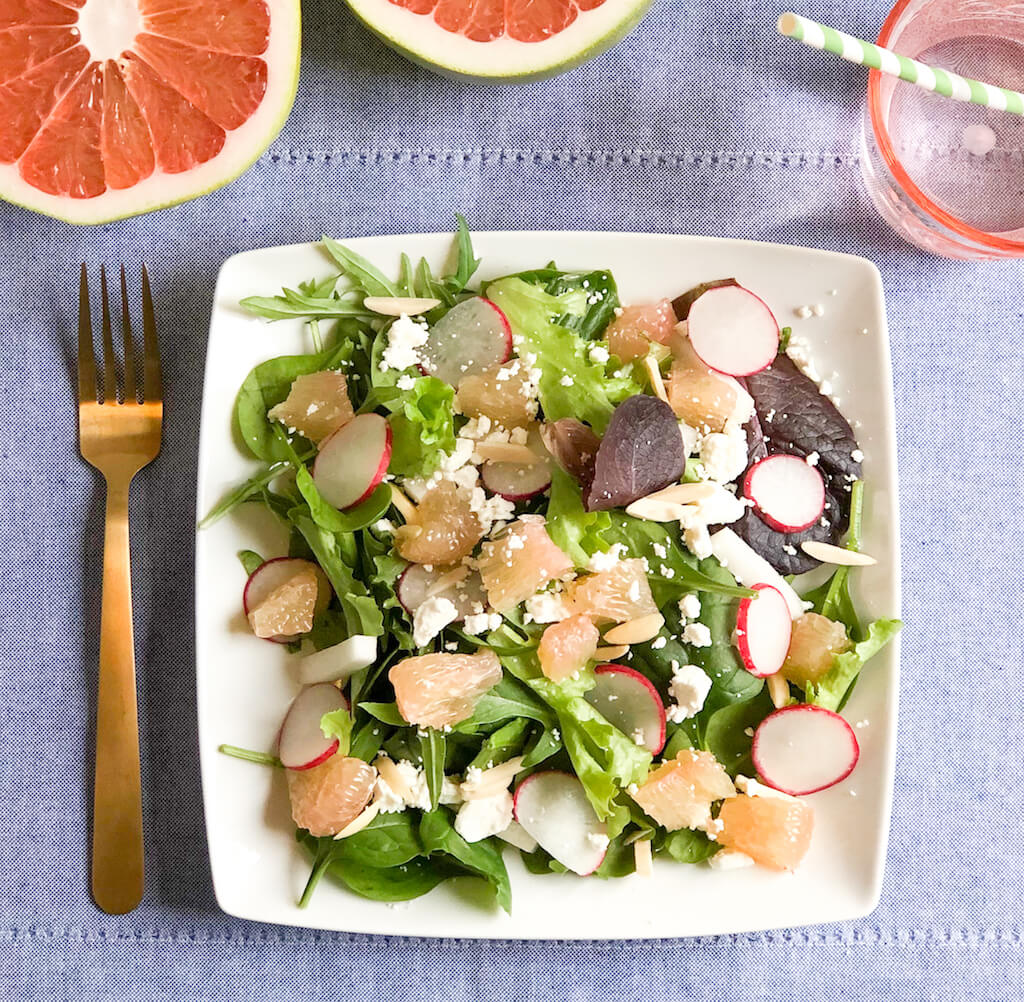 How To Peel a Pummelo
The key thing to know about pummelos is how to open them. Don't be intimidated by their thick skin. It's actually soft and peels off quite easily. Start by slicing off the stem end of the fruit. Then, score the peel of the fruit with a knife from top to bottom (make scores about 1-inch apart) all the way around. Next, use your thumbs to peel off the skin revealing the fruit inside. Now you'll be able to segment the fruit like you would an orange. Each segment will need to have the thin skin removed. To do this, you may find it easiest to cut the segments into smaller pieces and then remove the skin with your fingers.
Pummelo, Jicama, and Radish Salad is as delicious as it looks. Citrusy sweet, and with a zesty zing (thanks to the radish slices), this salad is chock-full of flavors. The dressing is made using pummelo juice, for an extra splash of citrus goodness!
PRODUCE MOM TIP: Unfamiliar with jicama? It looks like a turnip but tastes like an apple. Learn all about jicama here.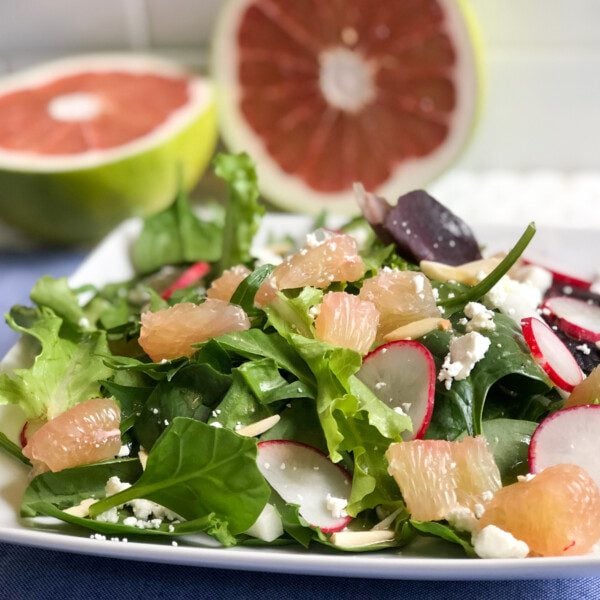 Pummelo, Jicama, and Radish Salad with Pummelo Dressing
Ingredients
Pummelo, Jicama, and Radish Salad
1

small container

baby spring mix

1

pummelo

cut into small segments

4-6

radishes

sliced thinly

1/2

jicama

sliced into sticks

1/4

cup

almond slivers

1/4

cup

goat cheese crumbles
Pummelo Dressing
1

oz

white balsamic vinegar

3

oz

olive oil

2

tbsp

pummelo juice

freshly squeezed

1

tsp

garden seasoning

1

tsp

black pepper

1

tsp

dijon mustard
Instructions
Make a bed of spring mix and add pummelo, radishes, jicama, almond slivers and goat cheese crumbles.

To make the dressing, combine all dressing ingredients and shake.

Before serving, drizzle salad lightly with pummelo dressing.
Nutrition information is automatically calculated, so should only be used as an approximation.
Like this? Leave a comment below!
Find pummelos in the produce department at any grocery store beginning late fall through spring. Choose fruits that are firm and heavy for their size. Store them in the refrigerator for up to one week.
Have you ever tried a pummelo? What did you think? Tell us in the comments below!