Power Up with Produce Greens and USA Pears {Indy Style}
Mar 08, 2018, Updated Jun 02, 2021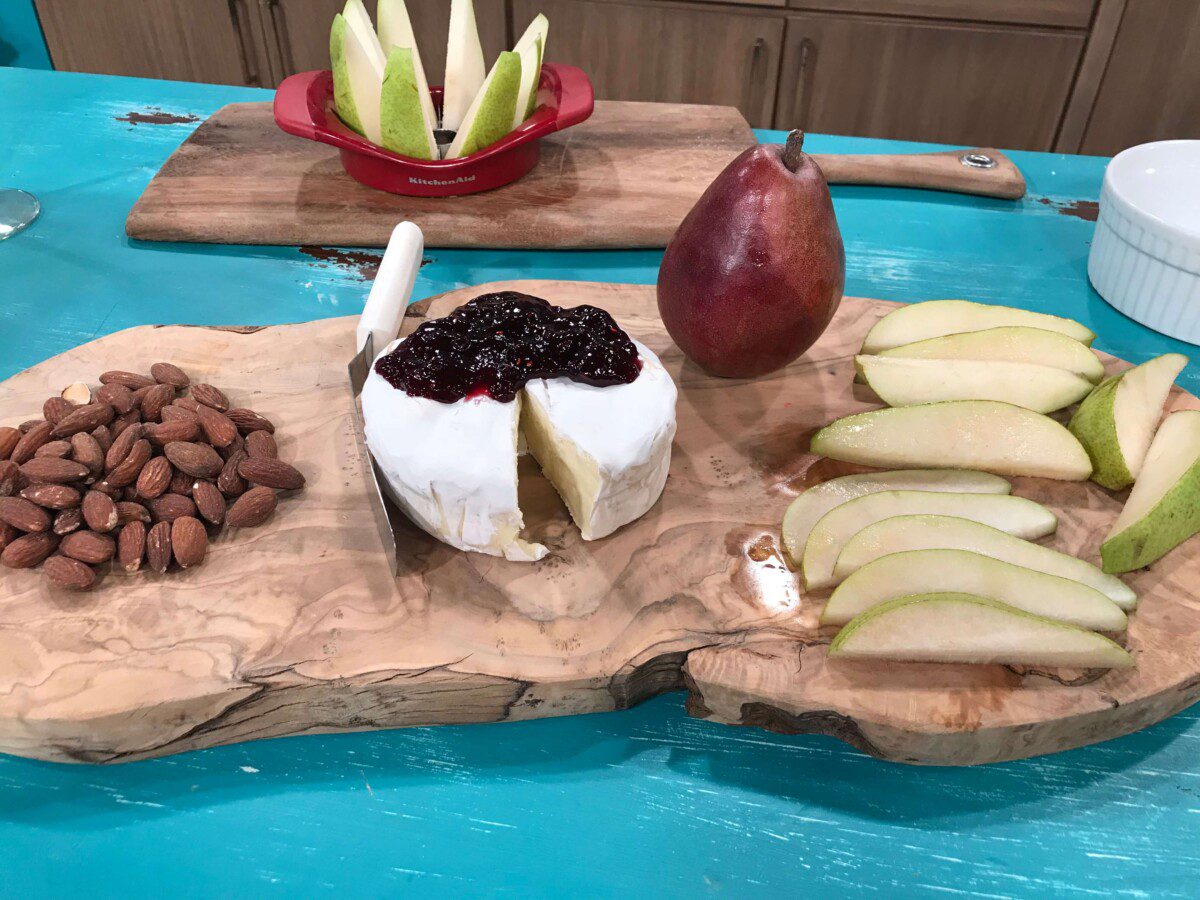 Do you love pears? The Northwest grows some of the best pears and they are in season right now! Today on Indy Style, Lori Taylor shared some of her favorite pear recipes. And in the spirit of the upcoming holiday, Lori shared green produce recipes to help you celebrate St. Patrick's Day.
How to Pick The Pear-Fect Pear
Before we get cooking, let's talk selection tips. Did you know that pears are one of few fruits that don't ripen on the tree? They are picked when mature but not yet ripe. They ripen at room temperature from the inside out. To know when a pear is ripe, check the neck! When the neck of the pear yields to slight pressure with your finger, they are ready to eat. Choose pears at the grocery store that are still firm (if they are soft all over they are overripe). Eat when the neck is soft.
For more ripening and handling tips, click here.
Pear, Cheese, and Wine Pairings
Pears, cheese, and wine pair wonderfully together! A pear and cheese board is rustic yet elegant. We are especially fond of D'Anjou pears with brie and champagne but you can find more delicious pairings here.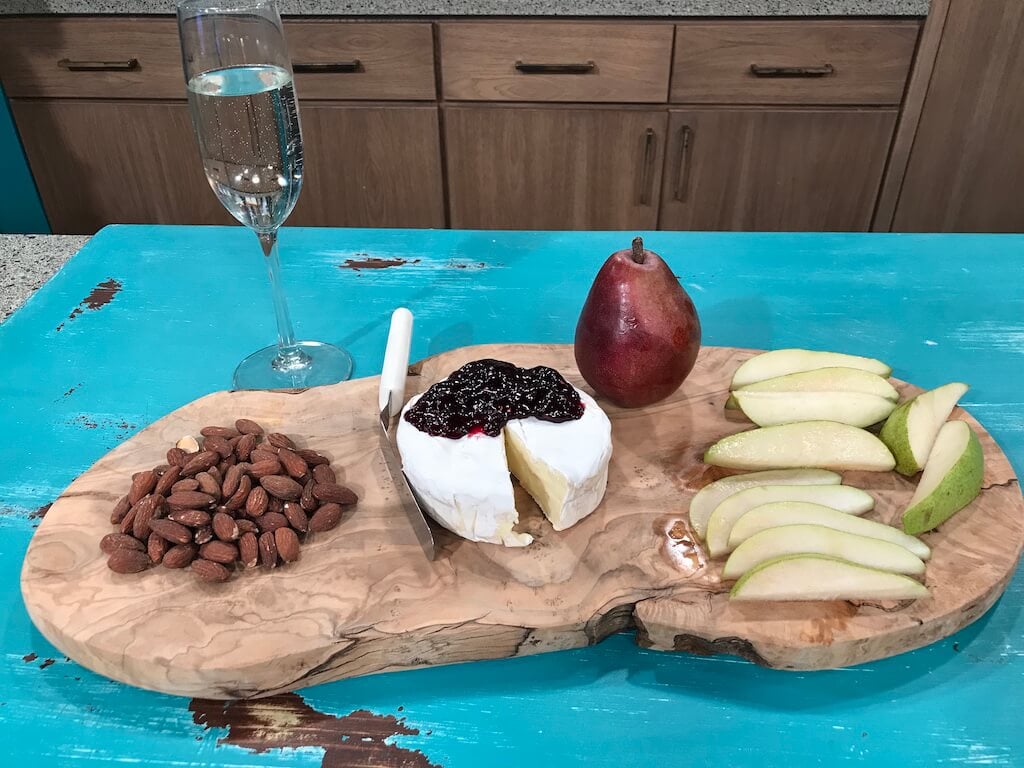 Produce Mom Tip: Dip your pears in pineapple juice to slow down the oxidation (browning) process. This works the same way lemon juice does but pineapple juice doesn't leave behind a citrus flavor.
Sliced Pear with 'Pot of Gold' Dipper
Sliced pears and fruit dip make a great after-school snack. For an extra special St. Patty's Day snack, treat your kiddos (and yourself!) to sliced green D'Anjou pears served with our "Pot of Gold" dip.
Ingredients:
Green D'Anjou Pear, sliced
16 oz Vanilla Greek Yogurt
16 oz Crushed Pineapple, drained
2 Tbsp Honey
Directions:
Slice the pear. An apple slicer works great on pears too!
To make the dip, mix together Greek yogurt, crushed pineapple, and honey.
Pear Breakfast Popovers
Pear Breakfast Popovers are so elegant yet so easy! They would be a lovely addition to a bridal shower brunch. The outside has a similar texture to an éclair or cream puff but the inside is filled with buttery, spiced pears.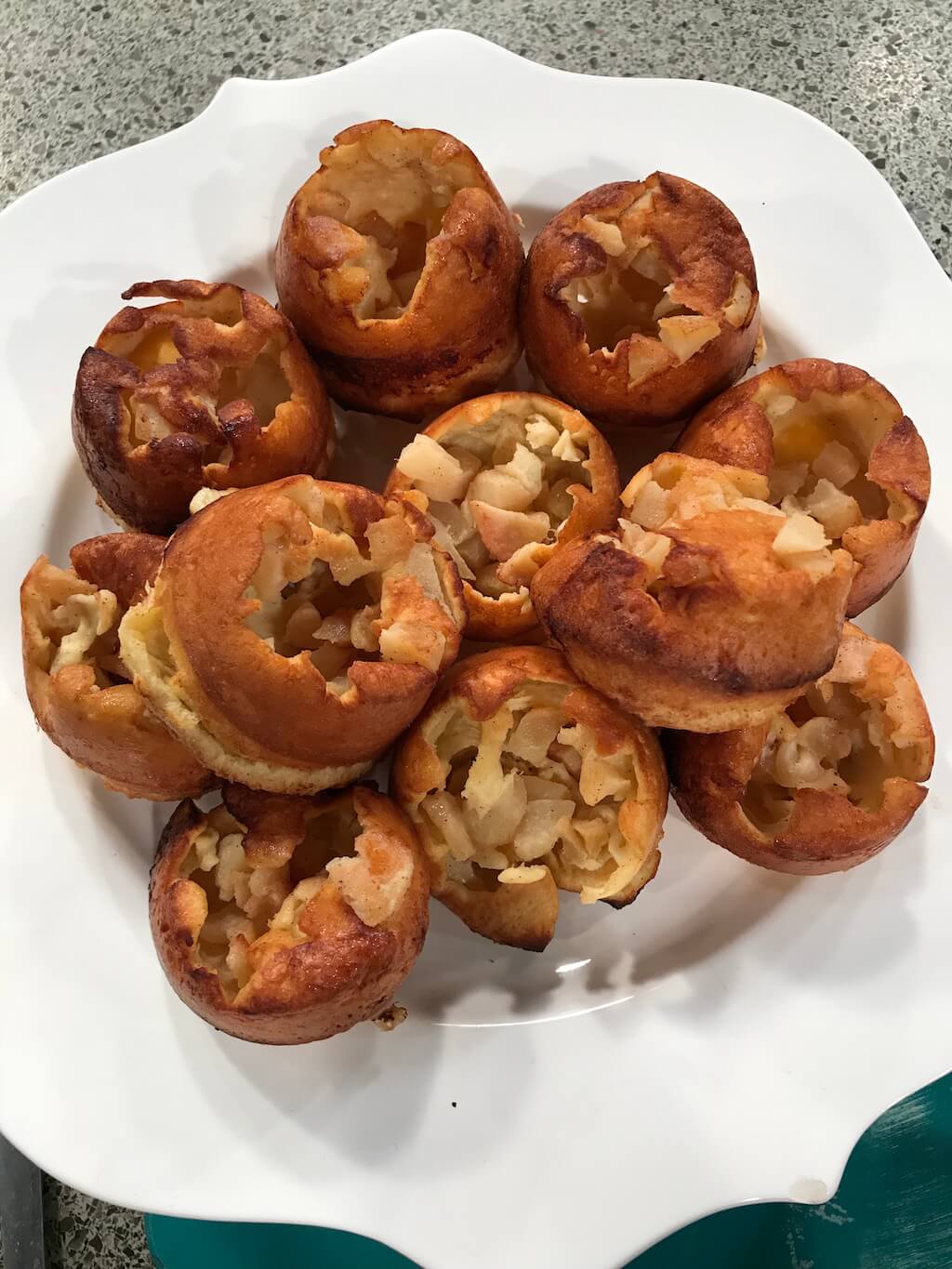 Ingredients:
1/4 Cup Butter, melted
2 Green D'anjou Pears, diced (no need to peel)
1/2 tsp Cardamom Spice
1 Cup Flour
3 Eggs
1 Cup Milk
1/2 tsp Vanilla Extract
Pot of Gold Dip (see recipe above)
Directions:
Mix together melted butter, pears, and cardamom. Fill 12 muffin tins with pear mixture. Bake in the oven for 5 minutes at 425 degrees.
Meanwhile, whisk together flour, eggs, and milk. Add vanilla and whisk again.
Remove pears from the oven and divide batter evenly into muffin tins, leaving about 1/4″ for the batter to expand and puff.
Bake at 425 degrees for 20 minutes or until they have puffed and are golden-brown in color.
Remove from muffin tins and top with "pot of gold" dip (you can also top with honey or maple syrup).
*Recipe adapted from USA Pears.  

Instant Pot Oatmeal Jars
Ingredients:
1/4 Cup Oats (per jar)
3/4 Cup Water (per jar)
Fresh, Diced Pears
Chia Seeds
Cardamom Spice
Dried Cranberries (or other dried fruit)
Jam Jars
Directions:
Place all ingredients in a jam jar. Seal and shake. Then, loosen the lid until it is just slightly sealed. This allows the steam to release as they are cooking.
Prepare the Instant Pot by placing a wire rack in the bottom and pouring in 1 cup of water.
Place the jars on the rack and secure the top of the pot. Select high pressure and set the timer for 20 minutes.
When done cooking, allow the pressure to naturally release for at least 10 minutes, then release any remaining pressure. (Consult the manufacturer's instructions for safe use.) Open the pressure cooker and carefully remove the hot jars. Allow them to rest until the contents stop bubbling. Remove the lids using hot pads, being careful of steam. Stir each jar, then top as desired with the optional toppings. The oats can be served immediately or the lids can be put back on to serve them later.
*Recipe adapted from USA Pears  
Asparagus with Parmesan
Asparagus is a beloved spring veggie and its green color makes it perfect to serve on St. Patrick's Day!  Asparagus with Parmesan is an easy side dish that's ready in just 10 minutes. Be sure to include it on your St. Patrick's Day dinner menu.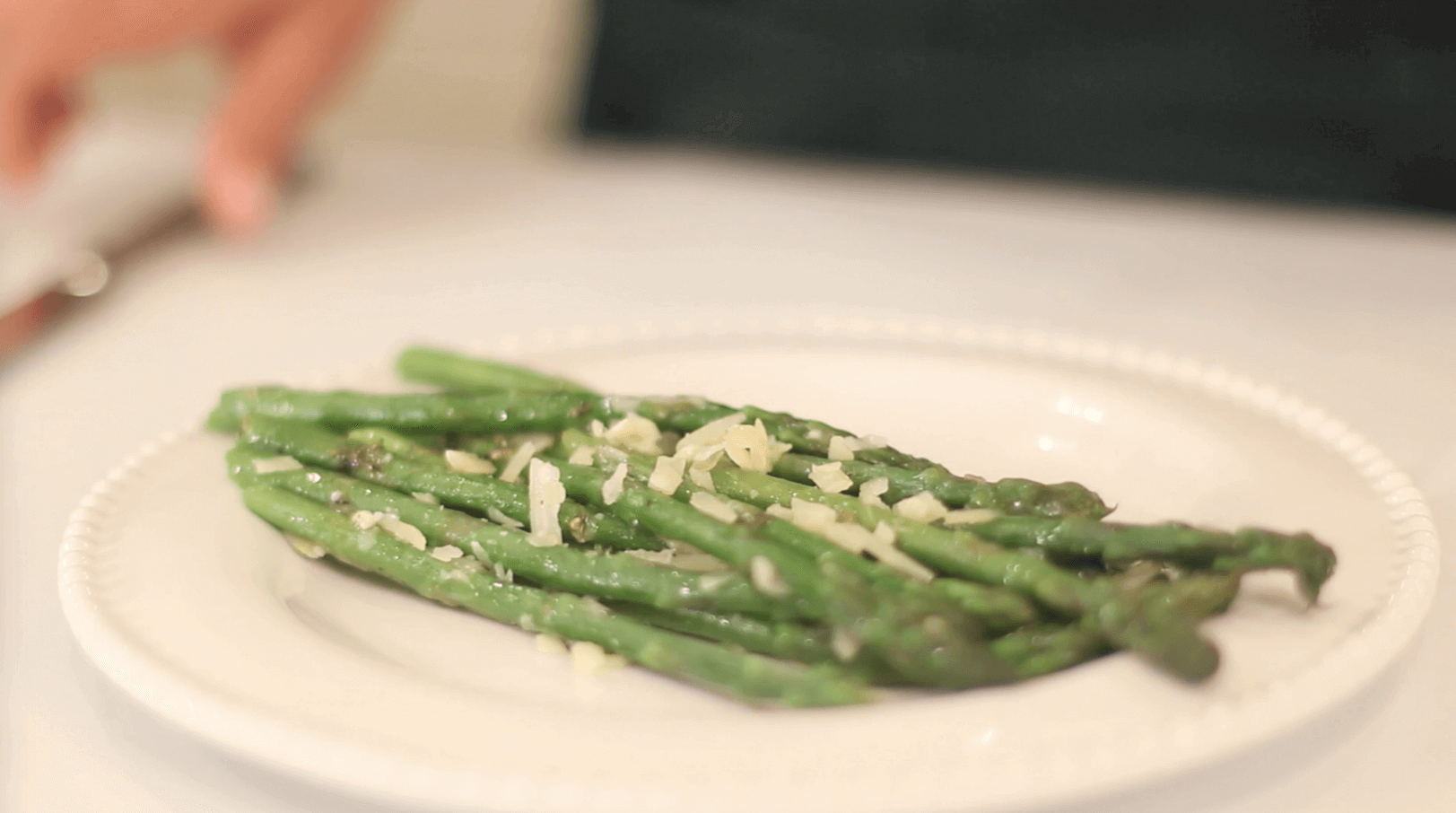 Produce Mom Tip: When storing asparagus, treat it like fresh-cut flowers. Remove the rubber band, wash, and place all of the spears in a glass. Cover the ends with water and refrigerate the whole glass.
St. Patrick's Day Ombre Tray
Ombre is a hot trend and veggies want in on the action! To celebrate St. Patrick's Day, create a green ombre veggie tray. Simply arrange your favorite green veggies in a row on a large tray, beginning with the darkest shade of green and ending with the lightest shade of green. Serve with vegetable dip.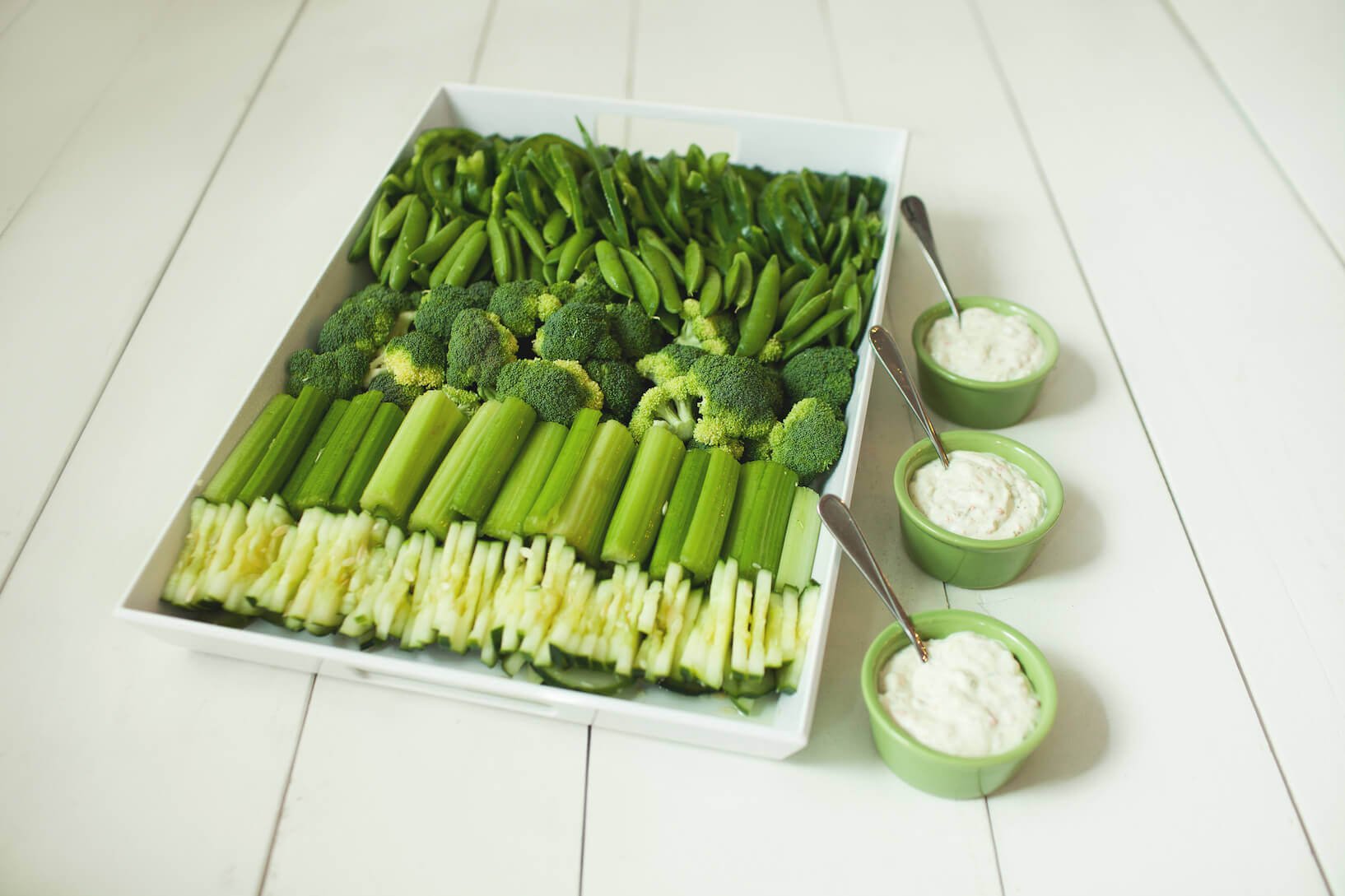 Thanks for watching! We hope you have a fantastic St. Patrick's Day. Be sure to let us know your favorite way to enjoy pears in the comments below. Northwest pears are in season now so look for them at your local grocery store.