Power Up with Produce – Back to School Recipes on Indy Style
Across the country, kids are heading back to the classroom. While many of us parents are glad to get back to our regular routines, back to school time can present some food dilemmas. Parents are always on the lookout for easy breakfast options, healthy after-school snacks, and make-ahead dinners. Earlier today on Indy Style, I offered some easy ways to power up with produce as our kids go back to school!
First up, I showed how to make easy breakfast burritos. Simply sauté Broccoli Slaw from Mann's then add some eggs. After the eggs are cooked, add the mixture to a tortilla and top the eggs and slaw with any of your favorite veggies or even salsa or guacamole. It's an easy breakfast for busy school mornings!
If your kids are like mine, they almost immediately ask for a snack as soon as they get home from school. Instead of reaching for a prepackaged snack full of sugar and preservatives, go for one of these after-school snacks. First, it's zucchini chips.
Step 1 – Line a cookie sheet with foil. Spray the foil with cooking spray.
Step 2 – Slice a zucchini with a mandolin or a very sharp knife. Place the zucchini on the foil in a single layer. Spray the zucchini with cooking spray.
Step 3 – Sprinkle pepper and garlic salt on the zucchini.
Step 4 – Bake the zucchini in a 350-degree oven for 15 to 20 minutes or until they reach your desired crispness.
Or try these tomato poppers featuring TOMZ Snacking Tomatoes from NatureFresh Farms. They're a fun way to get your kids to make their own after-school snack!
Step 1 – Add tomatoes to a mason jar with olive oil or vegetable oil.
Step 2 – Add your favorite seasonings. Try dill or even dried ranch salad dressing.
Step 3 – Seal the jar and shake until the tomatoes are coated in the oil and seasonings.
In my second segment, we talked about some more snack options. First up, is Grapery's famous Cotton Candy grapes!
My family and I never get tired of eating Cotton Candy grapes. Yes, they really do taste like cotton candy! They're hitting produce departments all around the Midwest this week. So look for them now and grab a bag – or two or three!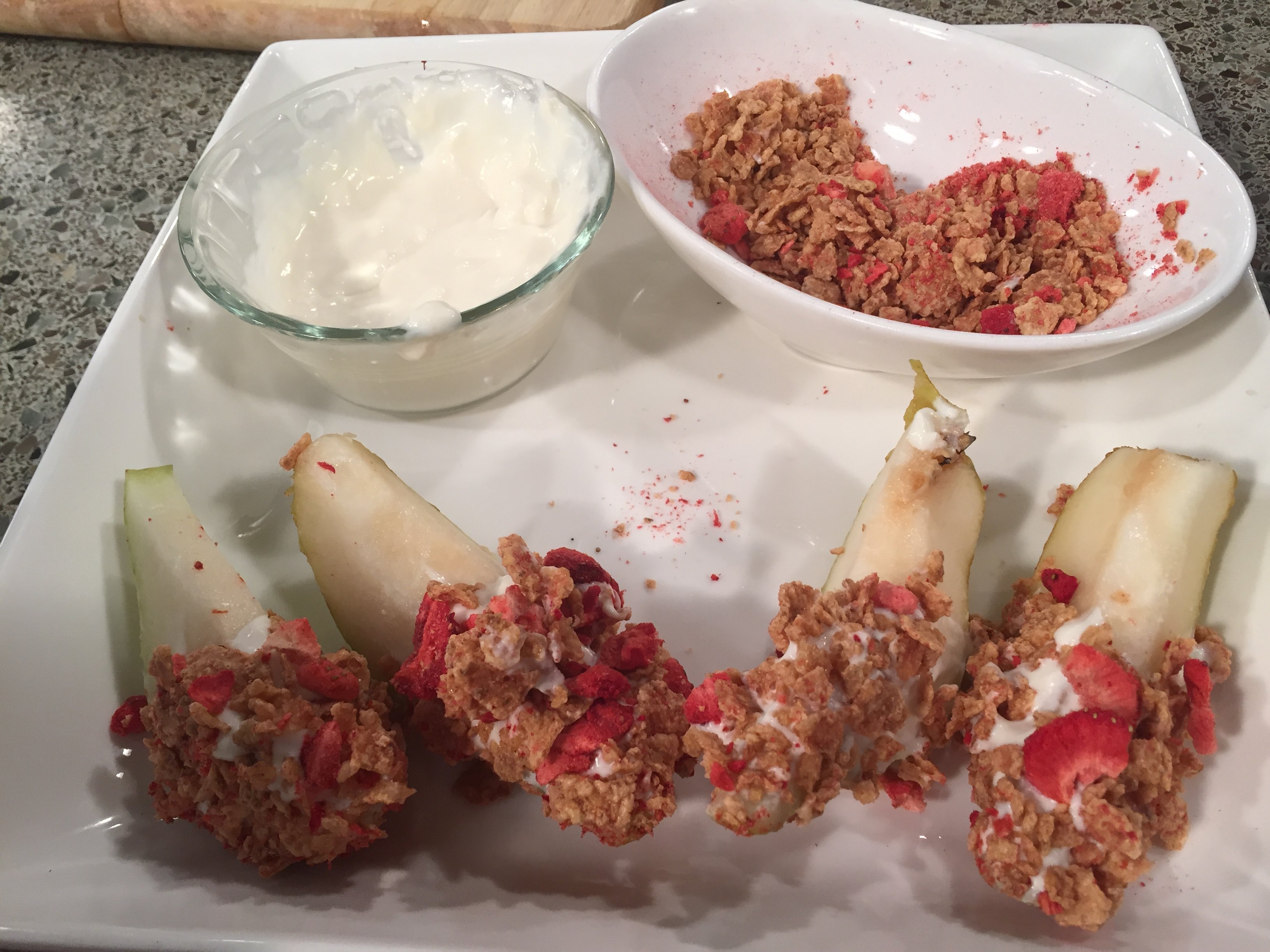 Here's one more after-school snack idea – Special K Dipped Pears from USA Pears. Simply combine cream cheese and yogurt to make a sweet dip for the pears. Use an apple slicer to simply slice the pears in to perfect wedges. Then dip the pears in the dip, and roll them in Special K Berry cereal. It's a fun but healthy snack for your kiddos!
After the homework is done and the kids are in bed, Mom and Dad can enjoy some adult conversation along with adult beverages! Turn a normal weeknight into a date night with pears, cheeses, and wine. Use this Pear, Cheese, and Wine Pairing Guide from USA Pears to find the best combinations!
I hope you got some new ideas for easy meals and snacks as your kids head back to school. Wishing everyone a great school year!
xoxo Lori