Podcast Recap: Episodes 1-12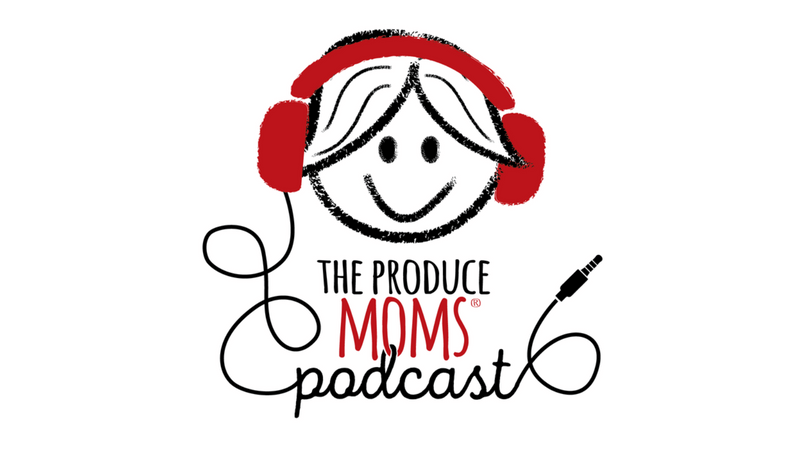 When we decided to launch a podcast we didn't know where it would lead The Produce Moms as a brand, but we knew that it was one more avenue for us to spread our mission and message.  Since the launch of The Produce Moms Podcast in May, we have been blown away by all the support and excitement that has followed it.  We have also been blessed with an amazing producer from The Podcast Experiment (shout out to you, Bryant).  He has helped us every step of the way!
We have had so many great guests on the podcast, and we have many more in the pipeline that we can't wait to share with all of you.  Someone recently asked us which podcast is our favorite so far, and we just simply can't answer that – we love them all!
So far in The Produce Moms Podcast, we have covered:
The story of The Produce Moms
A story of a company who is creating communities of health through fresh food
The history of Frieda's Specialty Produce
One woman's dream to empower other women
Kroger's new OptUp App
The future of grocery shopping
Plant breeding and research
The story of a mom who followed her instinct andresearchh to help heal her daughter with the consumption of fruits and veggies
And so much more!
Below we have compiled all 12 episodes, along with a quick synopsis, so you can listen to them all!  Thanks for being on this journey with us.  We are excited for the continuing growth of The Produce Moms Podcast.  Have an idea for the Podcast?  Share it in the comments below!
"Our mission is to increase the consumption of fruits and vegetables in the US and change the way America eats"
In this pilot episode of The Produce Moms Podcast, we hear from the Founder of The Produce Moms, Lori Taylor.  Lori has 10+ years of experience in the produce industry and is working every day to increase the consumption of fruits and vegetables.  Her passion to "change the way America eats" comes from her expertise in the industry and her responsibility as a Mom to make the best, and most healthy, choices for her family.
"We believe that our only goal is to make an impact"
For several years, Lisa Helfman and her family took part in a weekly fruit and vegetable co-op, and she watched her children's eating habits dramatically transform. One time in particular stands out when her little boy turned down a piece of cake at a birthday party, craving instead the blueberries he'd grown fond of eating at home.
"We've been known for introducing a variety of fruits and vegetable to US supermarkets"
In Episode 3, Lori talks all things fresh produce with the eldest daughter of Frieda's Specialty Produce CEO Karen Caplan, and the granddaughter of founder Dr. Frieda Rapoport Caplan, Alex Jackson Berkley. She joined the company in 2011 after graduating from George Mason University, making Frieda's a three-generation family-business success story.
"The Produce Department should be a Guilt-Free Zone"
In Episode 4, Lori sits down with The Produce Moms Director of Content and Communications, and life-long friend, Kristin Ahaus. Kristin was Lori's first hire at TPM and has been recognized by Produce Business Magazine as one of the Top 40 Under 40 within the produce industry. While complete opposites, Lori and Kristin compliment each other so well and make everything at TPM possible.
"I want to empower women through education, leadership development, and community engagement"
In episode 5, Lori sits down with Produce Industry Legend, Margaret D'Arrigo-Martin. Margaret has been an advocate, inspiration, and example for women her entire career. She has made a positive difference in the community, the nonprofit sector, and the agriculture industry, both locally and globally.
"We're all about using food in the best possible way we can to enhance our health and our life"
In episode 6, Lori Taylor, founder of The Produce Moms, sits down with the Director of Retail Nutrition Solutions at Kroger, Allison Kuhn. She is helping Kroger change the way America eats! We hope you enjoy this episode and find new and innovative ways to eat more fresh produce.  One of Allison's biggest recent projects has been developing and implementing the Kroger OptUP App. OptUP is helping shoppers simplify healthier shopping by providing easy-to-use nutrition scoring and recommendations based on what you're buying today.
"I predict that we're going to see a definite shift in what's going on in stores versus what's available online"
In this episode, Pamela and Lori talk about everything from oranges to boxed meal subscriptions and everything in between. The future of buying groceries and fresh produce is here. Are you ready?
"It's not nutrition until it's eaten"
In episode 8, Lori sits down with Jackie London from Good Housekeeping. Jackie writes and reports on nutrition news and trends, noteworthy products, "myth-busting" diet fads, weight-loss tips, eating advice, and diet stories for the magazine. She also conducts GH's taste-tests, in which she'll establish nutritional criteria for products in a food category and then conduct large-scale taste-tests to report in the magazine.
"We're always trying to overcome any challenges that may be in front of us, and through plant breeding, we can, very slowly and meticulously, overcome through that recurrent selection process year after year"
In episode 9, Lori sits down with Plant Breeding Specialist, Ellen Thompson. Ellen is the Plant Breeding and Research Director at Pacific Berry Farms, a berry grower that is in partnership with Naturipe Farms.  In this episode, Ellen answers some common questions about how your food is grown, the process of plant breeding, and the difference between classic plant breeding and GMO. It's important to know where our food comes from and hearing the heart and passion behind what Ellen and her team does is extremely insightful as to how the farming process works.
"Our goal for every meal is a grain, a protein, dairy a few times per day, a fruit, and a vegetable"
Andrea is a mother of 3 children. Her second daughter, Shiloh, was diagnosed with Down Syndrome, struggled with tube feedings, and was not responding well to the formulas that the doctors were prescribing. Andrea decided to take matters into her own hands, followed her "mom" instinct, and started feeding her daughter fresh produce and other balanced whole foods through her feeding tube and she saw a complete reversal of some of the problems her daughter was having.
"Salad Savoy® is a one-of-a-kind veggie that grows in bright violet and white heads"
Episode 11 features Seth Karm of Salad Savoy®. Salad Savoy Corporation is the brainchild of John Moore in 1983, following a trip to Sweden. While he was there, he visited a vegetable garden and was struck by what he saw, and tasted! Through detailed research and development, not only did he create an entirely new vegetable, trademarked under the name Salad Savoy®, he named his entire company after it.
"We're always listening to what you say and what you want in the produce department"
In episode 12, Lori Taylor has a chat on all things fresh fruit with Kaci Komstadius of Sage Fruit. Sage Fruit Company is a sales and marketing firm of northwest tree fruits, located in Yakima, Washington. They are owned by five grower/packer/shippers who joined for the purpose of delivering high-quality produce to consumers. They seek to supply fruit world-wide, year-round.  Lori and Kaci dive into the topics of Washington Tree Fruit, Stone Fruit, the expansion of Sage Fruit into organics and what it takes to sustain an orchard.
The Produce Moms™ is a community of passionate fresh produce advocates with a mission to inspire everyone, especially children, to eat more fruits and vegetables. The Produce Moms Podcast is designed to educate consumers about fresh produce, introduce them to produce brands, engage the produce industry with consumers in inspiring conversations, and promotes public policy to protect and increase the availability of fresh produce at American schools.
How to get involved
The Produce Moms Podcast is live on iTunes, Google Play, Stitcher, and coming soon to Spotify.  If you like what you are hearing on the podcast, reviews, subscriptions & ratings will help us keep this going!  It would mean the world to hear your feedback, and we'd love for you to help us spread the word!
[bctt tweet="Take a look back at Episodes 1-12 of The Produce Moms Podcast!" username="@theproducemom"]