Celebrating National Salad Month & Snacking with Walnuts on Indy Style 
This post is sponsored by Eat Smart® and California Walnuts
There's plenty of food-tastic fun to look forward to in the month of May! May is National Salad Month, National Strawberry Month, and May 17th is National Walnut Day. On Indy Style, we shared recipes and ideas to help you celebrate all month long. 
Elevated Salad Kits
Salad kits make it convenient to enjoy a salad any time of day. If you love a lot of flavor and texture in your salads, Eat Smart® Salad Kits are for you. Each of their salad kits is packed full of 100% clean ingredients and are plant-centered and chef-inspired. 
Elevate your salad kit to the level by adding May's star ingredients: walnuts and strawberries. They are especially delicious in Eat Smart's Sweet Kale Salad. 
Sweet Kale Flatbread Pizza 
With some creative thinking, salad kits can be used in so many different ways. Take this Sweet Kale Flatbread Pizza, for example. It's a pre-made flatbread crust topped with an Eat Smart Sweet Kale salad kit and mozzarella cheese. 
This is a great way to entice kids (and husbands) to eat more salad!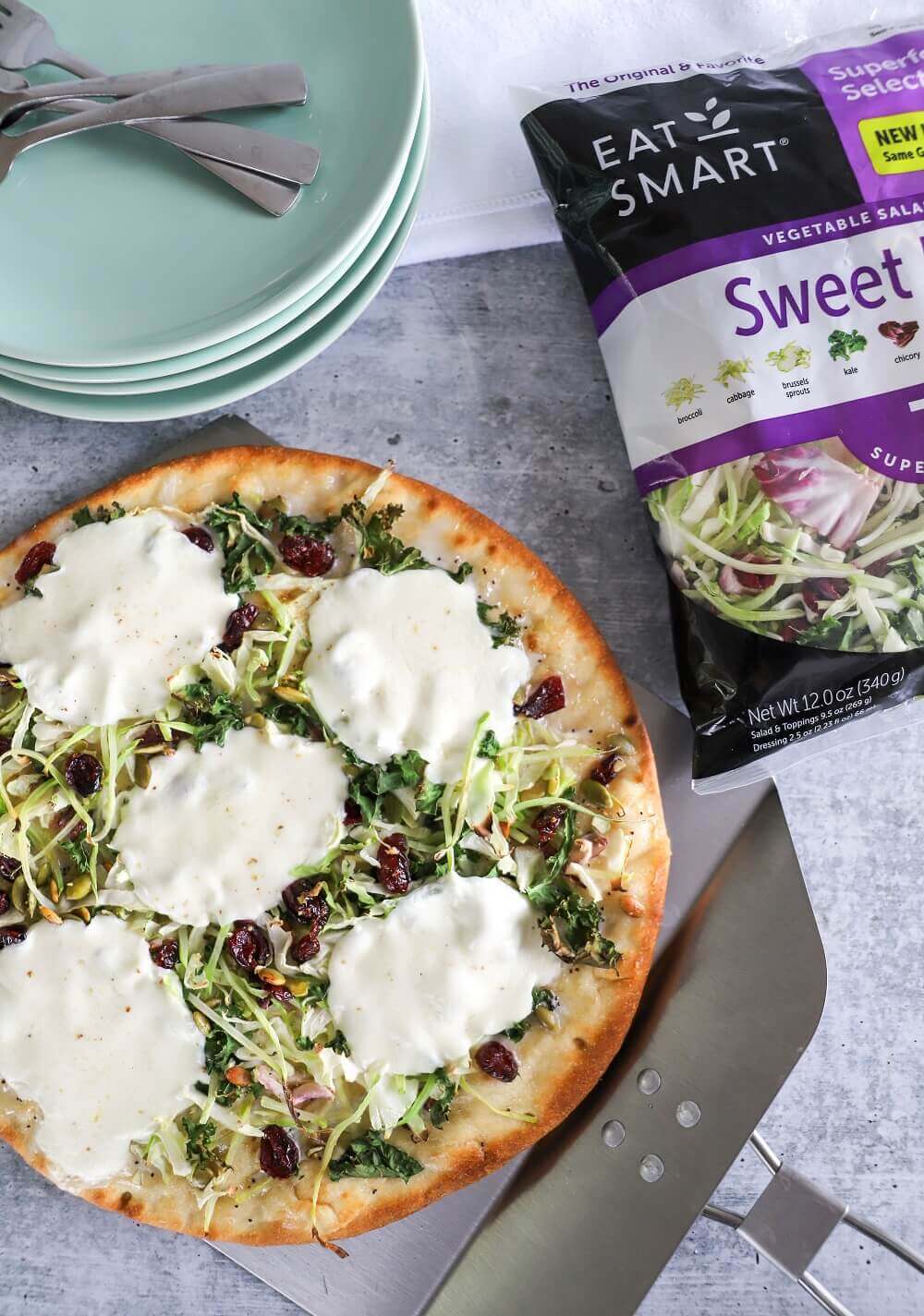 Ingredients
1 Eat Smart® Sweet Kale salad kit salad, toppings, and poppyseed dressing, divided 

2 pre-made flatbread pizza crust

8-10 slices  fresh mozzarella cheese

freshly ground pepper to taste
Directions
Spread the poppyseed dressing onto the flatbread pizza crusts. 

Evenly spread the salad and toppings onto the flatbread pizza crusts. 

Sprinkle fresh pepper on top of the pizzas (to taste) and top with fresh mozzarella cheese slices. 

Bake in the oven according to package instructions on the flatbread crust.
#ShareYourSalad Sweepstakes
To celebrate National Salad Month, Eat Smart® is encouraging everyone to get creative with their salad kits. Share your unique creations on social media with the hashtag #ShareYourSalad. Entries will be collected in the month of May and 10 salads will be selected as finalists. One of those 10 finalists will be randomly selected as the grand prize winner. The grand prize winner will receive one month of free Eat Smart® salads! Enter here.
Snacking with Walnuts
Do you find yourself reaching for snacks throughout the day? You're not alone. 94% of Americans snack daily and the majority snack at least two times per day. With the current "stay at home" situation, we bet that number is even higher! 
Perhaps what is more shocking is that snacks account for ¼ of the typical American daily calorie intake, but 42% of the typical intake of added sugar! Snacks can be comforting while still complementing a healthy lifestyle. Enter California walnuts!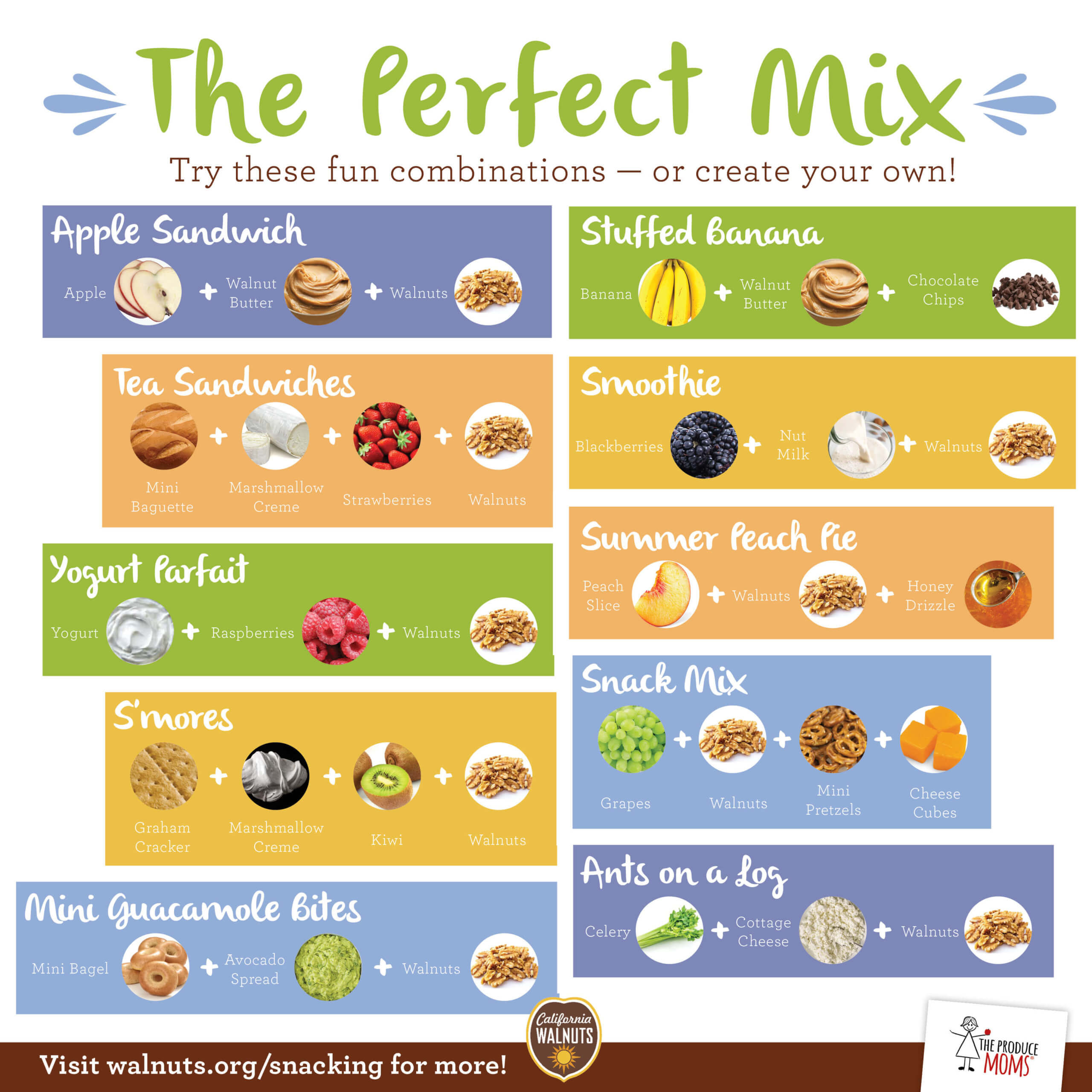 RELATED: Walnut storage tips and recipes
California Walnuts are packed full of rich nutty flavor and honest nutrition. They are certified as a heart-healthy food with the American Heart Association's Heart-Check mark and major brain fuel. With 2.5g of alpha-linolenic acid (ALA) per serving, walnuts have more OMEGA-3 ALA per serving than any other tree nut. They are a powerhouse of vital nutrition offering 4g of protein, 2g of fiber, and a good source of magnesium (45mg) per serving.  
Walnuts find their way into many popular diets including Mediterranean, Keto, Paleo, Clean Eating, and Intermittent Fasting. Walnuts are high in good dietary fats such as polyunsaturated and monounsaturated but low in bad fats like saturated. Dietary fats give your body energy and support cell growth. Good fats help your body absorb key nutrients while lowering your risk of disease.
Whether you are #TeamSweet or #TeamSavory, walnuts can make a great snack! Snack intentionally with these yummy walnut recipes: 
Sweet Spread – Honey Walnut Butter
Honey Walnut Butter is a versatile spread that's full of flavor and has just the right amount of sweetness. Spread it on apple rings or toasted bread for a midday treat. 
Ingredients
2 cups California walnuts

1 tablespoon honey

1 teaspoon cinnamon

1 1/2 teaspoon vanilla extract

1 teaspoon walnut or vegetable oil (or as needed)

Salt to taste

Apples 

Chocolate chips

Bread for toast
Directions
Preheat oven to 300°F. Place walnuts on a small baking sheet and toast for 10 minutes; let cool.

Transfer to a food processor and process until a thick paste forms. Add remaining ingredients and process until smooth.
Savory Spread – Curried Walnut Hummus 
If you're in the mood for something savory, try Curried Walnut Hummus. It works double duty as a dip for veggies or a spread for crackers. It can even be used in place of peanut butter when making ants on a log. 
Ingredients
1 can chickpeas, drained and rinsed

1/2 tsp salt

1 garlic clove, peeled

2 tbsp + 2 tsp olive oil

1/2 lemon

1 tbsp curry powder

1 cup walnuts, divided in half

Veggies to dip

Crackers to dip

Celery 
Directions
Add chickpeas, salt, garlic, 2 tbsp olive oil, lemon juice, curry powder and ½ cup walnuts to a food processor and blend until smooth.

Roughly chop the remaining ½ cup of walnuts. To serve, drizzle hummus with 2 tsp olive oil and top with chopped walnuts.

Spread on whole-wheat crackers, or dip with raw vegetables. The hummus will keep for up to one week in an airtight container in the fridge.
LISTEN: On episode 98 of the Produce Moms' podcast, we chat about snacking intentionally with California walnuts. 
Convenience is key when it comes to healthy snacking. Make these recipes ahead of time and store walnuts in your fridge so you always have a satisfying snack at hand. 
How will you celebrate National Walnut Day, National Salad Month, and National Strawberry Month? Share your recipes with us in the comments below or tag us in your food photos on Instagram @theproducemoms. 
---
1.  Supportive but not conclusive research shows that eating 1.5 ounces of walnuts per day, as part of a low saturated fat and low cholesterol diet and not resulting in increased caloric intake, may reduce the risk of coronary heart disease. (FDA) One ounce of walnuts offers 18g of total fat, 2.5g of monounsaturated fat, 13g of polyunsaturated fat including 2.5g of alpha-linolenic acid – the plant-based omega-3.
2. One ounce of walnuts offers 18g of total fat, 2.5g of monounsaturated fat, 13g of polyunsaturated fat including 2.5g of alpha-linolenic acid – the plant-based omega-3.