Mother's Day Brunch Recipes on Indy Style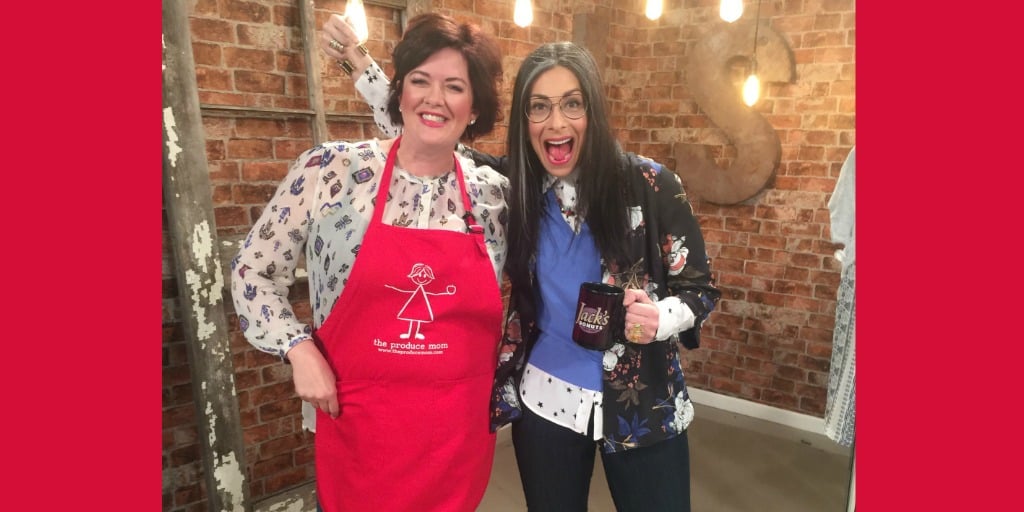 It was all about Mom today on Indy Style! I showed you how to spoil Mom with a Mother's Day brunch featuring a fresh salad, mason jar pies, a tulip garden veggie tray, and a make-ahead breakfast casserole.
First I made this easy Strawberry Zucchini Shrimp Noodle Bowl from Naturipe Farms.
Dressing Ingredients
1 1/2 tablespoons peanut oil
2 tablespoons rice wine vinegar
1 tablespoon low sodium soy sauce
1 teaspoon sugar
1/8 teaspoon pepper
Salad Ingredients
2 medium zucchini
2 cups strawberries, sliced
2 cups baby spinach
12 ounces medium shrimp, cooked, peeled, and chilled
2 teaspoons sesame seeds
Directions
Step 1 – Whisk together dressing ingredients.
Step 2 – Using a spiralzier, make zucchini noodles.
Step 3 – Place all salad ingredients in a large bowl. Add dressing and toss.
So tasty! Watch me make this salad on Indy Style:
All the rage on Pinterest is serving foods in mason jars. When I found these Mason Jar Pies from TipHero, I knew they'd be perfect for showing some love to Mom on Mother's Day.
Directions
Step 1 – Grease 8 oz. mason jars (with wide mouths) with baking spray.
Step 2 – Cut a roll of refrigerated pie crust into quarters. Press one quarter of the crust onto the bottom and sides of one mason jar.
Step 3 – Prebake the crust at 350 degrees for 5 to 10 minutes.
Step 4 – Fill the prebaked crust with Mom's favorite fresh fruit and some canned pie filling.
Step 5 – Use the lid from the jar to cut a top crust. Cut air vents in the crust. Then use an egg wash and sprinkle with sugar.
Step 6 – Bake at 350 degrees for about 30 minutes or until the top crust is brown.
For the best Mother's Day meal, it's all about presentation. Step up your game with this festive Tulip Garden Veggie Tray.
Simply cut bell peppers to look like tulips, then fill them with Mom's favorite fresh veggies and dips.
This edible flower garden is better than real flowers!
We had so much fun today that I ran out of time and couldn't demonstrate this Banana Berry Crunch Baked Oatmeal from Spoonful of Flavor. But trust me – Mom will love this. And since it's an easy make-ahead breakfast casserole, you'll love it too!
I had a great time with my friends on Indy Style. Plus I got to meet Stacy London from "What Not to Wear" fame! What a great way to start my day!
xoxo Lori