March 2022: Podcast Month In Review
Love the Podcast? Please rate and review!
Let's take a look back at our March 2022 Podcast Episodes.
Women's History Month: need we say more?! March 2022 was a powerful one packed with empowering, inspirational, educational guests across the entire produce supply chain. We welcomed a special series to celebrate women in our industry that shows you just how far we've come, and how far we have yet to go when it comes to empowering women in produce.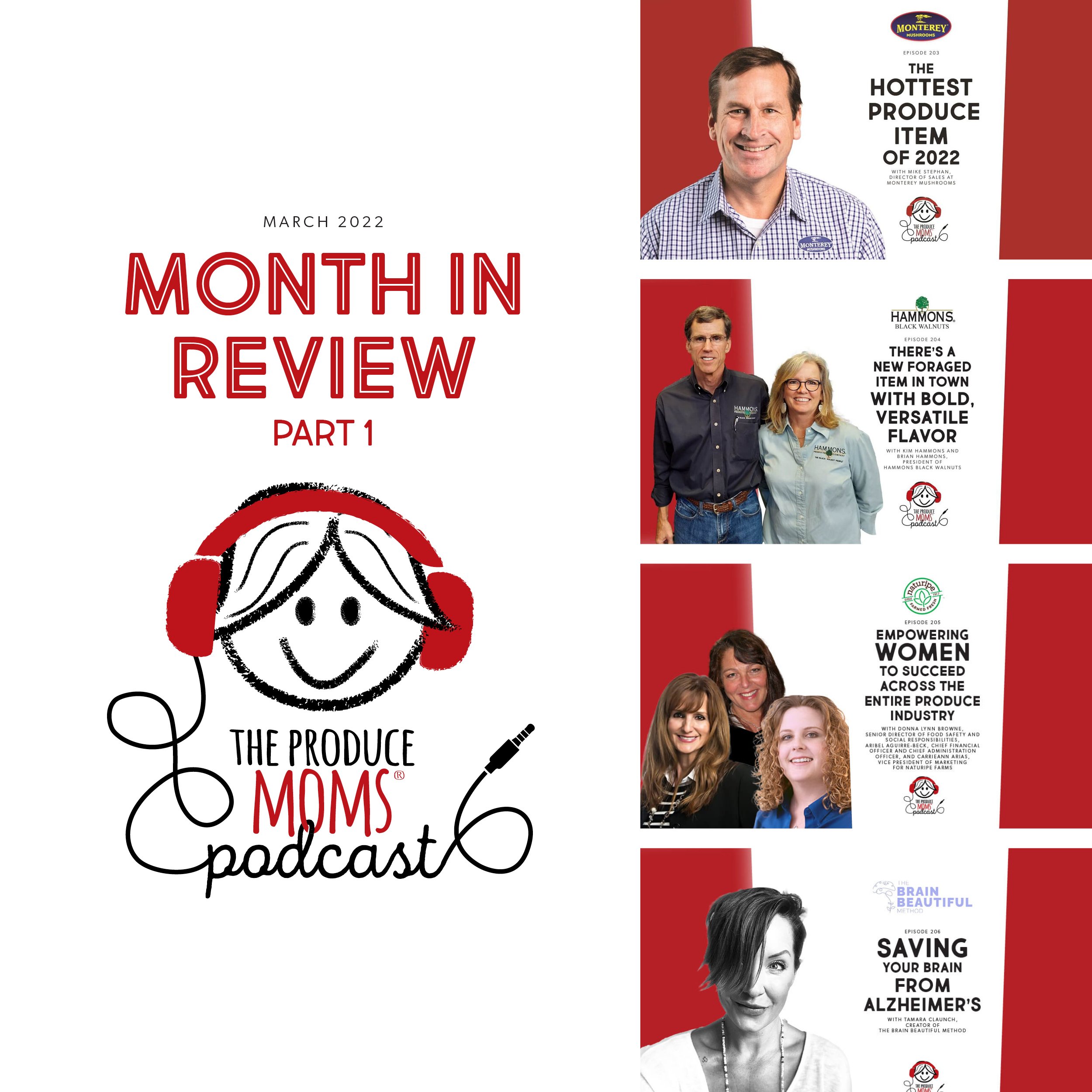 We kicked off March with Mike Stephan of Monterey Mushrooms, who shared with us some incredible reasons why mushrooms are the hottest produce item of 2022! They're packed with nutrients like Vitamin D (thanks to some strategic farming), a great boost to your immune system, and an affordable way to stretch or replace meat-based meals. You'll definitely be craving some stuffed portabellas or chicken masala after this episode! 
Speaking of mushrooms, you probably think of wild 'shrooms when you hear the word 'foraged'. Think again! Hammons Black Walnuts are 100% wildly sourced and full of bold, delicious flavor. These midwest-native tree nuts are picked by locals and turned into buying stations, giving the local economy a boost of supplemental income and a healthy, sustainable way for Hammons to provide the nation with black walnuts. You'll be interested to learn the benefits of black walnuts over English walnuts, and some delicious ways to cook with them. 
Our Women's History Month series was kicked off with three powerhouse women from Naturipe Farms – Donna Lynn Browne, Aribel Aguirre-Beck, and CarrieAnn Arias, Vice President Of Marketing. These women wouldn't have succeeded without the mentorship of one another and discuss how we can continue to empower women across the entire produce industry.  It's interesting to hear them recall times in the industry when there were hardly any women around, to today when companies like Naturipe are filled with incredible women instrumental in the growth and evolution of produce.
Something that we're all worried about is our health when we get older, and Tamara Claunch of The Brain Beautiful Method felt this first hand when she watched her grandmother battle Alzheimer's. A disease many of us are all too familiar with, Alzheimer's and your risk of getting it can be greatly reduced by focusing on your brain's health. Tamara has some simple tips, habits and information from her program that you can start implementing now to reverse the effects of or reduce your risk.
Another powerful woman in the produce industry is Carley Parsley of Brookside Farms, a third-generation blueberry farm growing delicious blueberries in Michigan. Carley has seen the transformation of the produce industry go from one where she was the only woman at a blueberry growers' conference to today when the last one she attended had only one man in attendance! Carley is filled with great advice for women in the produce industry and how leadership can support the(often underappreciated) roles women play across the entire supply chain. 
Walt Dasher is truly helping save the family-owned farms of America. Walt is the owner of his third-generation family farm G&R Farms and the founder of Growing America's Farmers. GAF partners with the Future Farmers of America and helps FFA students connect with local consumers so shoppers can have a first-hand connection to the farms they're getting their food from. You'll be shocked to hear what inspired Walt to start GAF and the beliefs many kids have about running a farm today. 
Another powerhouse in produce is Jill Overdorf, who's worked across the entire supply chain and seen it all when it comes to the turnover from a male-dominated industry to today, where we're seeing women supported in produce unlike ever before. Jill is strong and empowered in her voice, with a lot to say about helping women succeed. If you've ever felt small like you need to stay quiet or that there isn't a seat for you at the table, this conversation with Jill is a must listen! 
Lastly, we couldn't wrap up March without celebrating Farm Workers Awareness Week, an important time to understand just how important the [often seen as] invisible workers of our country are to the health of our nation! Without our farmworkers, we wouldn't be able to live such convenient, healthy lives, and these individuals need more and more support. Learn from LeAnne Ruzzamenti of the Equitable Food Initiative and Nicole Minnich-Zapata from Misionero, an EFI certified company, about ways you can support our farmworkers and how this in turn supports us all. 
March  2002 Podcast Episode 203
Let Mike Stephan of Monterey Mushrooms show you why mushrooms are the hottest produce item of 2022.
If you're not already in love with mushrooms, you will be by the end of this year! Mushrooms are the hottest produce item for 2022 and Mike Stephan, the Director of Sales for Monterey Mushrooms (celebrating their 50th anniversary this year) shares with us many reasons why. Monterey Mushrooms grows white mushrooms, baby bellas (or crimini) and portabella, all of which are high in Vitamin D and a great way to boost your immune system.
Considering the rising cost of food and the trend in finding meat alternatives, mushrooms are a great way to extend meat-based dishes, "hide" healthy produce in picky kid's meals, spruce up chopped salads, and add a hearty flavor to any dish. There's even such a thing as mushroom chips! Learn more about the delicious ways you can cook mushrooms and the incredible benefits they have to your health.
March 2022 Podcast Episode 204
Discover the sustainable, 100% wildly sourced nut providing income to local families with Brian & Kim Hammons of Hammons Black Walnuts.
When you hear the word 'foraged', you typically think of mushrooms, right? It might surprise you to learn that Hammons Black Walnuts are 100% wildly sourced! That's right – this healthy, flavorful and deliciously bold tree nut is grown wild in the midwest where many individuals pick black walnuts and turn them into local buying stations.
Talk about a sustainable company! 
Black walnuts are different from the more common, milder English walnut which is typically cultivated in California and China. What's the difference between the two? Black walnuts offer a bolder, richer, earthier flavor than English walnuts, and are also the tree nut with the highest protein! Learn more about this delicious, versatile nut and Hammons Black Walnuts' incredible history.
March 2022 Podcast Episode 205
Empower yourself to succeed with these powerhouse females from Naturipe, Donna Lynn Browne, Aribel Aguirre-Beck and CarrieAnn Arias.
We kicked off Women's History Month with three powerhouse women from Naturipe Farms – Donna Lynn Browne, Senior Director of Food Safety and Social Responsibilities, Aribel Aguirre-Beck, Chief Financial Officer and Chief Administration Officer, and CarrieAnn Arias, Vice President of Marketing, each with plenty to share on how we can continue to empower women across the entire produce industry. 
What's most incredible about this episode is how each of the women has inspired one another and touched each other's lives, playing instrumental mentorship roles as they have each grown and succeeded in their careers at Naturipe. These women know what it was like to work in the produce industry when it was male-dominated and hardly any women attended trade shows. They all have had different journeys, but can agree upon one thing: empowering women to be confident, use their voices, and lift one another up is necessary for the produce industry to keep growing.
March 2022 Podcast Episode 206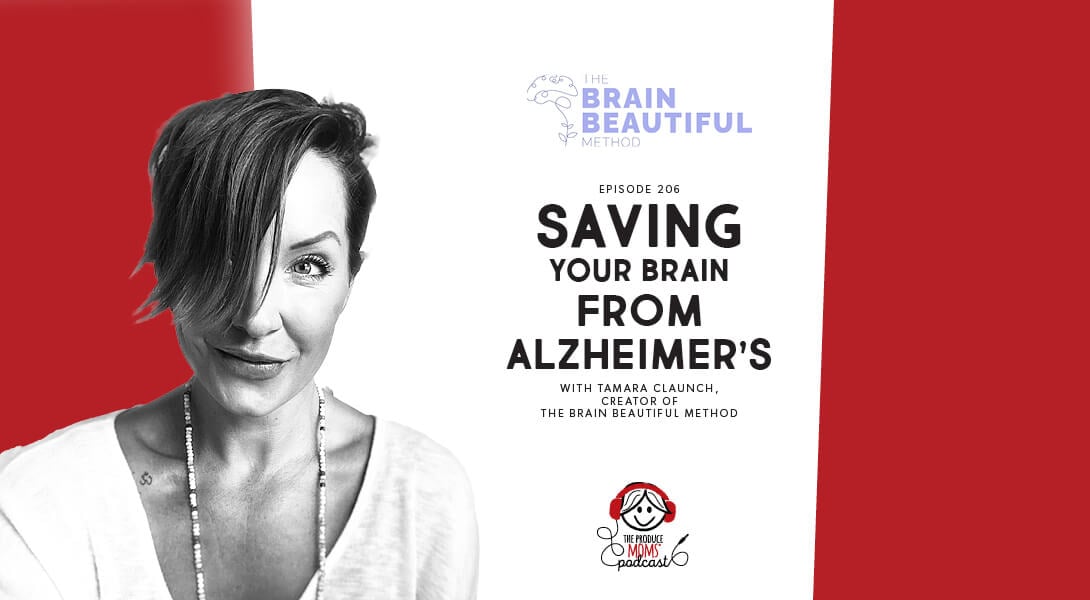 Start beating Alzheimer's before it has time to start thanks to Tamara Claunch and her Brain Beautiful Method.
Tamara Claunch responded to her grandmother's battle with Alzheimer's just like most others – she felt helpless and worried about how she would end up. Thanks to her concern, she started doing her own research on the disease and found out there are many things you can do to reduce your risk for Alzheimer's! Tamara has worked with several organizations that help individuals with Alzheimer's and has created her own courses and coaching that help people transform their bodies.
Tamara shares some incredible brain-supportive habits and specific ways to defend ourselves against Alzheimer's. What are her tips? You guessed it! A lot of Alzheimer's prevention has to do with eating nutritious fruits and vegetables. Learn how you can prevent the disease and even help a loved one you may know reduce their symptoms and live a longer, healthier life.
March 2022 Podcast Episode 207
Feel inspired and understand the crucial role women have played in farming with Carley Parsley of Brookside Farms.
Carley Parsley didn't think she'd end up right back at her family's third-generation Brookside Farms, but after spending her summers working side-by-side with her dad, uncle and mom, she knew this was where she was meant to be. Carley remembers the days when it was rare to see another woman attending a blueberry growers' conference and has seen the industry evolve into one that's empowering and welcoming to women across the entire industry.
Sure, the majority of farmers used to be male, but women have been side-by-side farmers and growers providing their role, which is equally as important, for centuries. That's why it's so important to keep empowering women with the unique opportunities available in the produce industry. Carley shares memories of her greatest role models, her mom and grandma, and the importance of their work (and many other women's) behind the scenes. 
March 2022 Podcast Episode 208
Learn how Walt Dasher of G&R Farms is helping save our nation's family-owned farms.
Family-owned farms used to be able to rely on the next generations to take over, run and manage the farm. Now? Not so much. Walt Dasher, the owner of his third-generation, family-owned G&R Farms found this out in 2015 when he put out his regular ad to hire local kids for additional help on the farm during the summer. What used to be an immediate and great response was now met with silence.
This inspired Walt to start a program called Growing America's Farmers in conjunction with the Future Farmers of America (FFA). The program helps connect consumers with FFA students inside retail stores so shoppers can get a personal connection with those growing their local produce. Growing America's Farmers has been able to financially fund a lot of kids continuing into the produce industry and is a great way for consumers to have an educated connection to their farmers and growers.
March 2022 Podcast Episode 209
Produce industry icon Jill Overdorf is empowering women to use their voices and intelligence confidently.
Jill Overdorf is one confident powerhouse you won't want to miss listening to! She's worked across the entire supply chain, from pushing hand carts, to picking produce, to working as an executive chef and now the Director of Business Development at Naturipe. Jill remembers the days of getting "cat-called" and was one of the only women at produce industry events. Thanks to working for companies like Naturipe, Jill has watched the industry transform into a safe space for women to succeed while elevating one another.
There are plenty of mic drops and pieces of advice Jill shares, and you'll feel more confident than ever before listening to her speak. Her biggest message to women is that "it's okay to use your voice, ask questions, be smart and push the boundaries" and that it's needed in our industry! So don't be afraid to speak up, ruffle feathers (with purpose) and help us all rise as women.
March 2022 Podcast Episode 210
Let's celebrate Farm Workers Awareness Week and the powerful workers who sustain our families with LeAnne Ruzzamenti and Nicole Minnich-Zapata.
Falling right in alignment with Caesar Chavez's birthday, it's Farm Worker Awareness Week, a time to honor the daily contributions farmworkers make to our food system. Our country, our health and our families rely on the backbone of these invisible workers – without them, we wouldn't have a consistent supply of healthy, fresh, quality food products that support us nationwide. LeAnne Ruzzamenti is the Director of Marketing and Communications at the Equitable Food Initiative which is an organization that helps develop the food supply chain's workforce professionally and creates healthier workplaces, which in turn, creates safer foods. 
Companies like Misionero, whom Nicole Minnich-Zapata is the Marketing Director for, are EFI certified, which lets you know they're a company meeting certain standards to support their workers. Misionero is doing amazing things like The Produce and Reduce Program, a zero-waste initiative, and a Work Process Skills program which helps employees upskill themselves professionally. Listening to Nicole and LeAnne will help you understand more the importance of supporting our farmworkers and how you can contribute yourself!