Keep Fresh Fruits & Vegetables in Schools: Immediate Action Needed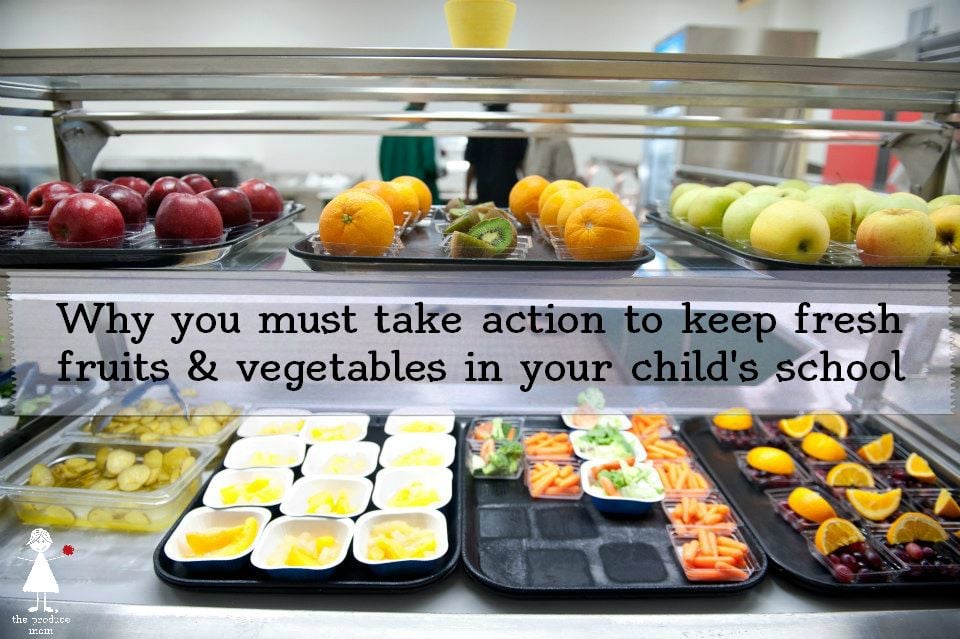 Dear Fellow Parents, Produce Industry Colleagues & Community Leaders,
I send my 2nd grade & Kindergarten aged sons to school with lunch money, not a lunchbox.  Yes, The Produce Mom's sons eat USDA School Lunch.  It's convenient & affordable.  But more importantly, I choose school lunch for my children because I am confident in the produce offerings and balanced meal requirements for USDA School Lunch.
Recently I joined my boys at school for lunch in honor of my oldest son's birthday.  I was so impressed with the produce offerings: fresh carrots sticks, fresh broccoli florets, fresh kiwi halves, fresh cucumbers moons, fresh orange slices. Seriously?  I remember mushy carrot coins & broccoli stems.  That was then.  This is now.  It's 2015 & we know better.  You like the taste and appearance of fresh produce & so do your children.
I was blown away when my 8-year-old birthday boy selected broccoli florets for his lunch tray.  I struggle to get my children to eat vegetables.  I praised Joe for choosing broccoli and asked him why he doesn't eat more of it at home.  He shrugged his shoulders & said, "I don't know.  My friends eat it so I eat it at school."
The system works.  Children are choosing to eat fresh fruits and vegetables at school.
As a matter of fact, studies have proven that after the U.S. Department of Agriculture's healthier school meal standards went into effect, students ate more produce and threw away less of their food than before the changes.
[bctt tweet="Healthier @USDA School Meal Standards = more #freshproduce + less food waste at school http://www.rwjf.org/en/library/articles-and-news/2015/03/students-eat-more-fruit-and-throw-away-less-food-with-new-health.html "]
I'm writing this letter to you today because Fresh Fruits & Vegetables in schools are under attack.  You can help, though!
The gains made with the public health community in increasing kids' access to fresh fruits and vegetables in schools are in jeopardy as Congress begins debate next week.
In the last 10 years…
…We have made tremendous strides in increasing fresh produce servings for 32 million students a day in school meals
…Fresh Fruit and Vegetable program now benefits more than 4 million low-income elementary students every day.
Some in Congress are considering rolling back those gains.
This is so disappointing.  Kids everywhere are learning to make healthier choices for a lifetime.  Why are we debating regression?  Move forward.  Continue to improve school meal offerings.  DO NOT scale back the accessibility of fresh fruits & vegetables in schools!
USDA Secretary Tom Vilsak recently issued a statement of SUPPORT for progress for kids during 2015 Child Nutrition Reauthorization.
What does this mean?
• Keep a ½ cup of fruits or vegetables in school lunches!
• Keep the Fresh Fruit & Vegetable Program "Fresh"!
I support progress & I hope that you do, as well.
[bctt tweet=".@USDA Sec Tom Vilsak supports progress 2015 #ChildNutrition Reauthorization & so do I! "]
The United Fresh Produce Association has developed a web template to make it easy for you to send a letter to Congress communicating your support for PROGRESS during the 2015 Child Nutrition Reauthorization.
It took me 26 seconds to complete the form & my State Senators were notified right away.
Click here to complete the form.
Parents, please let your voice be heard!

[bctt tweet="Thank you @UnitedFresh! I want MORE #freshproduce in @USDA School Meals"]

Consider these facts:
The CDC has found that children eat 3x more fruits & vegetables when there is a salad bar at school.¹
The majority of K-12 students in American public schools qualify for free & reduced lunch, and likely facing food access issues at home.²
More than 80% of Americans believe the healthier school meals should stay the same or be strengthened³
Fresh Produce is an affordable choice, many commodities are equivalent or lesser in cost than frozen and canned forms.
School meal programs have come a long way. I extend my sincere gratitude to all involved with the progress and evolution – this includes politicians, school administration, school foodservice professionals, my fresh produce industry colleagues, fellow parents & more. Let's keep the spotlight on fruits & veggies at school.
Your friend & advocate for fresh,
¹ CDC reports that students eat 3x more fruits & veggies when there is a salad bar at school http://vimeo.com/97041936#t=92s
² Majority of American K-12 students qualify for free or reduced lunch http://www.washingtonpost.com/local/education/majority-of-us-public-school-students-are-in-poverty/2015/01/15/df7171d0-9ce9-11e4-a7ee-526210d665b4_story.html
³ 80% of Americans believe USDA School Meal program should stay the same or improve http://www.ers.usda.gov/media/303025/aib790d_1_.pdf