Helping Indiana Schools Provide Healthy Lunches on Indy Style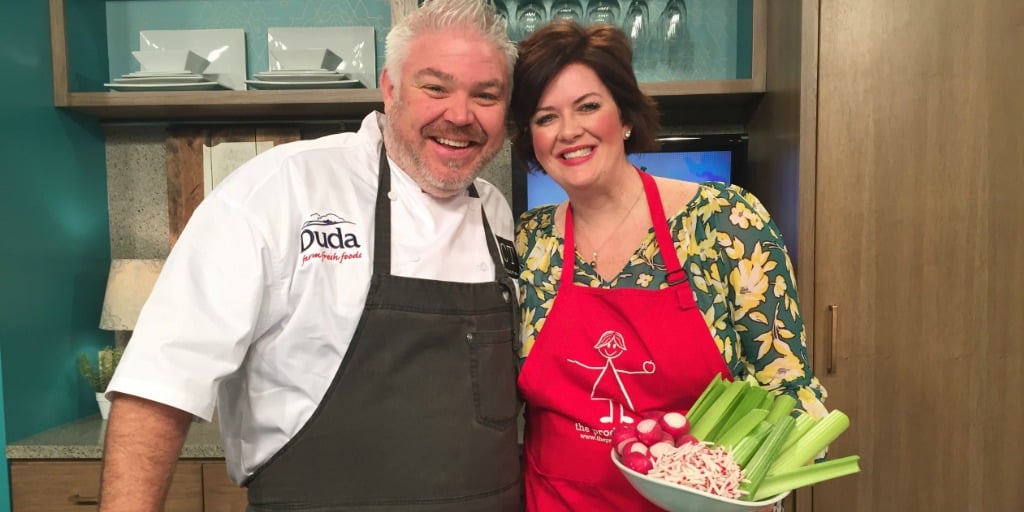 It's not nutritional unless it's eaten! This is so true when it comes to the fresh fruits and vegetables available to our students in school lunchrooms across the country. That's why it's not only important to make fresh produce available to our kids at school but also to educate them on why choosing fresh fruits and vegetables is the right choice at lunchtime.
Today on Indy Style, Celebrity Chef Todd Fisher and I talked about the hands-on culinary training sessions we're leading in Indiana to help school food service professionals make fresh produce more exciting and inviting to our students.
In the first segment, Chef Todd and I discussed some of the challenges facing school food service professionals. Together Chef Todd and I are educating lunch ladies (this is what they like to call themselves!) around Indiana about potential vegetable substitutes and new options that meet local school budget requirements and federal food regulations.
Chef Todd also started preparing his Maple Roasted Acorn Squash recipe:
Ingredients
2 medium acorn squash
3 T. real maple syrup
2 T. olive oil
1 tsp. poppy seeds
1/8 tsp. dried thyme
1/8 tsp. black pepper
1 T. each chopped cilantro, mint, and parsley
Oil spray
Directions
Step 1 – Cut each acorn squash in half, stem to tip. Remove seeds. Cut each half into quarters and each quarter into eighths.
Step 2 – In a bowl whisk together the maple syrup with the olive oil, poppy seeds, thyme, and pepper.
Step 3 – Toss acorn squash pieces in the sauce. Place squash on sprayed baking sheet.
Step 4 – Bake in a 375-degree oven for 30 to 35 minutes until squash is fork tender.
Step 5 – Remove from oven and sprinkle with chopped herbs before serving.
For a raw veggie option, Chef Todd demonstrated his Raw Broccolini Sesame Salad:
Ingredients
1 lb. broccolini, cut into bite size pieces
1 c. frozen edamame (soybeans), thawed
1/2 c. diced celery
3 T. toasted sesame seeds
1/2 tsp. low sodium soy sauce
1/2 tsp. honey
1 T. mirin
1 tsp. sesame oil
Directions
Step 1 – In a bowl combine sesame seeds, soy sauce, honey, mirin, and sesame oil. Whisk to combine.
Step 2 – Toss broccolini, edamame, and celery in dressing.
Step 3 – Serve immediately or refrigerate up to 2 hours.
In our second segment, Chef Todd and I explained what it takes to transform a restaurant-quality recipe into a lunchroom-friendly recipe. After we adjust Chef Todd's recipes, we will share them with schools nationwide. Your kids could see one of these recipes at school in the near future!

Then Chef Todd showed us one more recipe, Thai-Lime Edamame and Rice Noodle Salad:
Ingredients
8 oz. dried rice noodles
1 1/2 c. frozen shelled edamame, thawed
1/2 c. celery, sliced
1 T. sesame oil
2 T. low sodium soy sauce or tamari
1 T. lime juice
1 1/2 T. brown rice syrup or agave nectar
1 c. mung bean sprouts
1/4 c. chopped green onions
1/4 c. chopped cilantro
Directions
Step 1 – Cook rice noodles according to package directions. Set aside.
Step 2 – In a bowl whisk together sesame oil, soy sauce, lime juice, and brown rice syrup.
Step 3 – Add rice noodles, edamame, celery, sprouts, green onions, and cilantro to bowl. Toss with dressing.
Step 4 – Serve immediately.
Chef Todd and I had so much fun celebrating Indy Style's seventh anniversary today with Tracy and Amber. Here's to seven more years of success!
xoxo Lori