Healthy Kid-Friendly Recipes
This post is sponsored by Peri & Sons and USA Pears. 
Healthy kid-friendly recipes that adults love too!
Let's be real for a minute… it's challenging to get kids to make healthy choices. One way to encourage kids to try new and different fruits and vegetables is to have them help in the kitchen. Today on Indy Style, Lori Taylor showcased recipes that kids love to help prepare and enjoy eating too!
Perhaps one of the harder veggies to get kids to try are onions. But onions offer all sorts of health benefits, including being a natural prebiotic. Sunions™ can change your child's opinion of this healthy veggie. They are a hybrid onion that are naturally very sweet and mild. And even cooler, they are naturally tearless! No tears will be shed by your or your kids when cooking with Sunions™. Try the following recipes featuring the home cook's favorite onion…
Sausage, Red Potatoes, Sunions™ & Green Beans
Dreaming of summer? This recipe brings a bit of summertime to winter. It's reminiscent of a meal you'd cook over an outdoor fire pit but is made indoors instead.
Ingredients:
1 (12.8-ounce) package smoked andouille sausage, thinly sliced

1 pound baby red potatoes, quartered

1 pound green beans, trimmed

8 ounces white mushrooms, halved

1 Sunion™ sweet onion, chopped

4 tablespoons unsalted butter, divided

4 teaspoons cajun seasoning, divided

Kosher salt and freshly ground black pepper, to taste

2 tablespoons fresh parsley leaves, chopped
Directions:
Preheat oven

Cut four sheets of foil, about 12-inches long. 

Divide sausage, potatoes, green beans, mushrooms and onion into 4 equal portions and add to the center of each foil in a single layer.

Fold up all 4 sides of each foil packet. Add butter, cajun seasoning, salt and pepper, to taste; gently toss to combine. Fold the sides of the foil over the sausage, covering completely and sealing the packets closed.

Place foil packets on sheet pan and cook until just cooked through, about 20 minutes.

Serve immediately, garnished with parsley, if desired.
Strawberry & Caramelized Onion Pizza
Naturally sweet Sunions™ pair wonderfully with sweet strawberries. Even small kids can help with this recipe — let kids top their own pizzas with the healthy ingredients pre-selected by you. 
Ingredients:
Pre-made individual pizza crusts

8 slices bacon, chopped

1 Sunion™ sweet onion, thinly sliced

2 garlic cloves, minced

1 1/2 cups ricotta cheese

6 ounces mozzarella cheese, freshly grated

1 pint strawberries, hulled and halved

2 tablespoons freshly grated parmesan cheese

fresh basil and oregano for topping

Balsamic glaze 
Directions:
Heat the bacon in a saucepan over medium-low heat. Cook until semi-crispy and the fat is just rendered, then remove it with a slotted spoon and place it on a paper towel to drain any excess grease. Keep the skillet over low heat and add the sliced onions. Toss well, adding another pinch of salt. Cover and cook until caramelized, stirring occasionally and making sure the onions aren't burning, for 45 to 60 minutes. Halfway through the caramelization process is when I stir in the garlic.

Heat the oven to 425 degrees F. (If I use my pizza stone, I heat my oven to 475 degrees and bake for 8-10 minutes. If you're just using a baking sheet, follow the directions below for baking and set to 425 degrees.)

Begin to make your pizza! Cover your crust with the ricotta and mozzarella cheeses. Evenly disperse the halved strawberries, caramelized onions and bacon. 

Bake for 8-10  minutes or until the cheese is golden and bubbly. Remove from the oven and top with a sprinkle of parmesan, fresh basil and oregano and balsamic glaze if desired.
Baked Pear Trail Mix
Get the kids involved with making their very own trail mix. Pack it in lunch boxes or have it as an after-school snack.
Ingredients:
2 medium pears (try

Green Anjou

), unpeeled, diced into small pieces (about ½ inch; about 2 ½ cups diced)

1 teaspoon lemon juice

2 cups old-fashioned oats

1 cup raw almonds

1 cup raw cashews

1 cup raw sunflower seeds

¼ cup peanut or almond butter

3 tablespoons pure maple syrup

1 teaspoon vanilla

1 tablespoon water

1 tablespoon pumpkin pie spice
Directions:
Preheat oven to 275 F.

Place diced pears in a large mixing bowl and sprinkle with lemon juice, stirring to coat the pears.

Add oats, almonds, cashews, and sunflower seeds.

In a small bowl, mix together peanut or almond butter, maple syrup, vanilla, water, and pumpkin pie spice until smooth.

Mix the butter-maple syrup mixture into the pear-oat-nut mixture, combining well to moisten dry ingredients.

Spray a baking sheet with nonstick cooking spray and spread trail mix evenly in the pan.

Place in oven and bake on top rack for 1 ½ hours, stirring every 20 minutes. Turn off oven and keep pan in oven for an additional hour to dry pears.

Remove from oven and transfer to an airtight container.
Pear Kabobs With Strawberry Dipping Sauce
Chop up fruit and have kids build their own kabobs. Serve with Strawberry Dipping Sauce for an after-school treat or evening dessert.
Ingredients:
1 cup vanilla yogurt

4 tablespoons strawberry preserves

2 Bosc USA Pears, cored and cut into 1-inch cubes

2 bananas, cut into 1-inch slices

1 can pineapple chunks, drained

2 cups strawberries, stems removed

6 wooden skewers
Directions:
In a small bowl, combine the vanilla yogurt and strawberry preserves. Set aside.

Thread the fruits by alternating the pears, bananas, pineapple, and strawberries onto the skewers.

Serve the fruit skewers with a dollop of the strawberry sauce on the side.
Pear Hummus
Kids are much more likely to eat their veggies when served with dip, like Pear Hummus.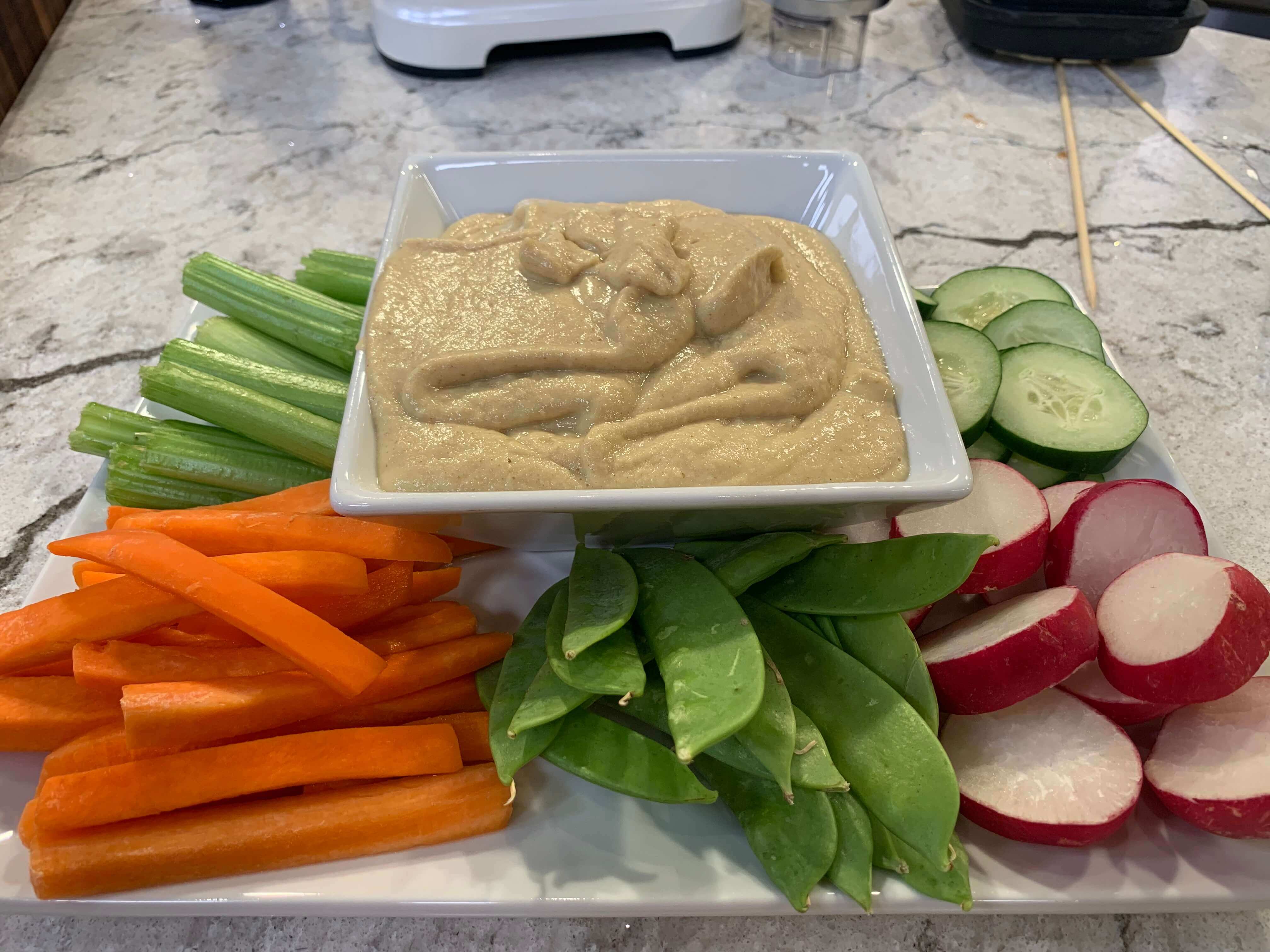 Ingredients:
1 cup (250 ml) of chick peas

4 Bosc pears

Olive oil, salt and pepper to taste
Directions:
Coarsely chop pears and blend all ingredients in a blender.
What are your kids favorite healthy recipes? Share your healthy kid-friendly recipes below or tag us in your food photos at @theproducemoms and @indystylewish. Thanks for watching!