Grapes at Midnight: Activity Sheet
This post is sponsored by HMC Farms
Celebrate the New Year with GRAPES 
Las Doce Uvas de la Suerte (The Twelve Grapes of Good Luck) is a Spanish tradition that dates back to the late 1800s.  This tradition consists of eating a grape with each bell strike at midnight on December 31st in hopes of bringing in a new year full of prosperity and good fortune.  The twelve grapes represent the 12 months of the year.
We recently worked with our Brand Partners at HMC Farms to create an activity sheet depicting the Twelve Grapes of Good Luck to support their mission to:
Offer grapes in formats that make them easier to enjoy, in order to increase kids' access to healthy, fresh fruit.
This worksheet is perfect for educators and parents alike. Both HMC Farms and The Produce Moms believe that children's eating habits develop early in life and will carry on through their adult years. By providing kids with healthy food options that they actually enjoy eating now, we can help them create healthy eating habits that will last a lifetime.
Grapes in the Classroom
The Twelve Grapes of Luck Activity Sheet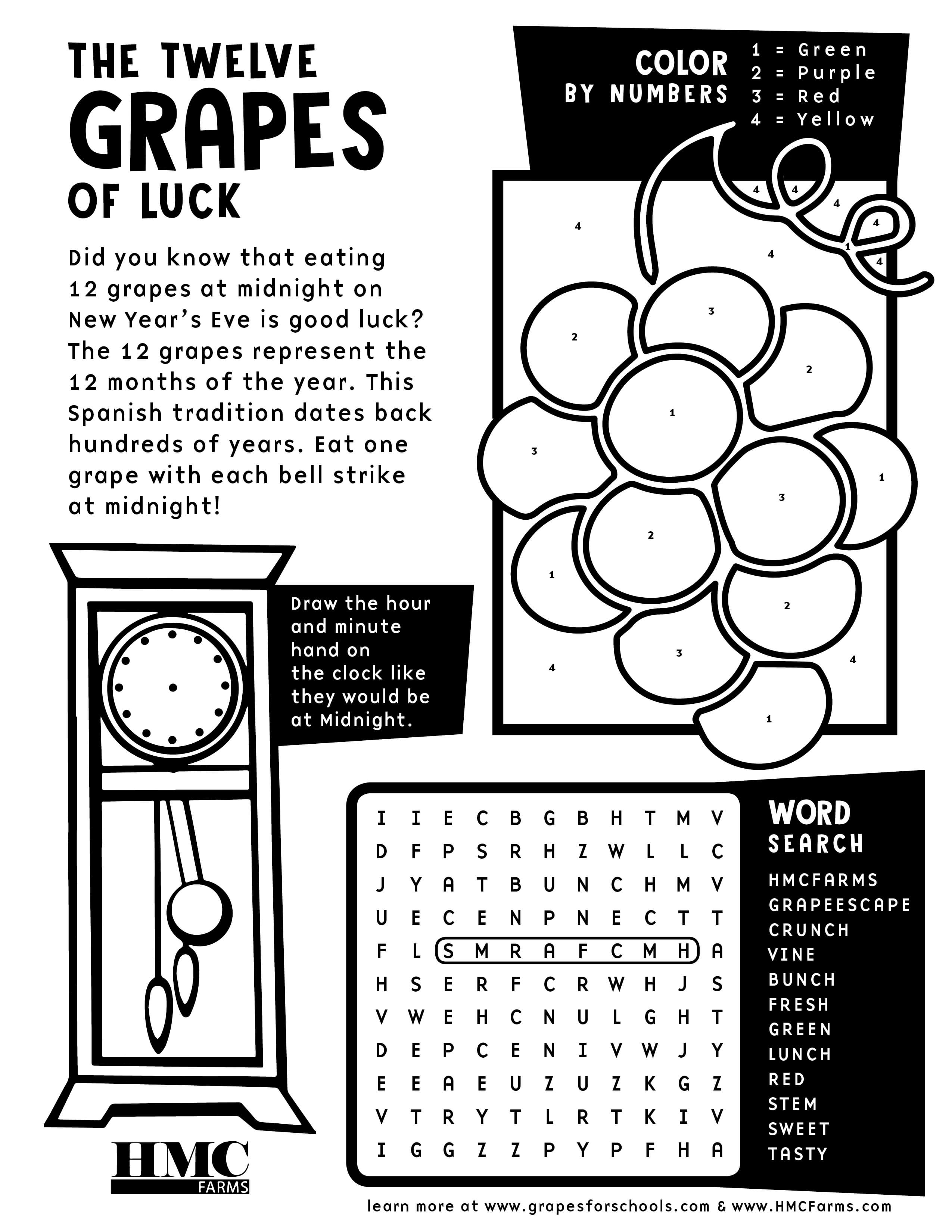 About HMC Farms Grapes for School
More Educational Resources from HMC Farms
About HMC Farms
HMC Farms pioneered grapes for school foodservice with the introduction of Lunch Bunch in 1979. Since then, they've spent nearly forty years providing grapes to schools in virtually any format that helps them serve grapes better. Whether on the stem, off the stem, individually packed, or in bulk, they offer grapes 52 weeks a year.  To learn more, please visit HMC Grapes for Schools.