Episode 27: Fueling Your Life with Beth Miller, Director of Sports Nutrition for Duke Athletics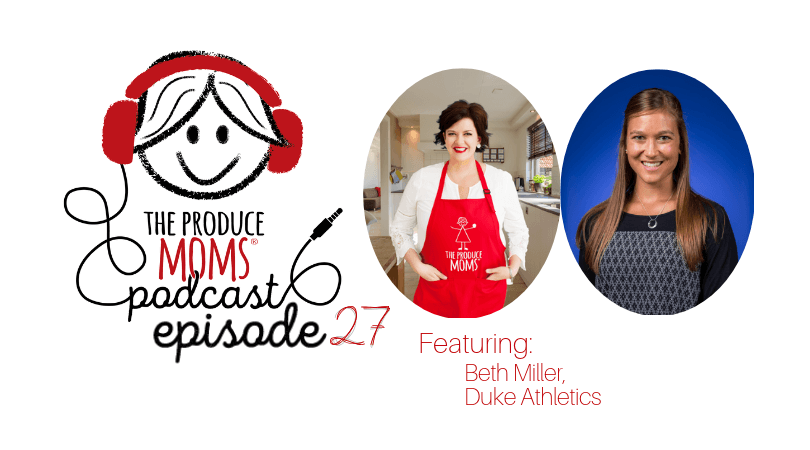 The Produce Moms Podcast 
Episode27: Fueling Your Life with Beth Miller, Director of Sports Nutrition for Duke Athletics
"Proper nutrition program is vital for athletes of all ages and all levels, whether you are training to get a PR at your next road race, if you're in high school looking to go on and play college sports or even if you are just simply a frequent user of your local gym."

This week on The Produce Moms Podcast, Lori and Beth Miller, Director of Sports Nutrition for Duke Athletics, discuss the importance of fueling our body, and the role produce plays in the nutrition of Duke's top athletes. Beth is a Registered Dietitian, and has been the Director of Sports Nutrition at Duke since 2017. Beth shares that nutrition is about finding the balance of foods to fuel your life. This is important for every individual, from the elite athlete to the soccer mom. Fresh produce plays a vital role in that balance!
"My mission as a sports dietitian is to teach our athletes not only how to fuel themselves for their sports here and now while they're at Duke, but also to teach them skills to fuel themselves for the rest of their lives. And I think that that can go into play for every athlete of any kind and just any human being. Fuel your life. "
Throughout the episode, we learn insightful information about Sports Nutrition, how Duke fuels their athletes, and the role of fresh produce. When used properly, nutrition can give athletes the edge they need to dominate training, performance, and recovery. If you have ever been curious to learn more about dietetics, and how this science operates hand-in-hand with our best athletes, you won't want to miss this episode!
"You need to fill your tank up with high-quality fuel in order to receive any results that you're looking for. Whether that be in your sport, or your workout routine, or just in general. Never run on empty, and never run on poor quality fuel."
In the episode, Beth mentions some fantastic resources for those interested in learning more about Sports Nutrition. Below are the links to sites that are full of resources and also information about dietitians in your area.
Connect with Beth and Blue Devil Fuel on Social Media
Blue Devil Fuel Twitter – @DukeSPORTSNUT
Instagram – @dukesportsnut
Beth Miller – @BethMiller_7
Some Topics we talk about in this episode:
Introduction // Guest – 1:15

What Sets Sports Nutrition Apart? – 3:05

Sports Nutrition Resources – 6:33

Beth's Definition of Nutrition – 9:58

Produce and Duke Athletics – 10:59

Beth's Favorite Moment at Duke – 14:22

Nutrition Advice for the Listener – 15:55

Career Opportunities with Sports Nutrition – 16:47

Wrap-up – 19:55
Get the Kroger Opt Up App on the App Store and Google or visit www.optupapp.com for more info
How to get involved
The Produce Moms Podcast is live on iTunes, Google Play, Stitcher, and coming soon to Spotify.  If you like what you are hearing on the podcast, reviews, subscriptions & ratings will help us keep this going!  It would mean the world to hear your feedback, and we'd love for you to help us spread the word!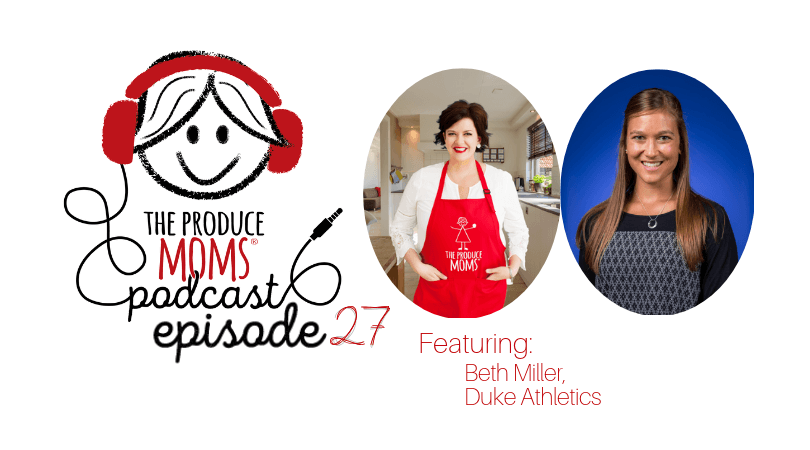 [bctt tweet="Episode 27 of #TheProduceMoms #Podcast features @BethMiller_7, Director of Sports Nutrition at #DukeUniversity! Listen as Beth explains the importance of fueling an athletes body in and out of season! @DukeSPORTSNUT" username="theproducemom"]
Other Episode You May Like
Episode 26: Creating the Perfect Veggie Noodle
Episode 25: Growing a Healthier World
Episode 23: Delicious and Nutritious School Food
Episode 22: Innovative Produce