Celery and Peanut Butter Pupsicles
Aug 03, 2020, Updated Mar 30, 2023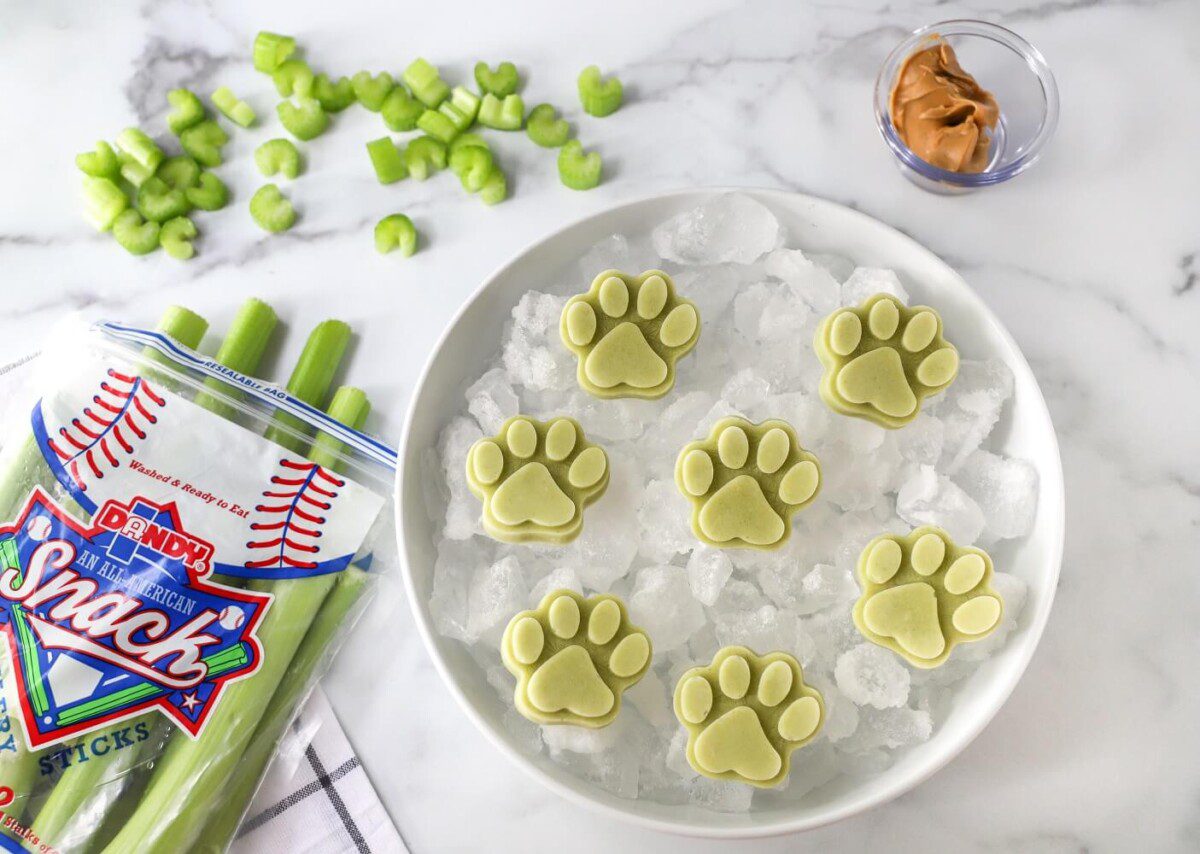 This post is sponsored by Duda Farm Fresh Foods.
In the heat of summer, we all need some tasty treats to help us cool off. Our furry best friends are no different. Your dog will be drooling at the thought of these frozen celery dog treats – more than usual, that is! These treats made with delicious Dandy® celery are a safe and healthy way to make your pup's day.
Our celery dog treats are blended together using an immersion blender before being frozen. This makes them easy, safe, and fun for all ages of dogs to enjoy. And with only three ingredients, they're simple to make too!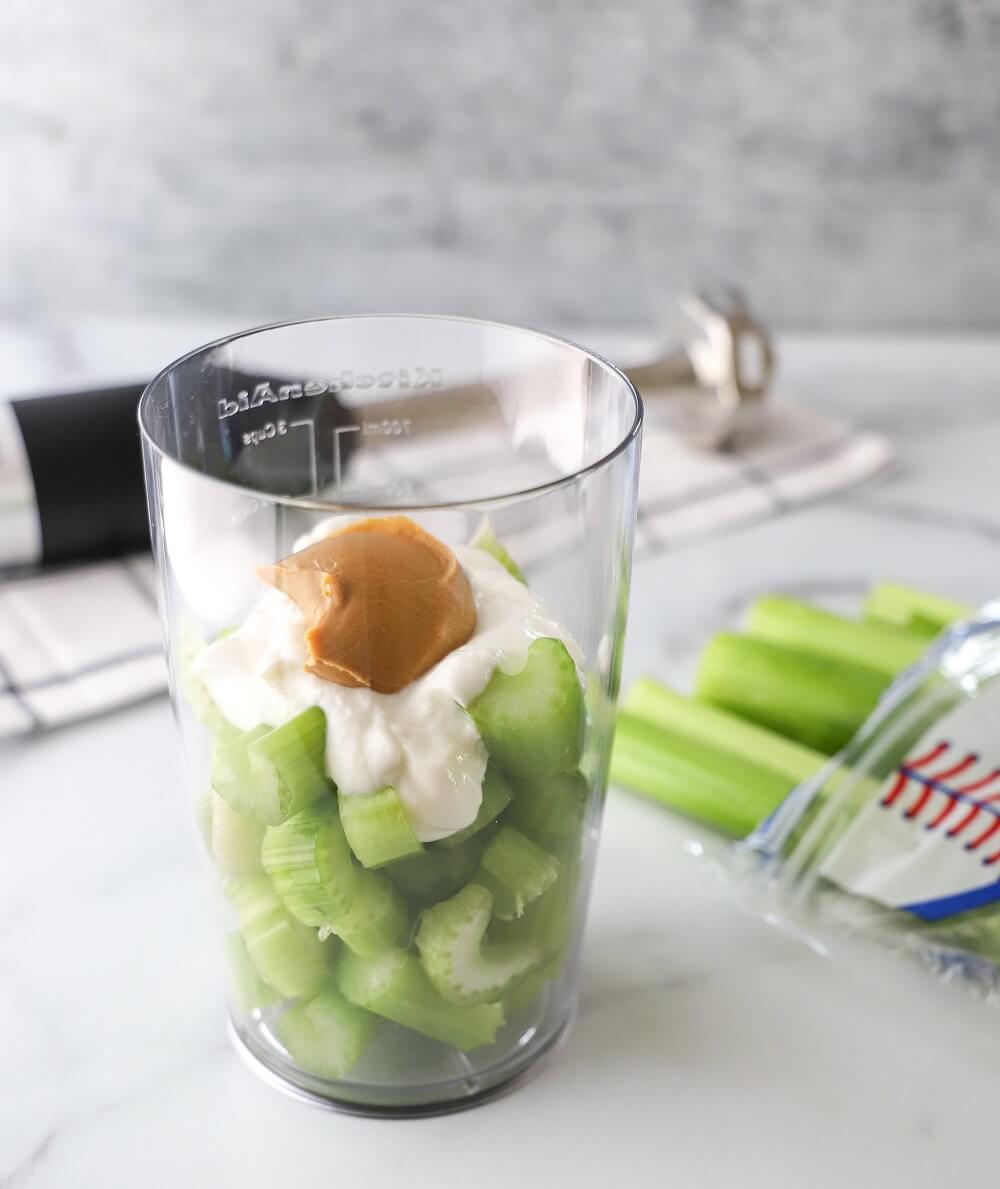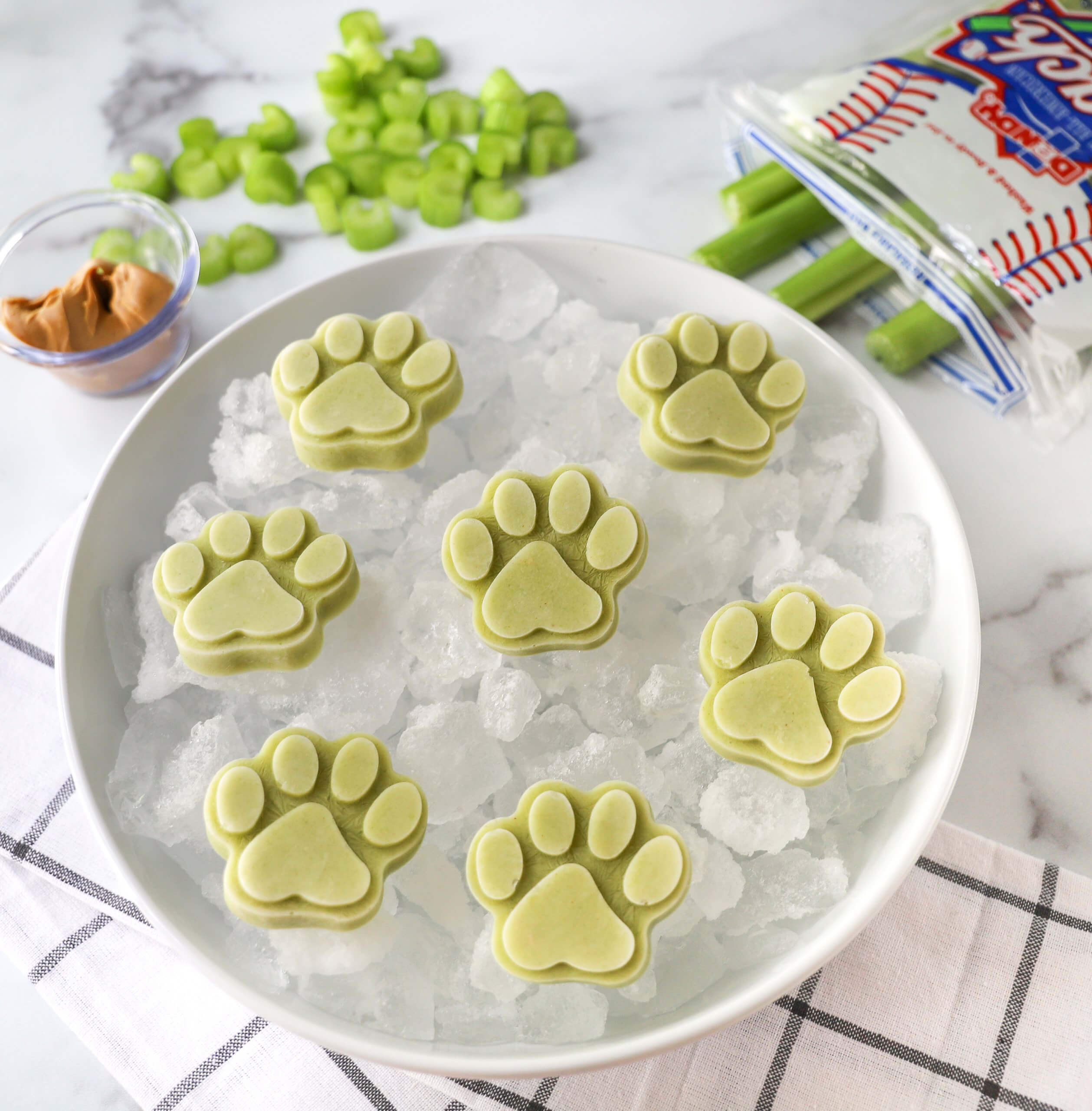 Dogs get all the nutrients they need when fed a diet of the proper dog food. As their ancestors were carnivorous wolves, they don't need a lot of fruits and vegetables in their diets. But including some produce can give them a nutritional boost. And most dogs love them as treats! Use the classic combination of celery and peanut butter to help encourage good behavior, maintain a healthy diet, or just help your pup stay cool on a hot summer day.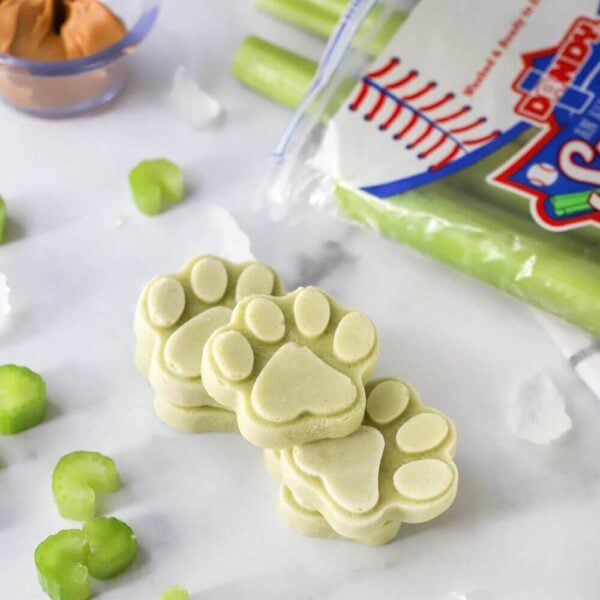 Celery and Peanut Butter Pupsicles
Frozen celery and peanut butter dog treats made with just three ingredients!
Ingredients
2

cups

Dandy® Celery

about 4 stalks, chopped

⅓

cup

greek yogurt

plain, nonfat

1

tbsp

peanut butter
Instructions
Using an immersion blender or traditional blender, blend together the celery, yogurt, and peanut butter.

Pour mixture into molds and place in the freezer for 3-4 hours, or until frozen solid.

Once the treats are frozen solid, remove from the molds. Store in the freezer in an airtight container or freezer bag.
Nutrition information is automatically calculated, so should only be used as an approximation.
Like this? Leave a comment below!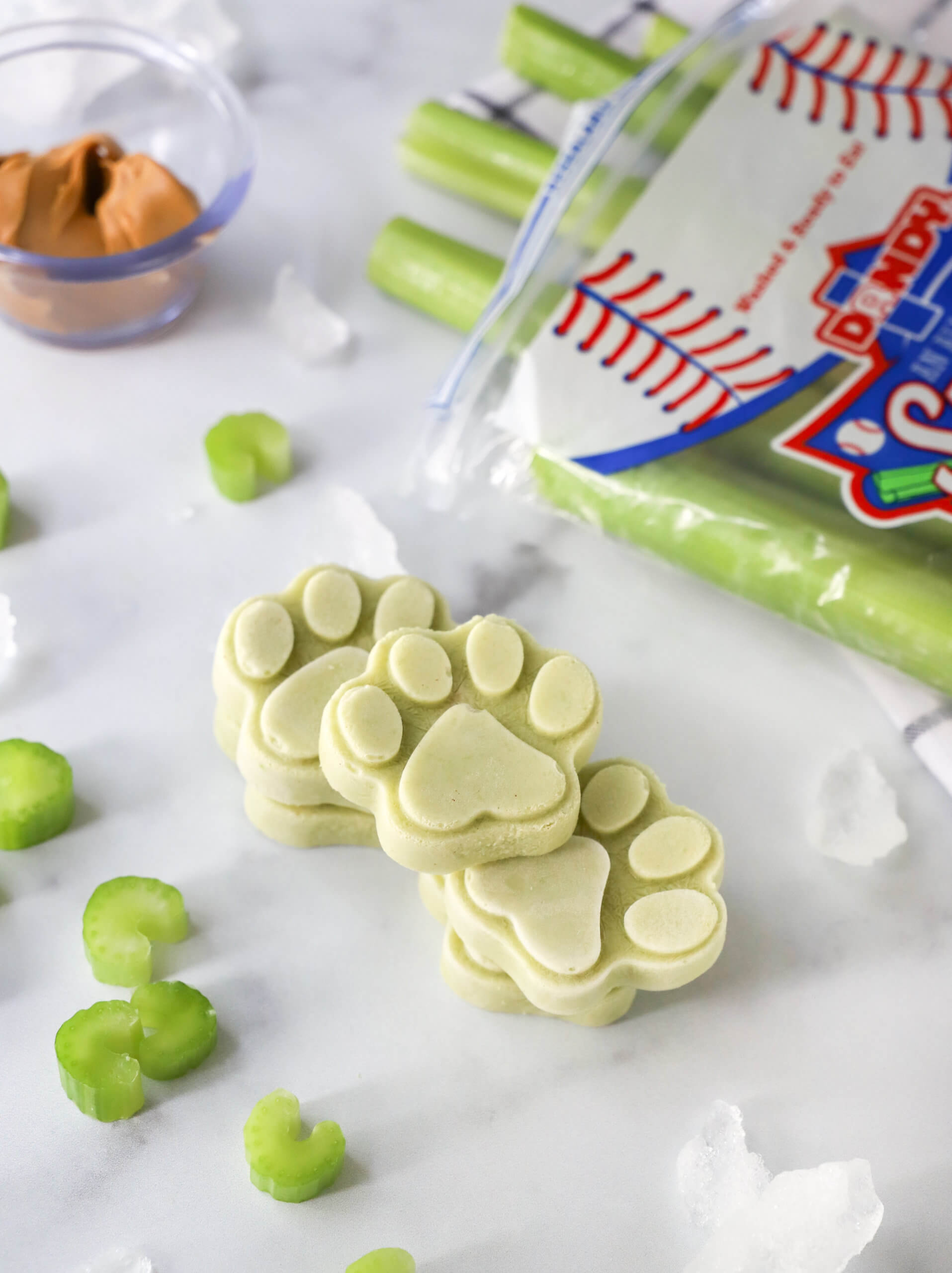 We use molds to give our dog treats fun shapes, like the bite-sized paw prints in our photos. But they aren't necessary for this recipe – you can still make treats for your pooch without them! Ice cube trays and mini muffin pans are great for freezing these treats. You can also use cupcake liners without a pan: just pour one teaspoon into the liner for a perfectly-sized puppy snack.
As you feed your dogs these treats, it's important to remember that dogs and humans have different dietary restrictions. Treats should never make up more than 10 percent of your pup's diet, according to the AKC Canine Health Foundation. You should also make sure that anything you feed your dog is safe for them to consume. Here's a list of fruits and vegetables that are safe for Fido to enjoy.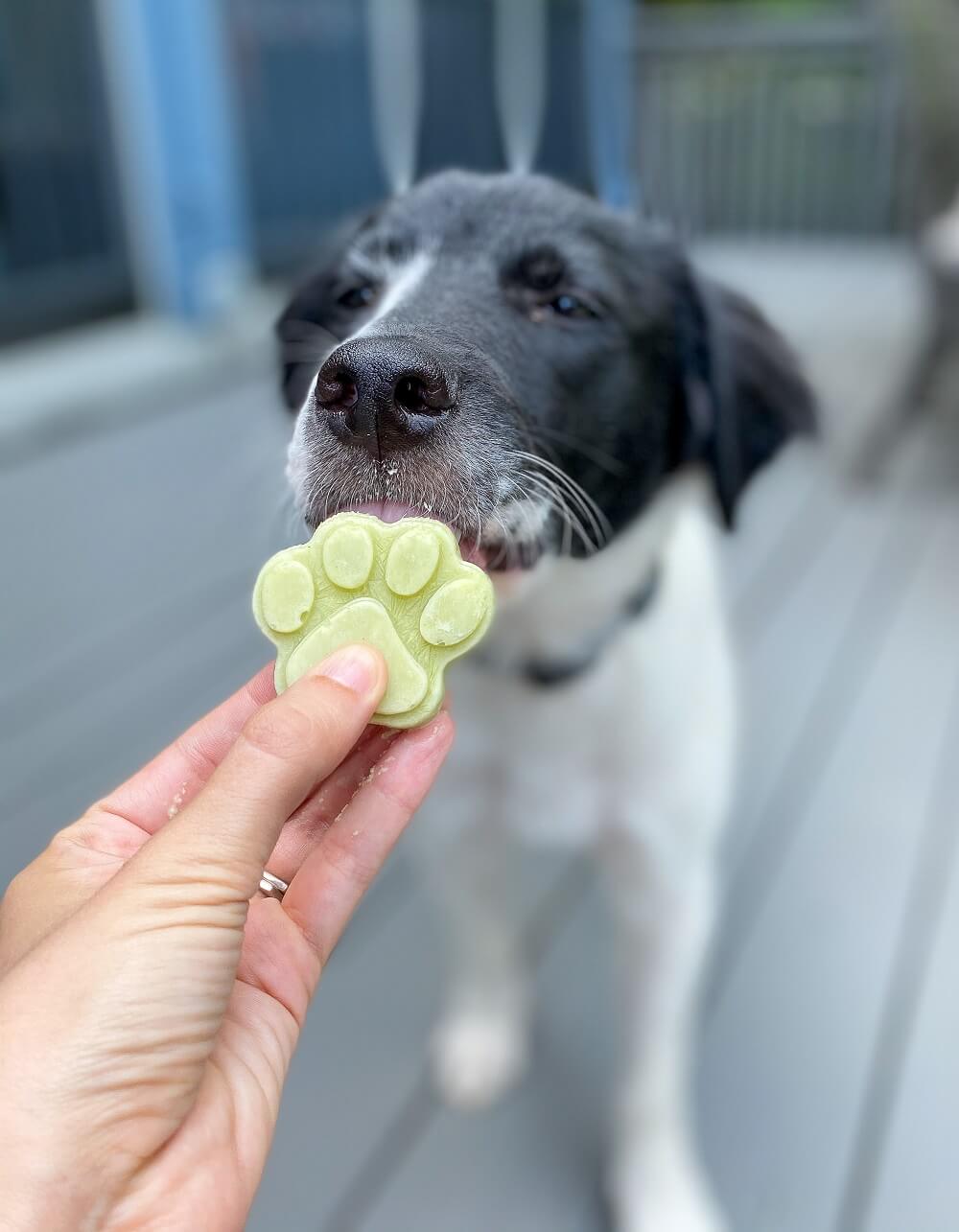 Don't worry, we checked that the ingredients in our celery dog treats are pup-safe! Dandy® celery from Duda Farm Fresh Foods is a safe treat that's low in cholesterol and fat and high in fiber, making it a great weight loss treat. It can help fight stinky dog breath, too! By blending it into the treats, you'll eliminate any choking celery can pose while still giving your dogs all the benefits of fresh and delicious Dandy® Celery Sticks.
Yogurt is also safe and can be a useful digestive aid. However, it should only be consumed in small amounts and you should monitor your dog for any signs of lactose intolerance.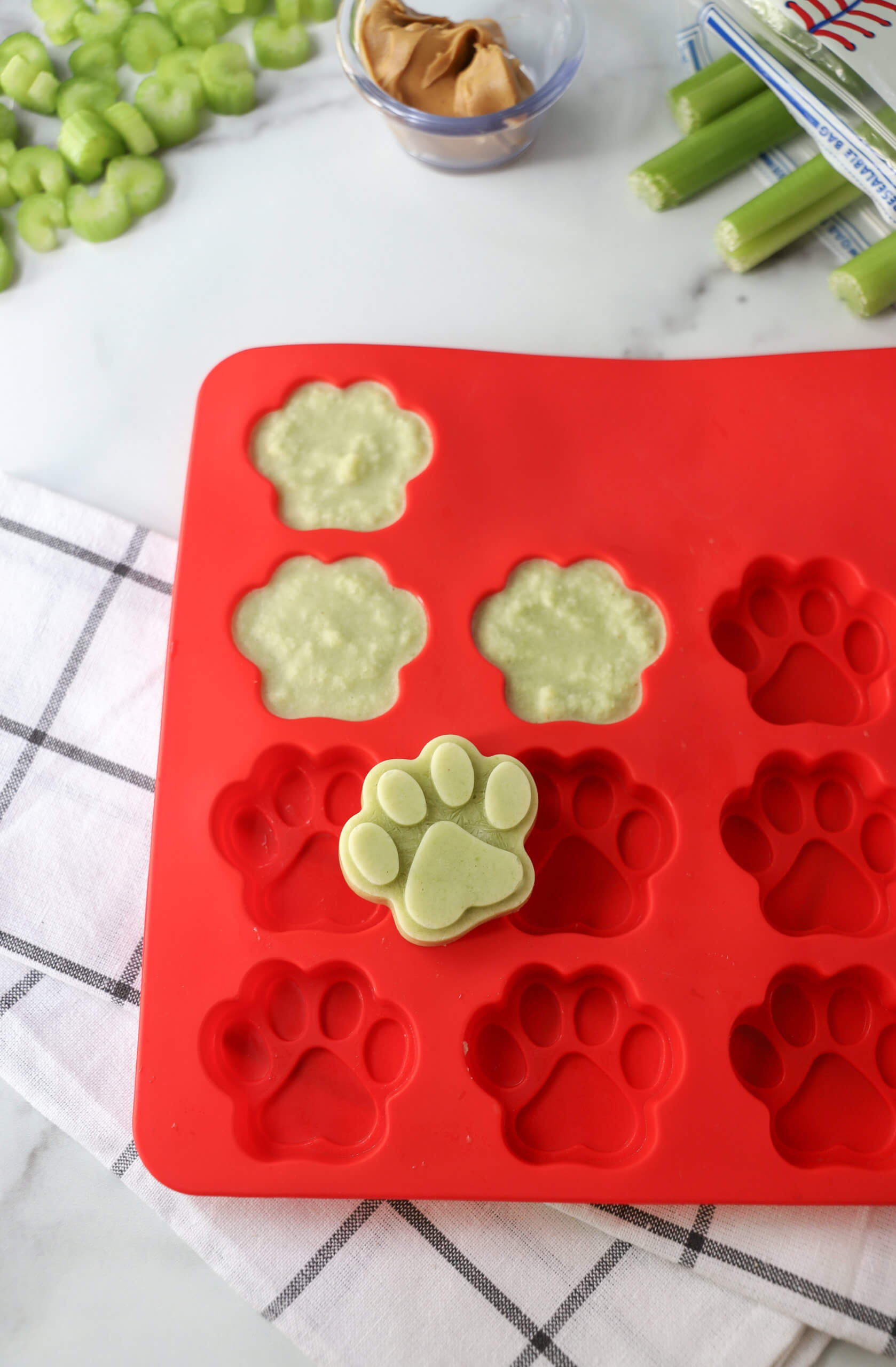 Most dog owners know their canines crave peanut butter! Many kinds of peanut butter are safe in limited quantities, but some contain a sweetener called xylitol. While it can have benefits for humans, it is extremely toxic for dogs – even more so than chocolate! Learn more about xylitol at Preventative Vet and always remember to check the ingredients list of any peanut butter you purchase.
Did your four-legged friends love these celery dog treats? Snap a cute photo of your dog enjoying some Dandy® celery goodness and tag us on Instagram @theproducemoms.