Create a Fresh Fruit Waffle Bar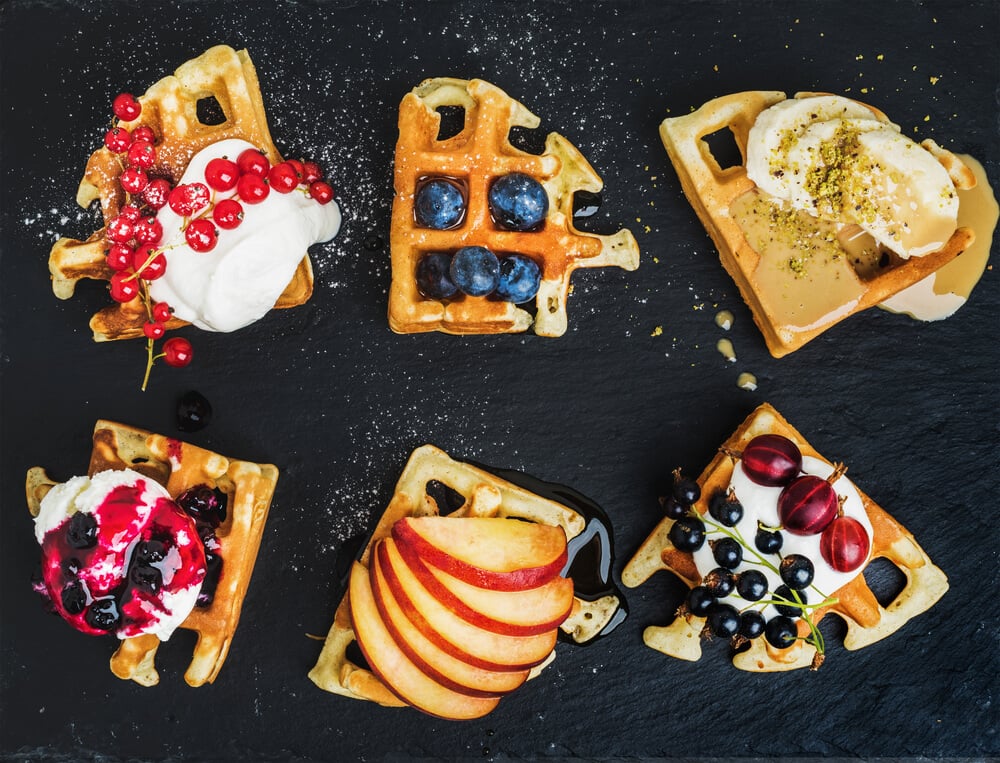 Hosting a party? Create a Fresh Fruit Waffle Bar for your guests!
Let's be honest, hosting a party can be stressful. Cleaning and cooking for your own family is difficult enough most days, but cleaning and cooking for a dozen or so guests can be a downright pain. We can't help you with the cleaning, but we do have a great, easy way to feed your guests. We're talking about a Fresh Fruit Waffle Bar! The best part about a waffle bar is how impressive it looks without a lot of effort.
A Fresh Fruit Waffle Bar is great for bridal showers, baby showers, or holiday brunches. Add some sprinkles and suddenly it's festive enough for a child's birthday party. Our new motto: Any party before 2pm calls for a waffle bar!
The majority of your waffle bar can be assembled ahead of time. No need to get up hours before your event to cook, and there's no stressing over timing your meal to be finished at just the right moment. Waffles aren't an everyday breakfast food, so they'll feel luxurious and indulgent to your guests. But because your waffle bar will be full of fresh fruit, it can be an indulgence your guests feel good about. It also gives guests the opportunity to tailor the meal to their particular dietary needs so you don't need to worry about finding a single dish that accommodates everyone.
How To Build A Fresh Fruit Waffle Bar
Decide on your waffle bar menu. We recommend at least 2 kinds of waffles, one of which should be a classic, plain waffle. For the second, consider a whole wheat option or chocolate waffles. Create your waffle topping list starting with the fresh fruit you'll serve (we recommend at least 3 fruit options). Then choose 2-3 crunchy items and 3-4 sauces/syrups.
The day before your party, prep your fruit by washing and slicing it. Chop up nuts. Store toppings in individual bowls that you can serve from at the party.
The morning of your party, build your waffle bar. Place items in this order: waffles, fruit, crunchy items, sauces/syrups/whipped toppings.
If you're feeling particularly creative, you can make a sign with a waffle toppings list and place it on the table (a chalkboard sign works great!). While this adds to the festive atmosphere, it's definitely not necessary!
PRO TIP: If you make your waffles before guests arrive, place them in a warm oven to keep them crispy and warm.
Waffle Bar Menu
What waffle toppings should you include on your fresh fruit waffle bar? That's completely up to you! But here are a few suggestions:
Fresh Fruits
Blueberries
Raspberries
Blackberries
Strawberries
Banana Slices
Peach Slices
Apple Slices
Pear Slices
Kiwi Slice or Kiwi Berries
Crunchy Items
Chopped Walnuts
Chopped Pecans
Cocao Nibs
Granola
Dark Chocolate Chips
Sprinkles
Syrups, Sauces, and Toppers
Chocolate Sauce
Honey
Maple Syrup
Whipped Cream
Peanut (or other nut) Butter
Creme Fraiche
Assortment of Jams
Marshmallows
Confectioners Sugar

We hope you and your guests love the Fresh Fruit Waffle Bar as much as we do! Forget Pinterest-perfect, here's to easy party solutions that help you stress less and have more fun at your next gathering!
What type of party/event do you think this idea would work well for? Which waffle toppings would you put on your waffle bar menu? Join the conversation here or on Facebook.