Frozen Not Forgotten: 3 Plant-Based Soups To Make In Summer and Enjoy In Fall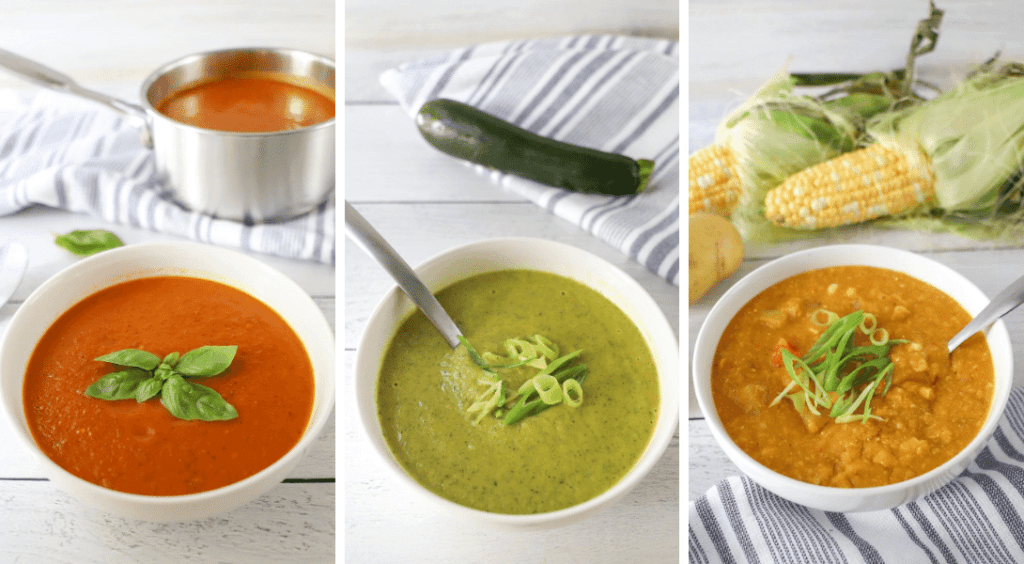 The Produce Moms founder, Lori, is an ambassador for the Produce for Better Health (PBH) Foundation. Together we can eat more fruits and veggies! #HaveAPlant. This month, we're talking about the proper way to freeze fruits and vegetables so you can enjoy them later. 
We're looking forward to autumn this year. Cool evenings, beautiful foliage, and a much-needed break from the heat will all be very welcome! But as excited as we are for fall, we know we'll miss the flavors of summer. That's why we've decided to put our freezers to use and store away a gift for our future selves! We're cooking up three plant-based soups to eat this fall that are Frozen Not Forgotten. 
Is Frozen Food Safe?
When you hear the term "frozen food," you might think of bags of frozen veggies or berries — but you might just as easily think of frozen pizzas, burritos, and other meals that are easy to prepare but whose nutritional value is suspect. Fortunately, frozen produce has all the health benefits of fresh fruits and vegetables. 
As nutrition communications consultant Neva Cochran points out, frozen food manufacturers have thorough methods of processing and packaging produce to prevent foodborne illness. Because freezing doesn't actually kill viruses or bacteria that may be clinging to your future food, produce needs to be cleaned diligently before being flash frozen. 
Freezing is a great way to ensure you always have fruits and vegetables at the ready. You can freeze fresh produce, but it won't last forever: according to HUM Nutrition's Carrie Gabriel, most produce lasts about eight to 12 months in the freezer. Citrus, however, is only good for about three months. And remember, you'll still need to wash your produce! 
So go ahead: freeze it now and #haveaplant later! 
Frozen Not Forgotten
Freezing your fresh fruits and vegetables can be useful, but freezing whole meals is even better. They make a delicious dinner and are especially handy in a pinch! What's more, by preparing and freezing a meal now, you can enjoy your fresh produce long after it's out of season. 
These plant-based soups are delicious fresh, but will last well in your freezer too. Their summer flavors will be a welcomed treat in a few months time, so let them stay nestled in the corner of your freezer until the perfect autumn day rolls around. 
Vegan Potato and Corn Chowder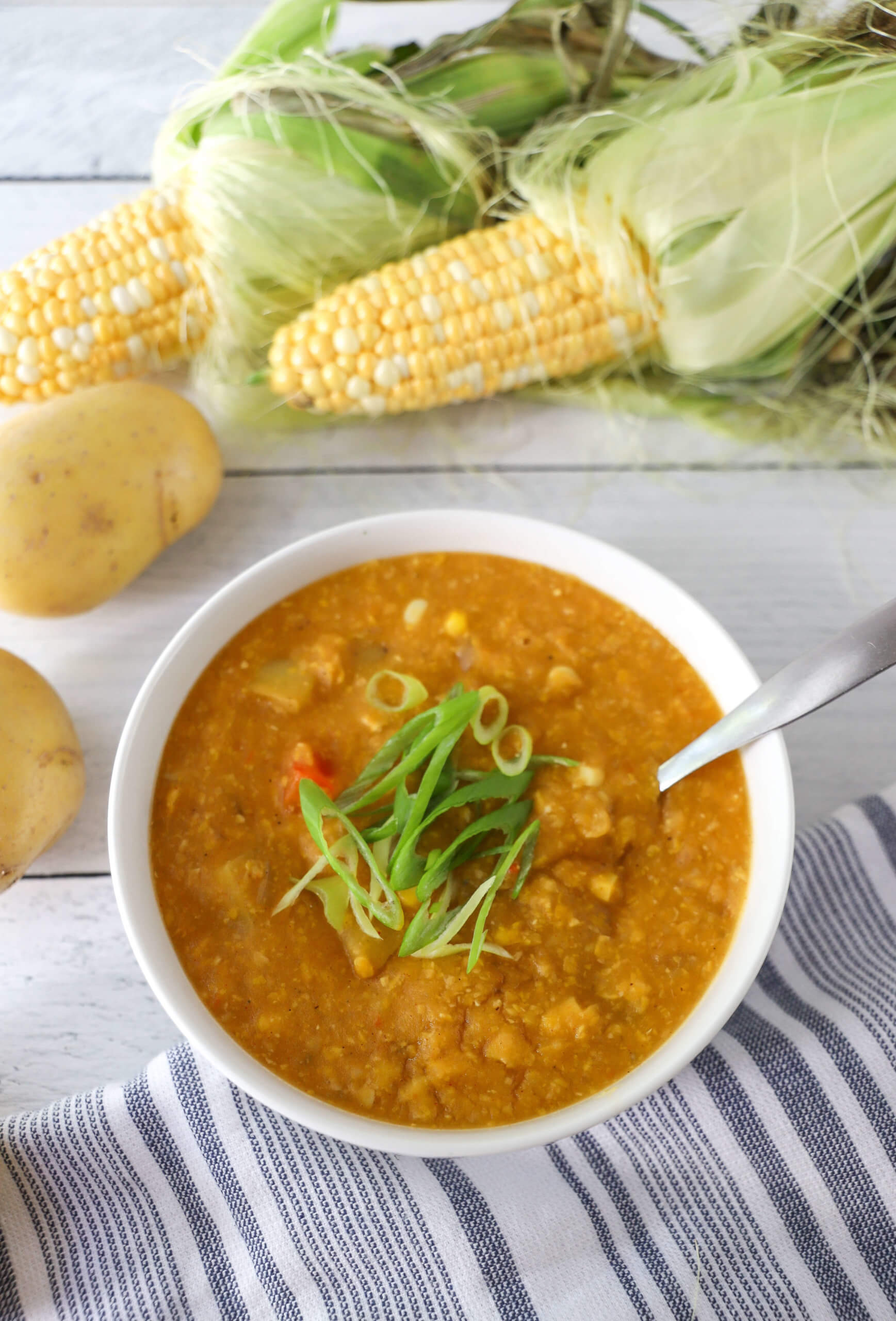 You'll never believe that this creamy chowder is 100% dairy-free! Blended Yukon gold potatoes make a creamy base without milk or heavy cream. Fresh sweet corn will remind you of summer days long into autumn. Smoked paprika provides a richness of flavor and ties it all together. 
Ingredients
1

tbsp

olive oil

1

yellow onion

chopped

2

cloves

garlic

minced

1/2

red bell pepper

chopped

4

cups

vegetable broth

1

lb

Yukon Gold potatoes

cut into 1-inch cubes

1

rib

celery

chopped

3

ears

corn

shucked and kernels removed from the ears

1

tsp

smoked paprika

2-3

tsp

sea salt

1

pinch

black pepper

scallions for garnish

chopped
Instructions
Heat olive oil in a large pot over medium heat. Saute the garlic, onion, and bell pepper until tender.

Add in vegetable broth, potatoes, celery, corn, and salt. Bring to a boil then cover and reduce heat. Simmer until the potatoes are fork-tender, approximately 30 minutes.

Use a blender or immersion blender to blend the soup. Blend until desired consistency is reached. For a chunkier chowder, blend about half of the soup so some pieces of potato and corn remain whole. Season with black pepper and garnish with scallions.
Roasted Tomato Soup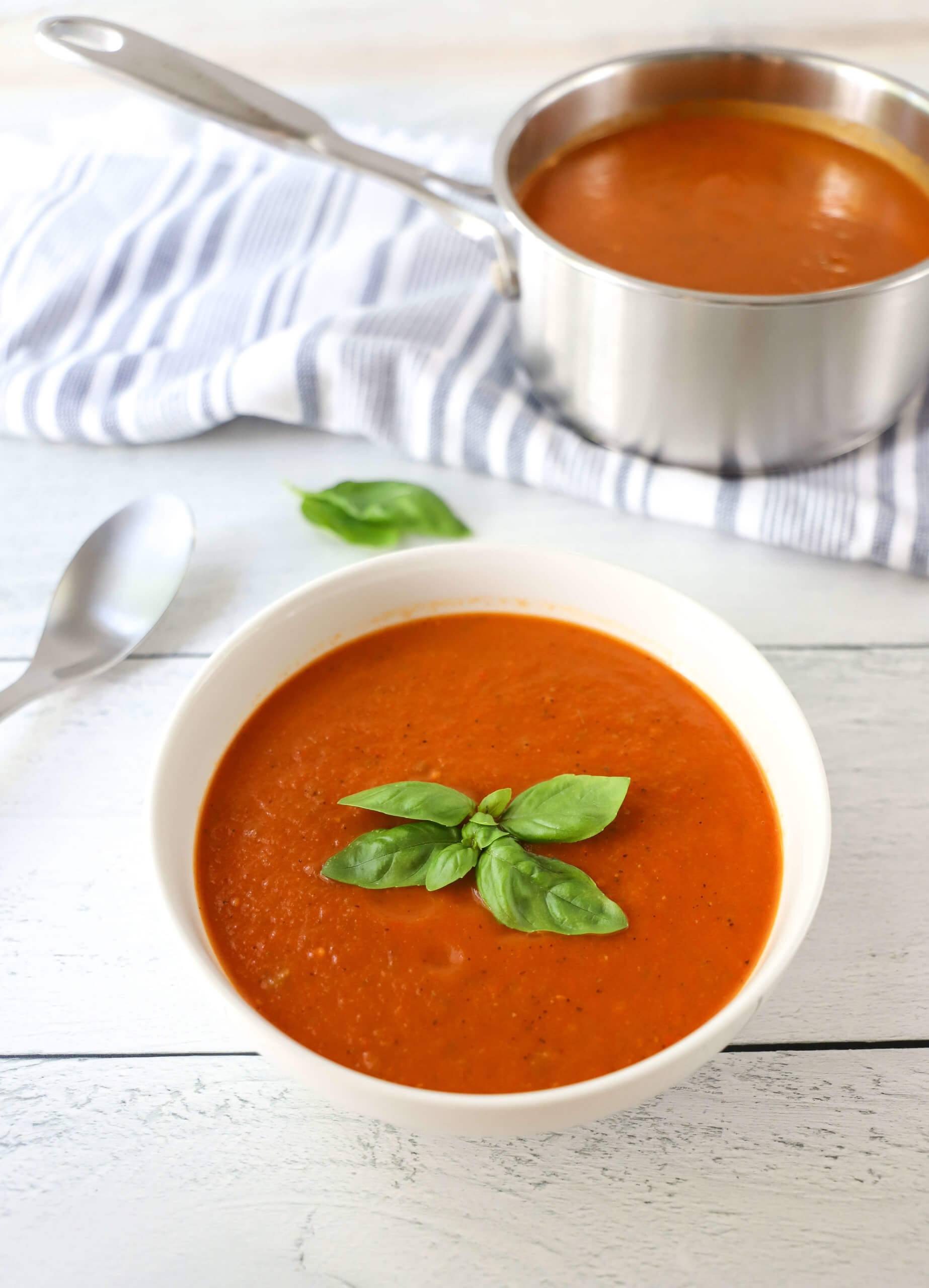 Turn your surplus of tomatoes into a rich soup you can enjoy on a cold autumn afternoon. Enjoy a bowl with a grilled cheese sandwich or a thick slice of homemade bread. Roasting the tomatoes beforehand is what makes this tomato soup so special. 
Unlike some tomato soups that are thin and runny, this one is thick and creamy. The secret? A blended Russet potato!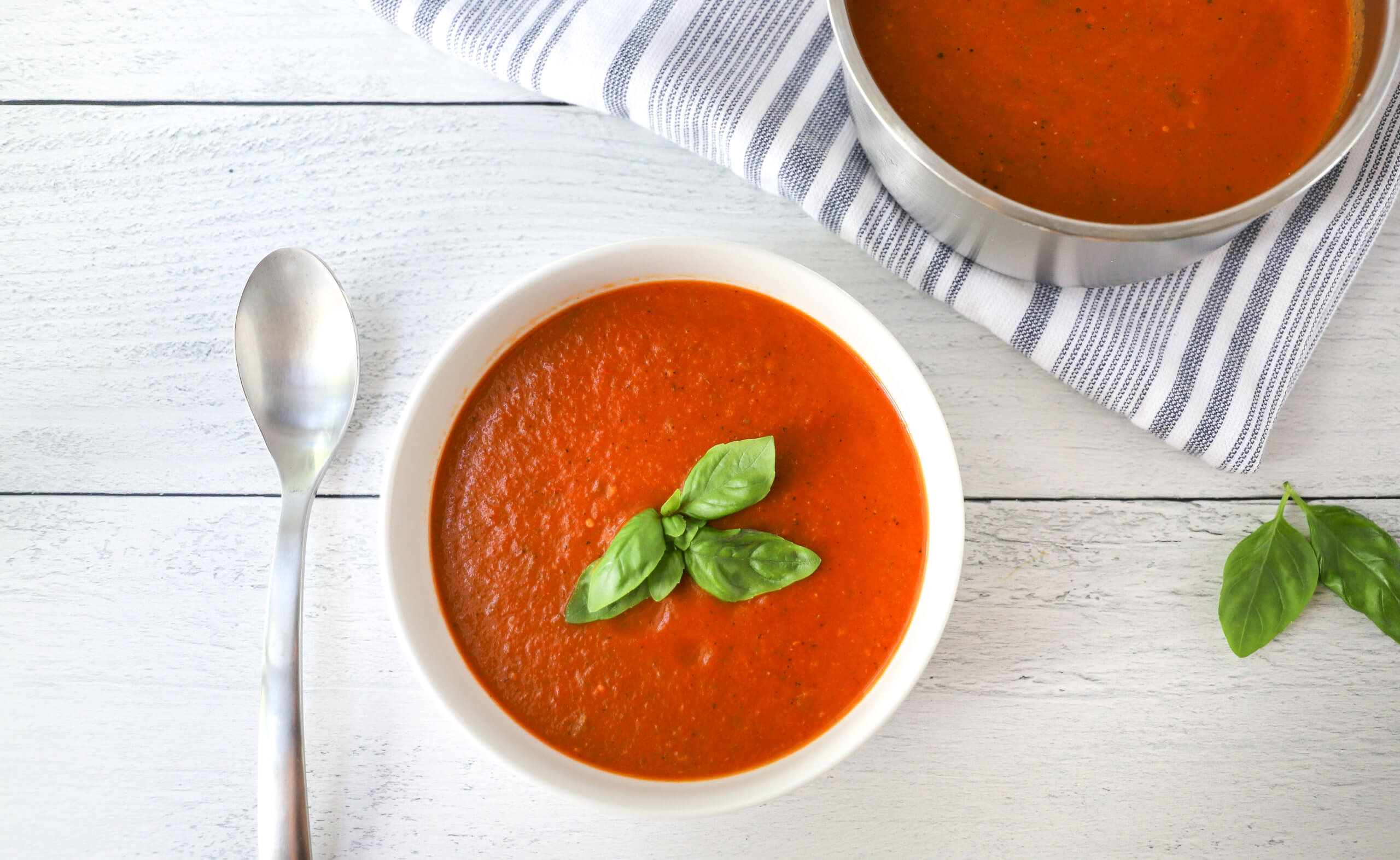 Ingredients
3

lbs

Tomatoes

any variety

5

cloves

garlic

peeled and smashed

1

red onion

diced

3

tbsp

olive oil

salt and pepper

to taste

1

red bell pepper

deseeded and diced

1

russet potato

peeled and diced

3

tbsp

tomato paste

1

tbsp

balsamic vinegar

4

cups

vegetable broth

fresh basil for garnish
Instructions
Preheat oven to 425 degrees. Place tomatoes, red onion, and bell pepper, and garlic on a baking sheet. Drizzle with 2 tablespoons of olive oil, 1 tablespoon of balsamic vinegar and season with salt and pepper. Roast for 25 minutes or until tomatoes are soft and charred on the tops.

While the tomatoes are roasting, heat 1 tablespoon of olive oil in a medium-sized saucepan over medium-high heat. Add the diced potato. Cook until the potato begins to crisp, about 8 minutes, stirring occasionally. Stir in the tomato paste. Pour in the vegetable broth. Cover and bring to a boil.

Reduce the heat to low and simmer until the potato is fork-tender, about 15 minutes. Add the roasted tomatoes, red onion, bell pepper, and garlic to the broth. Blend the soup using a blender or immersion blender until smooth.

Garnish with fresh basil and serve warm.
Creamy Zucchini Soup
Reminisce about long summer days over a bowl of creamy zucchini soup. The vibrant color will have your mouth watering even before the first spoonful. This simple soup whips up in no time and makes it easy to keep summer flavors on the menu well into the fall.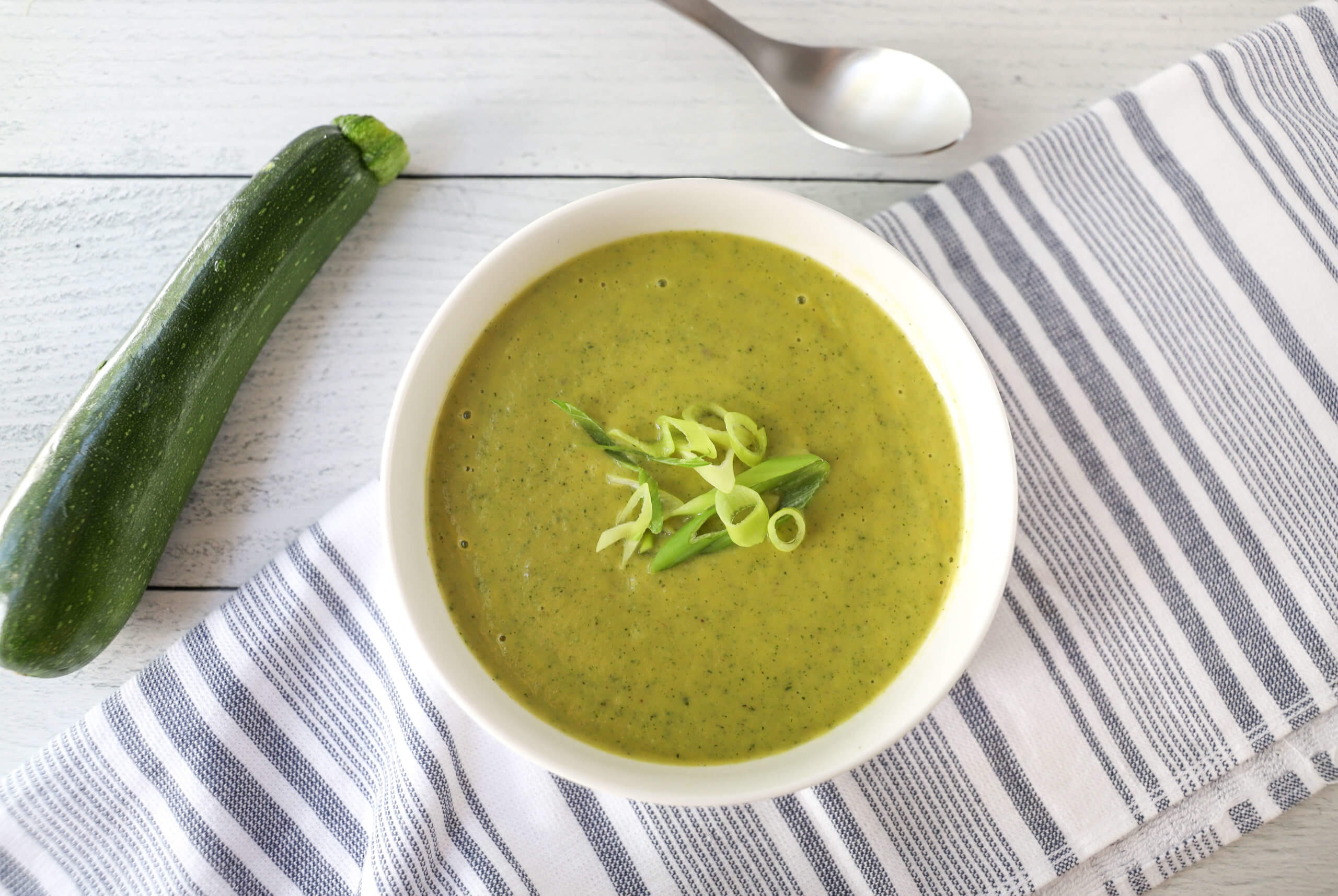 Ingredients
2

tbsp

extra virgin olive oil

1

small

onion

finely chopped

2

scallions

chopped

2

cloves

garlic

thinly sliced

salt and pepper

to taste

3

medium

zucchini

halved lengthwise and sliced 1/4 inch thick

1 1/2

cups

vegetable broth

1

tbsp

Italian seasoning
Instructions
In a large saucepan, heat the olive oil over medium heat. Add the onion, scallions, and garlic and season with salt and pepper. Stir frequently and cook until the onions are translucent, about 8 minutes.

Add the zucchini. Stir frequently and cook until soft, about 10 minutes.

Add the vegetable broth and Italian seasoning and bring to a simmer. Cook 10 minutes.

Puree the soup in a blender or with an immersion blender. Blend until smooth. Return the soup to a saucepan and season with salt and pepper. Garnish with additional scallions.
How To Freeze Soup
Before you freeze any soup, let it cool completely. Once it is cool, transfer the soup into a freezer-safe zip-top bag. The easiest way to do this is to place the bag in a bowl and roll the top of the bag over the edges of the bowl. Then, ladle the soup into the bag. 
Once your soup is in the bag, remove any excess air and zip it shut.  Place the bag in the freezer. Do not stack bags until they are frozen solid. 
Thaw the soup out in the refrigerator overnight before reheating. Reheat in a medium-sized pot over low-medium heat, stirring occasionally. 
Soups can be stored in the freezer for up to three months. 
For more freezer-safe ideas, visit fruitandveggies.org.
What's are some of your favorite freezer-friendly soups? Share in the comments below.