Episode 93: Renée Vassilos on Regenerative Agriculture
Apr 08, 2020, Updated May 21, 2021
The Nature of Conservancy.
Founded in 1951, the Nature Conservancy is one of the oldest conservation focused nonprofits in the world. They are making huge strides in the realm of regenerative agriculture.
When discussing land conservation, you may typically first think of landscapes and key ecosystems. However, Renée Vassilos, the Agriculture Innovation Director for the Nature Conservancy, shared that in the past twenty years they have recognized the importance to care for the broader environment, namely land that is used for agriculture.
"There are four key priorities for the nature conservancy, protecting land and water, tackling climate change, building healthy cities, and providing food and water sustainably"  – Renée Vassilos (3:40-4:00) 
What is Regenerative Agriculture?
The top priority of regenerative agriculture is building healthy soil. Renée and her team at the Nature Conservancy want to help increase farmer profitability and production, while minimizing the extracting nature that can happen through consistent farming. They work their hardest for the farmers, the consumers, and ultimately, the environment.
This is done through cover crops, increasing no-till production, increasing crop rotation, and optimizing input.
The Nature Conservancy has four key priorities.
Protecting Land and Water
Tackling Climate Change
Building Healthy Cities
Providing Food and Water Sustainability
Investing Where it Counts
While The Nature Conservancy has been working it's hardest to make a huge impact in our world, they realized that, despite their best efforts, they weren't advancing far enough or fast enough. So they began looking for the solutions to remove the roadblocks standing in the way of the four key priorities in young business and causes who are supporting the need for the advancement of regenerative agriculture.
This is a science-backed objective, an opportunity for early stage dollars to help direct innovation that will be profitable for the companies while influencing farmer profitability and impacting our environment.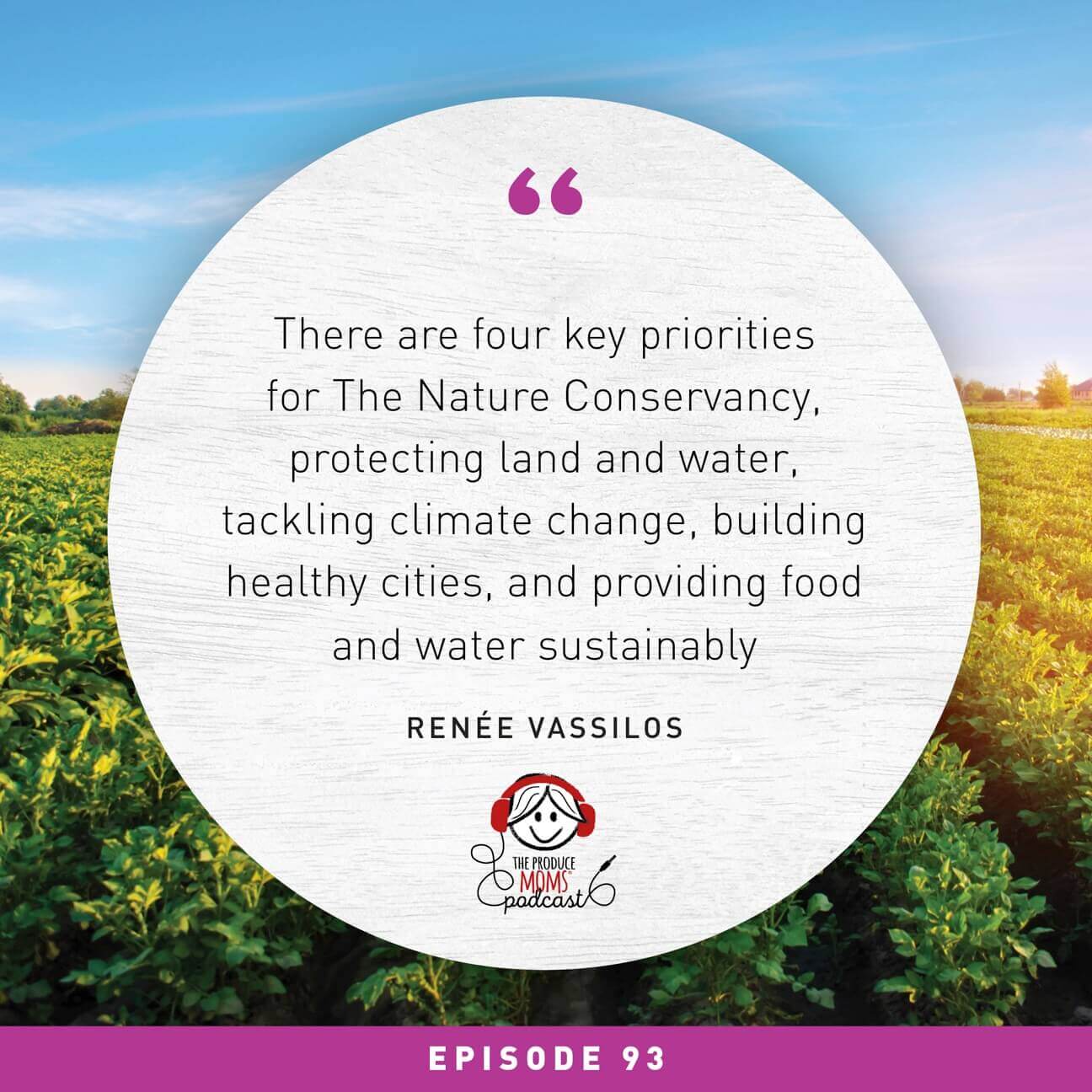 How Can YOU Help?
Industry and Supply Chain
Members of the Industry and Supply Chain, now is the time to start asking questions about how your products are being produced.
The industry is evolving, and we are the brink of adopting more standards for accountability! It is important to speak up. The quicker things shift and update, measures of improvement will begin to be put in place.  Don't hesitate to get involved!
Consumers
You are such an important component to insight change in the produce industry. The more you continue to demand fresh food, the more production in the US will shift towards direct-to-consumer and minimally processed foods.
"We often hear a lot of negative comments around climate change… something very exciting is that we actually know a solution… and that is building healthy soils!" – Renée Vassilos (20:05-20:20)
Be part of the solution! One fantastic step you could take is to plant a home garden. Planting some produce of your own promotes sustainability, biodiversity, nurtures the soil, and pulls carbon from the atmosphere – doing your part to help counteract climate change!
Check out this article on The Produce Moms blog to learn more about regenerative farming at home.
The Nature Conservancy is helping change our world for good, impacting produce from the farm to your table, and conserving our soil to help create a better earth for you, your children, and for generations to come!
How to get involved
Join The Produce Moms Group on Facebook and continue the discussion every week!
Reach out to us – we'd love to hear more about where you are in life and business! Find out more here.
Learn more about the incredible work The Nature Conservancy is doing here.
Learn more about the impact healthy soil has on the world's carbon levels here.
If you liked this episode, be sure to subscribe and leave a quick review on iTunes. It would mean the world to hear your feedback and we'd love for you to help us spread the word!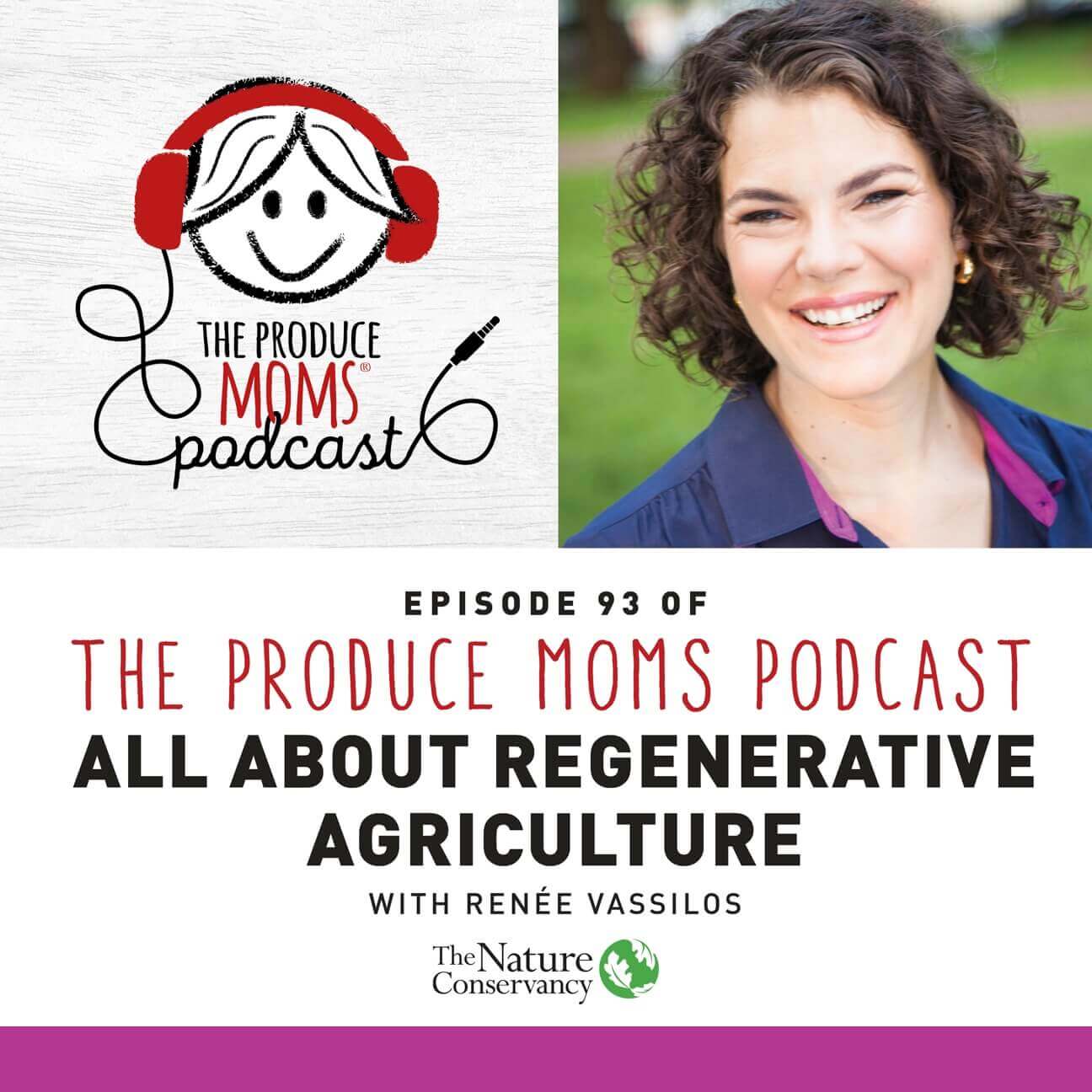 [bctt tweet="Did you know that a home garden can help reduce climate change? Listen to this week's episode of #TheProduceMoms #Podcast to learn more! " username="theproducemom"]
Previous episodes you may enjoy