Episode 40: Fighting the Obesity Epidemic with Dr. Rachael Bilello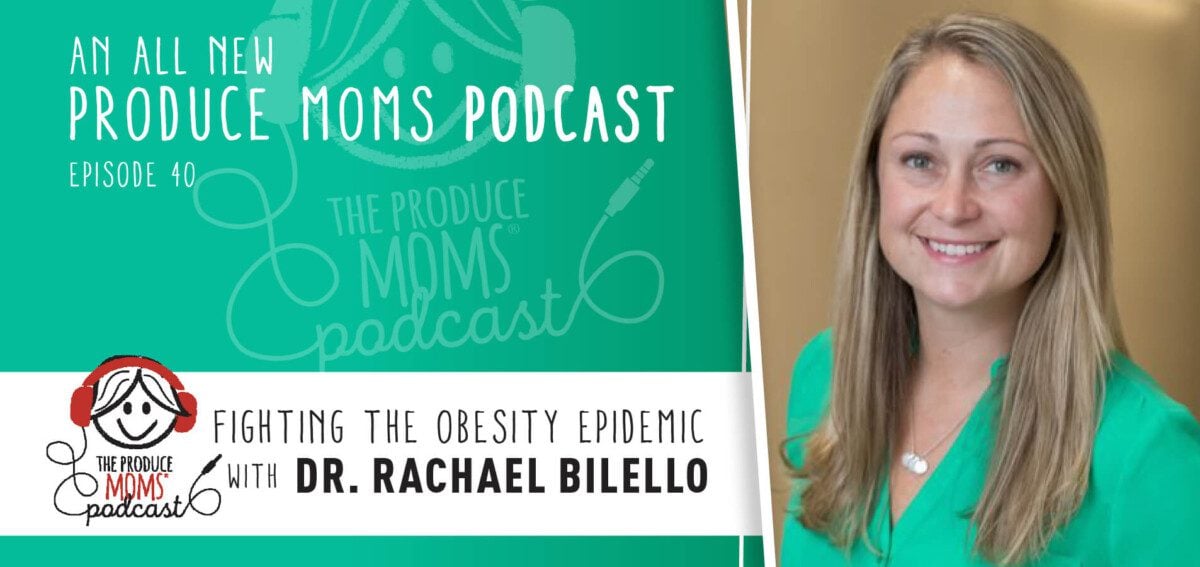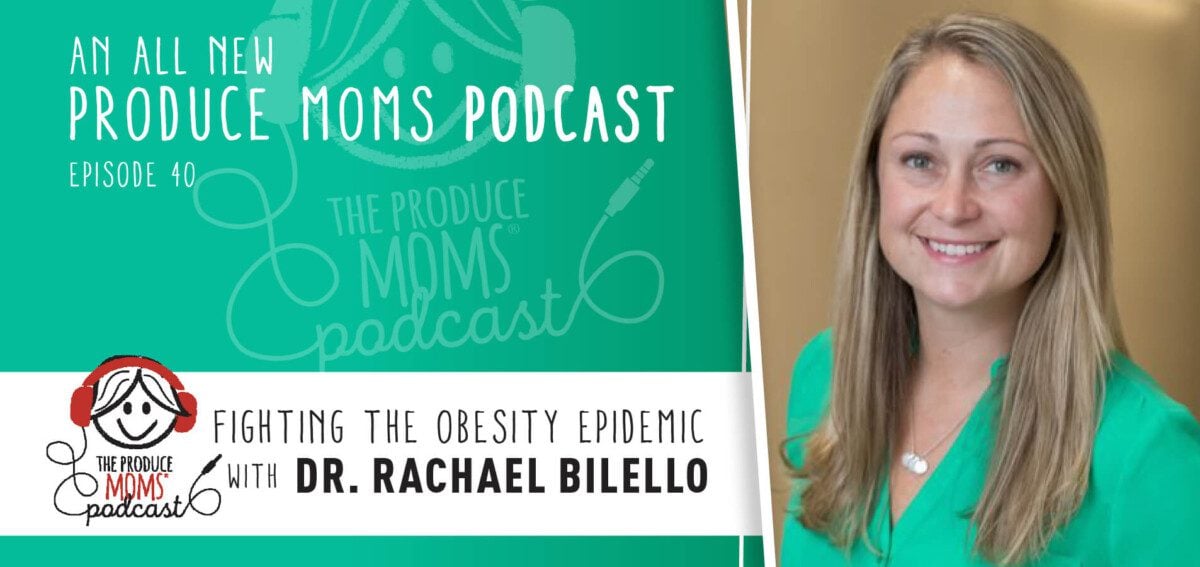 The Produce Moms Podcast
Episode 40: Fighting the Obesity Epidemic with Dr. Rachael Bilello
"The rich vitamins, minerals, and antioxidants in fresh fruits and veggies are the building blocks of a healthy childhood diet." – Dr. Rachael Bilello (5:48 – 6:01)


Childhood obesity is a growing issue in the United States.
According to the Center for Disease Control (CDC), almost 90% of children in America are getting less than the recommended five servings of fresh fruits and vegetables per day. Moreover, around half of all food consumed by children is processed, unhealthy snack food.
Fresh fruits and vegetables are the foundations of a healthy diet at any age, but they are an integral component for children. They provide multiple vitamins and minerals that are essential for their development and are a good source of fiber which promotes better gastrointestinal health. Consuming an adequate amount of fruits and veggies fights childhood obesity, and it puts children on the path to a happy and healthy life.

"Data shows that in America, the most food-secure nation in the world, close to 90% of all children are not getting the recommended amount of fruits and vegetables." – Lori Taylor (7:38 – 7:58)
The higher consumption of processed foods, coupled with the lack of fruits and veggies, has led to a childhood obesity crisis in America. It is estimated that one in five kids are now obese in this country. That's around thirteen million children between the ages of 2-19. It is a significant problem, and parents, pediatricians, and school nutritionists across the country are looking for solutions to counter these disturbing trends. While the task may seem daunting, adopting relatively simple habits at home can go a long way in improving the health of our children.
How to promote a healthy lifestyle for your children.
When promoting a healthy lifestyle with children, it's important to keep in mind that we are holistic beings. This encapsulates much more than our diet. Adequate fruits and vegetables are a fundamental component, but a healthy lifestyle also incorporates habits like exercise and quality rest.
Your child is never too young to start incorporating healthy habits that will stick with them throughout the rest of their life. There are simple things you can do to help your child make better choices.

Infants. Breastfeeding has been associated with a lower risk of obesity in childhood and adolescence. The positive correlation has even been shown, at times, to reach well into adulthood. It has also been known to help with immune function and improve gastrointestinal health.
Toddlers. At the 4-6 months stage, as you introduce solids, include a wide variety of fruits and vegetables in your child's diet. This can be a difficult stage, with food preferences, and sensitivity to textures. If they are reluctant, find creative ways to help them get their recommended amount. For example, try parboiling carrots if for a toddler who doesn't want to eat them raw.

School-Aged Children. Help children make healthy choices at school by looking through the menu beforehand and pre-selecting the fruits and veggies they could order for lunch. Helping your child understand healthy choices beforehand can help them be more likely to order a turkey salad or an orange instead of those greasy nachos. It is also helpful to make sure your children eat breakfast. Those rushed mornings can make it feel impossible to make breakfast and get to school and work on time. However, even something small, like a fruit or a whole grain toast with peanut butter, can prevent children from being overly hungry at lunchtime and overeating, or making unhealthy food choices.
At home, family meals are a great time to connect with your kids and to set an example of healthy food choices.  Plan to include plenty of fresh vegetables, lean proteins, and whole grains at the dinner table. Your children will follow your lead, and if you aren't eating your veggies, they aren't going to either.
"Your kids are not going to eat vegetables if you're not eating them. Set a positive example. Kids watch us, and they do what we do." – Dr. Rachael Bilello (13:02 – 13:12)
Health and nutrition is a lifelong journey. It's never too late to start promoting a healthy lifestyle! Start with some small choices this week to incorporate healthy choices in your family. Those little things are sure to grow into a big change in nutrition, lifestyle, and health.  
How to get involved:
The Produce Moms Podcast is live on iTunes, Google Play, Stitcher and Spotify.  If you like what you are hearing on the podcast, reviews, subscriptions & ratings will help us keep this going!  It would mean the world to hear your feedback, and we'd love for you to help us spread the word!
[bctt tweet="In Episode 40 of #TheProduceMoms #Podcast, we feature @RachaelBilello and discuss how fresh produce can help fight the obesity epidemic facing American children " username="theproducemom"]
Other Episodes You May Like
Episode 39: What Makes Idaho Potatoes So Special?
Episode 38: Jason's Deli – Changing the Way the Food Industry Feeds Your Family
Episode 37: Food Safety – Truth, Evidence and Facts
Episode 36: Responsible Sourcing