Episode 39: What's So Special About Potatoes Grown In Idaho?
The Produce Moms Podcast
Episode 39: What's So Special About Potatoes Grown In Idaho?
"Even as a little girl, I connected Idaho to potatoes. The branding has become synonymous with the crop and it's quite impressive." – Lori Taylor (3:04-3:10) 
Not all potatoes are created equal.
Potatoes are one of the most widely used food sources in the world, and they have an abundance of benefits that make them a staple in many different diets. They are packed with nutrients, they are affordable, and nearly everyone loves them, even children. Potatoes provide complex carbohydrates, potassium, fiber, and various other vitamins and minerals, making them an ideal food for athletes.
However, not all potatoes are created equal. Idaho potatoes are of the highest quality you can find in the United States. There are over twenty varieties grown in Idaho, and they are even certified as heart-healthy by the American Heart Association (AHA). A combination of characteristics sets Idaho potatoes apart from the rest. From the ideal climate and growing conditions, and the creative marketing and community outreach by the Idaho Potato Commission (IPC), Idaho potatoes are simply the best.
"If you're looking for a food that's high in potassium, good for hearts, and good for families, the Idaho potato is perfect."– Frank Muir (7:33-7:38)
What makes Idaho Potatoes so great?
Idaho has near-perfect conditions for growing potatoes. The high desert climate provides warm days and cool nights during the growing season, resulting in delicious potatoes with a fluffy texture. The Snake River supplies a steady stream of clean, clear water along the river valley, and the fertile volcanic soil is rich with trace minerals that are ideal for growing potatoes. Although the potatoes are harvested once a year in the Fall, Idaho has a sophisticated storage system with controlled humidity and temperature, making sure fresh potatoes are available year-round.
Besides growing great potatoes, the IPC also engages in creative marketing and community outreach programs. Every year, they tour the country with the Idaho Potato Truck to raise awareness for various charities. They have supported Meals on Wheels and Go Red for Women, along with numerous other local causes across the country. The IPC also partners with Racing for Orphans with Down Syndrome (RODS), an event that raises funds to find homes for orphaned children with Down Syndrome from around the world.
"Sometimes I've referred to the Idaho potato as the world's largest multivitamin because it's loaded with micronutrients and potassium." – Frank Muir (7:33-7:38)
Potatoes suffered through a period of decreased consumption during the low-carb phase, but recent consumer trends data has shown that they are making a comeback. That's excellent news because potatoes provide you with some of the best nutritional value for the price you pay. Remember to look for the "Grown In Idaho" seal the next time you're at the store to make sure you're getting the highest quality potatoes from Idaho.
How to get involved:
The Produce Moms Podcast is live on iTunes, Google Play, Stitcher and Spotify.  If you like what you are hearing on the podcast, reviews, subscriptions & ratings will help us keep this going!  It would mean the world to hear your feedback, and we'd love for you to help us spread the word!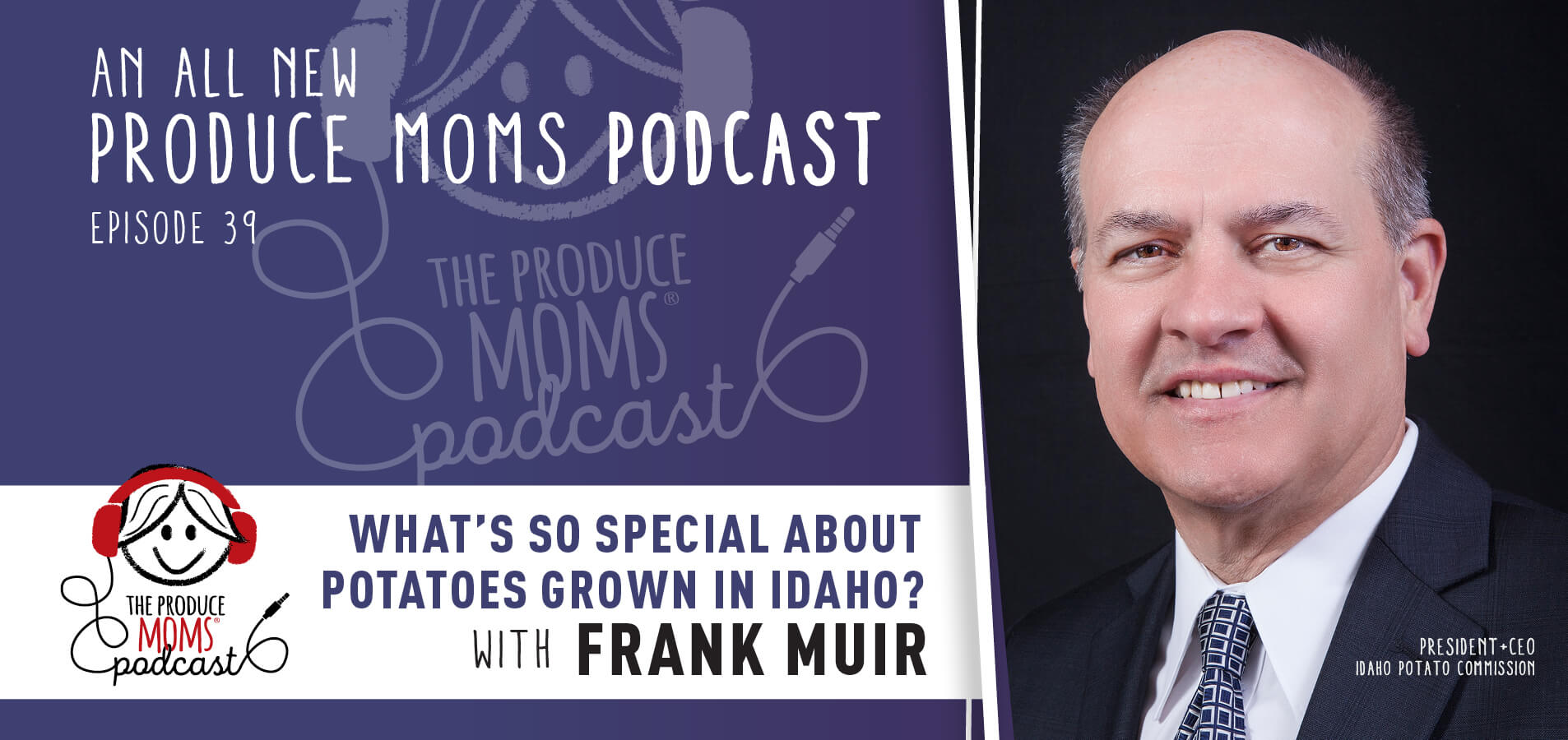 [bctt tweet="Learn why not all potoatoes are created equal in episode 39 of #TheProduceMoms #Podcast featuring @idahopotato President & CEO, Frank Muir." username="theproducemom"]
Other Episodes You May Like
Episode 38: Jason's Deli – Changing the Way the Food Industry Feeds Your Family
Episode 37: Food Safety – Truth, Evidence and Facts
Episode 36: Responsible Sourcing
Episode 35: Carrying On a Garlic Legacy