Episode 233: Tony Freytag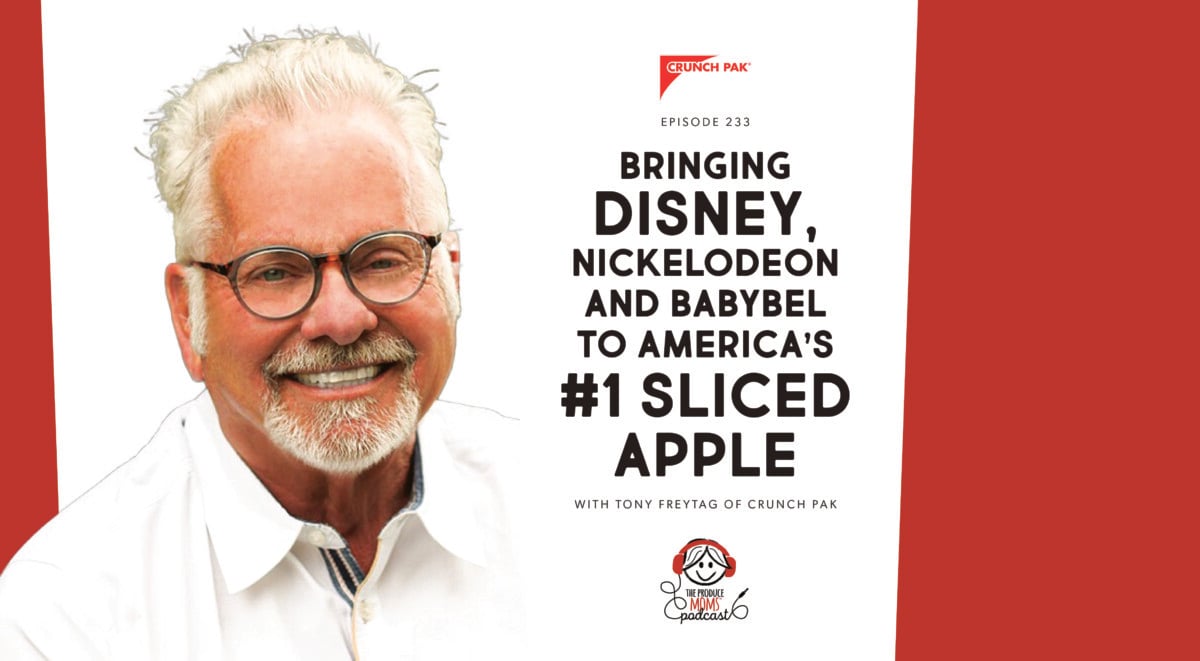 ;
The name says it all. Crunch Pak, America's #1 sliced apple and brand partner with The Produce Moms, has been serving parents and kids healthy, crunchy sliced apples since 2000. Need a kid-friendly, healthy snack in a pinch? Crunch Pak offers everything from sliced apples, to carrots and celery sticks, to snacker trays that feature apples and healthy snacks like pretzels, cheese, almonds and more!
Snackable, delectable, healthy, crisp and nutritious, Crunch Pak is loved by parents everywhere. Crunch Pak has recently partnered with Disney for their Foodles trays, featuring Toy Story and Mickey Mouse characters on their front package, along with Nickelodeon for Crunch Paks that feature Paw Patrol and Spongebob characters. Even though Crunch Pak doesn't have the consumer research and paid media advertising budget like competitor brand FritoLay, they're having great success with the halo effect from these partnerships.
Plus, the Babybel brand that brings you our favorite, snackable cheese reached out to Lori personally to get connected with Crunch Pak for their partnership. As Tony says, "what goes better with apples then cheese?" We couldn't agree more! And what a great testament to how collaborative the produce industry truly is. As much as companies are competitive (like everywhere else), no matter the difference of company age, size or product you have with another brand, everyone is open to learning from or cross referencing each other. Everyone feeds off one another, which is why we're seeing such powerful partnerships like with Crunch Pak in hopes that the snacking industry keeps transforming into one that's focused on health.
"The goal of all of us is not just the path to purchase, it's the path to consumption." Lori Taylor (11:20-11:30)
Like 75% of the rest of the apples in the United States, Crunch Pak's crisp, crunchy apples are grown in Cashmere, Washington, an area known for growing apples thanks to the dry climate and reliance on clean water from the Columbia River that irrigates the trees. This area also grows most of the U.S.'s organic apples because the climates in New York and Michigan for example are too humid for easy organic apple growth.
Part of the reason we're able to have such fresh, mouth watering apples all year long is because the apples that are picked are stored in a controlled atmosphere storage unit, slowing down the ripening process. Most of the time, the apples we are choosing from the grocery store were actually picked last fall.
Did you know the snacking industry generates nearly three billion dollars per year in the United States?
Before becoming the amazing variety of snack packs Crunch Pak now offers today, the company started out selling bags that weighed a few pounds, and then a resealable bag that was two ounces. A Crunch Pak partner saw Tony at a tradeshow and commented, "I didn't know we were in the snacking business!" Tony's reply was, "we've always been in the snacking business", because technically, parents were already taking the apples in a resealable bag home and cutting them up to put in baggies for lunches. When Crunch Pak moved into snacking trays, this allowed them to include other healthy ingredients, like pretzels, cheese, and yogurt covered raisins. Now, Tony says, one of their biggest challenges is keeping up with all the different ingredients that need to be purchased.
One of the biggest driving factors behind what Crunch Pak does is helping kids develop healthy eating habits while they're young. It's incredible to see how retailers have adopted snacking as an important category so parents can pick up something for their kids they can trust is nutritionally balanced and healthy. Whether it's a sliced apple paired with cheese, carrots and celery sticks, or a cup of mixed, diced, tropical fruit, there are so many ways for us to all get incredible nutrition from produce each day.
What are some of Tony's favorite Crunch Pak pairings? He prefers peanut butter over caramel, loves the beef jerky sticks, is a huge cheese fan, and when it comes to wine and cheese with apples, he picks both! Crunch Pak started out in Costco, Whole Foods, and select Kroger, Safeway and Publix stores, and now you can find them nationwide at your favorite grocery retailer.
Learn more about Crunch Pak by visiting their website at www.crunchpak.com and look out for their variety of sliced apples and snack packs with The Produce Moms' logo on them!
How to get involved
Join The Produce Moms Group on Facebook and continue the discussion every week!
Reach out to us – we'd love to hear more about where you are in life and business! Find out more here.
If you liked this episode, be sure to subscribe and leave a quick review on iTunes. It would mean the world to hear your feedback and we'd love for you to help us spread the word!
Previous episodes you may enjoy