Episode 205: Donna Lynn Browne, Aribel Aguirre-Beck, and CarrieAnn Arias
There's no better way to kick off Women's History Month and The Produce Mom's three-part miniseries than with three phenomenal, empowering, inspirational women from our incredible brand partner Naturipe Farms. Donna Lynn Browne, Senior Director Of Food Safety And Social Responsibilities, Aribel Aguirre-Beck, Chief Financial Officer And Chief Administration Officer, CarrieAnn Arias, Vice President Of Marketing For Naturipe Farms all have a lot to share when it comes to women empowerment, mentorship, and transforming the produce industry into one that values, respects, and welcomes women across the board.
Even in 2022, the age of female empowerment, it can be discouraging to see the ways different industries still don't support and encourage the success (and equality) of women. Naturipe Farms is the exact opposite.
"I think Naturipe learned early on that women are good for business. If you read a lot of articles on successful businesses, it's a balance. You have both male, female and different cultures in the more diverse management is expected of us and they tend to be more successful. So we have learned to empower women, give them all the tools and the additional training or support they want, says Aribel Aguirre-Beck, CFO and CAO at Naturipe Farms.
Aribel has proven to be a great inspiration for both Donna Lynn Browne and CarrieAnn Arias in part because of her role on Naturipe's board of directors, which still remains predominantly male. It makes sense that Aribel would push past any boundaries within the produce industry and climb to the top as a woman. Her greatest advice to women starting out in the produce industry is to remember that you're in charge of your own limits. Do whatever your heart desires and don't let anyone limit you. If you do feel like you're being limited, go somewhere else because women shouldn't be limited in the produce industry, or anywhere else. She also reminds all women to speak with confidence, be who you are and go where you want to go. If you are confident, willing to work and do what it takes, you will succeed.
A perfect example of this is CarrieAnn Arias, someone who looks up to Aribel and is also a mentor for TPM's founder, Lori Taylor. CarrieAnn started her career working in sales and marketing for an interior design business, commuting five hours a day, but deeply wanted to break into the produce industry. She decided to take a massive pay cut and leap of faith into the industry by taking on an administrative position, giving her the opportunity to learn as much as possible about the industry.
She credits her mentors for helping her work her way up the ladder. Having the support of people she could reach up to, people she looked up to, and people who would give her quality advice was key to her success. The wonderful thing about the produce industry is that it is small, so CarrieAnn Arias still regularly runs into her previous mentors at conferences and trade shows. It's quite special to feel that type of camaraderie that many industries don't have.
Donna Lynn Browne, Senior Director of Food Safety and Social Responsibilities at Naturipe, has over 28 years of experience in agriculture and has seen the incredible turnover of women rising to the top. She started in a laboratory where she met her mentor, a man, who traveled around the world. His advice to Donna Lynn was to get out of the laboratory and into actual factory plants. Donna Lynn left the lab and went to work for a chocolate factory to get her feet wet.
"Originally the agriculture industry was pretty much a boys club because most of the growers, farmers and people that were in it were male. It has changed so much in the 28 years I've been doing this. You see so many women now as CEOs, CFOs, and so on, of different companies and I think they've realized that having a balance is a good thing," Donna Lynn shares.
Donna Lynn also plays an integral role in social responsibility by making sure the company she works for is following all labor laws, isn't discriminating and is treating workers responsibly. Plus, she makes sure employees receive proper training, proper education and are mentored in a way that fosters their growth. Donna Lynn wants women just starting in the fresh produce industry to know that she can believe in herself, be true to herself, honor what she thinks and speak up when she has questions.
Speaking of believing in yourself, Lori also shared a personal story about her journey with The Produce Moms. In 2015 she took the scary leap into entrepreneurship by purchasing back TPM (her idea) from her former employer. She remembers going to her first trade event after purchasing TPM (and accruing a six-figure acquisition debt), only having one small client, and feeling embarrassed. She could hardly afford the gas to drive to the trade show event in Chicago not to mention a hotel to stay at. Carrying this weight on her shoulders, feeling stressed, scared, nervous and battling all the feelings that come with entrepreneurship, she asked a question during a women's panel at the show.
"What do you do when you feel like no one believes in you?"
Regardless of the answer, Lori had a pivotal moment of bravery and, what could be considered, a call for help. One of the women leaders came to Lori after the session and told her, "if you feel like you're surrounded by people that don't believe in you, that is because you're standing in the wrong room."
This is some of the most important advice that has stuck with Lori still to this day.
"Every step of the way as we make decisions at The Produce Moms I think, 'if people don't believe in what we're doing, I'm not in the right room. I'm not surrounding myself with the right people. I'm not working with the right people." – Lori Taylor (34:09-34:17)
Every woman on this show was filled with gratitude for the camaraderie, mentorship and inspiration they've given each other, along with the support Naturipe has had for empowering women within the produce industry.
No matter what industry, position or role you're in as a woman, CarrieAnn reminds you that it's important to find (and use) your voice. For her, volunteering and mentoring is how she's done this and found the success she needed to succeed. It doesn't matter how old you are – you can always mentor someone else and offer the support, advice and leadership they need. Donna Lynn reminds us that we still have a long way to go when it comes to female empowerment, but the strides we've made in agriculture are incredible. Aribel wants us to continue the great momentum we've created so it no longer is a 'surprise' to see a woman in any type of position, and everyone can be respected for their differences. Lastly, Lori thanks Naturipe for their incredible support of women, The Produce Moms and commitment to Women's History Month!
How to get involved
Join The Produce Moms Group on Facebook and continue the discussion every week!
Reach out to us – we'd love to hear more about where you are in life and business! Find out more here.
If you liked this episode, be sure to subscribe and leave a quick review on iTunes. It would mean the world to hear your feedback and we'd love for you to help us spread the word!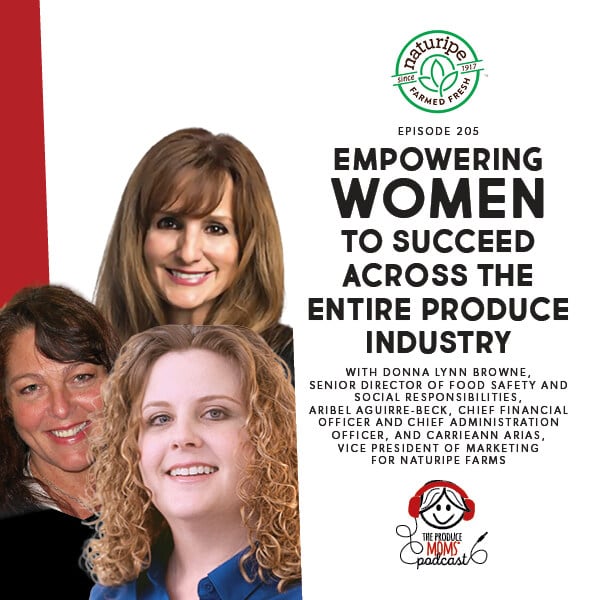 Previous episodes you may enjoy