Episode 140: Karen Long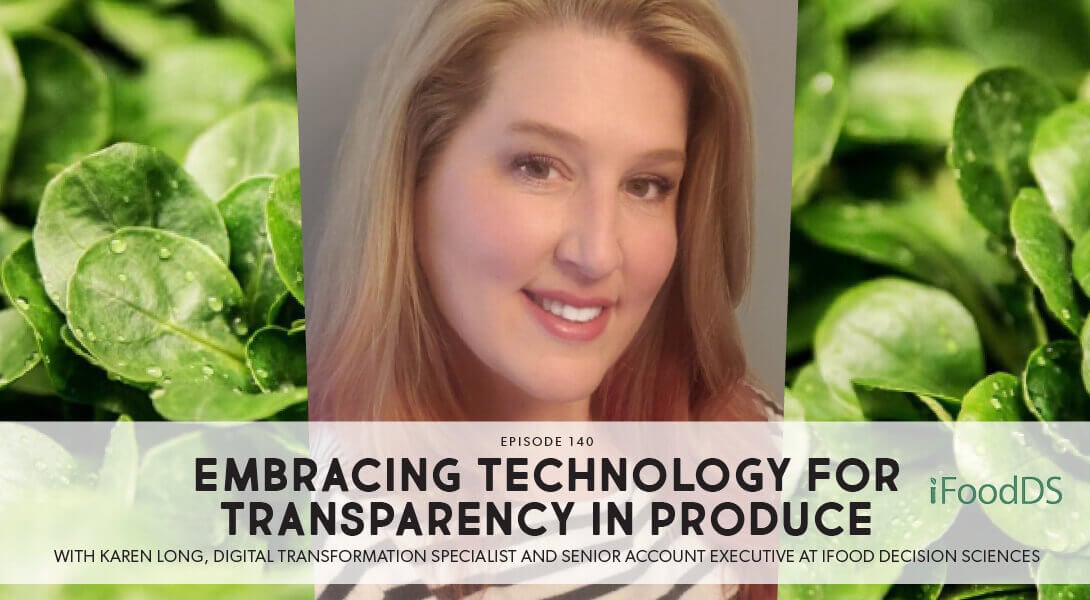 Did you know that 93% of all food purchases in the United States come from women? And the one thing women want more than anything right now with their food and produce purchases is transparency. 
iFoodDS was born in the food safety space from a Consulting group that was at the front and center of the infamous spinach e. Coli outbreak in 2006. One of the biggest and scariest markers of food security in our time, the Consulting group was at the forefront, determined to figure out a way to make it easy and accessible for produce companies to collect and store food safety data and mitigate risks. iFoodDS Sciences was officially formed in 2013 to provide the tech to these companies and make food safety happen. Since then, iFoodDS has been extremely focused on providing service to growers, packers, processors or anyone who's at the beginning of the supply chain a way to focus on food safety in their supply.
2020 was a remarkable year for iFoodDS with their acquisition of a company called Harvestmark, another company at the forefront of the 2006 e. Coli outbreak who worked with the Produce Association to define the standards for food safety across the board. A leader in traceability and quality, the only thing Harvestmark has been missing is the transparency component that iFoodDS can provide through technology.
How does it work? iFoodDS' technology can combine even the most granular detail in food safety data – from how the farmer is running his operations to whether a production is sustainable to the date and time a piece of produce was packaged – providing consumers with traceability and transparency that gives you the confidence you want in your produce.
Gone are the days where a label that says "sourced in Mexico" or "grown in Montana" will cut it with consumers. It's not that growers don't want to share the amount of transparency consumers want, it just hasn't been possible without the right technological solutions. There are plenty of farmers out there still operating with a clipboard, pen and paper, and storing data in binders. If another food safety recall happens, it's going to be a lot harder for that farmer to provide their data when it hasn't been produced in real-time and it's not technologically available to all parties.
Studies show that 37% of consumers would completely switch to another brand if the brand had more transparent information. Another study shows that 86% of millennial moms (who make up over 25% of the purchasing power in produce) would be willing to spend more money on a brand that has more transparent information than competitors. 
Complete transparency in produce offers retailers and growers a competitive edge that will win over the hearts of a now very discerning audience. Using technology like iFoodDS helps farmers continuously improve their farming operation and build a brand. Any successful business owner knows you have to be continuously focused on making improvements through processes and operations, which in turn helps reduce costs and increase revenues… and that usually translates into lower produce prices!
Knowing what we know about studies and consumers willing to pay more or switch brands altogether who offer more transparency than their competitors, it's obvious why using tech that provides real-time data that can be accessed by consumers anytime is important for farmers, growers, shippers, packers and distributors in the produce supply chain to utilize. This helps them establish themselves as a brand and ensure the consumer connects with them deeper. When a consumer feels trusting and bonded to a brand right off the bat, revenue will be increased and you're more likely to get feedback from them that's valuable to create improvements.
"It is very important that the farmers make the investments in technology and that our industry continues to strive to provide farmers with access to these powerful technologies so their stories are never lost. We can't rely on packaging alone. We have to lean into technology." – Lori Taylor (31:36-31:55)
How can consumers access real-time data from the produce they're buying? Any brand utilizing iFoodDS will have a QR code on its produce item. The amazing thing is that QR code is connected to data specific to that one item! When you scan the QR code, you'll access information like growing and production details and small, little details from the beginning of the supply chain all the way to the produce item in your hands. You can also leave feedback to the manufacturer either thanking them or asking them for more information.
The technology is readily available for the transparent answers we want as moms and produce buyers.
How to get involved
Join The Produce Moms Group on Facebook and continue the discussion every week!
Reach out to us – we'd love to hear more about where you are in life and business! Find out more here.
If you liked this episode, be sure to subscribe and leave a quick review on iTunes. It would mean the world to hear your feedback and we'd love for you to help us spread the word!
Previous episodes you may enjoy