Episode 14: Advocating for Fresh Produce with Mollie Van Lieu, Senior Director, Nutrition Policy, United Fresh Produce Association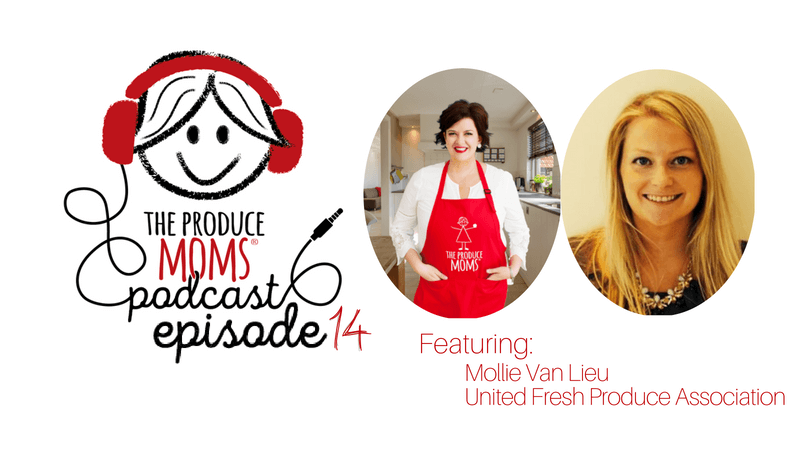 The Produce Moms Podcast Episode 14
Advocating for Fresh Produce with Mollie Van Lieu, Senior Director, Nutrition Policy, United Fresh Produce
"Over 90% of the produce items USDA is purchasing for schools are dried, canned, or frozen… The opportunities created by the Farm Bill could be the only time that a child has access to fresh fruit and vegetables."
Mollie Van Lieu, Senior Director of the Nutrition Policy for United Fresh Produce, spends her days on The Hill, advocating and promoting change in our government regarding nutrition. Her mission is to increase the availability and consumption of fresh produce in our homes and schools. Before joining forces with United Fresh Produce, Mollie was the Senior Associate for Government Relations at The Pew Charitable Trusts. She was also the Senior Policy Strategist for the National PTA
"We have been working with the Senate and House to ensure that fruits and vegetables are incentivized… ensuring that we can grow these programs where the most people are shopping is really important."
In this episode, Lori and Mollie discuss the upcoming Farm Bill and its potential impact on schools and government assistance. Mollie explains the political nature of nutrition and delves into some of the different programs that are supported through Farm Bill.
"Get as involved as you possibly can with United Fresh. I became a much better advocate, a much more passionate participant in our industry when I started getting involved with the political action."
Mollie is influencing lasting change in our government. However, you don't have to be a Senior Director in Washington DC to have an influence in policy. If you would like to do your part, below are some quick, easy, effective ways that you can be a part of impacting our nation!
Click this link to advocate for fresh produce- 

http://www.unitedfresh.org/action/
Visit the website of your members of Congress. Send them an email sharing your 

desire

to continue providing fresh produce (instead of all forms- frozen, dried, canned) to our children!
Some Topics we talk about in this episode:
Introduction // Mollie Van Lieu – 1:19

What is United Fresh Produce Association?- 3:40

Why is Nutrition a Political Issue?- 7:02

What is Farm Bill, and What Programs Does it Support?- 9:55

What are the Critical Issues Regarding Child Nutrition?- 12:45

How You Can Get Involved- 18:42

Critical Issues Represented in Farm Bill- 24:36

Wrap-up – 26:21
How to get involved
The Produce Moms Podcast is live on iTunes, Google Play, Stitcher, and coming soon to Spotify.  If you like what you are hearing on the podcast, reviews, subscriptions & ratings will help us keep this going!  It would mean the world to hear your feedback, and we'd love for you to help us spread the word!
[bctt tweet="Check out #TheProduceMoms #Podcast, Episode 14 featuring Mollie Van Lieu of @UnitedFresh !" username="TheProduceMom"]

Other Episode You May Like
Episode 13: Organics: The Fastest Growing Category in the Produce Department
Episode 12: Organic Fruit Orchards, Washington Tree Fruit and Stone Fruit
Episode 11: Adding Color, Taste, and Nutrition into your Diet
Episode 10: How Fresh Produce is Healing Families