Episode 130: Don Helms
Dec 09, 2020, Updated Jun 11, 2021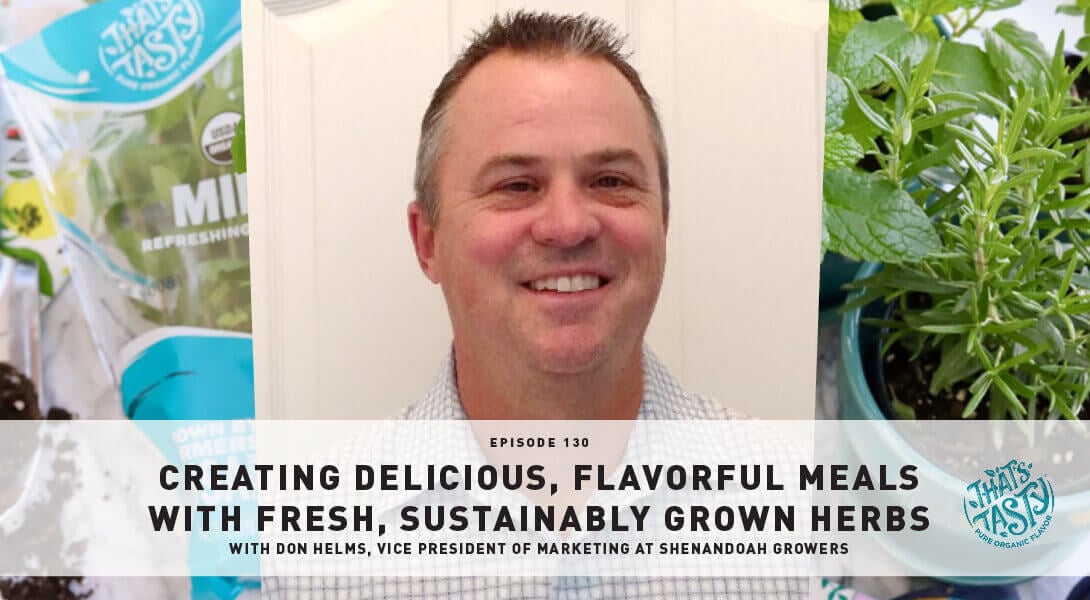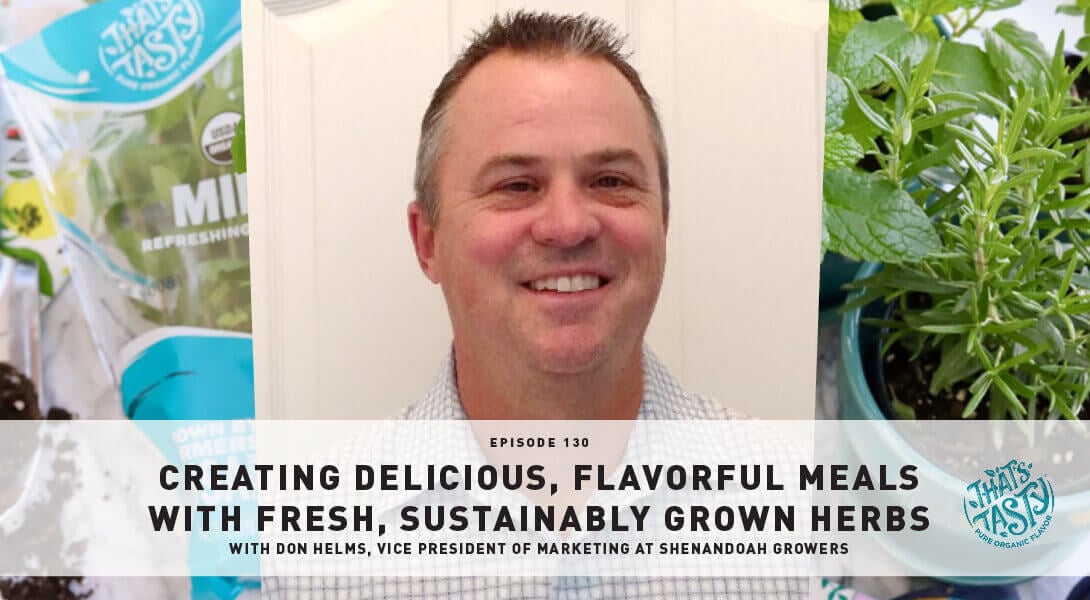 Shenandoah Growers is the consumer grower for the That's Tasty brand that brings you some of the freshest, most flavorful herbs available in America.
Don Helms, Vice President of Marketing for Shenandoah Growers, and self-proclaimed flavor guru, has spent his career lifetime focusing on bringing consumers like you flavorful food in all types of forms. He's worked with packaged foods, salad dressing, sauces, restaurants, food and beverage development, and now works at the top of the flavor chain with fresh, organic herbs and greens.
If you want to make sure your holiday meals are a success, or just want to add some zest, spice or mouth-watering flavor to your family's everyday meals, you'll want to find That's Tasty's herbs and spices in your local grocery store. That's Tasty sells fresh herbs in clamshell packages of different sizes in the refrigerated area of the produce section along with beautiful, aromatic living herbs in potted plants that are grown in Shenandoah Grower's greenhouses.
"Basil: we call it the King of herbs! Everyone knows basil, everyone loves basil." – Don Helms (10:38-10:41)
That's Tasty sells 17 different varieties of living herbs that are all USDA certified greenhouse grown. Their most popular herbs are basil, mint, and some of the seasonal packs they sell, such as their Thanksgiving/holiday poultry blend or the grilling blends you'll find during summer.
That's Tasty also sells organic, stir-in purées, taking the prep work out of using herbs and making it easy to play, experiment and enjoy flavors from spicy harissa, jalapeno peppers, garlic, ginger, basil and many others. You can also get dried chiles and mushrooms from That's Tasty, which are sourced from the best places in the world to find those ingredients.
"One of the main things we talk about with our leafy greens that we think makes them unique is they're organic and indoor grown with zero pesticides, grown locally, and we harvest, hack and deliver them [to retailers] within 24 hours. It's literally as fresh as you can get." – Don Helms (14:30-14:42)
Part of the reason That's Tasty herbs are so fresh and have a wonderful shelf life is because Shenandoah Growers has optimized their growing process for plants to be grown as they would out in nature. Rather than fighting against nature, their plants are grown in soil (even though they're grown indoors). The soil is a rich proprietary mix full of natural bioactivity that helps create a nitrogen cycle for the plants to grow strong and healthy.
Shenandoah's water, which has all organic nutrients in it, is fed to plants from the bottom. This forces plants to push their roots down into the soil and draw water up, creating strong, vigorous plants with healthy tissue. This means the plant is healthier and lasts as long as possible. We all know herbs have a short shelf life once they're cut, so this process maximizes freshness and the time you can use herbs in your meals at home.
Plus, this helps in terms of food safety, creates complete traceability, and helps the growers microtune any issues they see happening in real time, allowing for adjustment as the plants are growing (rather than waiting for an entire new lifecycle). The process is then recycled along with their water, helping the farm use about 90% less water than a traditional farming operation. And since the plants are all grown indoors, there's no need to use pesticides either!
That's Tasty has facilities across the US and has plans to continue to grow! Make sure to look up That's Tasty famous brining recipe for your holiday turkeys this year. This brine uses rosemary, sage, thyme and bay leaves, along with a little bit of citrus, garlic and salt. That's Tasty has a special poultry blend available in the fresh cut or living herb option you can use to maximize your turkey's flavor and deliver a holiday bird that's unforgettable.
How to get involved
Join The Produce Moms Group on Facebook and continue the discussion every week!
Reach out to us – we'd love to hear more about where you are in life and business! Find out more here.
If you liked this episode, be sure to subscribe and leave a quick review on iTunes. It would mean the world to hear your feedback and we'd love for you to help us spread the word!
Previous episodes you may enjoy