Episode 125: Chuck Sinks and Tony Stewart 
Nov 04, 2020, Updated Jun 11, 2021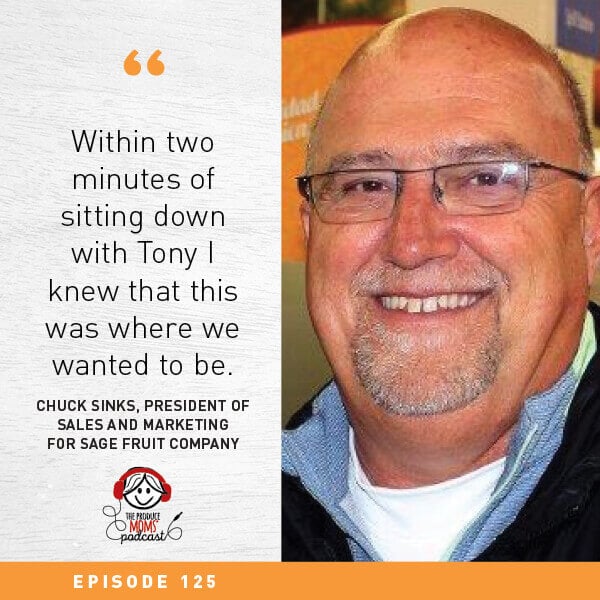 Sometimes when you meet someone and it's so organic and natural, you know you're meant to do something together. That was how Sage Fruit Company came to partner with race car driver Tony Stewart, creating a powerful, healthy relationship that's impacted the lives of thousands.
Chuck Sinks has been in the produce industry his entire life. Taking his 18 years with Sage Fruit Company and his passion for racing, Chuck headed for the Kansas Speedway in hopes of offering NASCAR Hall of Famer Tony Stewart an opportunity. Chuck has always been drawn to Tony because of his great personality, ability to speak his mind and grounded attitude.
It makes sense why the two hit it off right off the bat because Chuck speaks his mind the same way. Even though Chuck was nervous and unsure of how Tony would react to the opportunity, Tony knew within minutes of meeting Chuck they'd do something great together.
"I've learned how to eat a lot healthier now" – Tony Stewart (4:44-4:48)
Three years later and Tony's been proudly representing Sage Fruit Company and seeing the ripple effect it's had on thousands of his fans. Not only has Tony created a balanced, nutritious diet because of his athletic girlfriend, he's lost weight and begun to eat a lot healthier thanks to Sage Fruit. Sage Fruit's apples, cherries and pears are a staple item for Tony every time he hits the grocery store.
Tony's long had a loyal and passionate fan base, but now they come up to him at the grocery store and mention Sage Fruit. They'll ask if Tony's picking up apples or cherries and they rave about the produce themselves.
"It makes the grocery store trip a little bit more fun for me to go in there and see the Sage Fruit logo. I realize I'm proud to be a part of this and I want people to see me grabbing their apples because I'm passionate about the products," says Tony.
Tony's relationship with Chuck has been a wonderful experience for Sage Fruit in that once a year they go to Tony's ranch to plan, for example, the entire cherry season. Unfortunately, they had to pass on their yearly planning retreat due to COVID-19 this year, but 2021 will be back to normal for this abundant partnership! It sure doesn't hurt having a race car driver on your side because Chuck takes plenty of Sage Fruit's customers to meet Tony at his races.
One thing Tony thanks Sage Fruit for is his health during COVID-19. Although he's implemented all the safety measures necessary, he's still gone to events and met thousands of fans this year without getting sick. He attributes his love of Sage Fruit's produce to keeping him healthy during these times.
What's Tony's favorite way to enjoy Sage Fruit's produce? He loves to cut the center out of a few of their delicious, juicy apples, slice them up, and pop them in the fridge to snack on between meals and throughout the day. Sage Fruit has some incredible recipes on their website, like apple salsa, you don't want to miss! Look out for their fresh apples, cherries and pears at your local grocery store and find a new recipe to enjoy!
How to get involved
Join The Produce Moms Group on Facebook and continue the discussion every week!
Reach out to us – we'd love to hear more about where you are in life and business! Find out more here.
If you liked this episode, be sure to subscribe and leave a quick review on iTunes. It would mean the world to hear your feedback and we'd love for you to help us spread the word!
Previous episodes you may enjoy