Episode 117: Bella Hughes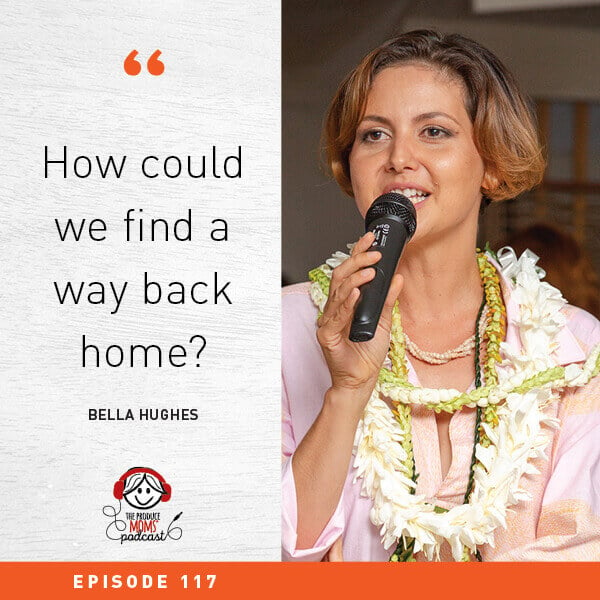 Shaka Tea is 100% plant-based, project non-GMO verified, sustainably sourced and created from Mamaki, the rarest herbal tea in the world.
Native Hawaiian Bella Hughes is a trailblazer in the best way possible. With a former profession in the non-profit and contemporary art world, Bella took a sharp left turn when she co-founded Shaka Tea with her husband from a desire to, not only share the wealth and deliciousness Hawaii has to offer, but help do the most good possible to help the community and economic growth of Hawaii.
When traveling around the world or living in the UAE with her husband, Bella would always look for goods from Hawaii in grocery stores and could find consumer product goods, but they didn't have authentic ingredients from Hawaii and the companies were never founded there.
During her second pregnancy, she was drinking tons of Mamaki which is naturally caffeine-free and similar to a mild rooibos in flavor. She'd make a fruit puree with many of the same fruits she loved from her homeland, like passionfruit, guava and mango, and would make a huge jug of Mamaki tea mixed with it, offering her tastes from home, a delicious, pregnancy-friendly drink, and just a touch of sweetness.
"This tastes like something I would normally say no to. It has zero percent juice, zero calories, zero grams of total sugar, zero carbohydrates… it's amazing." – Lori Taylor (12:23-12:35)
There are plenty of teas on the market, but they fall into two categories: sweetened, which in most cases if you were to drink them daily, you'd put 15 pounds of sugar in your body in one year, and unsweetened. Bella saw the opportunity to bring her Shaka Tea to market.
It didn't have sugar in it (the company uses Monk Fruit), she could support small, local farmers in Hawaii, could boost the Hawaiian economy with a product that's for everyday use (versus the expensive coffees and macadamia nuts), and provide it at an affordable price (suggested retail price is $1.98 to $2.49 in the U.S.).
Bella and her husband put a huge leap of faith into their idea by putting their life savings into 18,000 bottles without a single account signed and three SKU's to start with. They built Shaka Tea from the bottom up, spending days driving around the main island, signing accounts and bringing in a cute baby or toddler when needed for extra support!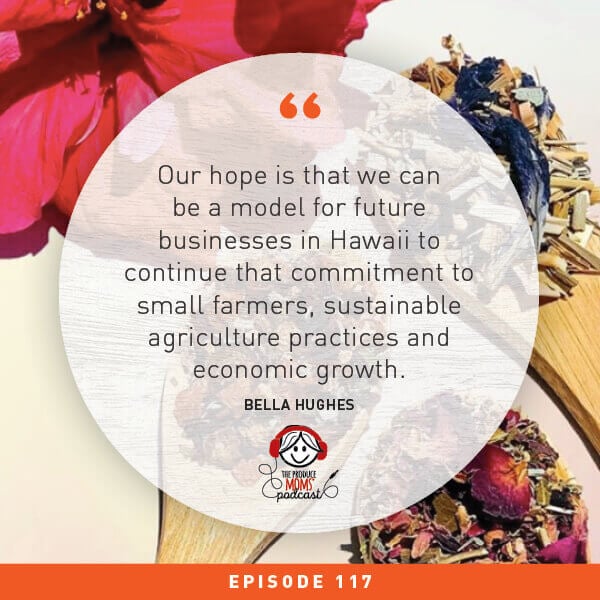 The supply chain for Shaka Tea has been built from the ground up.
Mamaki is traditionally foraged for when hiking or grown with a small herb garden at home. There hasn't been mass production of Mamaki, which is the host plant for the island's endangered pollinator Kamehameha butterfly, so Bella provides her 14 farmers seeds to plant on their 2-5 acre farms and pays them a premium price while taking care of all the drying and processing.
Unfortunately, the other ingredients in Shaka Tea aren't available locally, but are all fair trade and sustainably sourced. Shaka Tea is more than just a healthy drink to bring about cultural awareness, it is the life source of a brand new industry which is revitalizing Hawaii's economy and stimulating long-term economic growth.
Shaka Tea currently has four iced tea flavors, Pineapple Mint, Mango Hibiscus, Lemon Lokelani Rose and Guava Gingerblossom, and three herbal tea blends, Sunrise, Blue Magic, and Sunset, that are great for those kicking a caffeine habit. Shaka has won the American Masters of Taste Gold Superior Taste Award and is the second fastest growing business of Hawaii.
Make sure to check out www.shakatea.com and use promo code "SHAKA20" to get 20% off your online order!
How to get involved
Join The Produce Moms Group on Facebook and continue the discussion every week!
Reach out to us – we'd love to hear more about where you are in life and business! Find out more here.
If you liked this episode, be sure to subscribe and leave a quick review on iTunes. It would mean the world to hear your feedback and we'd love for you to help us spread the word!\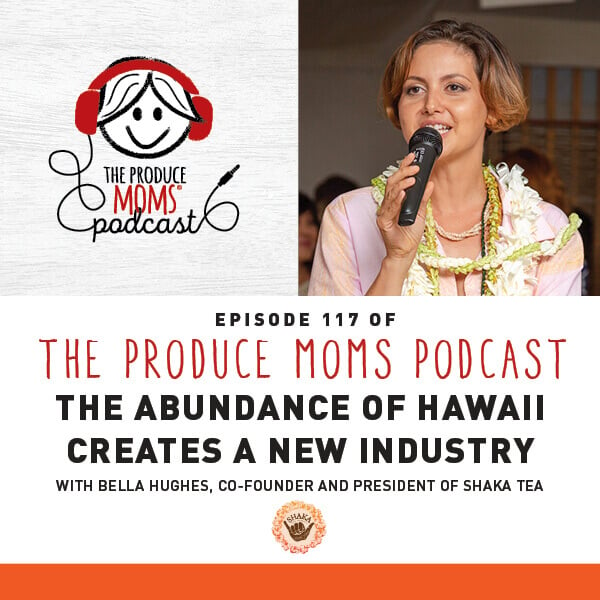 Previous episodes you may enjoy